Knight cartoon fills in vital gaps in Measuring What Matters report
National wellbeing report Measuring What Matters was released by the Federal Govt this week but fails to take into account the past three years of historic tumult, says Mark Knight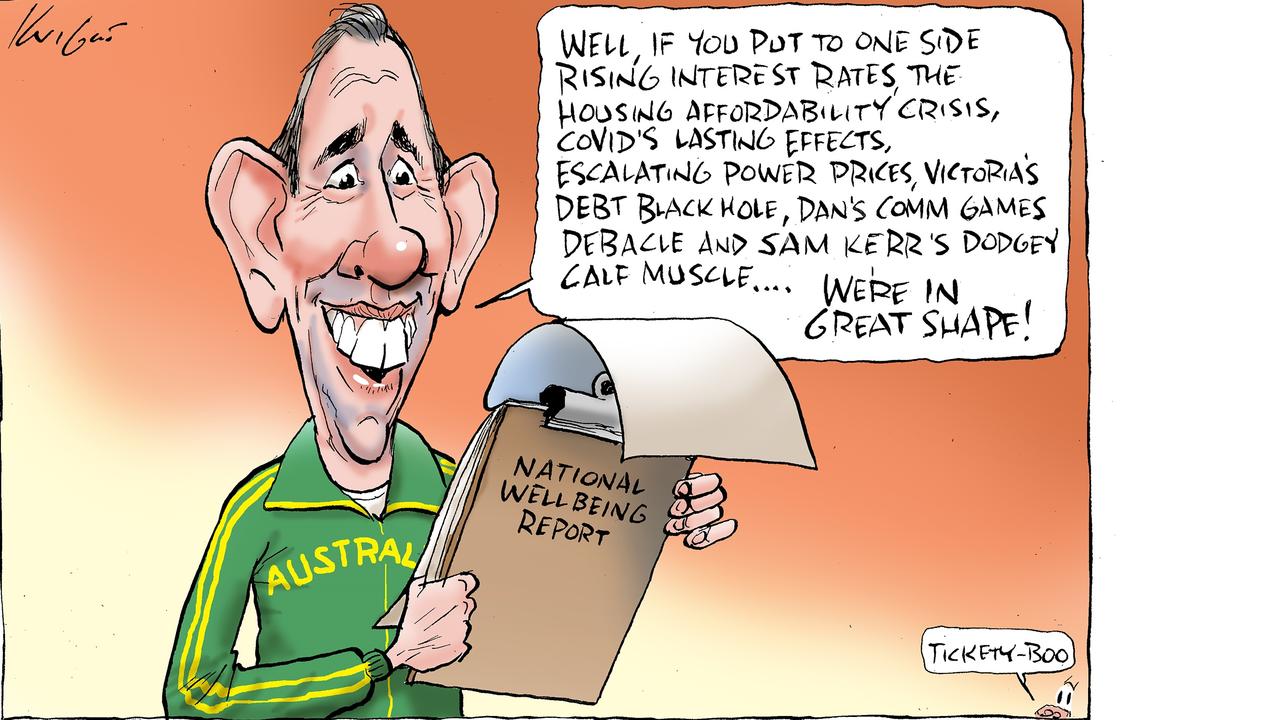 Mark Knight cartoon on Treasurer's wellness report fills in the gaps. Picture: Mark Knight
Some called it the federal budget for Australia's health and happiness. In reality, it was a national wellbeing report called Measuring What Matters, handed down this week by the Federal Treasurer* Jim Chalmers.
What is a national wellbeing report, you may ask? In simple terms it is a measure of how Australians are feeling about themselves. Their physical and mental health, how happy they are, how unwell they are, how they are coping with life.
Measuring What Matters is the Government asking us that oft' asked question: "How's it goin'?"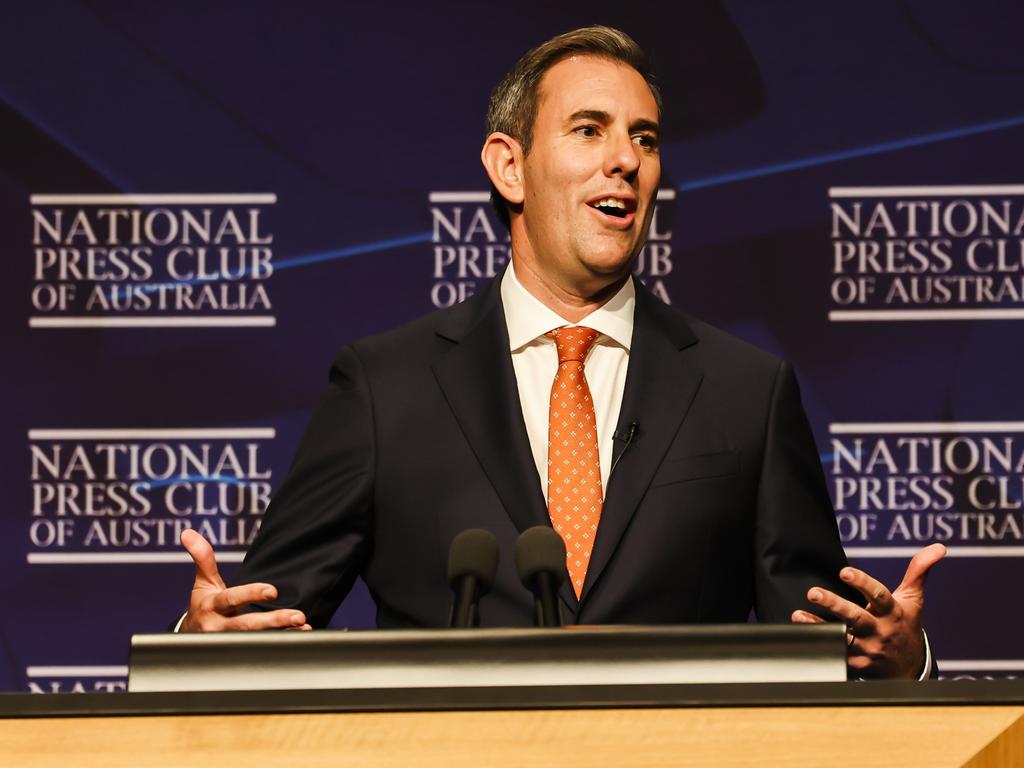 Federal Treasurer Jim Chalmers, pictured in May, released Measuring What Matters as a report card on the nation's health and wellbeing, but Mark Knight's cartoon calls out the report's omission of the extraordinary events of the past three years. Picture: NCA NewsWire/ Dylan Robinson
In the news, we hear economic statistics ad nauseam*, about inflation*, interest rates, budget deficits*, unemployment and the like. These stats measure the performance of Australia's economy.
Our economy has been in pretty good shape over the last couple of decades. Australia is a wealthy country. After Covid, however, Australia's inflation rate rose to an alarming nine per cent.
Inflation is where the prices of goods and services start to rise. Things get expensive. Prices can spiral out of control. This chain reaction* reduces your spending power and devalues our pay packets. It's bad for the economy.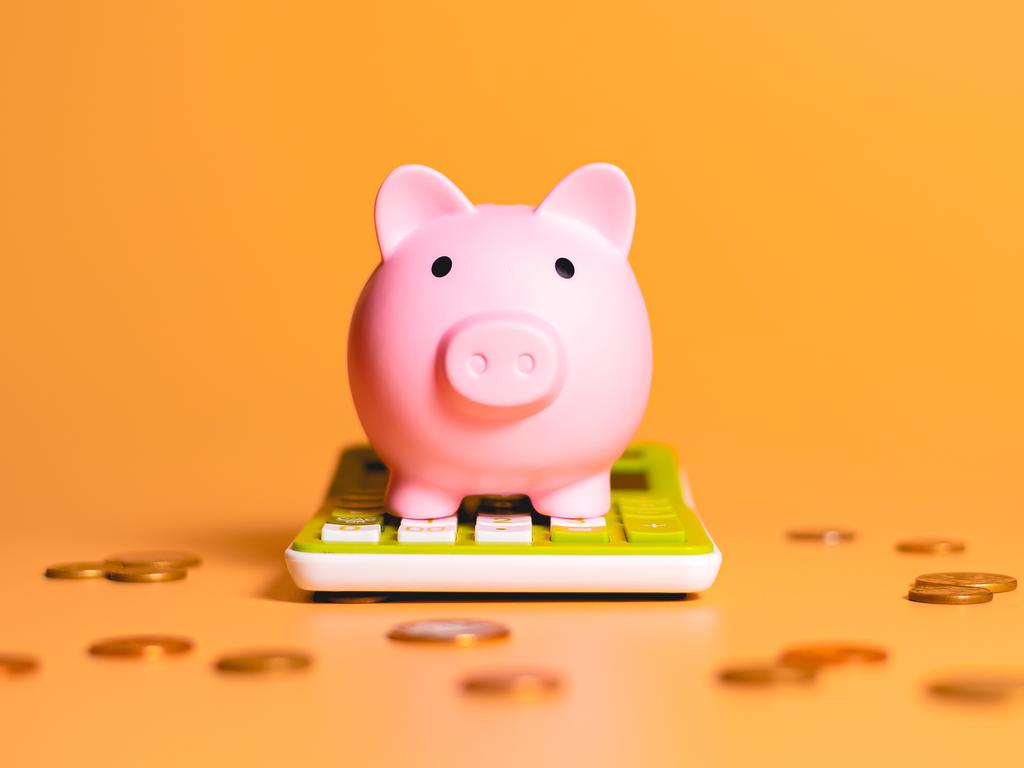 Inflation reduces spending power because it reduces the worth of the money people earn. Picture: file image
To control inflation and reduce that price spiral, the Reserve Bank of Australia* raised interest rates; that is, it made money more expensive to borrow. People had to pay more for their home loans, so they had less money to spend on other things.
With less money going around, the price of the stuff we buy should fall because there are less people spending. When prices fall, so does inflation. Higher interest rates also encourage people to put their money in the bank, where it will earn interest, thus increasing savings. All this has happened recently in a bid to improve the health of our economy.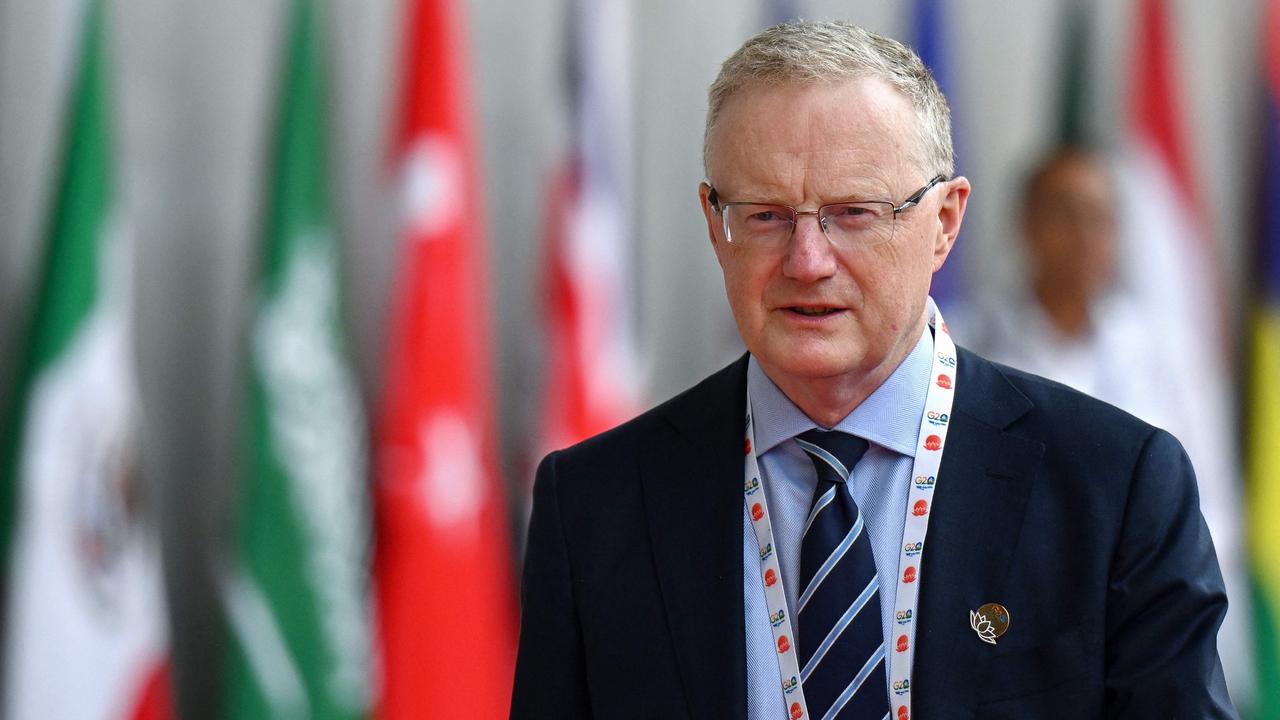 The Reserve Bank of Australia Governor Philip Lowe announced repeated interest rate rises that put financial pressure on many Australians whose mortgage repayments significantly increased in just a few months. Lowe has since resigned and his replacement, Michele Bullock, is the first woman to be appointed to the role. Picture: Punit Paranjpe/AFP
A healthy economy, though, does not always mean a healthy population.
As I have just described, in a bid to restore the economy to better health, interest rates went up, which affected many families' ability to pay their home loans. Jobs may have also been lost due to the rate rise and things all became a bit harder for Australians.
Stress levels no doubt rose and people began to see their own health decline in a bid to improve the health of the economy.
So a report into how Government decisions affect the nation's physical and mental health was welcome.
Rising interest rates affected many Australian families' ability to pay their home loans. Picture: file image
Unfortunately, a lot of the statistics the report judged its findings on were from before the Covid pandemic and rising interest rates – which, as many argued, made the report out of date and not a true reflection on how people were travelling.
As Homer Simpson would say, "Doh!"
I decided to draw a cartoon about the report and how they might not get an accurate picture of how Australians stand today based on old data. It was also an opportunity to draw Treasurer Jim Chalmers.
Let's face it, the last three years have been some of the most tumultuous* times in recent history. The Covid pandemic has changed our lives, not just in medical terms but socially. One example: people work from home now. Once bustling* major city CBDs have become deserted on certain days of the week due to WFH.
Covid lockdowns brought in a lasting social change: working from home, changing the health of CBDs in Australia's capital cities including Melbourne, seen above on July 9, 2020. Picture: Asanka Ratnayake/Getty Images
Then the world was hit with supply chain* shortages. Prices went up, causing an inflation pandemic.
Then Russia invaded Ukraine!
To leave out major chunks of data from these times may not give an accurate result in your findings.
In the best traditions of Australia's "No worries!" mindset*, I thought I would have the Treasurer in his tracksuit reading out the report's findings, but this time including its biggest omissions … like a little thing called Covid, for example.
Politicians and statistics are a dangerous mix!
POLL
GLOSSARY
treasurer: person responsible for the money and bank accounts of a government, company or organisation:
ad nauseam: Latin term referring to when something is talked about to excess
inflation: increase in the prices of goods and services
deficits: the total amount by which money spent is more than money received
chain reaction: series of related events in which each event causes the next one
Reserve Bank of Australia: the nation's central bank, the RBA conducts monetary policy and issues the country's banknotes.
tumultuous: stormy, turbulent, full of uncertainty, confusion and disturbance
bustling: busy, crowded, buzzing
supply chain: every step involved in getting a finished product or service to the customer
omissions: people or things that have been left out, excluded, created a gap or hole
EXTRA READING
It's a bird. It's a plane. No, it's Super Treasurer
Other story puts federal budget in shade
Reserve Bank 'Grinch' who stole Christmas
QUICK QUIZ
What is the name of the Federal Government report released this week?
Who released it and what is his role in government?
What did the Reserve Bank do to control inflation and reduce the price spiral?
What example does Mark Knight give for how Covid has changed us socially?
What do higher interest rates encourage?
LISTEN TO THIS STORY
CLASSROOM ACTIVITIES
1. What happens next?
Imagine this cartoon is part of a story that is made up of three cartoons. The three cartoons tell a complete story, and Mark's cartoon is the start of the story. Think about what the story could be and draw the next two cartoons that tell the story.
Time: allow 30 minutes to complete this activity
Curriculum Links: English, Visual Arts, Visual Communication Design, Critical and Creative Thinking
2. Extension
Look through the most recent stories on Kids News and choose one to draw a cartoon about.
Use Mark's three-step process to get started:
What is my subject?
What do I want to say about this issue?
How do I say it? Do I use visual metaphors (an image that the viewer is meant to understand as a symbol for something else), multiple panels or symbolism (when one idea, feeling or emotion is represented by something else such as a picture, character, colour or object)?
Time: allow at least 40 minutes to complete this activity
Curriculum links: English, Humanities, Visual Arts, Critical and Creative Thinking
VCOP ACTIVITY
Stretch your sentence
Find a "who" in the cartoon – a person or an animal. Write it down.
Add three adjectives to describe them better.
Now add a verb to your list. What are they doing?
Add an adverb about how they are doing the action.
Using all the words listed, create one descriptive sentence.