It works! Doctors successfully transplant pig kidney into human and it functions for 32 days
A pig kidney transplanted into a human patient has been working well for more than a month, boosting the possiblity of using animal organs to save lives in future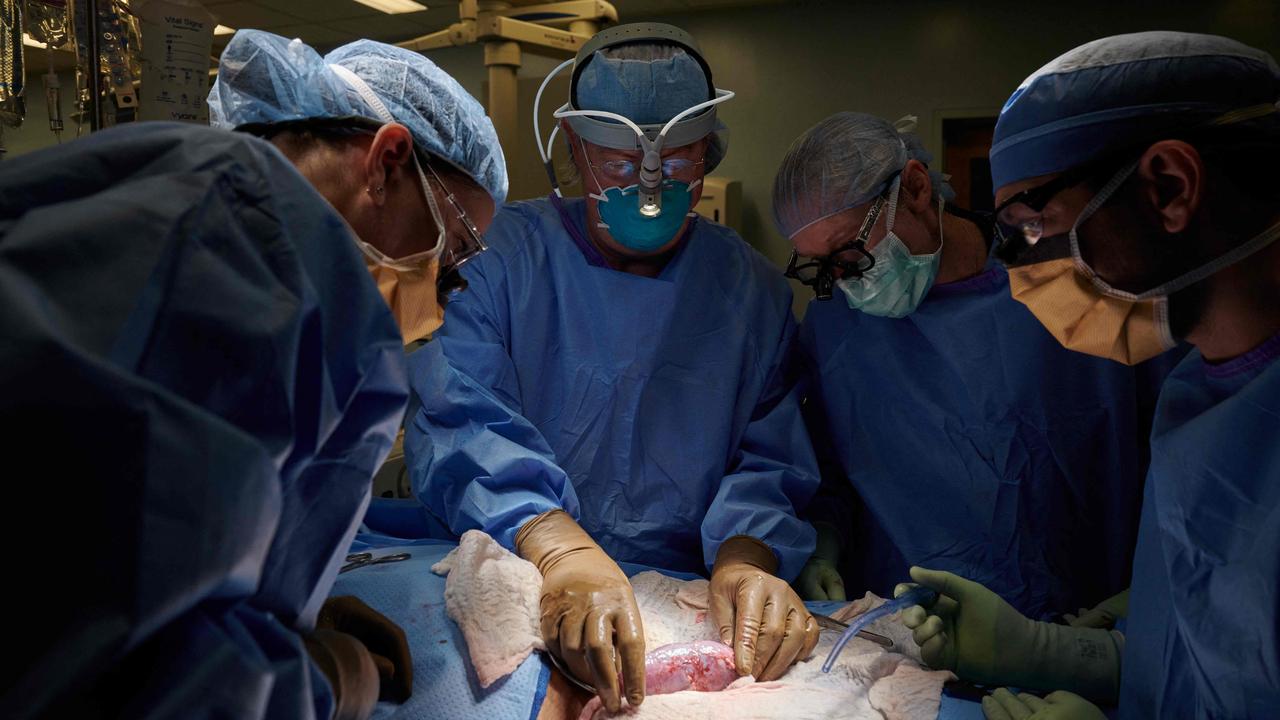 Surgeons at NYU Langone Health have successfully transplanted a pig kidney into a human. Picture: AFP / Joe Carrotta for NYU Langone Healt
Doctors have taken an important step in learning how animal organs could save human lives. A medically altered pig kidney has been placed into a brain-dead* patient and it continued to work for a record 32 days.
The pig kidney was transplanted* into Maurice Miller, a 57-year-old man who was found unconscious in his bathroom in July. Doctors determined he had an aggressive* form of brain cancer and would not wake up. His body was placed on life support* and his family donated it for the experiment.
After a month, Mr Miller's new pig kidney has been producing urine and still functioning with no signs of rejection or infection. It is the longest a genetically modified* kidney has lasted inside a human body.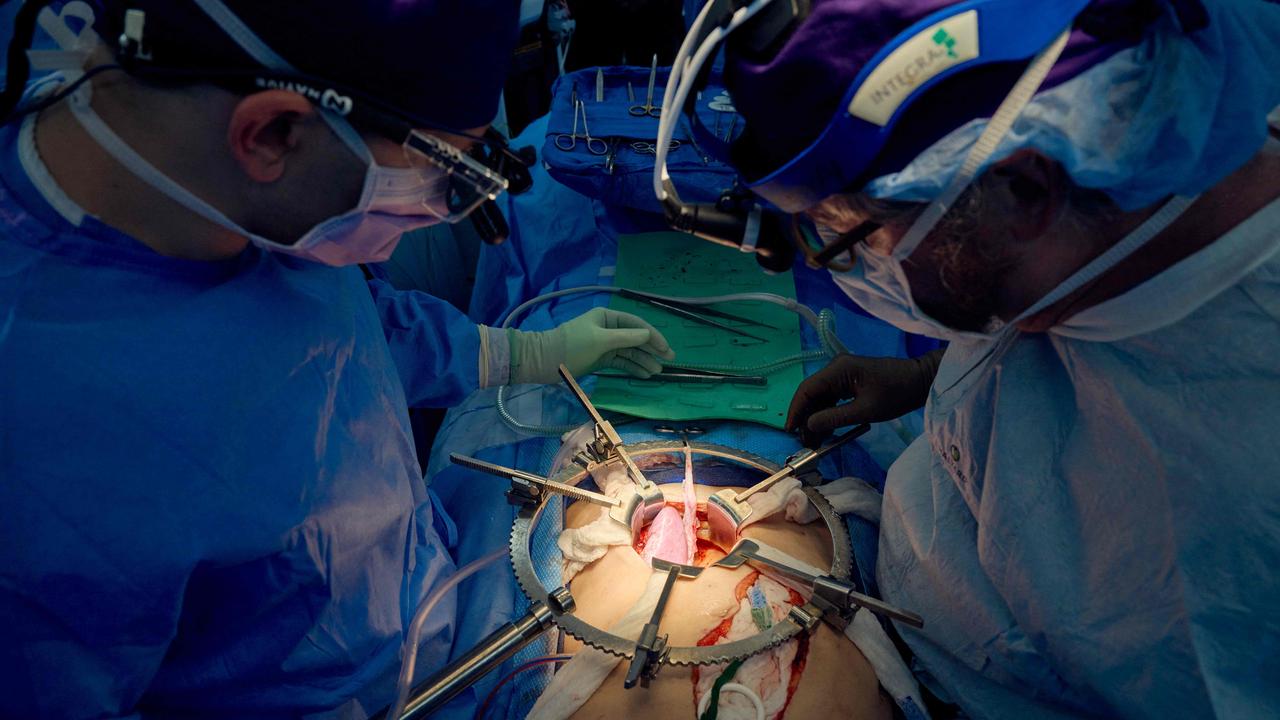 Doctors transplanting a pig kidney into a human patient in an earlier experiment. Picture: Joe Carrotta/NYU Langone Health/AFP
If doctors can perfect such transplants, it could save hundreds of thousands of lives each year.
In Australia, there are currently around 1800 patients on the waitlist for an organ transplant. There are also around 14,000 additional people on dialysis, which is a treatment that helps your body remove extra fluid and waste products from your blood when the kidneys are not working.
Dr Robert Montgomery, the lead doctor on Mr Miller's experiment, said he was now excited about long-term organ donation possibilities for living humans.
"I think there's a very compelling* story that exists at this point that I think should give further assurances* about starting some initial studies … in living humans," said Dr Montgomery, who is director of the New York University Langone Transplant Institute.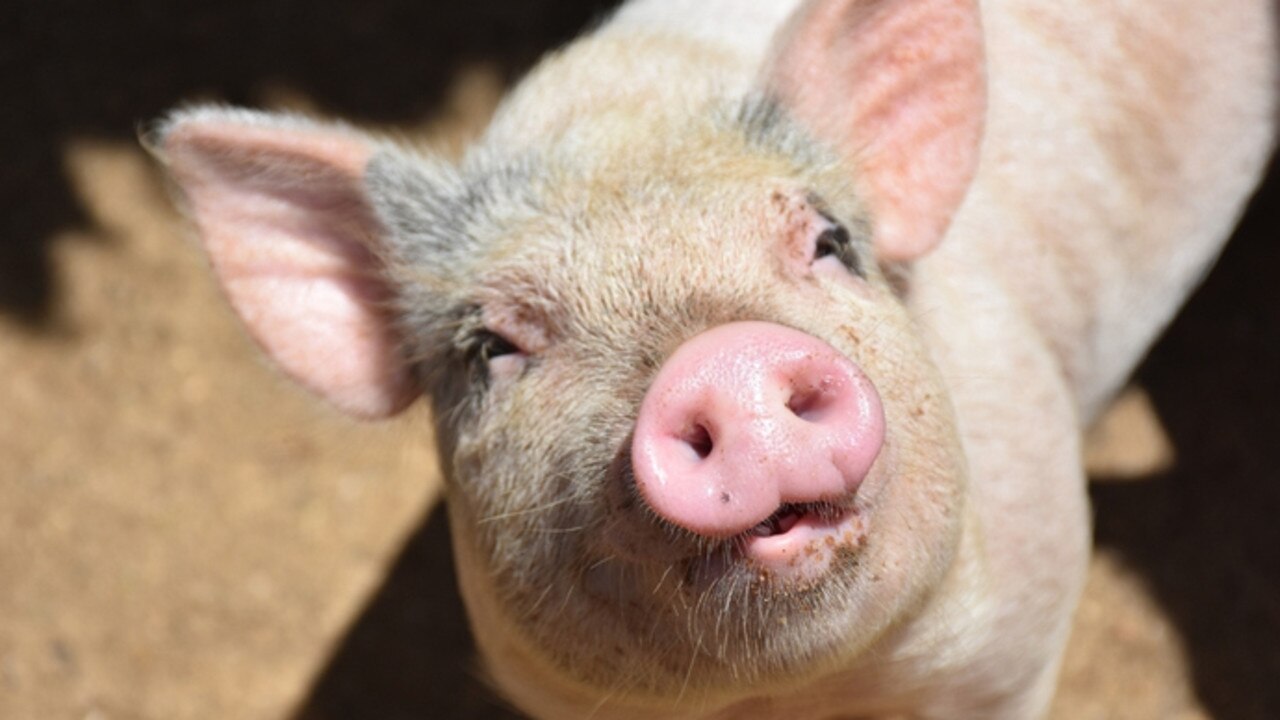 Pigs are considered ideal organ donors for humans. Picture: iStock
Dr Montgomery said the one pig kidney that replaced both of Mr Miller's own kidneys had been altered to "knock out" the gene responsible for rejecting an animal organ when it is connected to a human body.
"We've now gathered more evidence to show that, at least in kidneys, just eliminating the gene that triggers a hyperacute* rejection may be enough along with clinically approved immunosuppressive* drugs to successfully manage the transplant in a human for optimal* performance — potentially in the long-term," Dr Montgomery said.
They also embedded the pig's thymus gland — which lies around the neck and is responsible for educating the immune system* — in the kidney's outer layer.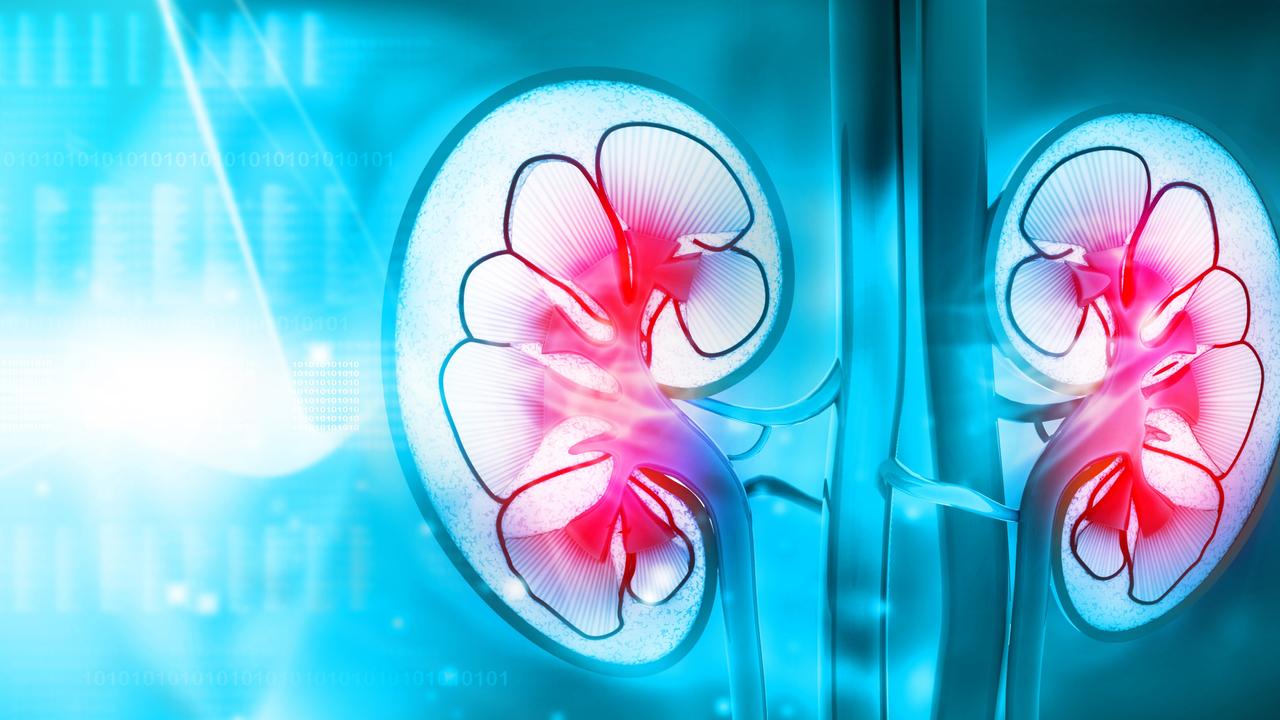 An illustration showing a cross-section of human kidneys. Picture: iStock
Adam Griesemer, of New York University's Grossman School of Medicine, said this allowed immune cells in Mr Miller's body to learn to recognise the pig's cells as its own, preventing rejection.
"Though my brother cannot be here, I can say with confidence he would be proud of the fact in the tragedy of his death, his legacy* will be helping many people live," his sister Mary Miller-Duffy said.
In January 2022, surgeons at the University of Maryland Medical School carried out the world's first pig-to-human transplant on a living patient — this time involving a heart. Sadly, he died two months later after developing a virus common in pigs.
Mr Miller's transplant showed no signs of the same virus.
Doctors believe pigs are ideal donors for humans because of their organ size, their rapid growth and large litters, and the fact they are already raised as a food source.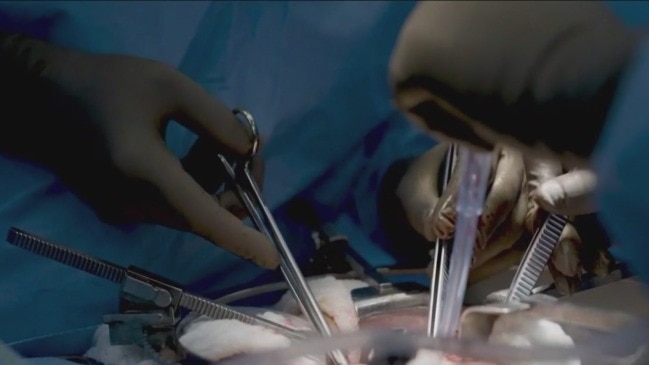 POLL
GLOSSARY
brain-dead: when your brain has died
transplanted: moving a living organ or tissue from one body to another
aggressive: attacking
life support: machines that keep the heart pumping and lungs working
genetically modified: when something with genetic material is altered for a better outcome
compelling: convincing
assurances: positive declaration intended to give confidence; a promise
hyperacute: extremely strong
immunosuppressive: preventing your immune system from attacking healthy cells and tissues by mistake
optimal: best or most favourable
immune system: complex network of organs, cells and proteins that defends the body against infection, whilst protecting the body's own cells
legacy: the impact we leave behind once we die
EXTRA READING
5min with a dog can make you happier
Dr Deep Sea sets 100-day underwater record
'Dangerous': Schools ban Prime energy drink
QUICK QUIZ
1. How was Maurice Miller chosen as the patient for this experiment?
2. Did doctors transplant one or two pig kidneys into Mr Miller?
3. How many Australians are currently waiting for organ donations?
4. Why has this kidney not been rejected by the human body?
5. List three reasons why pigs are considered suitable for organ transplants into humans.
LISTEN TO THIS STORY
CLASSROOM ACTIVITIES
1. How do kidneys work?
Do you know how our kidneys work? Use information in the story and maybe your research skills to help you to create a diagram. The purpose of your diagram is to help other students understand all about our kidneys and why they are so important!
Time: allow 45 minutes to complete this activity
Curriculum Links: English, Science, Health and Physical Education
2. Extension
What do you think the researchers could do next to make using animal organs to save human lives a reality? Use clues in the story to help you to write a list of problems that now need to be solved and then some of the steps or actions that could help to solve the problems.
Time: allow 30 minutes to complete this activity
Curriculum Links: English, Science, Critical and Creative Thinking
VCOP ACTIVITIES
Wow word match challenge
Objective: To match key vocabulary words from the article with their correct definitions or explanations.
Read through the article and gather a list of vocabulary words that you consider high-level tier 2 or tier 3 language). Some examples are:
– Transplanted
– Aggressive
– Rejection
– Immunosuppressive
– Gland
– Legacy
Write kid-friendly definitions or explanations of these words on separate pieces of paper or index cards. Make sure to mix them up.
Matching Game
1. Find a partner to play the game with. If you're in a group of three, take turns being the "game master".
2. One player selects a vocabulary word from the list and reads it aloud. The other player(s) must then pick the correct definition or explanation card that matches the word.
3. If the player selects the correct definition/explanation card, they get a point.
4. Take turns being the one to choose a vocabulary word and the one to match it with the correct definition or explanation.

Extension: After the game, discuss the vocabulary words and their meanings as a pair or group.
Write Sentences: Each player should pick one or two vocabulary words and use them in a sentence to describe something related to the article. For example, "The article talks about a medically altered pig kidney being transplanted."
Group Story: As a group, create a short story using all the selected vocabulary words. Each player contributes a sentence or two using the words.
Remember to have fun while learning new words and their meanings from the article.