The Aussie invention that has brought the magic of sound to more than 10,000 deaf Australians can now connect to an iPhone and stream sound directly to the brain.
The seventh version of the cochlear implant* connects directly to the Apple iPhone via Bluetooth allowing users to hear music and Youtube videos and other apps directly from the phone for the first time.
The user can also use an app to adjust the hearing device to block out background noise in a restaurant and allow them to focus on the voices of people at their table.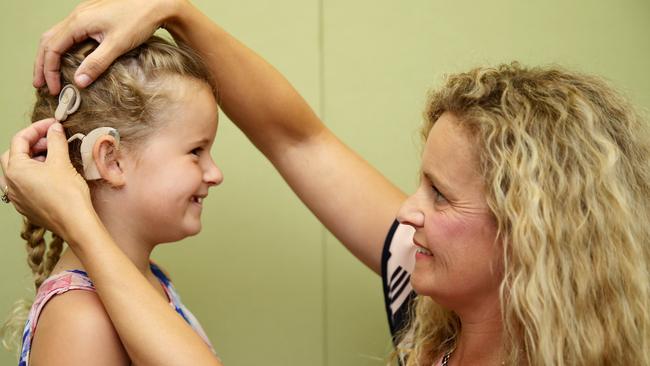 Associate Professor Robert Briggs, the clinical director of the Eye and Ear Hospital, said the latest upgrade would allow people with a hearing impairment* to use their iPhone like a microphone.
"You can put your phone directly in front of someone and stream their voice directly to your implant," he said.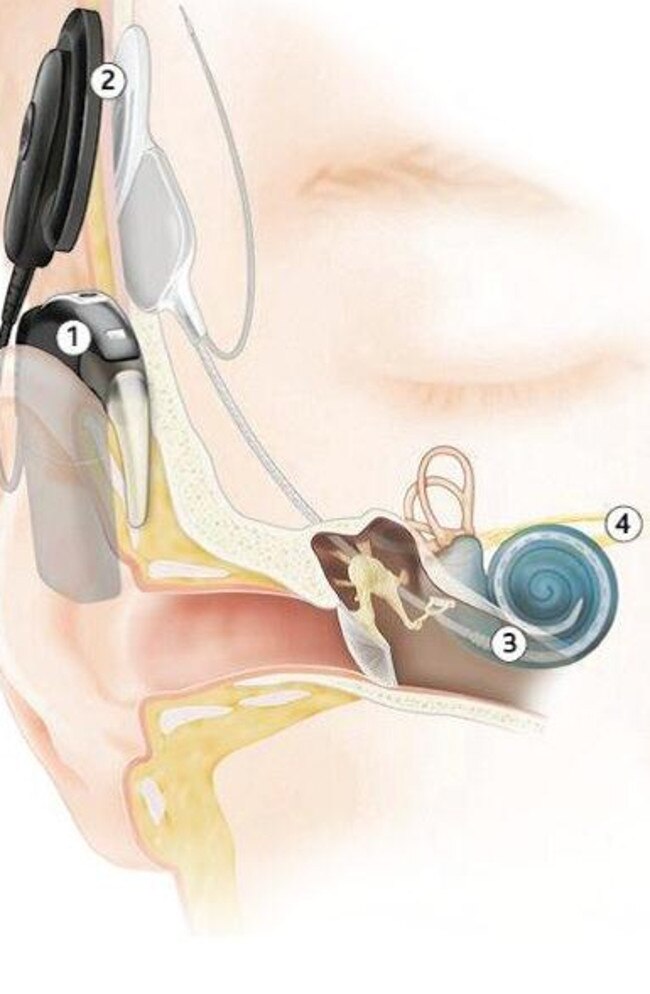 Jamie Lee Lewis, daughter of rugby league legend Wally Lewis, is just one of many excited customers waiting for the cochlear implant to be upgraded as she starts her new career as an apprentice* carpenter.
Ms Lewis was diagnosed* as being deaf as a child and had her first cochlear implant at four and another when she turned 16.
"I thought it was a good advance when I found out about the new one — it would be awesome that you wouldn't need a cord to connect it to the phone," she said.
The seventh version of the cochlear sound processor Nucleus 7, which is smaller and lighter and with a battery that lasts 50 per cent longer, will be on sale in Australia next month.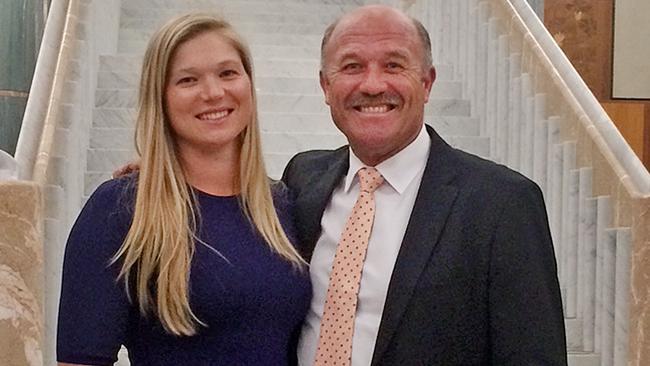 GLOSSARY
cochlear implant: an electronic device in the ear that helps individuals with hearing loss to recognise some sounds
impairment: being weakened or damaged
apprentice: a person who learns a trade on the job
diagnosed: identifying a medical problem through examination
LISTEN TO TODAY'S STORY
CLASSROOM ACTIVITIES
1. Whole New World
Explain in one to two paragraphs, how the cochlear implant has transformed the world of thousands of deaf Australians.
As this is the 7th version of the cochlear implant, why is it important that they keep improving on the current model?
If this newest version of the cochlear implant allows connection to an iPhone via Bluetooth, what else could it do using this same method?
Extension: Research the improvements made to the cochlear implant from the first version to the current model.
Time: Allow 20 minutes to complete this task.
Curriculum links: English, Design & Technologies
2. Silent World
Work with a partner to practise walking in the shoes of a hearing impaired person. Use something to block your ears (headphones, earplugs or just cover ears with your hands) and observe the classroom around you for five minutes.
Write down your observations:
– how do you feel not being able to hear?
– what would it stop you from doing?
– how could you communicate with others?
– what would you need to rely upon?
– does not being able to hear what's going on make you feel isolated?
Extension: Ask your teacher if you can go to the Auslan sign language website with the link below and learn five basic signs
http://www.signplanet.net/TeacherTrainer/TTSearchBrowse.asp?SubCatID=70-Everyday%20words
Time: Allow 20 minutes to complete this task.
Curriculum links: English, Languages, Personal & Social
VCOP ACTIVITY
After reading the article, with a partner, highlight all the openers you can find in blue. Discuss if they are powerful and varied openers or not. Why do you think the journalists has used a mix of simple and power openers? Would you change any, and why?
IN ONE SENTENCE, TELL US WHAT YOU LIKE ABOUT TODAY'S STORY
Please do not use one-word answers. Explain what you enjoyed or found interesting in today's article. Use lots of adjectives.