HAVING a brush with a hungry hippo could be the secret to saving children's chompers*.
Faced with an increasing* number of children hospitalised with decaying teeth, Dental Health Services Victoria has asked for help from the hippopotamuses.
Just like their human visitors, the huge hippos at Werribee Open Range Zoo need their teeth cleaned every day.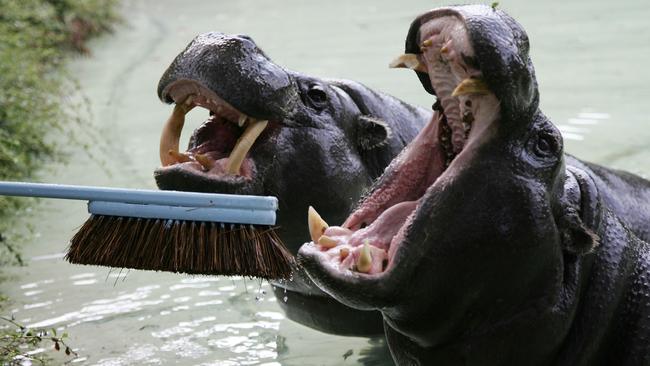 In partnership with the Victorian dental organisation, the hippos are going to be used as an example to explain the teeth heath message to families with messages displayed on the enclosure*.
One in every 1000 children under five is hospitalised to treat decay and Dental Health Services Victoria CEO Dr Deborah Cole said they needed a new way to get the message across.
Zoos Victoria CEO Dr Jenny Gray said she welcomed the chance to engage* visitors with important messages for themselves as well as their animals.
"Like humans, hippos need to take great care of their teeth and our keepers' brush their
teeth and gums daily to help keep them clean and healthy," she said.
It's not only hippos that get their teeth cleaned at the zoo but also orangutans, sun bears and other crunching creatures.
GLOSSARY
chompers: teeth
increasing: going up
enclosure: where the hippo lives at the zoo
engage: include
LISTEN TO TODAY'S STORY
CLASSROOM ACTIVITIES
Activity 1. 5W+H
Use the 5W+H to identify the important information in this article.
Who
What
Where
When
Why
How
Extension: Tooth Decay
Do some further research about tooth decay.
Find out-
What is tooth decay? What causes it? How can you prevent it?
Present your information in the form of a fact sheet* suitable for primary school aged children to read and understand.
*a sheet giving useful information about a particular issue.
The following websites have some information about Tooth decay
http://www.eschooltoday.com/tooth-care-for-children/tooth-gum-dental-decay.html
https://www.dhsv.org.au/dental-advice/general-dental-advice/children
Time: allow 40 minutes to complete this task
Curriculum links: English, Science, Health and Physical Education
Activity 2. Happy Hippos
From the article we know that hippos need their teeth cleaned.
What else can you find out about hippopotamuses?
The websites below have some information about them or you may be able to do some research in your school library.
Write an information report about hippopotamuses.
Include the following- animal type, a description and picture, natural habitat, diet, behaviour, their predators and if they are endangered.
https://www.zoo.org.au/werribee/animals/hippopotamus
Extension: Design a tooth brush
Hippopotamus means river horse. They spend most of their time in the water. Their teeth can be up to 50cm long.
How do you think a zoo keeper would clean their teeth?
Can you design a tooth brush that would be suitable for this job and will keep the zoo keeper safe?
Now design one for a crocodile, a tiger and an orangutan.
Think about the type of teeth these animals have and their behaviour to ensure the tooth brush is suitable for each animal and the keeper will remain safe.
Time: allow 60 minutes to complete this task
Curriculum links: English, Science, Design and Technology
VCOP ACTIVITY
(Vocabulary, Connectives, Openers, Punctuation)
Punctuation Thief
You are the notorious Punctuation Thief! Your job is to choose a sentence, paragraph or section of the article and steal the punctuation. Do this by rewriting it without punctuation.
For example: just like their human visitors the huge hippos at werribee open range zoo need their teeth cleaned every day
When the punctuation has been successfully stolen, hand what you have done to a partner. Challenge them to identify what is missing and return the punctuation where it belongs. Once complete, check your answer by comparing with the article.
Extension: Write your own sentence or paragraph without any punctuation and challenge your partner to find what's missing.
(Approx. 25 minutes)
Curriculum links: English, Big Write, VCOP
Activity provided by Andrell Education www.andrelleducation.com.au
EXTRA RESOURCES
DENTISTS WARN SOUR LOLLIES ARE TWICE AS BAD FOR TEETH
MEET THE LION CUBS, NAMED BY YOU
TIGER CAM CAPTURES PREY'S-EYE VIEW