Parents and educators are fighting the increasing amount of children's screen time and their weapon of choice is dirt.
With Spring now only weeks away, many households, daycare centres and schools are embracing gardening as a way to get children active in the outdoors.
According to Kids in the Garden author Mary Moody, who has 11 grandchildren, gardening is a natural mood booster*.
"Obviously they are getting out in the fresh air and exercising but there are natural elements within the soil that boost serotonin* levels and act like a natural mood enhancer, much like the endorphins* brought on by exercise," she said.
"Touching the soil, planting seeds and weeding, they are all positive sensory* activities that make us happier."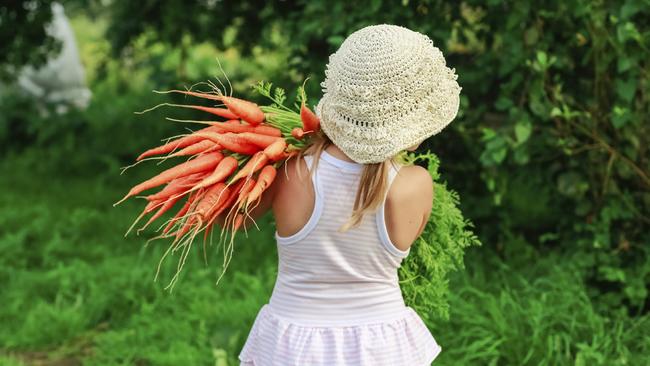 Mrs Moody said she also used gardening as a tool to limit screen time and to teach children to care for something other than themselves.
"I have very strict rules that when the children are with me for school holidays and the weather is fine we are outside gardening," she said.
"But I am out there with them, it has to be a shared activity — you can't just give them a packet of seeds and say off you go.
"It's also a good idea to encourage them to read about what they are planting and keep a calendar or notebook which helps (lower) the impatience of waiting for seeds to sprout.
"But when they do get the (pleasure) of harvesting* it is a real delight — digging up a spud out of the dirt is heaven for a child."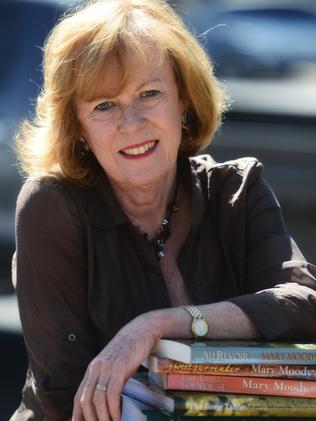 Maureen Smith, director of Goodstart Early Learning Jindalee in Queensland said gardening programs at the centre taught children that not all food comes from the supermarket, that it can be grown, picked and eaten in the backyard.
"From planting the seed to caring for the seedling, picking, cooking and eating, the children learn where food comes from," she said.
"They learn the signs about when to pick and also about the cycle of pollination thanks to our native bee hives. Our honey tastes like the lemon myrtle we grow so that is a great lesson too."
Mum of two Annika Smith, from Wavell Heights, said getting out in the garden was a great way for her son Theo to show how helpful and caring he can be.
"Theo loves participating in the tasks around the garden such as watering the plants and digging up the soil to plant our herbs.
"He also loves playing in the dirt and will even help me pull out the weeds, it's great exercise even if it does get a bit messy sometimes."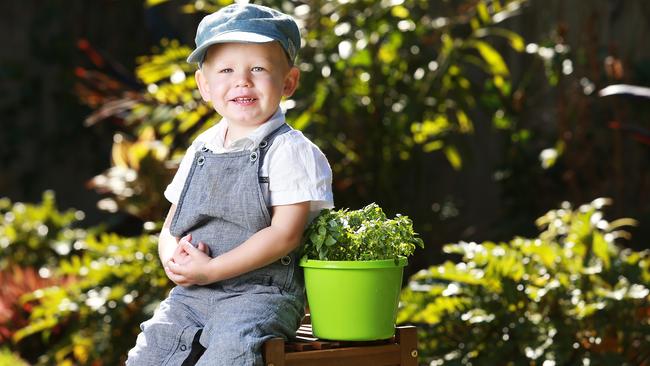 FAMILY GARDENING TIPS
Make sure kids have their own dedicated garden space
Get the whole family involved — mum, dad and the kids
Let the kids choose the plants themselves. Fast growing vegetables and flowers perfect for children include radishes, lettuce, parsley, petunias, marigolds and poppies
Try to plant things you all enjoy eating
Follow through from planting to harvesting
Avoid making gardening a chore, make it fun
Go on a family outing to open gardens
SCHOOLS CAN WIN A VEGGIE PATCH STARTER PACK
News Corp Australia has partnered with Mr Fothergill's to give your school a chance to win an amazing prize — $750 worth of gardening equipment to start your very own School Veggie Patch!
From Saturday, August 25 until Sunday, September 9, the school that collects the most My Little Seed Garden growing kit wrappers via your News Corp paper wins. Scores are calculated on a proportional basis for the number of students that attend your school, so everyone has an equal chance of winning.
The My Little Seed Garden collection includes 15 of the most popular and easy to grow herbs complete with seeds, soil and a biodegradable pot.
For more details and to enter your total, visit: http://www.mylittleseedgarden.com.au/win
GLOSSARY
mood booster: makes you happy
serotonin: chemical produced naturally in your brain that affects the way you feel
endorphins: hormones released in your body that make you feel good when you exercise
sensory: using one or all of your senses (ie, touch, smell etc)
harvesting: picking vegetables from the ground
LISTEN TO TODAY'S STORY
QUICK QUIZ
1. What are endorphins?
2. What effect can touching soil have on our bodies?
3. Explain what harvesting is.
4. What does the honey at Goodstart Early Learning Jindalee taste like?
5. Name three fast-growing vegetables and flowers perfect for children to plant.
CLASSROOM ACTIVITIES
1. Word sorting
Examine the article and see how many gardening words you can find to add to these two lists:
A. Names of things you might use or grow when gardening (NOUNS)
B. Things you might do while gardening (VERBS)
When you have finished your list, compare with a partner. Do you both have the same words? Did you miss any? Do you both agree that the words you have added to your lists are nouns and verbs?
2. Extension: Write one fantastic sentence to tell others why gardening is such a great activity for children. Make sure your sentence is interesting, convincing and based on benefits mentioned in the news story.
Time: Allow 20 minutes
Curriculum links: English
VCOP ACTIVITY
The glossary of terms helps you to understand and learn the ambitious vocabulary being used in the article. Can you use the words outlined in the glossary to create new sentences? Challenge yourself to include other VCOP (vocabulary, connectives, openers and punctuation) elements in your sentence/s. Have another look through the article, can you find any other Wow Words not outlined in the glossary?
HAVE YOUR SAY: Do you garden with members of your family and what do you enjoy about it?
No one-word answers. Use full sentences to explain your thinking.