Twins Nima and Dawa Pelden will fly home to the Himalayas* today (Wednesday) after fully recovering from their historic separation* surgery in Australia.
The previously conjoined* twins spent their final day down under yesterday celebrating with the people who helped them become individual children.
Four months after their operation at the Royal Children's Hospital in Melbourne, the sisters are now in perfect health and are even taking their first steps as they continue a recovery that has amazed their doctors and carers.
The 20-month-old girls and their mother Bhumchu Zangmo yesterday attended a Government House party to celebrate the 20th anniversary of Children First Foundation, the charity which brought them to Australia for their shot at separate lives.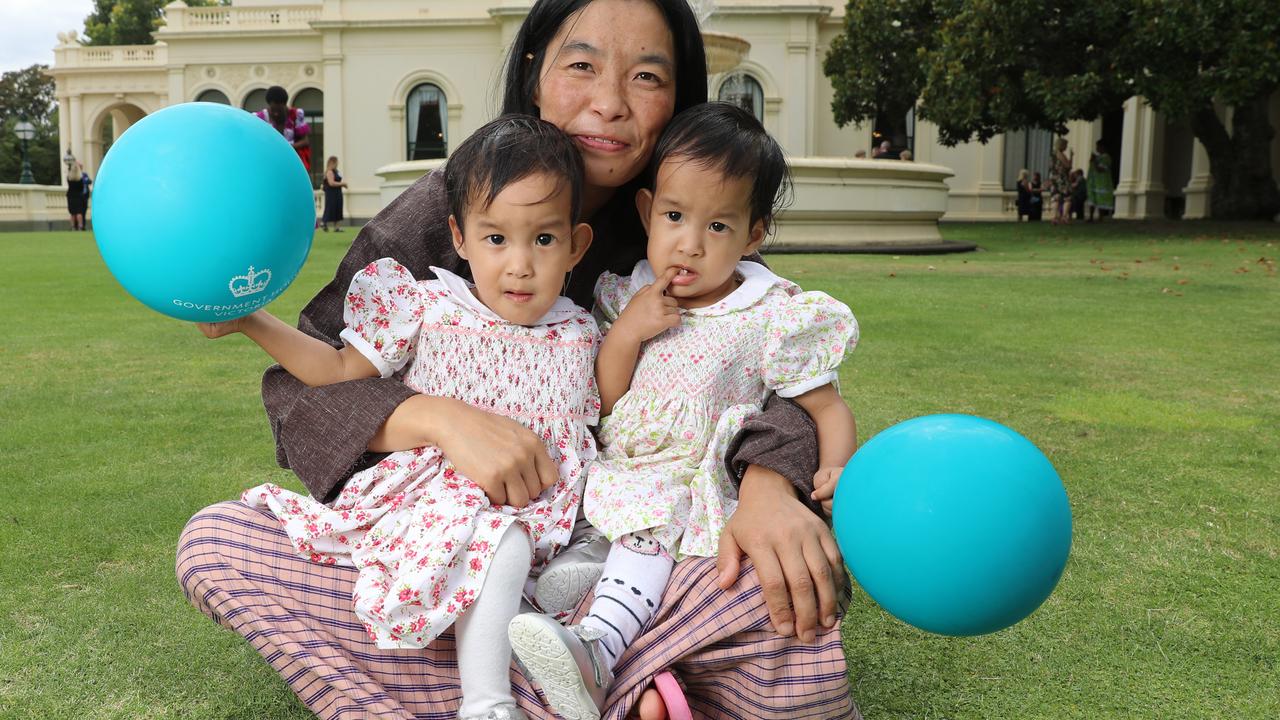 This afternoon Nima and Dawa will begin a 21-hour, 9200km journey home for an emotional reunion with the father Sonam, who has not seen them since they were separated.
While their farewell marks an end to an 18-month effort by the charity and Royal Children's Hospital surgeons* to save the girls, Children First Foundation chief executive Elizabeth Lodge said it would also be difficult saying goodbye.
"The children are with us and then they go home to a life full of hopes and dreams," she said.
"But there is a bit of sadness, a bit of bittersweet* kicking in, because they are such a joy, as is their mum Bhumchu.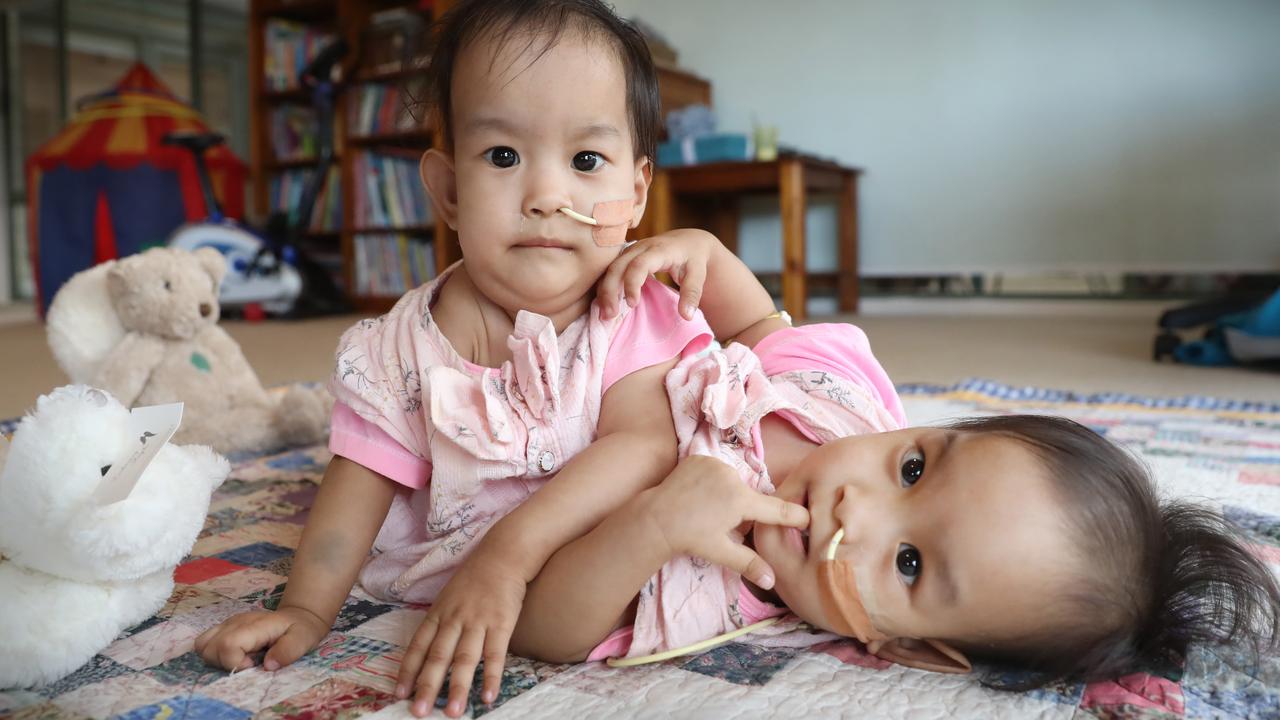 "They came as two little poppets way back in October and they have blossomed* in their movement but, in many respects they haven't changed.
"Nima is still the big sister and the boss. Dawa sort of tags along behind sometimes.
"Mum said from the beginning she always knew there were two little personalities just waiting to take flight."
Surrounded by other children brought to Australia for their own lifesaving surgeries, as well as many of the specialists who have helped the foundation transform 350 lives over the past two decades, Royal Children's Hospital head of paediatric* surgery Joe Crameri said he was stunned by how far Nima and Dawa had come.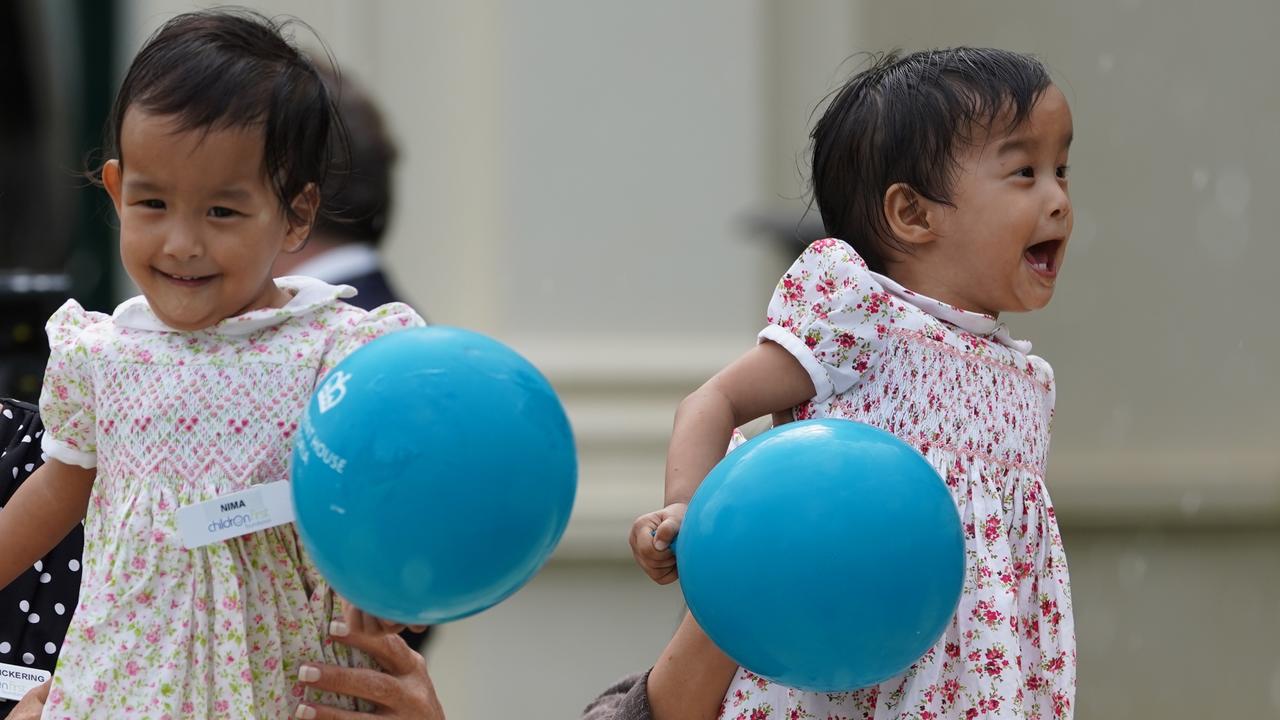 "We were able to achieve a lot during the surgery, but I am astonished by what has been achieved by Children's First with all the physio* and all the support that has been provided," Dr Crameri said.
"They have two normal girls who are happy, they are healthy, they are feeding fairly normally which they weren't doing at the beginning, and they are just so much more mobile than what I thought would be achievable during their stay here."
GLOSSARY
Himalayas: a mountain range in South Asia which includes Mt Everest
separation: being moved apart
conjoined: joined together
surgeons: doctors qualified to operate
bittersweet: happiness combined with sadness
blossomed: develop in a healthy way
paediatric: medicine dealing with children
physio: shortened word for physiotherapy, which is treatment by physical methods such as massage
EXTRA READING
Doctors to separate conjoined twins
Aussie medical invention will save lives
Injured bird flies again after feather transplant
QUICK QUIZ
Where did the twins have their lifesaving separation surgery?
What is the girls' surname?
Which country are they from?
Where did they spend the day partying?
Which organisation arranged for the sisters to come to Australia?
LISTEN TO THIS STORY


CLASSROOM ACTIVITIES
1. Letter of thanks
Imagine you are Nima and Dawa in 10 years' time, and you want to send a note of thanks to everyone in Australia who helped you to be separated.
Write your letter and include how you think the twins would be feeling and who they would thank.
Time: Allow 25 minutes for this activity
Curriculum links: English, Humanities, Health

VCOP ACTIVITY
After reading the article, with a partner, highlight as many wow words or ambitious pieces of vocabulary that you can find in yellow. Discuss the meanings of these words and see if you can use them orally in another sentence.

HAVE YOUR SAY: What would your farewell message be to Nima and Dawa as they leave Australia?
No one-word answers. Use full sentences to explain your thinking. Your answers will not show until approved by editors.