SCHOOL children should be 10-years-old before pounding the pavement without their parents, say road safety experts.
The Pedestrian* Council of Australia said that younger children risk being severely injured or even killed when crossing roads without adult supervision.
The pedestrian safety body issued the warning ahead of National Walk Safely to School Day on Friday. The council said that parents were confused about what was the right age to allow their children to walk to school and they feared making the wrong decision.
Council chairman Harold Scruby said that the right age was 10.
He said younger children were easily distracted and unable to judge speed and distance accurately.
"This is irrefutable* evidence from all around the world," Mr Scruby said.
"I am horrified when I see little five-year-olds running up to a corner or traffic lights.
"It only takes something small to distract them and they're out there on the road."
The council said children aged under 10 should hold an adult's hand while crossing a road.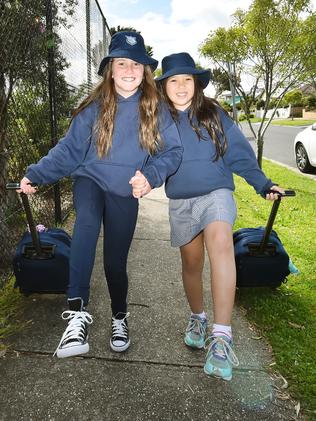 But that kids aged 8 and under should also hold a hand while on the footpath or in a car park.
At least a million primary school children across Australia are expected to ditch cars for their feet on Friday.
The national day of awareness promotes the health benefits of regular walking, as well as road safety.
Susan Liew, the Director of Orthopedic Surgery at The Alfred hospital, said children risked lifelong disability if injured while they were young.
"Parents are always interested in keeping their children safe but they cannot take action if they don't know or don't think about some of the facts," she said.
GLOSSARY
pedestrian: walking person
irrefutable: undeniable
LISTEN TO TODAY'S STORY
CLASSROOM ACTIVITIES
Activity 1. Walking safely to school
What age does the article suggest children could be allowed to go for a walk without direct parent supervision?
What reasons are given for this age recommendation?
What other advice is given in the article to keep children safe when walking on a footpath, crossing roads or in a car park?
What factors, other than age, should a parent consider when deciding if their child can walk to school unaccompanied?
Extension: Newsletter item
The article says that some parents are confused about when they should allow their child to walk to school alone.
Use some of the information in the article to help you write a letter in the school newsletter, informing parents that 10 is the recommended age that children can walk to school alone. Give reasons for this age recommendation.
You may do some further research to help you.
The following website has some more reasons why younger children need supervision when walking and crossing roads: http://www.kidsafensw.org/road-safety/pedestrian-safety/
Time: allow 30 minutes to complete this activity
Curriculum links: English, Health and Physical Education
Activity 2. Run a safety campaign poster
Design a poster for children that promotes safe behaviour when walking along footpaths and/or in car parks and/or crossing roads.
Come up with four or five key points in simple language that children should focus on when walking on footpaths, in car parks or when crossing roads.
Make sure your poster is presented well to catch the interest of young children.
Extension: Run a Safety Campaign – Song or Play
In a small group come up with a catchy song that encourages safe behaviour when walking to school without an adult. Perform this play to a younger class.
OR
In a small group prepare a short role play that teaches young children about what is safe behaviour when walking to school.
Perform this play to a younger class.
Time: allow 60 minutes to complete this activity
Curriculum links: English, Health and Physical Education, The Arts – Music/Drama
VCOP ACTIVITY
(Vocabulary, Connectives, Openers, Punctuation)
Five words for the five senses
Imagine you are walking to school on National Walk to School Safely Day.
What you can see, touch, taste, feel and hear?
Create a list of five words per sense describing a word that appears when you focus on using each sense.
Eg: Hear = Cars, birds, See: roads, people
Extension:
Use these words to create a paragraph about what you might experience walking to school.
Time: allow 20 minutes to complete this activity
Curriculum links: English, Big Write, VCOP
EXTRA RESOURCES
FIDGET SPINNERS WHIP UP A FRENZY
HOW OUR CLASSROOMS HAVE CHANGED
FOSTER CARE VITAL FOR 1400 KIDS
DRIVE TO PROVIDE FARE SHARE OF FOOD
IN A SENTENCE, SHARE YOUR THOUGHTS ON TODAY'S STORY
Kids News loves reading your best grammar, vocabulary and spelling.
We publish the best comments.