Doctors have successfully kept a heart beating in a jar for 24 hours, bringing hope to thousands of patients across the world in need of a lifesaving transplant*.
The "game-changing"* device can preserve* heart tissue up to six times longer than existing methods.
Currently, a donated heart can only lasts about four hours as it is rushed to the person who needs it.
But by pumping fluid through the heart's blood vessels*, and using pulses of oxygen which mimic* a heartbeat, University of Texas researchers successfully tested it on pig hearts, which are similar to human hearts.
They plan human trials in three months and expect medical approval within a year.
The device, named ULiSSES, fits into a ­carry-on case, so the hearts can be flown around the world.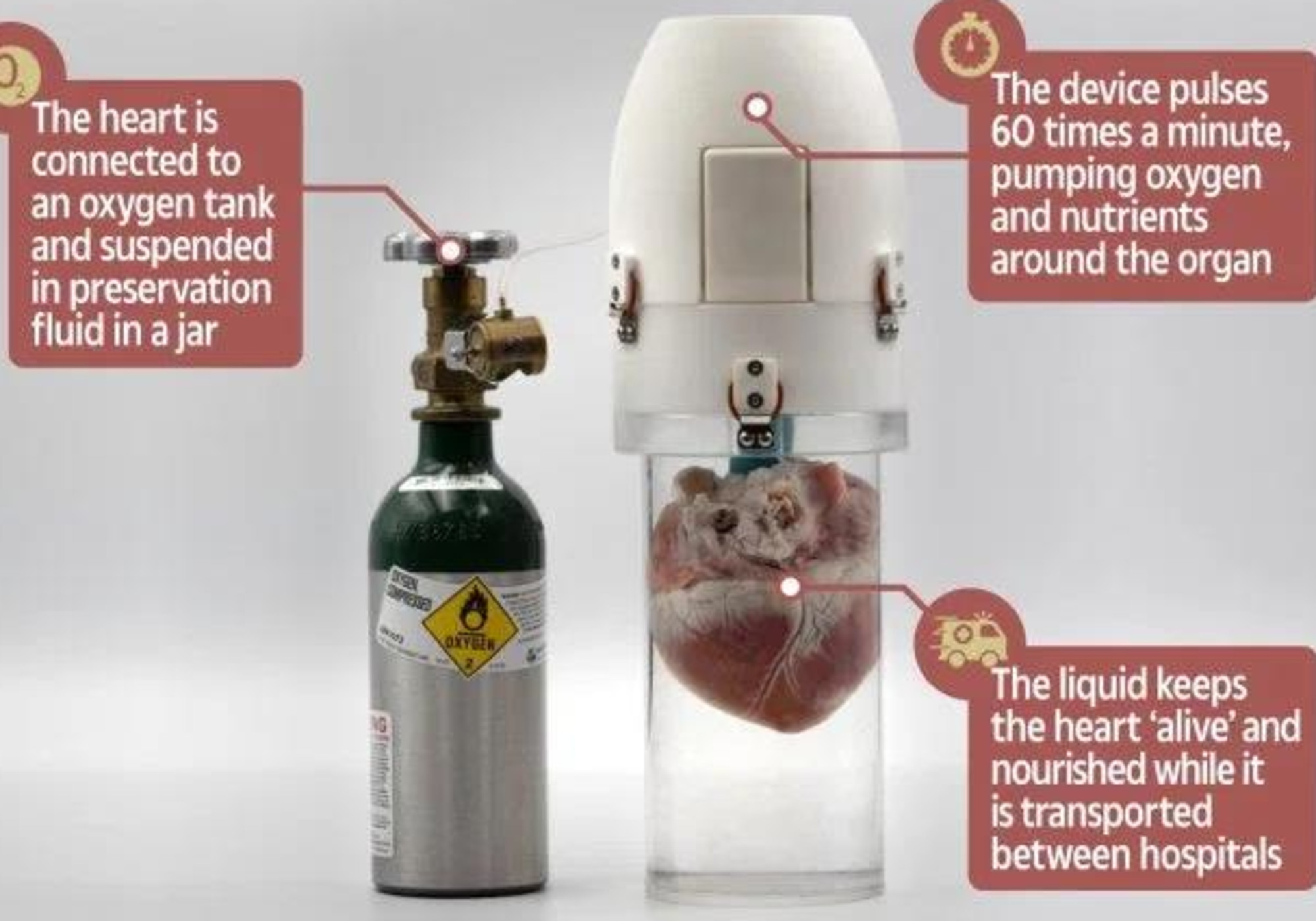 Dr Rafael Veraza, from the University of Texas Health at San Antonio, presented the findings on pig hearts, which still appeared to be oxygenated* with living cells after 24 hours, at the annual meeting of the American Association for the Advancement of Science in Seattle.
'The first heart was transported more than 50 years ago by putting it on ice, and decades later it is done much the same way," Dr Veraza said.
"Donor hearts typically remain viable* for around four hours using ­traditional preservation* methods.
"The pig hearts appeared to remain viable 24 hours after they were harvested*. The machine is a game-changer* and has potential to save thousands of lives.
"Being able to keep a heart viable for 24 hours means you could transport it almost anywhere in the world, and this could save many lives," he said.
The device operates at any temperature or air pressure.
This article first appeared in The Sun and has been reproduced with permission.
GLOSSARY
transplant: move or transfer (someone or something) to another place or situation
game-changing: causing a significant shift in the current way of doing or thinking about something
preserve: maintain (something) in its original or existing state
blood vessels: a tubular structure carrying blood through the body
mimic: imitate or copy
oxygenated: supplied, treated, or enriched with oxygen
viable: usable
preservation: the act of maintaining or preserving something
harvested: remove an organ from a person or animal for transplant
EXTRA READING
Australian man's world-first skin transplant
Why do we need organ donations?
QUICK QUIZ
What is the name of the device that keeps the heart alive?
How long did it preserve a harvested heart for?
How long does a current donated heart last?
Where were the findings presented?
How was the first heart transported 50 years ago?
LISTEN TO THIS STORY

CLASSROOM ACTIVITIES
1. Put yourself in the picture
Show your understanding by completing these sentence stems.
The ULiSSES works by…
The ULiSSES is better than the traditional method of transporting hearts on ice because…
If human trials of the ULiSSES are successful…
Time: allow 15 minutes to complete this activity
Curriculum Links: English; Science
2. Extension
Imagine that you are Dr Veraza. Create a detailed graphic that you could use during your presentation that would help to explain some aspect of the ULiSSES device's operation or benefits.
Time: allow 20 minutes to complete this activity
Curriculum Links: English, Science

VCOP ACTIVITY
The glossary of terms helps you to understand and learn the ambitious vocabulary being used in the article. Can you use the words outlined in the glossary to create new sentences? Challenge yourself to include other VCOP (vocabulary, connectives, openers and punctuation) elements in your sentence/s. Have another look through the article, can you find any other Wow Words not outlined in the glossary?

HAVE YOUR SAY: How does this story about heart transplants and saving lives make you feel?
No one-word answers. Use full sentences to explain your thinking. No comments will show until approved by editors.