Worn-out jeans could help repair worn out knees thanks to an amazing discovery by Australian scientists.
Deakin University researchers have discovered how to dissolve* denim and turn it into a lightweight gel* that liquids can pass through, which could one day be used as artificial* cartilage* for knee reconstructions.
The denim recycling discovery — by the Institute for Frontier* Materials and Deakin's School of Engineering* — provides a possible new material for use in knee reconstructions, but could also help solve the global problem of textile waste. A knee reconstruction is a repair operation some people need when their knee joint is painful because it is worn or damaged.
Deakin scientist Dr Nolene Byrne said denim worked because it is made from cotton, which is a plant. Just like grass, wood and vegetables, cotton is mostly cellulose, which is another name for plant fibre.
The scientists dissolved the waste denim, allowing the cellulose to be remade into a gel with lots of tiny holes in it so that air or liquids could pass through, which makes it more suitable to use in the human body. Scientists call this kind of gel an aerogel, like Aero bubbly chocolate.
The stickiness of the dissolved denim cellulose also made it suitable as artificial cartilage, Dr Byrne said.
"Now we can shape and tune the aerogel … to make the ideal shape," she said.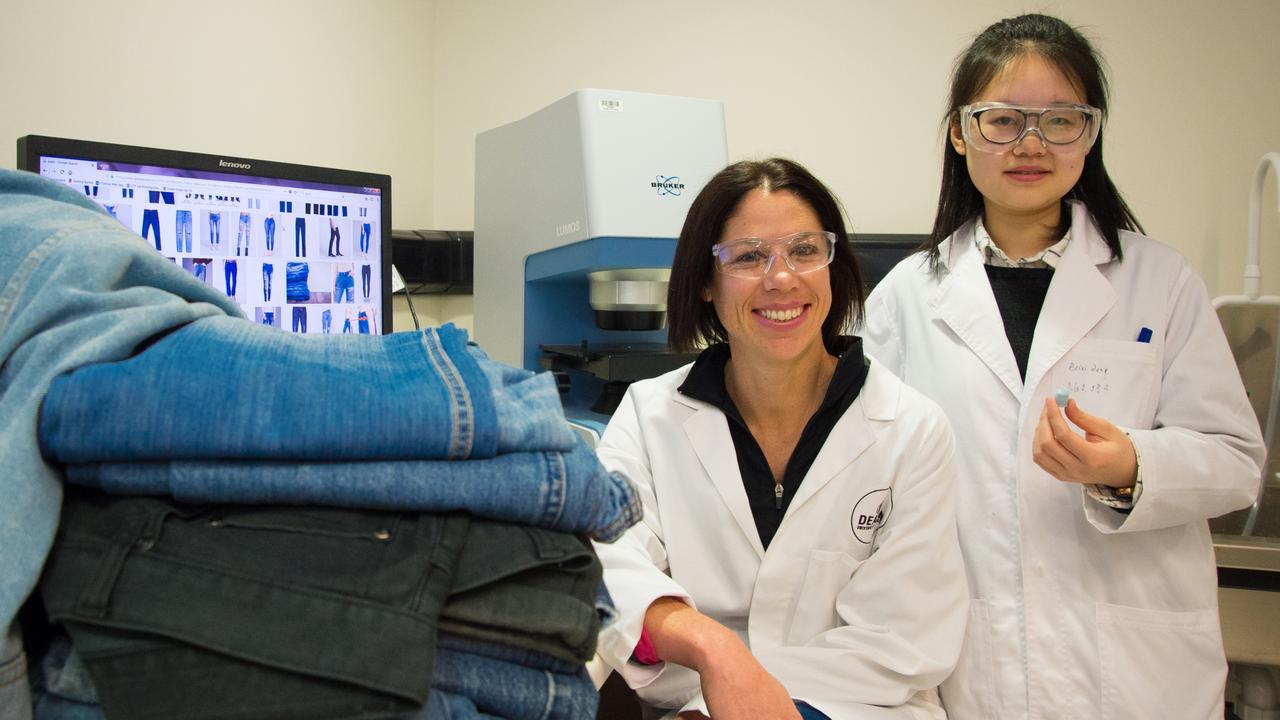 Dr Wren Greene from Deakin's Institute for Frontier Materials, who helped test the aerogel, said there was a "remarkable* similarity" between the structure of the real and denim cartilage.
Finding a new use for old denim was also an important environmental solution.
"Textile* waste is always increasing, leading to millions of tonnes of clothes and other textiles being burnt or dumped in landfill," she said.
There are many great ideas for recycling old denim, including making this apron
GLOSSARY
dissolve: breaking a solid down so little bits of it are floating in a liquid
gel: jelly-like substance
artificial: made by humans rather than naturally
cartilage: a flexible, non-stretchy substance that connects bones
frontier: limit of what's been done or explored before
engineering: design and building science
remarkable: worth attention
textile: fabric or cloth
EXTRA READING
High hopes for Aussie invention
Turning plastic into something precious
World-first bionic eye ready to see
LISTEN TO TODAY'S STORY
QUICK QUIZ
What do the scientists do to the denim?
What are they going to use the gel for?
Why is the gel called an aerogel?
Who helped test the aerogel?
Why is it important to find a new use for old denim?
CLASSROOM ACTIVITIES
1. What's it all about?
An acrostic is a type of writing where the first letter of each line spells out a word. Use the word DENIM JEANS to write an acrostic about the most interesting and important facts about this story. Your acrostic should help another student understand what it's all about!
Time: Allow 20 minutes
Curriculum Links: English, Science
2. Extension
Think about the problem of textile waste and some things that you and other kids can do to create less waste. List as many things as you can think of. Then, design a set of at least two posters that will help other kids understand why this is a problem and simple steps to help solve it.
Time: Allow 30 minutes
Curriculum Links: Personal and Social Capability, Geography
VCOP ACTIVITY
The glossary of terms helps you to understand and learn the ambitious vocabulary being used in the article. Can you use the words outlined in the glossary to create new sentences? Challenge yourself to include other VCOP (vocabulary, connectives, openers and punctuation) elements in your sentence/s. Have another look through the article. Can you find any other Wow Words not outlined in the glossary?
HAVE YOUR SAY: What other ways could you and others reduce the amount of waste fabric going into landfill? No one-word answers. Use full sentences to explain your ideas.