Joel Mason was pulled from the surf at Nambucca Heads, on the NSW mid-north coast, after being badly bitten on the leg by a Great White Shark.
"It happened within a split second," Mr Mason said. "A group of about 100 dolphins just disappeared all at once. Then I felt something slam into my leg."
"I was in need of blood and I had lost a lot by the time I made it to shore," he said. "I had five units of blood on scene to stabilise me and a number of units of plasma* before I was flown to the hospital.
"I lost about 20 per cent of my blood on scene and the initial adrenaline* that had helped me get to the shore was wearing off."
Mr Mason was clinging to life when he arrived at Port Macquarie Hospital. Trauma doctors and nurses worked to keep him alive and he had several blood transfusions*.
He later was flown to John Hunter Hospital in Newcastle, where surgeons tried for hours to save his leg.
"They managed to sew me back together, and they've done an amazing job," Mr Mason said.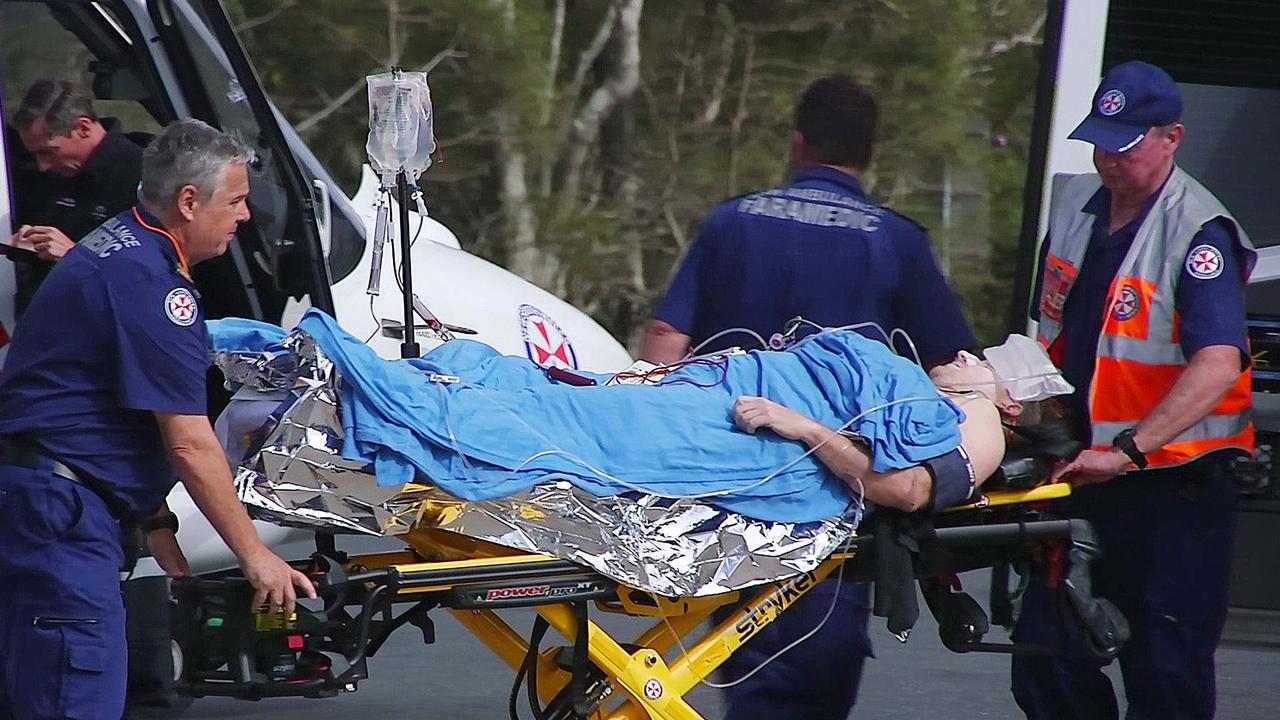 People are fascinated about stories of shark attacks, so Mr Mason has had lots of requests to tell his story.
But he'll tell it only on one condition: that it helps get the word out about blood ­donation and the nation's blood service.
"Without blood donors, my three kids wouldn't have a father and my champion wife wouldn't have a husband," he said.
"A team of incredible people worked together to save my life, but without blood donation — the simplest thing a person can do to help — I wouldn't be here."
Mr Mason's desire to tell his story comes as the nation's blood service considers its own story and future. As part of its evolution, the Red Cross has taken on a new name: Australian Red Cross Lifeblood.
Chief executive Shelly Park said stories such as Mr Mason's are the lifeblood of the organisation.
"The name Lifeblood reflects the role we play in the Australian community, now and into the ­future, but also celebrates our generous donors — who are the lifeblood of Australia," she said.
It has been nearly a year since blood donors saved Mr Mason.
"I can't give blood yet because I received a transfusion less than 12 months ago," he said.
"But I'm counting down to ­December 16, a year since the ­attack, when I'll be able to pay it all back and give blood to help someone else."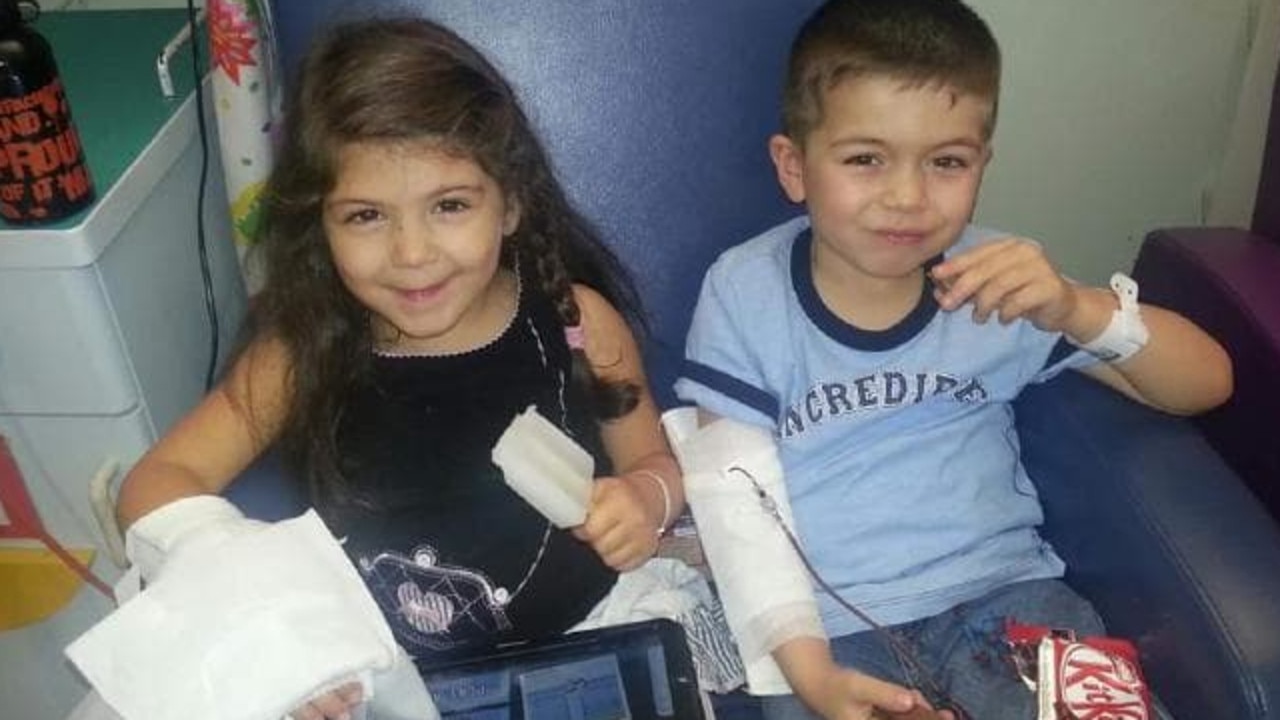 BLOOD BUDDIES
Katia Testone, 11, and Daniel Brunetta, 12, have been receiving blood transfusions together every four weeks since they were preschoolers.
The pair have thalassaemia, a ­serious genetic* disorder that leaves them unable to produce normal haemoglobin*.
They will need transfusions for the rest of their lives.
Katia and Daniel meet at the Children's Hospital at Westmead, in western Sydney, NSW, in the morning, wait a couple of hours for their blood to be matched, then spend five hours with portable transfusion trolleys attached to their arms.
They can't leave the ward* during the transfusion, so for that one day a month they are each other's chief support, solace* and ent­ertainment. They sit next to each other and talk, watch movies, colour in, play board games and eat.
"It's nice to have someone who has the same as what I'm going through right now," said Daniel. "She makes me feel like I am not the only one."
Katia added: "Without donators, all the people that have this condition, including me and Daniel, would not exist — we wouldn't be alive.
"So, thank you for all the donators that have been donating for all of us.
"We're lucky to be here and we're really grateful. Thank you."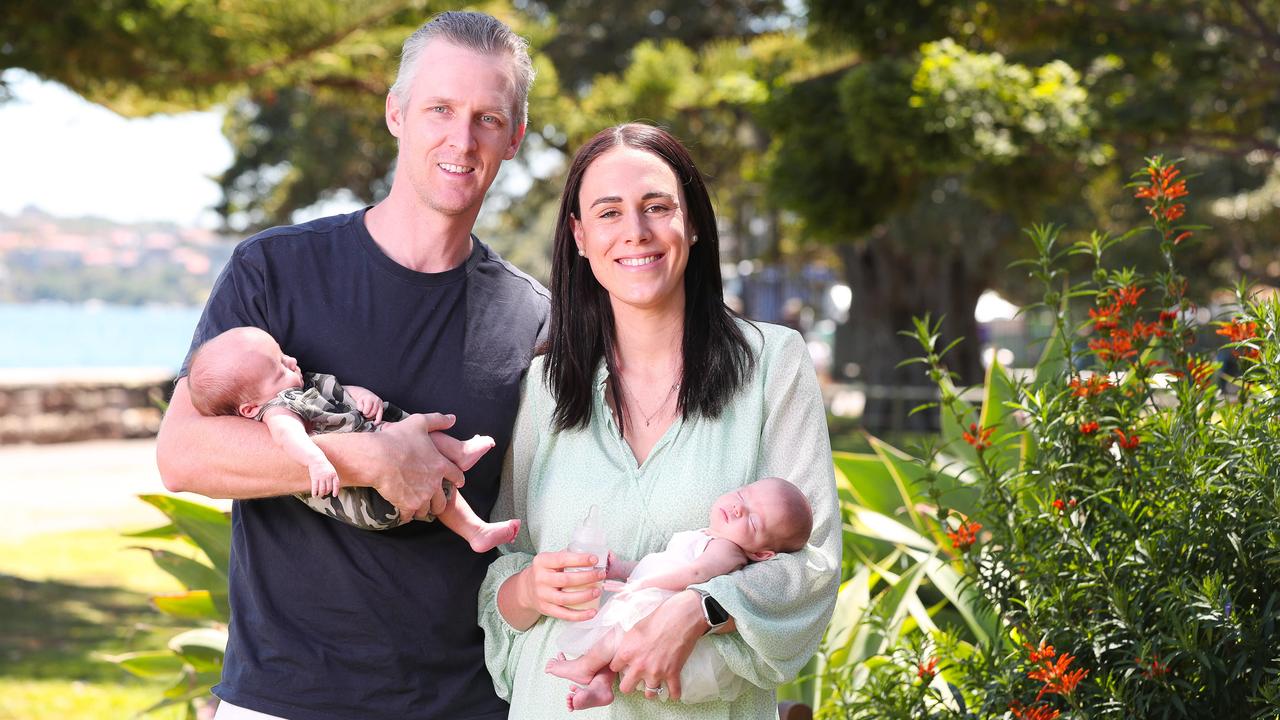 BANK OF HUMAN KINDNESS
Born at 29 weeks, Atticus and Madison Smith were kept alive by a tangle of tubes tied to machines at the Royal Hospital for Women in Sydney.
Their sudden arrival came as a "massive shock" to parents Chloe and Michael Smith.
"I'd had a routine, normal pregnancy, and we had no warning that they might come early," Ms Smith said.
"They were born an hour after arriving at the hospital, and I didn't even see them for 24 hours because they were put straight into the incubators."
Chloe and Michael were overwhelmed by the many issues facing their twins: lungs at risk of collapse, heart problems, jaundice*, and anaemia*.
One request caught them off guard. "The nurse came in after they were born and asked if we would be happy for our babies to be given donated breast milk," Ms Smith said.
"I was completely taken aback.
"I didn't even know you could get donated breast milk."
Breast milk is full of antibodies* that help premature and sick babies recover faster.
Milk from donors is an excellent alternative if the mother can't produce enough herself.
A milk bank was launched in September last year by the Red Cross and the organisation now known as Australian Red Cross Lifeblood. The bank supplies donated milk to neonatal* intensive care units in South Australia and NSW.
Yet it's a service of which most people are unaware, according to Australian Red Cross Lifeblood chief executive Shelly Park.
The service is still in its early days, but as more donors come forward, its reach will extend, Ms Park said.
For Atticus and Madison, the milk bank was crucial*.
"It just made one less thing we had to stress about," Ms Smith said.
"It was terrifying having our babies come so early.
"It's incredible to see what donated breast milk can do and how much it can help a premature baby thrive."
GLOSSARY
plasma: the clear part of blood when red and white blood cells, platelets and other things are taken out
Adrenaline: a hormone the body makes when there is an emergency, to make it react fast
transfusions: a transfer of blood into someone's circulation system
genetic: in the genes, passed down from a parent to child
haemoglobin: the red part of blood that transports oxygen around the body
ward: hospital rooms where the beds are
solace: comfort
jaundice: happens when your kidneys are working properly
anaemia: when there is not enough red blood cells or haemoglobin in your blood
antibodies: help the body fight infection
neonatal: newborn
crucial: vital, essential
EXTRA READING
Michael celebrates birthday with the gift of life
Aussie medical invention will save lives
QUICK QUIZ
Under what condition will Mr Mason tell people about his injuries?
What is the new name of the blood bank?
Why do Katia and Daniel go to hospital?
How many weeks pregnant was Ms Smith when her twins were born?
What is one part of breastmilk that helps babies recover faster?
LISTEN TO THIS STORY
CLASSROOM ACTIVITIES
1. Summarising
This news article about Australian Red Cross Lifeblood features three stories about recipients of blood and breast milk donations. Write a short summary of each case that could help somebody who doesn't have time to read the whole article understand who received the donation, why they received it and how it has helped them.
Time: allow 30 minutes to complete this activity
Curriculum Links: English
2. Extension
How would you convince somebody to donate blood to Australian Red Cross Lifeblood? What are the benefits for the community and can you think of any for the donor?
Either write what you would say to someone to convince them OR draw a picture that you think gets your message across in a persuasive way.
Time: allow 20 minutes to complete this activity
Curriculum Links: English; Visual Art, Personal and Social Capability, Ethical Understanding
VCOP ACTIVITY
After reading the article, with a partner, highlight as many wow words or ambitious pieces of vocabulary that you can find in yellow. Discuss the meanings of these words and see if you can use them orally in another sentence.
HAVE YOUR SAY: Does anyone in your family donate blood? Will you when you are older?
No one-word answers. Use full sentences to explain your thinking. No comments will be published until approved by editors.