AUSTRALIAN Prime Minister Malcolm Turnbull has called a generous $400 million philanthropic* donation by Australian billionaires Andrew and Nicola Forrest a "gift to society."
The huge donation — the biggest made by a living person in Australian history — is aimed at tackling cancer and other social issues.
The donation was announced on Monday, May 22 at a special event attended by Hollywood star Russell Crowe, politicians and medical experts at Parliament House in Canberra.
Prime Minister Turnbull said the donation was an act of love that would inspire other Australians now and in the future.
Billionaire philanthropist* Andrew "Twiggy" Forrest is one of Australia's 10 wealthiest people after he made his fortune in the mining industry.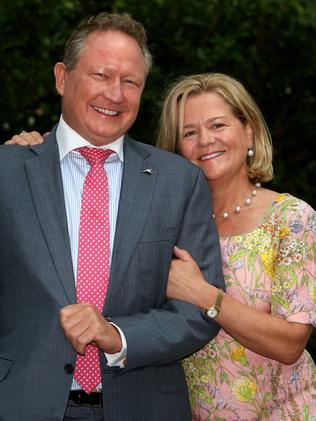 The donated money will go to medical research, with a focus on funding for cancer treatments, and social causes such as education and combating indigenous disadvantage*.
The businessman told Fairfax Media he would be giving away "a very significant proportion" of the couple's personal wealth.
"We decided that if we ever got to the point where we could afford to, we would put that wealth to the highest social use," Mr Forrest said.
"We really want to encourage institutions to specialise in cancer research and to get them the capital* they need in order to do so," he said.
It's not the first time the Forrest family has made a major philanthropic donation.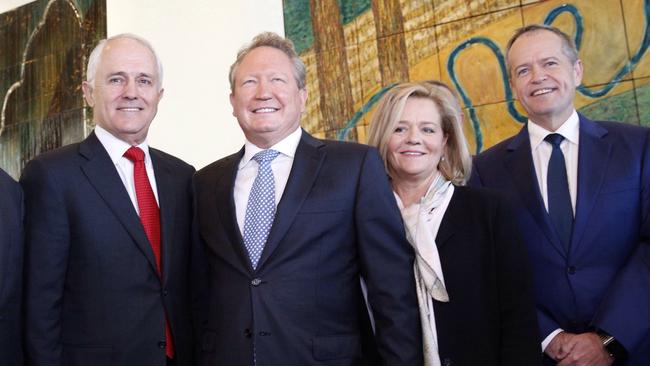 Mr Forrest and his wife Nicola established the Minderoo Foundation in 2001, aimed at helping indigenous Australians.
Minderoo has supported more than 250 initiatives within Australia and internationally that aim to empower* indigenous Australians and aspire for all children in Australia to "thrive by five".
The Forrests and daughter Grace started the Walk Free Foundation in 2012, which aims to end modern-day slavery*, which it says still affects more than 45 million people world wide.
In 2013 the Forrests pledged* to give away a majority of their wealth.
Mr Forrest is now estimated to be worth more than $5 billion. He built his fortune with mining companies, including Anaconda Nickel, now known as Minara Resources, and Fortescue Metals Group, which he started in 2003.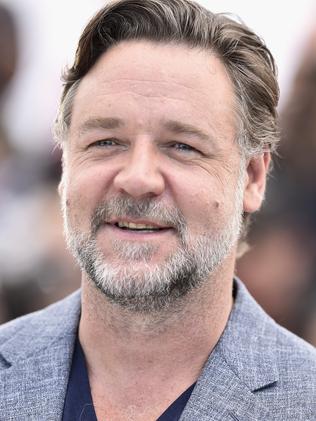 He comes from a longline of prominent West Australians; one of his great uncles was the state's first premier and his family ran a large cattle station, Minderoo, in the state's north from the 1870s.
This year, he was West Australia's finalist for Australian of the Year.
GLOSSARY
philanthropic: something to help others
philanthropist: someone who gives to help others
disadvantage: have less than others
capital: money to start
empower: enable
slavery: forced to work for free, without choice
pledged: promised
LISTEN TO TODAY'S STORY
CLASSROOM ACTIVITIES
Activity 1. Gift to society
After reading the article, outline in one paragraph who donated this huge amount of money and why they are giving that much away.
What is your opinion of Andrew and Nicola Forrest?
What would you like to see done with their money?
If you were a billionaire, would you also donate this much money?
Do you think other billionaires should follow in their footsteps of donating money for the good of society?
Extension:
If you were a multi billionaire, outline how much and where you would donate large amounts of money.
Time: allow 25 minutes to complete this activity
Curriculum links: English
Activity 2. Collage of good
Create a collage using images that depict Andrew and Nicola Forrest and all the good they have done.
You can use magazines, newspapers or just draw different images representing them and the charities they have started and supported.
Name for your collage.
Extension:
Create an acrostic poem on the Forrest family and the good they have done.
Time: allow one hour to complete this activity
Curriculum links: Visual Arts, Critical and Creative Thinking
VCOP ACTIVITY
(Vocabulary, Connectives, Openers and Punctuation)
Synonym snap
Read through the article and see if you can find some basic or boring words.
They could be nouns, verbs, adjectives or adverbs, so look carefully.
Try and find three that you can up-level to a higher level or more specific words using 'synonym snap'
Do they change the way a sentence sounds?
Remember, sometimes the word choice was chosen for a reason and doesn't need to be up-levelled.
Are the words you found appropriate for where they are, or does your up-levelling make it sound better?
Time: allow 15 minutes to complete this activity
Curriculum Links: English, Big Write, VCOP
EXTRA RESOURCES
3D IMAGERY TO TRANSFORM SURGERY