TUMBLING* off it's owners head and into the salty ocean, a camera designed for adventure had the trip of a lifetime and lived to tell the tale, months later.
Five-year-old Harvey Taylor plucked* a GoPro camera, covered in sand and seaweed, from the water's edge at Aireys Inlet on March 7.
"I've found some pirate's treasure," he said.
The modern day message in a bottle contained footage of American tourist, Kate, her friend, Sarah, and another mate at what appears to be Fairhaven Beach on the Great Ocean Road.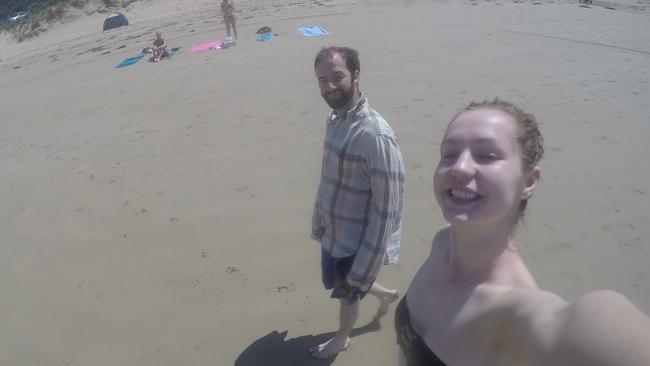 The footage shows the trio* boogie boarding, shouting that the water was "so cold" and hoping that the footage "turns out cool".
One of the mates even warned the others not to drop the camera.
But it was later knocked from Sarah's head as she swam in shallow waves.
Remarkably* the camera's memory card survived and what is contained painted a picture of a whirlwind trip across Victoria.
The tourists jetted* into Melbourne on January 3 before visiting the iconic Great Ocean Road, Aireys Inlet lighthouse and the Twelve Apostles.
The GoPro also captured a mesmerising* video as it rolled around and was sucked out to sea.
It was still shooting footage almost 20 minutes after falling from Sarah's head.
Harvey's family, including dad Chris Taylor, is searching for the owners to hand back the well-travelled camera.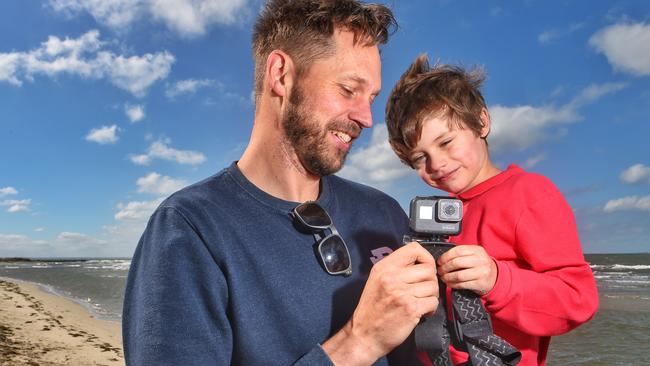 But it isn't a GoPro's price tag of up to $550 that's motivating them. It's the priceless photos.
"It's a modern day twist on a message in a bottle. It's a message in a GoPro," Mr Taylor said.
"If I lost something like that I'd be gutted* that I lost all those memories."
GLOSSARY
tumbling: falling
plucked: extracted
trio: group of three
remarkably: amazingly
jetted: flew
mesmerising: enchanting
gutted: really disappointed
LISTEN TO TODAY'S STORY
CLASSROOM ACTIVITIES
Activity 1. Lost Poster
Create a "LOST" poster (like you might normally see for a lost pet) for the GoPro, written as if you were the owner.
The poster should include important information like where and when the item was lost, what could be found on the memory card and who to contact if it was found.
Extension:
Think of three questions that the Taylor's could ask someone who contacts them claiming that the GoPro is theirs that would prove that they are the true owner?
Time: allow 25 minutes for this activity
Curriculum links: English
Activity 2. Holiday memories
The GoPro contained precious memories of the owner's holiday.
Think of a trip or holiday that you have been on and draw three pictures of memories from that time. Write a description to go with each picture.
Extension:
Try to capture the memory of your trip or holiday even further by deciding on a number one sight, sound, smell, taste and feeling from that trip.
Time: allow 30 minutes for this activity
Curriculum links: English, Visual Arts
VCOP ACTIVITY
Coming soon!
EXTRA RESOURCES
TRUE STORY BEHIND LOST TREASURE
WILD WAVES WASH OVER SYDNEY FERRY