VICTORIAN classrooms look entirely different to how they did just decades ago.
Blackboards, typewriters and old-fashioned projectors have been replaced by electric smartboards*, iPads and state-of-the-art* 3D printers.
Mega-classrooms with 120 students, three teachers and movable walls could be the way of the future, with new research supporting flexible* learning spaces.
But, just a quarter of schools across eastern Australia and New Zealand have ditched traditional* "chalk-and-talk" classrooms.
New research from Melbourne University has shown that open-plan* learning spaces can improve learning.
Associate Professor Wesley Imms said "high-flexible" and interactive* learning spaces are ideal.
"We're starting to find evidence to show that more flexible learning spaces can improve learning outcomes for students," Prof Imms said.
The research found a Brisbane school boosted its year 9 and 10 maths and English results by as much as 17 per cent after adopting flexible classrooms.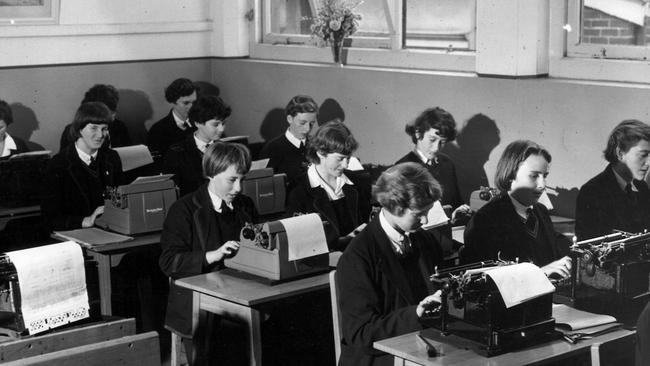 It also revealed* that, despite a push in the 1970s and again in the past decade, most schools across New Zealand and Australia's east coast still had traditional classrooms.
"They have four walls, a whiteboard with desks and chairs predominantly* facing the front of the classroom," Prof Imms said.
St Albans Primary School, in Melbourne's northwest, has introduced classrooms with easily-moved tables and chairs, interactive whiteboards and bean bags.
A 1968 photo of the same school shows an overcrowded class of 54 students forced to twist in their seats to see a blackboard at the back of the classroom.
"In a flexible classroom, children are doing a number of different things or activities at once," principal Joanne Richmond said.
"People talk about the importance of quality teaching but to have great learning spaces is also important."
While technology can be helpful, it is important it has a purpose.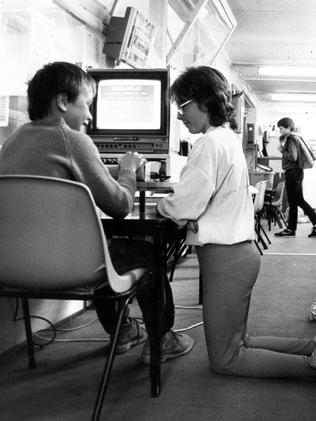 Dr Michael Cowling, from CQUniversity, said schools had a tendency to use extra technology without thinking about it.
"As long as there's a purpose behind it, I support it," he said.
"Schools shouldn't buy a whole bunch of 3D printers or robots without knowing what we are going to do with them.
"There is still room for popsicle sticks, Blu-Tack, pens and pencils."
GLOSSARY
smartboards: electronic boards used in classrooms
state-of-the-art: technologically advanced
flexible: able to be moved around and changed
traditional: older and usual
open-plan: minimal walls and large, uninterrupted space
revealed: showed
predominantly: mostly
LISTEN TO TODAY'S STORY
CLASSROOM ACTIVITIES
Activity 1: Map Your Classroom
On a sheet of grid paper, draw a bird's eye view map of your classroom. Try your best to draw your map to scale by taking measurements and using the centimetre grid markings on your paper.
Then, choose 2 favourite things about your classroom and explain how they help you to do your best learning.
Extension:
Try drawing a second classroom map, showing what your ideal classroom would look like.
Extra resources: Grid paper, tape measures
Time: Allow approx. 30 minutes
Curriculum links: Mathematics, English, Critical and Creative Thinking
Activity 2: Let's get a …
In the article, Dr Michael Cowling explains that technology use in classrooms should have a purpose. Think of a type of technology you think your school or classroom needs and write a persuasive letter to your Principal explaining how it could be used and how it would benefit learning.
Extension:
Think of 3 questions your Principal might ask you about the ideas in your letter and how you would answer those questions.
Time: Allow approx. 40 minutes
Curriculum links: English
VCOP ACTIVITY
(Vocabulary, Connectives, Openers, Punctuation)
Draw up a table with three columns and label them — Nouns, Adjectives, Verbs.
Predict which type of word will occur the most throughout the article.
Read the article and classify as many words as you can find under the correct headings.
Was your prediction correct?
Time: allow 15 minutes to complete this activity
Curriculum links: English, Big Write, VCOP
Activity provided by Andrell Education www.andrelleducation.com.au
EXTRA RESOURCES
NEIGHBOURS STAR STANDS UP AGAINST BULLYING
IN A SENTENCE, SHARE YOUR THOUGHTS ON TODAY'S STORY
Kids News loves reading your best grammar, vocabulary and spelling.
We publish the best comments.