WE'RE surrounded by some of the best beaches in the world, yet swimming is a foreign* concept* for many Australians. YMCA is doing its best to change this with their annual Swimathon, which raises funds for up to 5000 people with disabilities so they have the opportunity to learn how to swim.
Among the many Swimathon supporters is seasoned swimmer and multiple* world record holder Phoebe Mitchell, who works at YMCA Anglesea Recreation Camp.
"If lots of people could participate in the Swimathon it would be fabulous," said the 25 year old. "If people don't want to swim or don't have time, then it would be great if they could donate as all money is appreciated."
Phoebe happens to have Down syndrome* but never allowed it to get in the way of her swimming ambitions. Since 2008 the athlete has been an essential member of the Australian Down Syndrome Swimming Team. She has competed around the world and won the World Champion title three times.
"Just because you have a disability, it shouldn't stop you from swimming," said Mitchell. "You might just need some more special help from teachers who are specifically trained and skilled in that area, and some special equipment."
Mitchell has swum competitively for more than half her life and takes her training seriously, getting up at 5am five days a week to strengthen her skills. To celebrate the Swimathon this Sunday, she'll be swimming at the Hawthorn Aquatic and Leisure centre.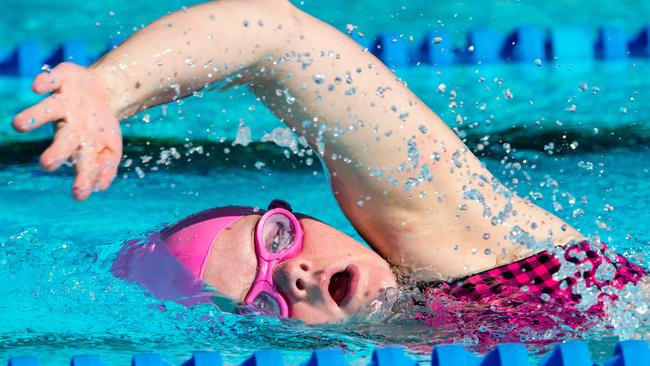 The event involves swimmers of all ages and abilities getting behind their local participating* YMCA swim centre through donations, setting up a fundraising page or having a dip in the water on Sunday.
The 2017 Swimathon is YMCA's largest national fundraiser so far, with over 60 YMCA managed pools participating across Australia. To sign up for the Swimathon, visit a participating pool or donate to the cause, visit ymcaswimathon.org.au.
GLOSSARY
foreign: different
concept: idea
multiple: more than one
Down syndrome: a disorder that comes from a defect in someone's chromosomes (a chromosome contains a person's genetic information).
participating: joining in
LISTEN TO TODAY'S STORY
CLASSROOM ACTIVITIES
Activity 1: Athlete Profile
Create a one page 'athlete profile' about Phoebe Mitchell. The profile should include the following subheadings — name, age, sport, job, achievements, training schedule, why she is inspiring. Also include a printed or drawn picture as part of the profile.
Extension: Write down three reasons why learning to swim is a good idea.
Time: allow about 20 minutes to complete this task
Curriculum links: English
Activity 2: Swimming statistics
Conduct a survey of your classmates to find out how often they go swimming and collate the results into a table. The options are:
— I go swimming more than once a week
— I go swimming once a week
— I go swimming around once a month
— I go swimming a few times a year
— I never go swimming
Now create a graph to display your results. You can choose from a bar graph, a pie graph or a pictograph. Either draw your graph by hand (using a ruler or protractor) or use a computer program such as Microsoft Excel.
Extension: How many factual statements can you make using the data from your graph?
Extra Resources : Graph paper or computer with Microsoft Excel (or similar), rulers, protractors
Time: allow about 40 minutes to complete this task
Curriculum links: English, Mathematics
VCOP Activity
(Vocabulary, Connectives, Openers, Punctuation)
Exposition Writing
Have you already written down three reasons why swimming is a good idea? This will be easy if you have! Your task is to write an exposition piece of writing arguing why or why not swimming is a good idea. Ensure you can justify your reasons with supporting evidence! And remember to use POWER OPENERS to help convince others to agree with your arguments.
Time: allow about 30 minutes to complete this task
Curriculum links: English, Big Write, VCOP
EXTRA RESOURCES
AUSTRALIAN PARALYMPIANS TO SHINE IN RIO
THE UNFORGETTABLE SWIMMER OF THE RIO OLYMPICS
SWIMMER'S RIO RECKONING BEGINS
IN A SENTENCE, SHARE YOUR THOUGHTS ABOUT THIS STORY
Kids News loves reading your best grammar, punctuation and vocabulary.
We publish the best comments.