WHEN Bob Flanagan and his children were pulled from the water at Berry's Beach, Phillip Island, during the summer of 1969, he was lucky to be alive.
Back then, the Glen Iris man, now 84, was unable to thank the group of five teenagers who saved his family — as well as about 20 others — from the heaving waters of a treacherous* rip.
But the incident has never been far from his mind, and when his son Greg saw a reader's letter published in the Herald Sun in January recounting* her sons' heroic* actions at Phillip Island almost 50 years ago, he told his father who immediately got in touch with the letter writer.
Mr Flanagan recounted over the phone the events of a day that could have easily ended in tragedy with Maisie Howard and her sons, Gavin and Daryl, now aged in their 60s. He then invited the family to lunch last week to finally express his thanks.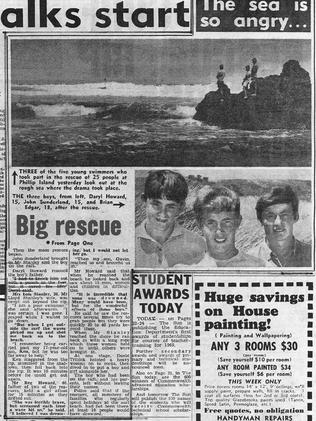 "It would have been cheaper to buy them an ice cream on the day, but I was too busy bringing up saltwater and wondering how many of my four children had been rescued," Mr Flanagan said.
The three other teenage boys involved in the rescue are no longer in touch with the Howards, and Gavin Howard recalled how the water on that day in 1969 "was like a boiling kettle".
He said it was an emotional day when his family caught up with Mr Flanagan. "We all talked about our current lives and our families. We ended up becoming quite good friends by the end," he said.
Life Saving Victoria's general manager of lifesaving club development Andrew Foran said people needed to be able to identify the signs of a rip and know what to do if they got caught in one.
"Rips are the number one hazard on our beaches. Many people mistakenly think it's just tourists and poor swimmers who get caught. (But) it is actually young men who are most likely to die," he said
Learn more about rips at beachsafe.org.au
GLOSSARY
treacherous: extremely dangerous
recounting: retelling
heroic: like a hero
LISTEN TO TODAY'S STORY
CLASSROOM ACTIVITIES
Activity 1: Imaginative recount
Write an imaginative recount from the point of view of either a person who was caught in a rip (like Bob Flanagan) or a person who rescued someone from a rip (like Gavin and Daryl Howard). Try your best to describe the thoughts and feelings they would have had.
Extension: Create a news report from 1969 about the incident.
Time: allow about 30 minutes to complete this task
Curriculum links: English
Activity 2: Identifying a rip
Visit the website provided at the end of the article and read and view the information about rips. Draw a labelled diagram that explains how to identify a rip.
Extension: Write a fact sheet with dot points that explains what to do if you are caught in a rip.
Extra Resources : Computer to access SLS Beachsafe website
Time: allow about 15 minutes to complete this task
Curriculum links: English, Health and Physical Education
VCOP Activity
(Vocabulary, Connectives, Openers, Punctuation)
Rapid Rhyming
Choose 10 words from the article.Try to create 5-10 words that rhyme with that word. Can you find any good WOW words?
Eg: WATER = daughter, slaughter
Time: allow about 20 minutes (Approx. 20 minutes)
Curriculum links: English, Big Write, VCOP
USEFUL WEBSITES:
● Download the Vic Emergency App or visit their website: http://emergency.vic.gov.au
● Download the Bureau of Meteorology app or visit their website: http://www.bom.gov.au/
● Download the Beach Safe app or visit their website – https://beachsafe.org.au/ (information on Rip Currents)
● Respect the River Campaign – http://www.royallifesaving.com.au/programs/respecttheriver
EXTRA RESOURCES
IN A SENTENCE, SHARE YOUR THOUGHTS ON TODAY'S STORY
Kids News loves reading your best grammar, punctuation and vocabulary.
We publish the best comments.