FOLLOW pirates on a voyage* across the high seas, get swallowed by a giant mouth, but one thing is certain — you will laugh yourself silly at The (Very) Big Laugh Out! at Federation Square.
Three stages around the iconic* square will host performers from around the world as part of the Melbourne International Comedy Festival, from Wednesday, March 28 until April 23.
The (Very) Big Laugh Out! will be the centre for free family entertainment including the performing pirates of Head First Acrobats with their Arrr We There Yet?! act.
One of the three bendy men Thomas Gorham said kids could expect to be left in stitches, while scratching their heads in awe.
"In the show we're doing backflips, juggling knives, landing on seesaws from 5m in the air and spinning upside down in giant metal rings," he said.
"We start our story in search of treasure but we crash our ship and get attacked by sharks and then a fight for captain breaks out."
The comedic trio have to be shipshape* for such a physical show.
"When we're not at a festival or show, we train for two to three hours every day," Mr Gorham said.
While the show is designed for kids aged five and up, the acrobat reported adults coming back for a second time and third time without their children.
With many performances across the Federation Square stages there will be no shortage of options for families looking for school holiday entertainment.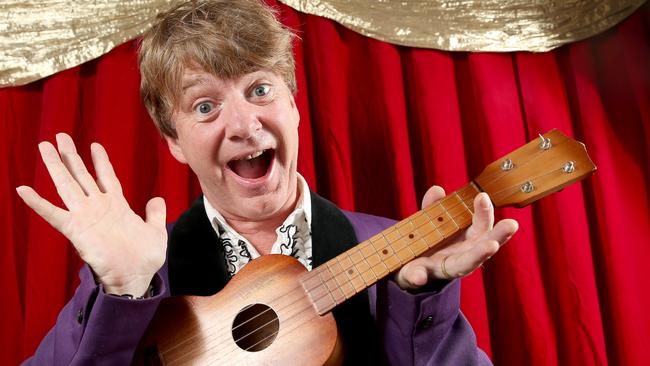 Local act Pat Bath from Pascoe Vale will be performing his physical comedy show Potty Mouth.
Another act Gut Feeling will see patons* swallowed up by a giant inflatable mouth, travelling down the oesophagus and into the digestive system, before an exit through the bottom.
GLOSSARY
voyage: trip
iconic: well known
shipshape: fit and trim
patrons: attendees
LISTEN TO TODAY'S STORY
CLASSROOM ACTIVITIES
Activity 1. Comedy Acts
Outline the entertainment taking place at Federation Square these school holidays.
Why are the activities funny?
How much do they cost?
What can kids expect to see?
Which show would you like to see?
Extension:
Research some other children's activities and entertainers that could perform for kids at Federation Square over the school holidays.
Time: Allow 20 minutes to complete this activity
Curriculum links: English
Activity 2. Your Own Comedy Roadshow
Being a comedian is a hard task. Performing to an audience and trying to make them laugh is not easy. Work in small groups of three to four students to write your own mini comedy act to perform to the class.
It can be telling jokes, stories or doing some magic tricks or anything appropriate that you think can make the other kids laugh.
Decide if one person or the whole group will perform and then present your mini comedy act to the class. Be an encouraging audience to your class mates.
Extension:
Organise your own school comedy festival encouraging children to enter and perform acts at lunchtime. Write a proposal for your teacher and principal about how this would work, who would judge etc.
Time: Allow 30 minutes to complete this activity
Curriculum links: Personal and Social, Drama, English, Critical and Creative Thinking
VCOP ACTIVITY
(Vocabulary, Connectives, Openers and Punctuation)
Joke's on you
Talk to your classmates and share as many jokes as you can.
For example, why are ghosts bad liars? Because you can see right through them!
Extension: Joke Book
Choose your favourite joke, write it down and illustrate it.
Put all the jokes together to make a joke book and give it to another class.
Time: allow 40 minutes for this activity
Curriculum Links: English, Big Write and VCOP
Activity provided by Andrell Education www.andrelleducation.com.au
EXTRA RESOURCES
MODERN DAY MESSAGE IN A BOTTLE
ACTO THE FUR SEAL JUST WANTED TO PLAY