Thousands of locals and tourists enjoy relaxing ferry boat rides around Sydney Harbour every day but wild weather last weekend turned the popular Manly Beach ferry trip into a roller coaster ride.
A series of stunning images were captured of monster waves crashing onto the deck of the vessel* Freshwater on Saturday by deck hand and photographer Haig Gilchrist, as a low pressure weather system* swept across coastal NSW.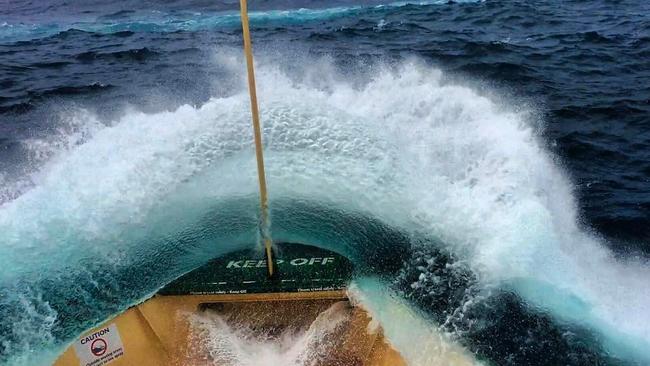 One shot shows a wave crashing over bow at the front of the ferry, sending white water gushing into an outdoor area usually full of visitors taking happy snaps of the Sydney sights.
Sydney is home to the world famous Opera House, Sydney Harbour Bridge and picturesque* beaches.
Another dramatic image appears to show a wall of water about to crash onto one of the decks.
The Manly Ferry, which travels from Circular Quay, the main ferry boat hub of the city, to the seaside suburb, is a key link in the city's public transport network and is also popular with tourists.
Please enable Javascript to watch this video
Usually a placid* ride, the trip can get choppy* as the ferry passes out of the sheltered harbour and out to the Pacific Ocean.
Despite the big waves, the Manly Ferry service completed its journey without any problems.
GLOSSARY
vessel: boat
low pressure weather system: mass of warm, moist air that brings stormy conditions
picturesque: visually attractive
placid: calm
choppy: rough
LISTEN TO TODAY'S STORY
CLASSROOM ACTIVITIES
Activity 1: You're exaggerating!
Imagine you were on board the ferry on this very stormy day.
You want to tell your friends all about it but you get a little bit carried away! Write what you would tell them, making sure it includes hyperbole. (Hyperbole is obvious and intentional exaggeration, such as "I've been waiting forever" or "the man was as tall as a skyscraper.")
Extension:
Practise reading your writing about the ferry ride in your most convincing and dramatic voice.
Time: allow 20 minutes to complete this task
Curriculum links: English
Activity 2: Act it out
You will work with a partner, acting out what you think it would have been like during the stormy day in this article. Spend one minute discussing with your partner what the scene might look like and then one minute acting out each of the following parts as though you are:
1. A passenger on board the ferry.
2. The waves hitting the ferry.
3. The captain of the ferry.
4. A TV weather reporter giving a report about the event.
Extension:
Do this part on your own. Evaluate your teamwork with your partner during this activity.
– What is one thing you did well together?
– Think of something you disagreed on. Did you solve the disagreement? How?
– What was the best thing about working with your partner?
– What do you think your partner would say was best about working with you?
Time: allow 15 minutes to complete this task
Curriculum links: English, Drama, Personal and Social Capability
VCOP ACTIVITY
(Vocabulary, Connectives, Openers, Punctuation)
Down Level it!
This activity requires you to do the opposite of the game Up-Level it. Identify any vocabulary words and change them to a lower level vocabulary word. Eg: stunning = good
Extension:
How many different boring words can you think of for each word?
Time: Approx. 15 minutes
Curriculum links: English, Big Write, VCOP
EXTRA RESOURCES
WHEN WILL AUSTRALIA'S HEATWAVE END?
WILD WEATHER'S DESTRUCTIVE PASS