FOUR cheeky lion cubs at Werribee Open Range Zoo have officially been named by their zookeepers.
The two female cubs received Swahili* names, Kibibi and Azizia, which means 'Little Lady' and 'Precious'.
One of the boys' is called Zuberi, meaning 'Strong' in Swahili. The other is Ndidi, which is 'Patient' in Igbo* language.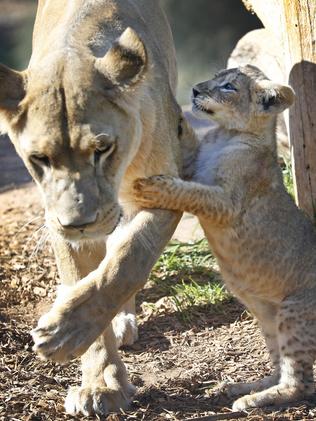 The zookeepers are thrilled with the names, which were chosen to best match the cubs' personalities.
They were selected from more than 1000 submissions* by zoo members.
Zookeeper Kelly Hobbs said selecting the winning names was a difficult process with so many great ideas in the running.
"Up until now we've been relying on small differences in size to distinguish* the cubs, so it's wonderful to finally have names for them, especially as we start to see their personalities emerge*," Ms Hobbs said.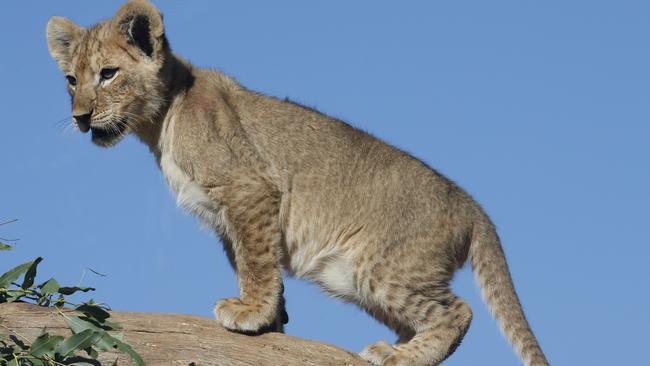 After spending the first weeks with mum Nairibi in the privacy of a special nesting den, visitors to the zoo can now get to know the twelve-week-old rascals as they get out and about to explore their territory.
The cubs get excited about simple toys to pounce, grasp and chew on such as cardboard boxes, leafy green branches and balls — and sometimes mum's and dad's tails.
Lions are an iconic* part of the African savanna* but are disappearing at an alarming rate, with only 20,000 lions estimated to still be roaming the wild.
Visitors are encouraged to go to the Zoo's website for viewing times and updates before heading there to meet the new cubs and get to know their emerging personalities.
Visit zoo.org.au/lioncubs
GLOSSARY
Swahili: the first language of the Swahili people of southeastern and eastern Africa.
Igbo: the language of the Igbo people from west Africa.
Submissions: suggestions
Distinguish: tell apart
Emerge: come out
Iconic: important and representative
Savanna: African grasslands
LISTEN TO TODAY'S STORY
WATCH OUR VIDEO OF THE LION CUBS
Please enable Javascript to watch this video
CLASSROOM ACTIVITIES
Activity 1 . Cheeky Cubs
After reading the Kids News story on Werribee Open Range Zoo's new lion cubs, answer the following questions in as much detail as possible. See if you can incorporate the question into the answer.
— What are the names and meanings of the four new lion cubs?
— Who chose their names?
— How are these Lion cubs similar or different to human babies?
— How did the cubs spend their first weeks?
— What do the cheeky cubs get excited and playful about?
— Why is it important to ensure the lion species continues into the future?
Extension: Narrate the video of the Lion cubs playing as to what they might be saying, thinking or feeling.
Time: Allow 25 minutes to complete this task.
Curriculum links: English
Activity 2. Picture story book
Work with a partner to create a picture story book about the four lion cubs and their adventures at the Werribee Open Range Zoo.
Your story should have an orientation (beginning), problem and resolution. It only needs to be 8-10 pages long. Write your first draft and then conference with another pair on changes that could improve your story.
After you've redrafted and edited, publish your best copy and complete illustrations to match.
Your teacher might let you read your stories to the younger classes in the school.
Extension: Write a choose your own adventure mini chapter book on the adventures of the four Lion cubs.
Time: Allow a one hour writing session to complete this task (use the video of the Lion cubs playing as inspiration). You may need further sessions to redraft, edit and publish.
Curriculum links: English, Personal & Social, Critical & Creative Thinking
VCOP Activity
(Vocabulary, Connectives, Openers, Punctuation)
Character Traits
In the article, it describes how the names of the lions were chosen due to their character traits. Write a list of character traits that might describe the personality of a character. Eg: Boring, anxious, aggressive, extroverted. You may need to do some research online to assist you. Attempt to find between 10- 12 words.
Extension: Use a character trait to create a name of a character that lives in a zoo!
Time: allow about 15 minutes to complete this task
Curriculum links: English, Big Write, VCOP
EXTRA RESOURCES
TIGER CAM CAPTURES PREY'S-EYE VIEW
TOURISTS WAKE TO FIND LIONS LICKING TENT
BABY BANDICOOTS FIGHT EXTINCTION
IN A SENTENCE, SHARE YOUR THOUGHTS ON TODAY'S STORY
Kids News loves reading your best grammar, vocabulary and spelling.
We publish the best comments.