AUSTRALIA'S much-loved circus is back in Melbourne with a larger-than-life show that plays with size and scale*.
Circus Oz's production Model Citizen is set in a chaotic, oversized world, where acrobats flip off a giant clothes peg, balance on a house of colossal credit cards and fly high in a huge pair of undies.
Artistic director Rob Tannion and his creative team are exploring the question of what it means to be a model citizen in Australia, the "lucky" country.
"If you think you know Circus Oz, you might be surprised," Mr Tannion said.
"To enhance* the audience's experience within the gorgeous Big Top, we want to go large.
"More flavour, more mouth-watering circus, more spectacular moments, a bigger set, more original music, more stunning lights."
The circus extravaganza will feature people from around the world.
"And importantly, there'll be new acts from incredible national and international artists," the director said.
One of those new recruits is Tania Cervantes Chamorro, a versatile* performer who has made a name for herself in Europe, Canada and South America for her unique aerial* slings act.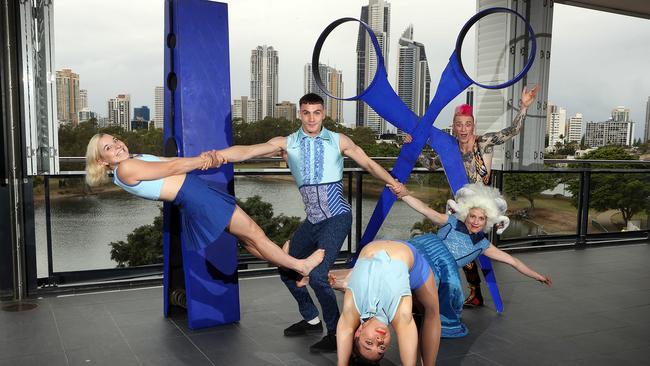 Circus Oz's Model Citizen premieres under the Big Top at Birrarung Marr in Melbourne from June 20 to July 16.

GLOSSARY
iconic: well known
scale: size in relation to other things
versatile: flexible
aerial: in the air
LISTEN TO TODAY'S STORY
CLASSROOM ACTIVITIES
Activity 1.
In the story, Rob Tannion said the new show is about what it means to be a model citizen in Australia.
Do you know what a model citizen is?
Write down what you think this means.
Check your answer.
Write down ten things that you think a model citizen would do.

Extension:
Do you think Australia is a lucky country?
Plan and write paragraphs explaining what you think about this question.
Time: allow 60 minutes to complete this activity
Curriculum links: Ethical Capability, Critical and Creative Thinking, Civics and Citizenship
Activity 2.
Create an advertisement for Circus Oz's new show Model Citizen.
You can create a poster, a storyboard for a TV ad, a script for a radio ad or a full-page ad that might appear in the paper.
Extension:
In the story you read that the show would include a giant clothes peg for the acrobats, a giant house made of credit cards for the balancing act and giant undies for the flying trapeze.
Choose one of these items and create the design for your item, showing how it would work in the performance.
You might need to research what usually happens in the performance to help your design.
Time: allow 80 minutes to complete this activity
Curriculum links: Media Arts, Design and Technologies
VCOP ACTIVITY
(Vocabulary, Connectives, Openers, Punctuation)
Open It
Use your blue highlighter to identify every single sentence opener in this article.
Are they varied or repeated?
Can you see any patterns from the author or specific to the text type?
See if you can pick three basic openers to up-level by adding a power opener (connective, 'ing' word or 'ly' word).
Share with a partner and discuss each of your changes.
Which works best and why?
Which ones should be reverted back to the original format and why?
Time: allow 15 minutes to complete this activity
Curriculum links: English, Big Write, VCOP
EXTRA RESOURCES
FIDGET SPINNERS WHIP UP A FRENZY