LULU the standard poodle will be putting her best paw forward for the RSPCA's Million Paws Walk.
Professional dog groomer and poodle owner Maggie Laughton said she wanted to raise money for dogs less fortunate than her own.
"It breaks my heart thinking about those poor dogs," Ms Laughton said.
"It's our second year doing the walk, LuLu is a very sociable dog, we both really enjoy it."
Ms Laughton revealed she was so "obsessed" with canines* that she had a paw print tattoo on her wrist.
More than 25,000 dog lovers are expected to take their four-legged friends to one of the
18 Million Paws Walk events being held across Victoria.
For more than two decades, Million Paws Walk has remained RSPCA's biggest annual fundraising event and, as well as having a fun day out, participants will be taking steps to help in the fight to end animal cruelty*.
Funds raised through registrations, merchandise* sales and online fundraising will go towards adoptions, veterinary services, campaigns and animal rehabilitation*.
RSPCA Victoria chief executive Dr Liz Walker said every dollar raised would make a difference.
"Money raised will help fund RSPCA's animal welfare work in the community, and care for the 23,000-plus animals that come into our Animal Care Centres each year," Dr Walker said.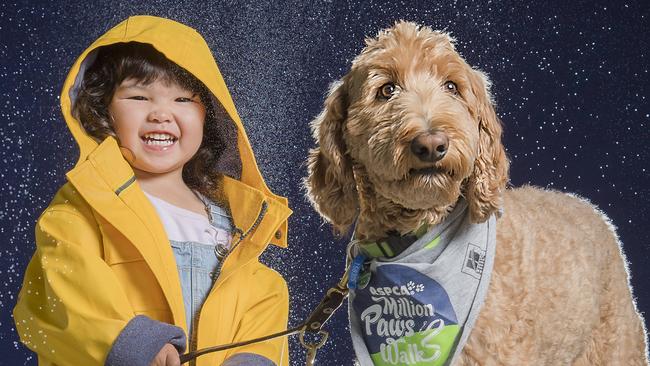 Million Paws Walk events are open to people of all ages, and their four-legged friends.
LuLu and Ms Laughton will be walking at the Albert Park Lake event on Sunday, May 21.
For more details visit the website: millionpawswalk.com.au/VIC
GLOSSARY
canines: dogs
cruelty: harm and abuse
merchandise: goods to be bought and sold
rehabilitation: therapy and help
LISTEN TO TODAY'S STORY
CLASSROOM ACTIVITIES
Activity 1. Your Local Walk
Visit the Million Paws Walk website included at the end of the article and find the event closest to you.
Create a colourful advertising poster for your local walk that includes the most important details those wanting to go would need to know. Emphasise the family fun involved for humans and their canine friends.
Extension:
Make a list of verbs that relate to dogs.
Time: allow 40 minutes to complete this activity
Curriculum links: English
Activity 2: So Many Paws!
The event is called the Million Paws Walk, but it is unlikely there will be exactly 1,000,000 paws there.
Imagine that there is a combined total of 150 feet and paws at your local event.
How many humans and dogs could make this total?
Come up with as many solutions as you can.
Example: 35 humans (70 feet) and 20 dogs (80 paws) = 150 feet/paws

Extension:
Draw a picture of a family participating in the Million Paws Walk.
The family must have 22 feet/paws in total.
When you have finished compare your picture with a friend's.
Are your pictures similar?
Time: allow 20 minutes to complete this activity
Curriculum links: Mathematics
VCOP ACTIVITY
(Vocabulary, Connectives, Openers and Punctuation)
Shuffled Sentences
Identify a compound sentence in the article, (two clauses joined together with a connective).
Now see if you can break that sentence up and shuffle it.
Grab the connective and secondary clause and move it to the beginning.
Remember to put a comma like glue to join the two sentences together.
Re-read your sentence. Did it make it sound better? If not, swap it back.
Can you find another one to try?
Example:
I couldn't go outside because it was raining.
Shuffle:
Because it was raining, I couldn't go outside.
Time: allow 10 minutes to complete this activity
Curriculum Links: English, Big Write and VCOP
EXTRA RESOURCES