VICTORIA'S pro-cycling superstars are urging* students to ride their bikes safely to school in 2017 to boost their health, fitness and learning.
The cyclists, who have been competing at home in January in races such as the Herald Sun Tour, helped launch Cycling Victoria's Safe-to-School Cycling campaign*.
Melbourne professional cyclist Simon Gerrans said he wanted to see many more young cyclists on the bike paths, footpaths and safer streets this year.
"The weather's great and it's an easy way to stay fit and healthy," Gerrans said.
Simon Gerrans races for Orica-Scott and is a Tour de France stage winner. Gerrans joined other top local riders Brenton Jones (from Warragul), Leigh Howard (from Geelong), Peta Mullins (from Bendigo) and Shannon Malseed (from Ballarat and Portland) in encouraging children to ride to school safely.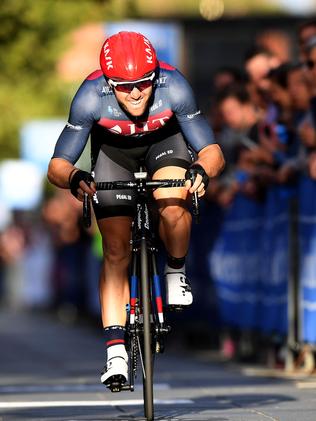 Cycling Victoria, which is an organisation that works to promote* cycling and help cyclists ride safely, believes many more children would ride to school if they were better prepared.
"We know that children who exercise regularly do better in class, and the easiest way to do this is ride a bike to school," said Cycling Victoria's chief executive officer* Kipp Kaufmann.
Although some parents worry about their children riding to school, particularly in busy suburbs and towns, Mr Kaufmann said taking time to prepare carefully could make a big difference.
Cycling Victoria has released a simple list of tips for schoolchildren to help them ride safely to school.
Mr Kaufmann said Cycling Victoria's vision was "Building a love of cycling. More people racing, riding and watching".
Fewer than 4 per cent of Victorian children now ride bikes to school yet research by groups such as VicHealth show that those more physically* active students have been found to achieve better
academic* results, while schools with fitter children have been found to achieve better literacy* and numeracy* results.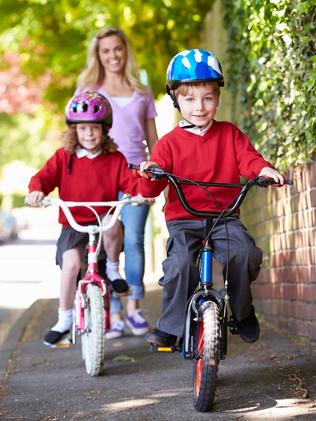 Cycling Victoria's poster "10 Tips for Safe-to-School Cycling" is full of simple, practical reminders for students and their parents before setting off for school. The tips are available in a link below this story and on the Cycling Victoria website.
Mr Kaufmann also said families could consider Cycling Australia family membership, which includes insurance* for all family members, and the junior riding program, Let's Ride, which teaches children to ride safely by developing their knowledge, skills and confidence.
For more information visit vic.cycling.org.au
Download 10 tips for safe-to-school cycling
GLOSSARY
urging: pushing or trying to convince someone to do something
campaign: work in an organised way to achieve something
promote: support or actively encourage
chief executive officer: the person in charge, sometimes called the CEO
physically: relating to the body rather than the mind
academic: to do with education and learning
literacy: ability to reading and writing
numeracy: understand and work with numbers
insurance: a guarantee you buy for help if something goes wrong
LISTEN TO TODAY'S STORY
WATCH THIS VIDEO FOR SOME GREAT SAFETY TIPS
Please enable Javascript to watch this video
CLASSROOM ACTIVITIES
Activity 1: Ride to School
Read or listen to the article carefully before completing these activities.
1. Riding to school has many benefits. Some benefits are mentioned in the article. Make a list of these, then think of at least four more benefits and add them to your list.
2. Look at the 10 tips for Safe-to-School cycling (attached)
Draw a student riding to school, safely. Include as many safety features as you can in your picture and label them (for example, helmet, brakes working, riding on footpath or bike lane).
3. Cycling Victoria's chief executive officer Kipp Kaufmann is quoted as saying "We know that children who exercise regularly do better in class, and the easiest way to do this is ride a bike to school,"
4. What other ways can you get regular exercise? Do you agree that riding to school is the easiest? Why/Why not?
Extension: On your own or with a partner, write a letter to go in your school newsletter promoting students riding to school. Be sure to include as many benefits as you can. Think of benefits to students as well as to parents/carers and to the school. Include ways that parents/carers can help prepare students to ride safely. Ensure you use correct spelling and punctuation.
Time: allow about 50 minutes to complete this task
Curriculum links: English, Health and PE
Activity 2: How does your class travel to school?
Survey your class to find out how your classmates travel to school. How many walk or ride a bike? How many travel by car, bus or train? What other methods of transport do they use? Also find out why they do/do not ride a bike to school.
Tally your results and create a bar or picture graph.
Which methods were the most common? Which were the least common?
Extension: The article states that fewer than 4 per cent of Victorian children now ride bikes to school. Is this true in your class?
Convert the information from your class survey into percentages by using the following formula. If you have access to a calculator, you may use it to help you.
Number of students who …. ÷ Number of students in the class × 100 =
What percentage of students travel by each method? Using the information from your survey in the above activity write some reasons why each method is popular or not popular.
Extra resources: calculators
Time: allow about 30 minutes to complete this task
Curriculum links: English, Mathematics
VCOP Activity
(Vocabulary, Connectives, Openers and Punctuation)
Activity 1: Vocabulary focus
There are more than 15 proper nouns in this article about cycling. Can you find them all?
Write a definition of what makes a word a proper noun. Can you find 15 common
nouns as well?
Extension: Design a poster encouraging children to ride their bikes to school. Make sure to use
some of the information from the Safe-to-school poster from Cycling Victoria.
Time: allow at least 40 minutes to complete the task
Curriculum Links: English, Big Write, VCOP
Activity provided by Andrell Education www.andrelleducation.com.au
SIMILAR STORIES ALSO ON KIDS NEWS
THE BATTLE FOR HEALTHIER SCHOOL LUNCHES
IN A SENTENCE, SHARE YOUR THOUGHTS ON TODAY'S STORY
Kids News loves reading your best punctuation, grammar and vocabulary.