ON a trip to Queensland last year, 11-year-old Alia Ferdowsian discovered recycled and reusable shopping bags called Boomerang Bags.
Boomerang Bags was started in 2013 in the coastal town of Burleigh Heads to reduce the use of plastic bags in the town.
Alia wanted to bring the concept* to her community in Mont Albert and the local fruit and vegetable store was happy to get behind her.
Alia and her grandmother got sewing and so far they have made 15 bags. The bags are free for customers to use instead of plastic bags, with the idea being the customers return the bags the next time they visit the shop. Alia and her grandmother are hoping to sew more bags if the idea takes off and possibly offer the bags to other traders* in Mont Albert.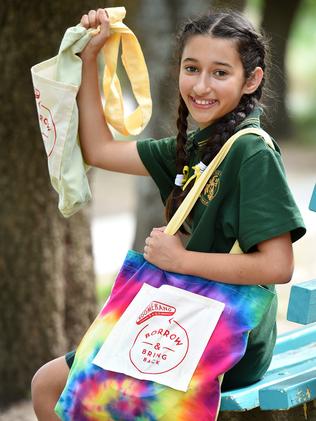 Alia's mum Zoe said her daughter had always been conscious* of being environmentally friendly.
"We've always had chickens and been water conscious as well as recycling at home, so I guess those ideals* have come through in her," Zoe said.
"Alia has always been crafty so she enjoyed the process of making the bags as well," she said.
For more information visit boomerangbags.org
GLOSSARY
concept: idea
traders: business owners, such as shop keepers
conscious: aware of
ideals: ideas to strive for or work towards
LISTEN TO TODAY' STORY
CLASSROOM ACTIVITIES
Activity 1: Sequence of Events
Read or listen to the article carefully before completing this activity.
Retell the sequence of events that led to Boomerang Bags being used in Mont Albert. Some events are mentioned specifically in the article, others are implied. One step is written for you. It can be the first step but doesn't have to be. You may think of something that could go before it.
· Alia went on holidays to Queensland.
Extension: Alia and her Grandmother are hoping the idea takes off. What would be the next few steps in the sequence to help this happen?
If 'Boomerang Bags' become very popular in Mont Albert, what might Alia and her Grandmother need to do to make sure they can keep up with demand.
Time: allow about 20 minutes to complete this task
Curriculum links: English, Ethical Capabilities
Activity 2: Helping the Environment
How is using Boomerang Bags for shopping environmentally friendly?
Make a list of ways that using them helps the environment.
Extension: Unfortunately, many plastic bags end up in our water ways and are responsible for the deaths of many marine animals as they look like food that they may eat.
Write a short story or create a flow chart that tells how a plastic shopping bag may have ended up harming a marine animal. The idea of the story or flow chart is to encourage people to use Boomerang Bags or other reusable shopping bags rather than plastic.
Include the following in your story or flow chart
· where the bag was first used
· how it ended up in the water
· what animal it affected
· how could it have been prevented. (ie: using boomerang bags)
Extra resources: none required
Time: allow about 40 minutes to complete this task
Curriculum links: English, Science, Design and Technology, Ethical Capabilities
VCOP Activity:
(Vocabulary, Connectives, Openers and Punctuation)
Activity 1: Prefix 're'
Reduce, recycle and reuse are words used in this story about Boomerang Bags. What other words can you find that begin with the prefix 're.' What does this prefix mean?
Extension: Design a poster encouraging people to use Alia's Boomerang Bags instead of plastic bags.
Time: allow 20 minutes to complete this activity
Curriculum Links: English, Big Write and VCOP
Activity provided by Andrell Education– www.andrelleducation.com.au
EXTRA RESOURCES
IT'S A BIG, BUSY, GREEN WEEKEND
IN A SENTENCE, SHARE YOUR THOUGHTS ON TODAY'S STORY
Kids News loves reading your best punctuation, grammar and vocabulary.
Great comments go up on Kids News for others to see!