Giving Part 5: You're never too young to get into giving
PART 5: You don't have to be a grown up to help others. There are lots of ways kids can become great givers. Find out how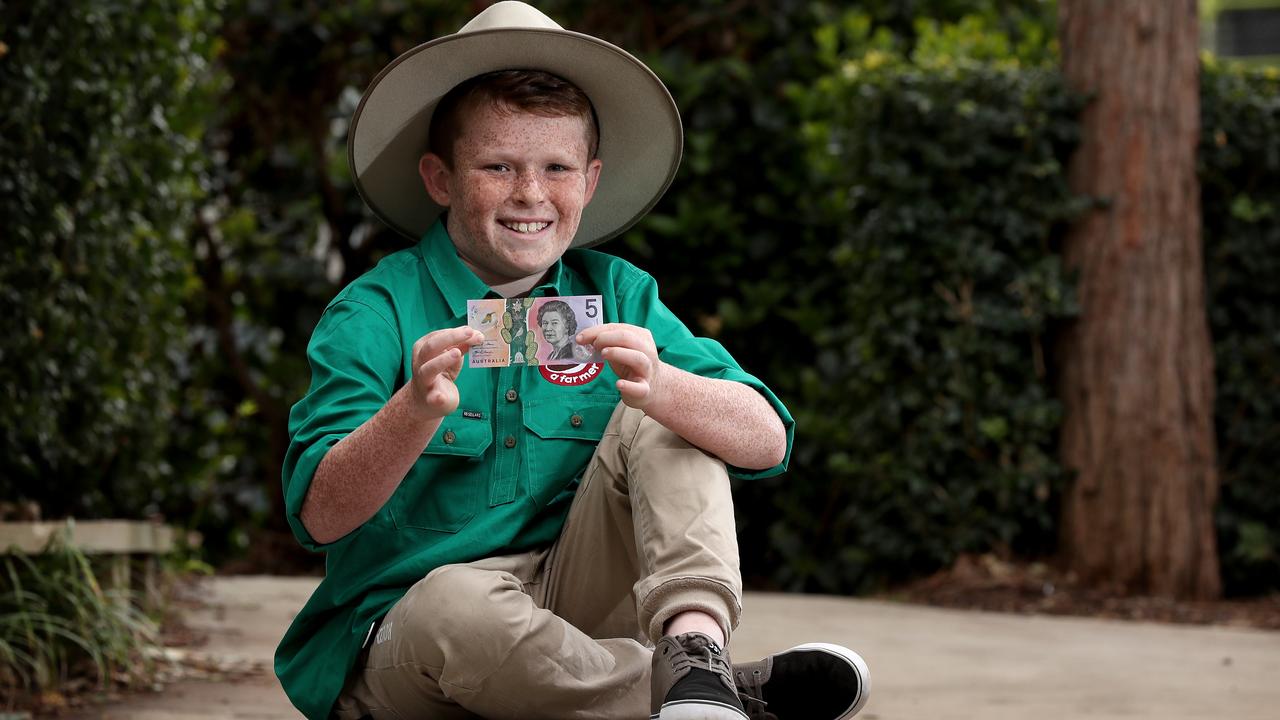 Jack Berne was just 10-years-old when he started his Fiver for a Farmer charity to raise money for drought-affected farmers. Picture: Toby Zerna
You don't have to be a grown up to help others. Kids of all ages can get into giving by volunteering their time, joining working bees, raising money and assisting those in need.
Raising Children Network director Derek McCormack said the key to being a great giver and making a difference was getting involved in something you were passionate about. That might be the environment, animals, gardening, sport, art or any other cause that interests you.
"It's all about giving and being active in the community," Mr McCormack said.
Once you find the cause you're passionate about, then comes finding ways to support it. This could include:
setting aside some pocket money for your charity
holding a garage sale
baking cakes and biscuits and/or holding a stall
organising a fundraiser at school
volunteering with a charity (but you'll need to check if the charity sets any age limits)
joining a fun run, a colour run or another active fundraiser
visiting seniors in aged care
nominating for your school's student representative council
joining a youth advisory group through your local council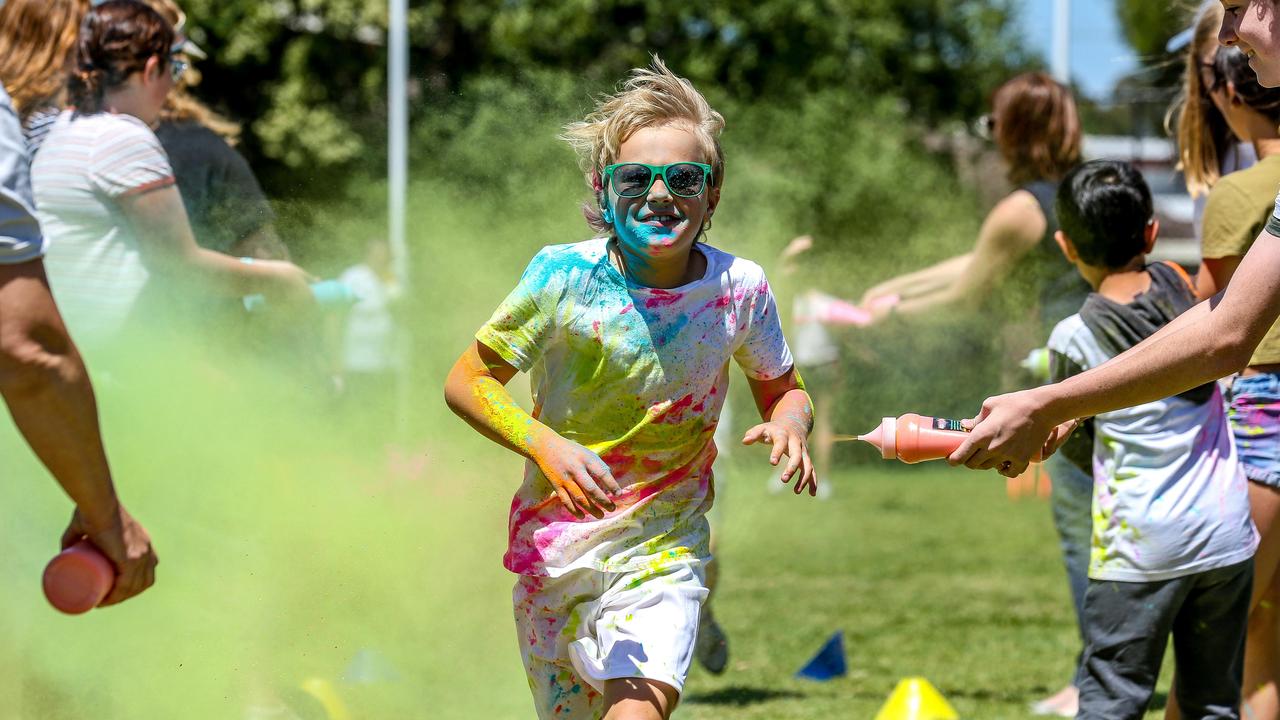 Why not hold a colour run at your school to raise money for a good cause? Picture: Tim Carrafa
Mr McCormack said kids should talk to their parents or guardians before becoming involved, and make sure an organisation was legitimate*.
It's also important to check an organisation has rules to protect the safety of children and if they let children volunteer.
But Mr McCormack said finding the right fit could be very rewarding.
"There's a number of skills you get just from interacting with others," he said. "It might be easier than you think and it will feel really good."
Putting your pocket money to good use
Pocket money is a good way to learn the value of money – and giving.
Mr McCormack said kids could use their pocket money to save, spend and give.
He said setting aside some money for a good cause that you were passionate about, especially local organisations in need, was an excellent way to contribute.
"Donating and being part of a cause really gives that feeling of being part of the community," he said.
Turning a fiver into millions
Sydney's Jack Berne was aged just 10 and in Year 4 when he started his own charity. Since then it has raised more than $2 million for drought-affected farmers.
Jack and his schoolmates at St John the Baptist Primary School in Freshwater were learning about the drought. They decided to hold a farm themed dress-up day to raise money and awareness.
A Fiver for a Farmer, which started in 2018, went viral online and had raised more than $2 million by early 2022. A range of schools and preschools are now involved.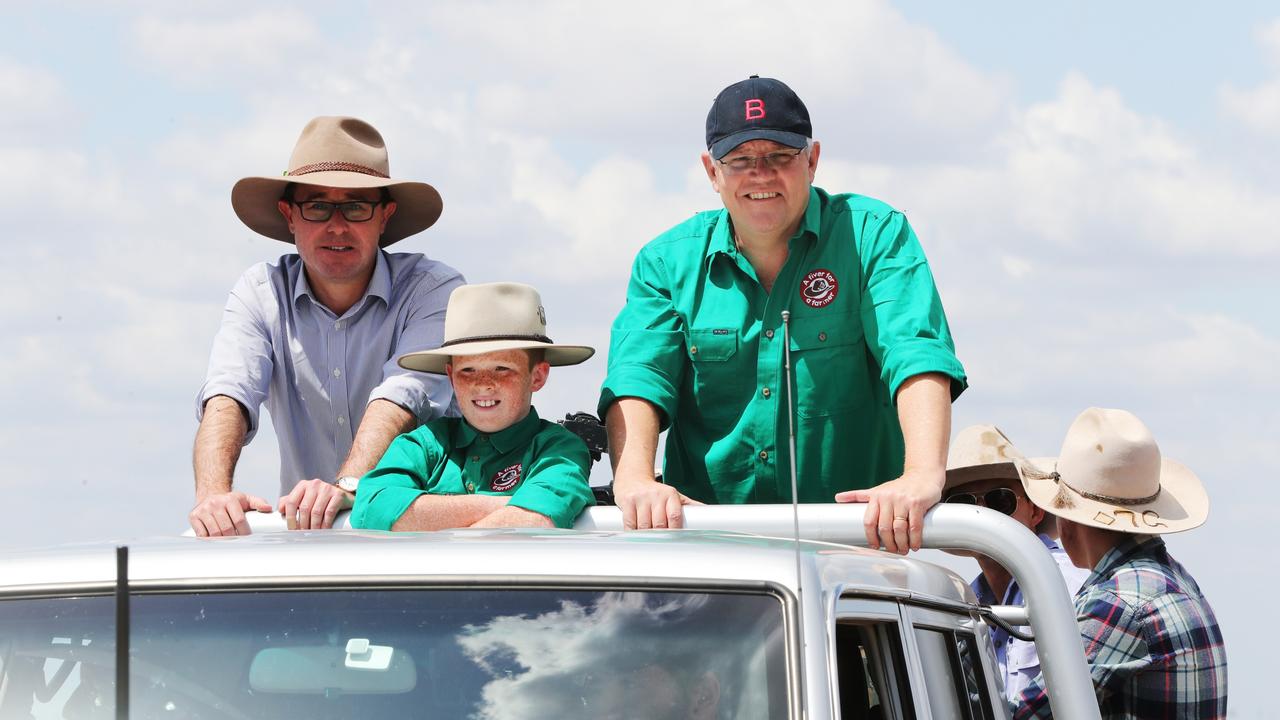 Fiver for a Farmer founder Jack Berne visited the Queensland town of Dalby with Prime Minister Scott Morrison and other politicians to meet some of the farmers his charity was helping in 2019. Picture: Adam Taylor/PMO
Now 13, Jack thinks his campaign succeeded because, as Aussies, we like to help mates, and farmers are our mates.
"They help us with food, clothing and so many other things," said Jack, who also hosts a Pinna podcast called One Small Act.
He recommended that kids who wanted to get involved in fundraising "just go for it" and talk to others about their idea. He said it didn't matter if the idea didn't work, and encouraged kids to just try something else.
Jack's other tips include:
choosing something you believe in that makes you want to help;
getting heaps of people involved, including adults;
and using social media and reputable* online funding methods like GoFundMe.
Jack said helping could be as simple as putting water out for wildlife or putting out a neighbour's rubbish bins.
"Smile at a stranger," he suggested. "Buy your mate an ice block. If you believe something is wrong speak up, but always politely. You get so much further if you use kindness.
"Mum and dad have always taught me and my sister that you may be small, but your voice is mighty. It only takes one small act to make the world a kinder place."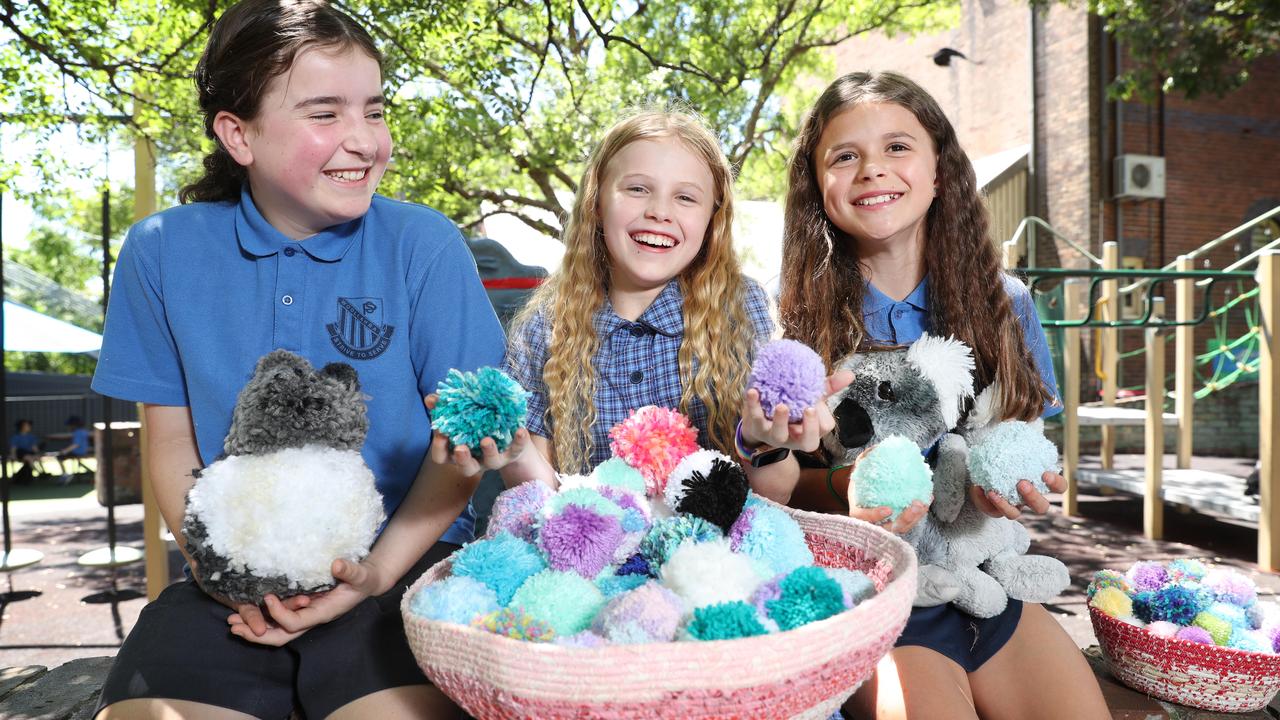 Year 5 students Nina Vujovic, Alyla Browne and Tea McDrury, from Woollahra Public School in NSW, made pompoms for Christmas decorations to raise money for the koalas hurt and injured in the Black Summer bushfires in 2019-2020. Picture: Richard Dobson
HOW YOU CAN GET INVOLVED
The Raising Children Network website (raisingchildren.net.au) lists some organisations where you can find out more about volunteering.
Community activities and volunteer organisations
The Australian Conservation Foundation (acf.org.au) has a range of volunteering opportunities.
The Centre for Multicultural Youth (cmy.net.au) helps young people from migrant and refugee backgrounds.
Clean Up (cleanup.org.au) runs the Clean Up Australia Day and other campaigns.
Friends of the Earth Australia (foe.org.au) has local groups.
Girl Guides Australia (girlguides.org.au) and Scouts Australia (scouts.com.au) get young people involved in community activities.
Reach Out (au.reachout.com) is involved in programs and special projects for teenagers.
The YMCA (ymca.org.au) and YWCA (ywca.org.au) have volunteering options.
The Youth Disability Advocacy Service (yacvic.org.au) enables* people aged 12-25 to make a difference in the lives of people with disabilities.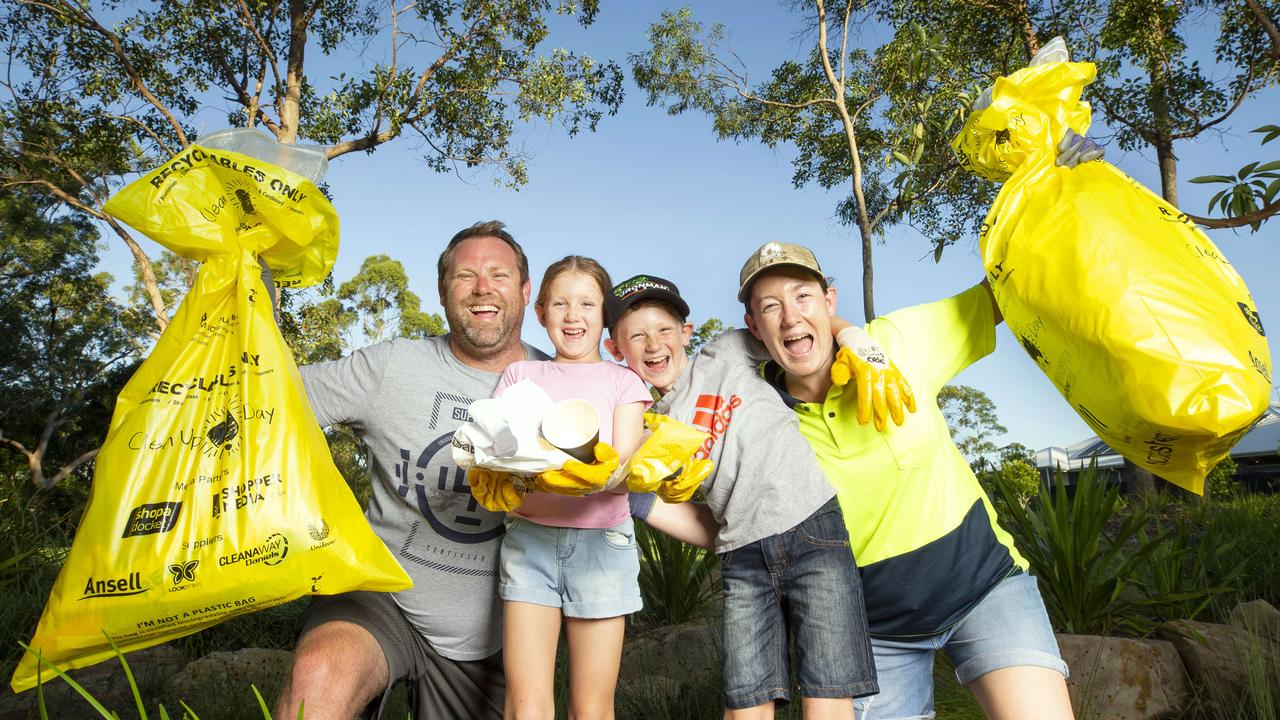 Clean Up Australia Day is a good way for families to volunteer together, like Liz and Tony Mercer and their children, Abigail, 6, and Lachlan, 9, from Brookhaven in Queensland. Picture: Renae Droop/RDW Photography
State-based volunteering websites:
ACT: volunteeringact.org.au
NSW: volunteering.com.au
Queensland: volunteeringqld.org.au
South Australia and Northern Territory: volunteeringsa.org.au
Tasmania: volunteeringtas.org.au
Victoria: volunteer.vic.gov.au
Western Australia: volunteeringwa.org.au
Learn more at afiverforafarmer.com.au

GLOSSARY
legitimate: operates according to the rules and laws
reputable: having a good reputation
enables: makes it possible for someone to do something
EXTRA READING
Generous Aussies give for a better world
The worthy causes we support at home
Join Australia's army of volunteers
QUICK QUIZ
What does Raising Children Network director Derek McCormack say is the key to being a great giver?
Name three of the suggested ways you could support your chosen cause.
What is the name of the charity that Jack Berne started?
Who does Jack's charity raise money for?
How much money has it now raised?
LISTEN TO THIS STORY
CLASSROOM ACTIVITIES
Refer to the accompanying Giving Education Kit classroom workbook with 20 activities. It's FREE when teachers subscribe to the Kids News newsletter.