Giving Part 2: Generous Aussies give for a better world
PART 2: Australians are a generous bunch. Most of us are happy to give a little to improve the lives of others. Find out how much we give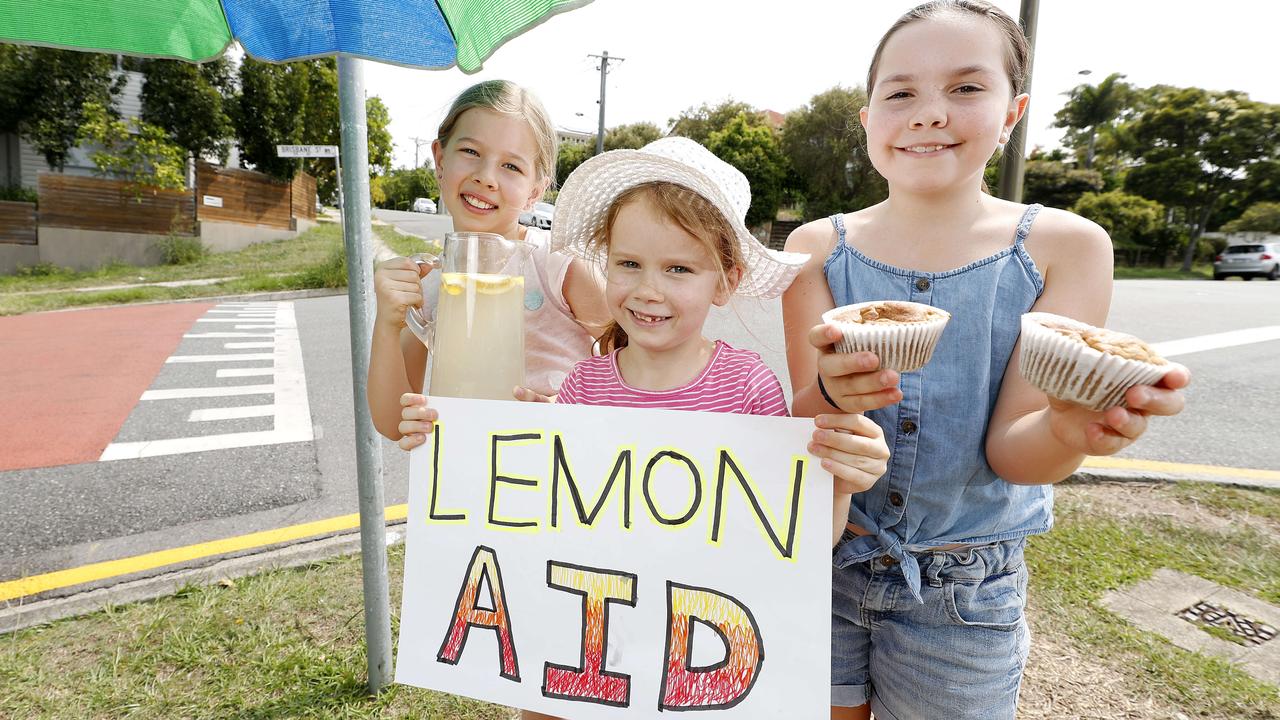 Australians like Zoe, 9, Georgie, 6, and Annika, 9, are happy to help in times of need, such as selling lemonade, cookies and muffins to raise money for bushfire victims in 2019. Picture: AAP Image
Australians are a generous bunch. Most of us give to charities, and a report recently ranked Australians the fifth most generous people in the world.
The ways that Australians give include:
donating money, food, or goods to charities
participating in or donating to an event, such as a fun run
organising or volunteering with a local event, such as a fete
sponsoring a child in need
volunteering with an organisation, such as a church, cultural or environmental group or a sports club
assisting in an emergency, such as a natural disaster or car accident
Emergency services volunteers were out in force during the recent floods in Queensland and NSW. Picture: Steve Pohlner
A McCrindle Research report found 74 per cent of Australians gave to charities in 2020. Nine in 10 were proud of how charities and others helped those in need during the Covid-19 pandemic.
The top causes were medical and cancer research, children's charities, and animal welfare/wildlife.
More than four in five givers (85 per cent) believed the Covid-19 pandemic made them better appreciate the role of charities and not-for-profit organisations*, such as Australian Red Cross.
Despite Covid-19, the level of giving stayed about the same in 2020. Some people increased the amount donated, while others had to give less.
How much do Australians give?
Australians donate a lot of money to good causes. A recent report found 4.21 million taxpayers gave a total of $3.93 billion in 2018-19.
These donations are tax deductible, which means you can claim them on your annual tax return* to reduce the amount of tax* you pay. This doesn't cover all donations – just those to registered charities and organisations.
Australian taxpayers donated $3.93 billion in 2018-2019, claiming an average donation amount of $933.20 on their tax returns. Picture: Sarah Matray
In total, 29 per cent of taxpayers claimed these tax deductions, down from 31 per cent the year before. But the $3.93 billion that was donated was up from $3.75 billion the previous year.
This means that while fewer people donated, they gave more. The average donation people claimed on their tax return increased from $845.73 in 2017-18 to $933.20 in 2018-19.
Western Australian taxpayers were the most generous on average.
They donated 0.89 per cent of their taxable income, followed by those in NSW (0.45 per cent), Victoria (0.39 per cent), the ACT (0.38 per cent), South Australia (0.30 per cent), Tasmania (0.26 per cent), and Queensland (0.25 per cent).
The report was compiled by the Australian Centre for Philanthropy* and Non-Profit Studies at Queensland University of Technology, using information form the Australian Tax Office.
How we give is changing
While the generosity of Australians remains unchanged, the way we give is changing.
The McCrindle report found we are now more likely to be "opportunity givers" who donate when an issue arises, such as bushfire relief, rather than committed givers who give regularly.
Australia's 2019-2020 bushfires were a good example. By June 2020, almost $300 million was donated to Australian Red Cross, The Salvation Army and St Vincent de Paul.
Six in 10 people who donated described themselves as "opportunity givers", compared to four in 10 who were regular givers to the same charity.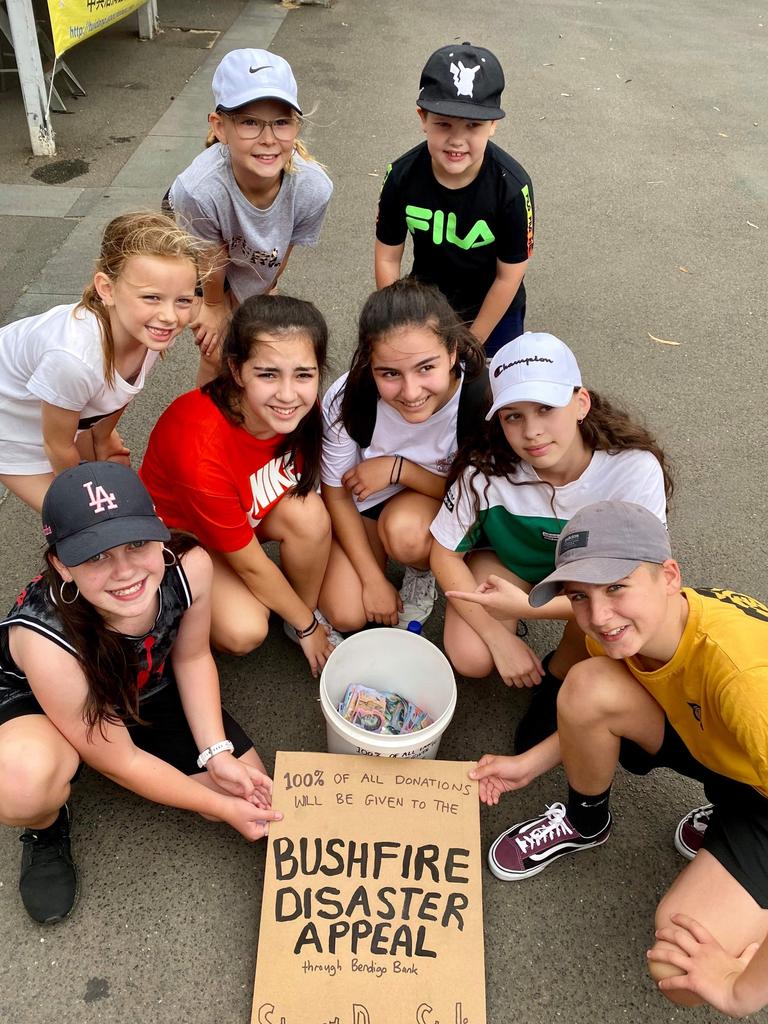 These children busked to raise money for bushfire relief.
Going digital with donations
Donating online is becoming more popular. For those who have a computer and are connected to the internet, giving in this way is quick and easy.
The McCrindle report found that even most older givers aged over 50 were happy to donate online.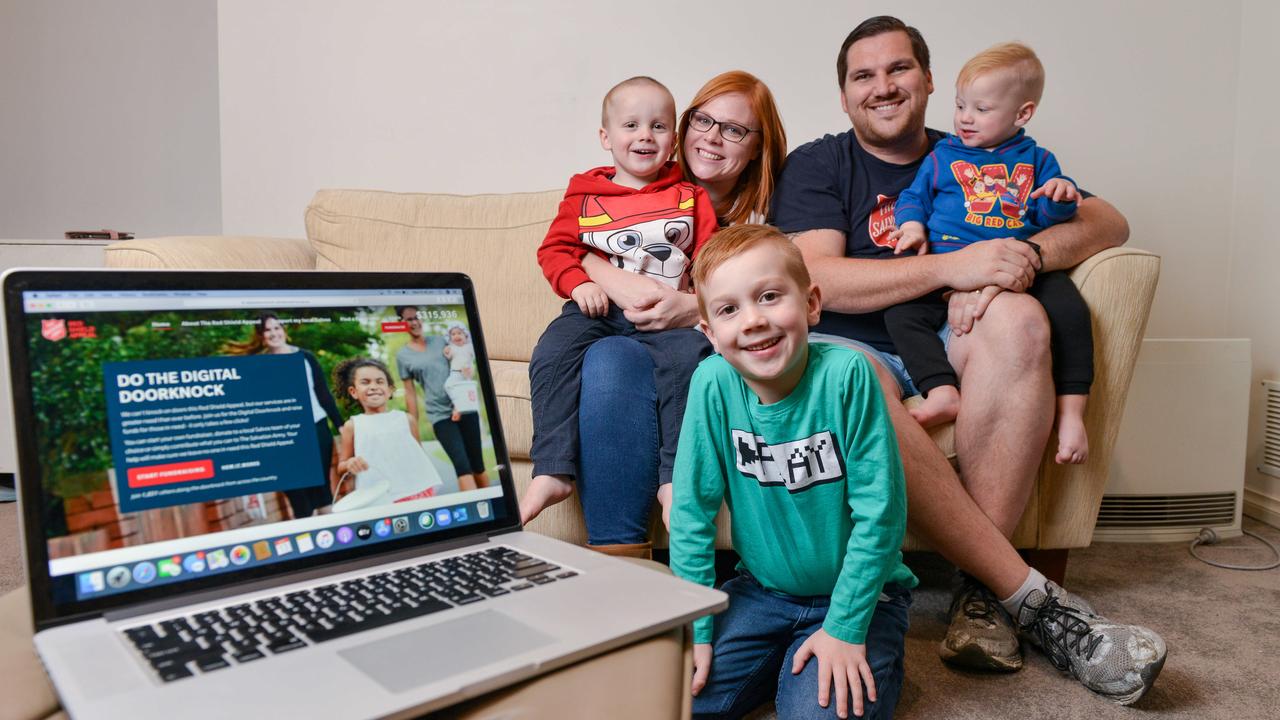 Online fundraising has become more popular since the Covid-19 pandemic. Here parents Nathan and Kylie Hodges and children Caleb, Jackson and Judah check out the Salvation Army Digital Door Knock Red Shield Appeal in 2020. Picture: Brenton Edwards
Volunteering our time
Many Australians volunteer their time, but the pandemic has affected how we do it.
The McCrindle report found the percentage of people who volunteered monthly fell from 55 per cent to 44 per cent in 2020. But the proportion who volunteered once a year increased from 7 per cent to 17 per cent.
Giving on a global scale
Australians are also generous on a global scale.
A 2021 Charities Aid Foundation (CAF) report found we were the world's fifth most generous people, behind people in Indonesia, Kenya, Nigeria, and Myanmar.
In 2020, almost six in 10 Australians (57 per cent) helped a stranger, 61 per cent donated money and 30 per cent volunteered their time.
Another CAF report found 68 per cent of Australians had given money in the past 12 months. Supporting children was the most popular cause.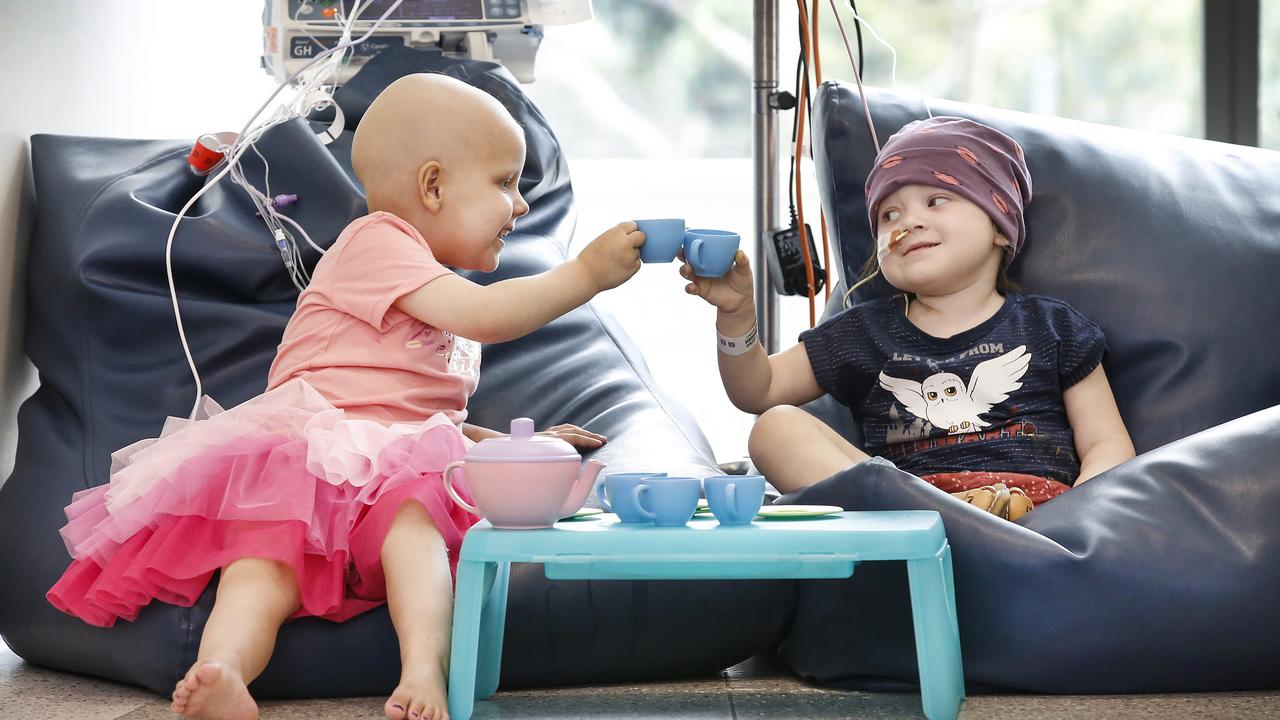 The Royal Children's Hospital Good Friday Appeal helps sick children like Charlotte Alexander, who had a large tumour removed, and fellow cancer patient Luna Phillips, who still had time to enjoy a tea party in 2021 despite treatment for their illnesses. Picture: David Caird
Those aged 25-34 were the most likely of all age groups to have donated in the past 12 months (74 per cent).
Among those who had donated in the past four weeks, the typical (median) amount was $80.
Overall, 35 per cent volunteered their time; supporting children was again the most popular cause (21 per cent). Younger Australians aged 18-24 were also more likely to volunteer than their older counterparts.
Most Australians felt that charities had a positive impact on their local communities and Australia as a whole.
GLOSSARY
not-for-profit organisations: organisations that do not operate to make money
tax return: a form that most workers must complete every year outlining how much money they earned so the government can assess if they paid the right amount of tax
tax: the money the government takes out of a worker's income to pay for the services it provides
philanthropy: the desire and actions to help other people, especially through generous donations
EXTRA READING
Some of the world's richest are also biggest givers
The worthy causes we support at home
Never too young to get into giving
QUICK QUIZ
Name three things Australians can donate to charities.
What percentage of Australians gave to charities in 2020, according to the McCrindle report?
How much money did Australian taxpayers give to good causes in 2018-19?
Which Australian state was the most generous on average?
Where did Australia rank on the Charities Aid Foundation report on the most generous nations?
LISTEN TO THIS STORY
CLASSROOM ACTIVITIES
Refer to the accompanying Giving Education Kit classroom workbook with 20 activities. It's FREE when teachers subscribe to the Kids News newsletter.