New Zealand's White Island volcano erupted suddenly on Monday, December 9 forcing the dramatic* rescue of tourists who were exploring the island.
The eruption of New Zealand's most active cone volcano*, 70 per cent of which sits under the sea, began at midday Australian time (AEDT) and sent huge amounts of white ash about 3600m into the air.
Geological hazard trackers* GeoNet had registered moderate volcanic unrest* on the island, located 50km east of Auckland and offshore in the Bay of Plenty, for weeks.
Brad Scott, a volcanologist* with GNS Science, said the eruption was significant and had affected the whole of the White Island crater floor.
The White Island Crater Rim camera, operated by GeoNet, showed a string of people walking in the crater when the eruption started.
Later shots from the camera, displayed online every 10 minutes, turned black as the blast caused the camera to stop working.
Seven helicopters were immediately sent to the island to provide medical help and survivors were rescued. On Thursday, police confirmed nine people had died and eight others were still on the island buried under ash.
This morning (Friday, December 13), six bodies were being removed from the White Island crater.
New Zealand deputy police commissioner John Tims said the recovery plans for the final two were yet to be announced. The death toll is expected to reach 17 once they are recovered.
About 30 people remain in hospital with severe burns. Of the 47 people who were on the island, 24 were thought to be Australian.
One video shows the dramatic moment people on a boat saw the volcano erupt.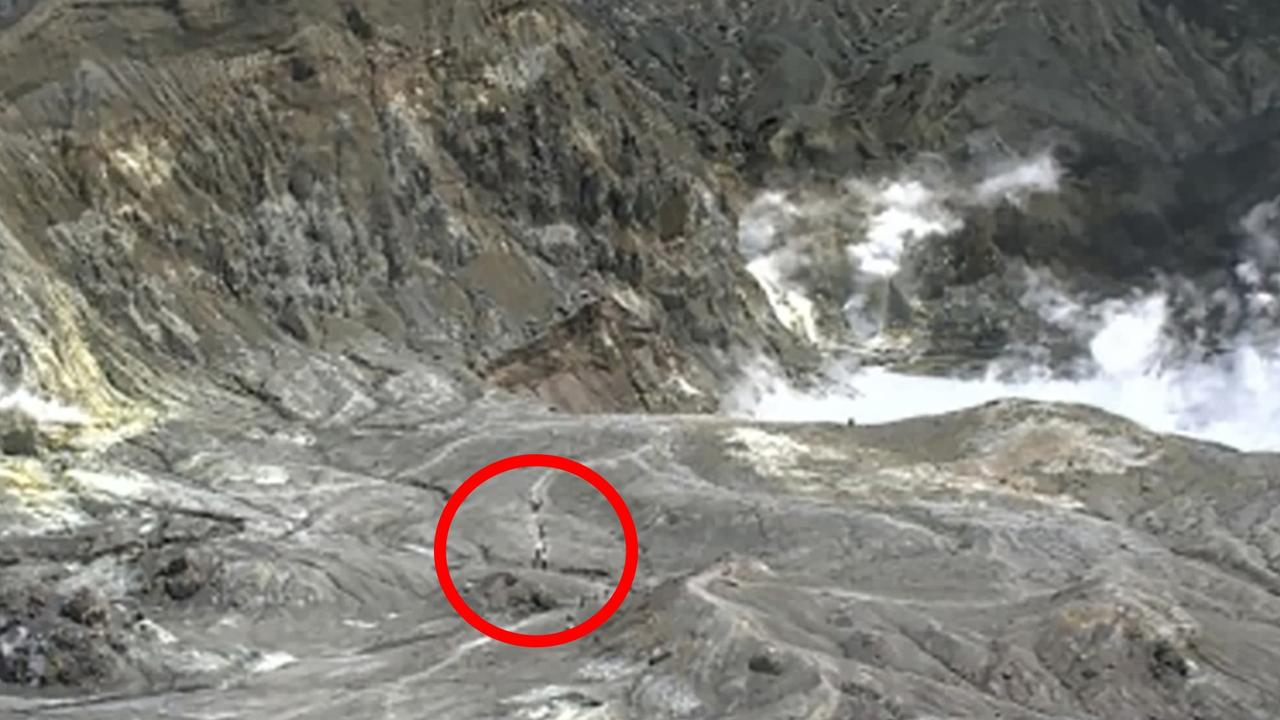 Michael Schade said he and his family had left the volcano just 20 minutes before the eruption.
"My god, White Island volcano in New Zealand erupted today for first time since 2001," he said.
"We were waiting at our boat about to leave when we saw it. Boat ride home tending* to people our boat rescued was indescribable*.
"Praying for them and their recovery," he said.
Multiple injuries after White Island volcano eruption
After the eruption, the GeoNet agency at first raised its alert level to four, on a scale where five represents a major eruption.
It later dropped the alert level back down to three. Mr Scott said that was because the eruption wasn't sustained after the first blast.
Aviation meteorologists* issued an "orange" volcanic ash warning which means nearby flights may be affected.
NZ Prime Minister Jacinda Ardern praised the bravery of the rescue pilots who flew to the island.
She said pilots "made an incredibly brave decision under extraordinarily dangerous circumstances in an attempt to get people out".
Put simply, they saved lives.
"As a result of their efforts, a number of people were rescued from the island," she said. "Those who undertook a rescue effort in the immediate aftermath did so in an incredibly courageous* way."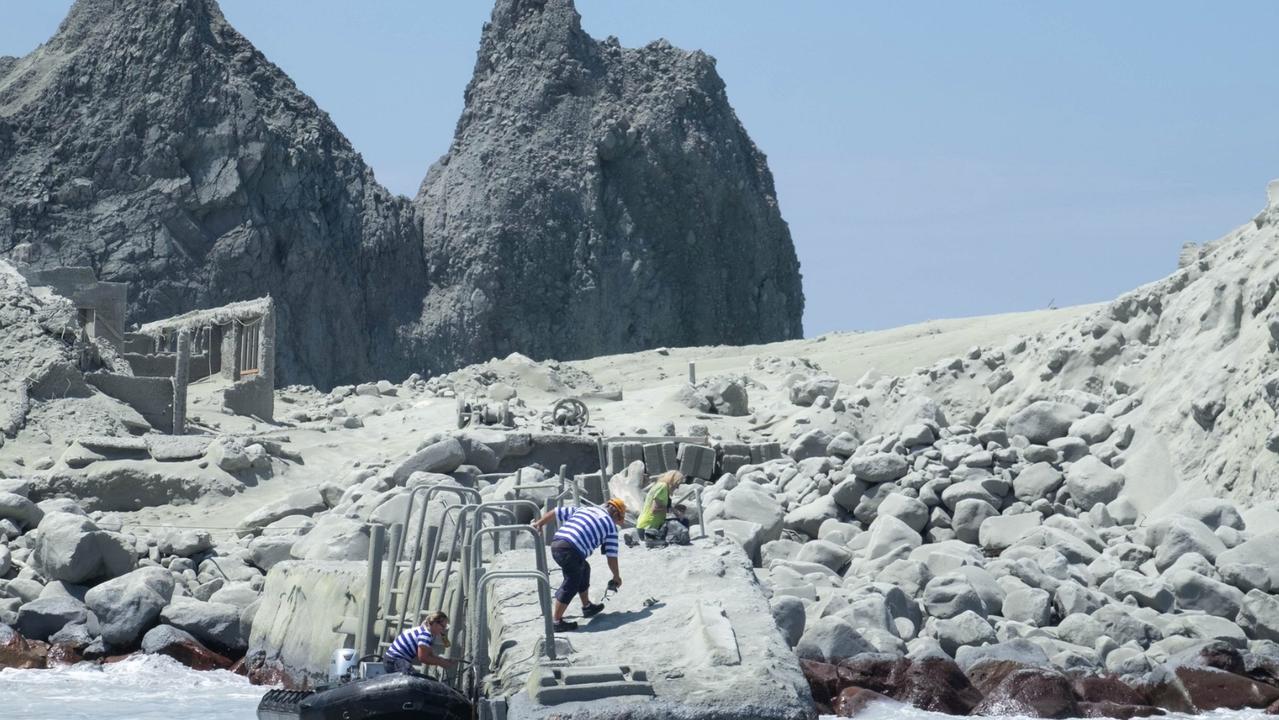 There will be questions asked as to why tourists were still able to visit the island after scientists recently noted a rise in volcanic activity.
GeoNet raised the alert level on White Island from one to two on November 18, noting an increase in the amount of sulfur dioxide gas, which comes from magma* deep in the volcano.
It also said at the time that the volcanic tremor had increased from weak to moderate strength in previous weeks.
Mr Scott said the alert level was often raised and then later dropped again without any eruption. He said there hadn't been any major incidents with tourists visiting the island in the past, although there had been some close calls.
GLOSSARY
dramatic: exciting or action-packed
cone volcano: a triangle-shaped hill formed as material from volcanic eruptions
geological hazard trackers: people who track extreme natural events
unrest: a disturbance
volcanologist: someone who studies volcanoes
tending: caring
indescribable: hard to describe because it's so unbelievable
aviation meteorologists: weather experts in relation to flying
courageous: showing great bravery and courage
magma: hot fluid within the earth's crust
EXTRA READING
Volcano cam captures lava flow
QUICK QUIZ
Where is White Island?
How much of the volcano is underwater?
What shape of volcano is it?
How far into the air did the ash reach?
When did the White Island volcano last erupt?
LISTEN TO THIS STORY

CLASSROOM ACTIVITIES
1. Know the Signs
What are the signs that could show us that a volcanic eruption might happen? Use the information in the story to answer this question.
Time: allow 10 minutes to complete this activity.
Curriculum Links: English, Science, Geography
2. Extension
Should tourists have been allowed to visit the volcano after scientists saw a rise in volcanic activity?
Time: allow at least 20 minutes to complete this activity.
Curriculum Links: English, Health and Physical Education, Science, Geography, Personal and Social capability
VCOP ACTIVITY
With a partner see if you can identify all the doing words/verbs in this text. Highlight them in yellow and then make a list of them all down your page. Now see if you and your partner can come up with a synonym for the chosen verb. Make sure it still makes sense in the context it was taken from.
Try to replace some of the original verbs with your synonyms and discuss if any are better and why.
Curriculum Links: English, Big Write and VCOP

HAVE YOUR SAY: Would you tour an island if you knew it had an active volcano?
No one-word answers. Use full sentences to explain your thinking. No comments will show until approved by editors.