Tourists flee in Greece's biggest ever wildfire evacuation
Extreme temperatures have led to catastrophic wildfires across Greece with 30,000 tourists forced to flee as the island of Rhodes goes up in flames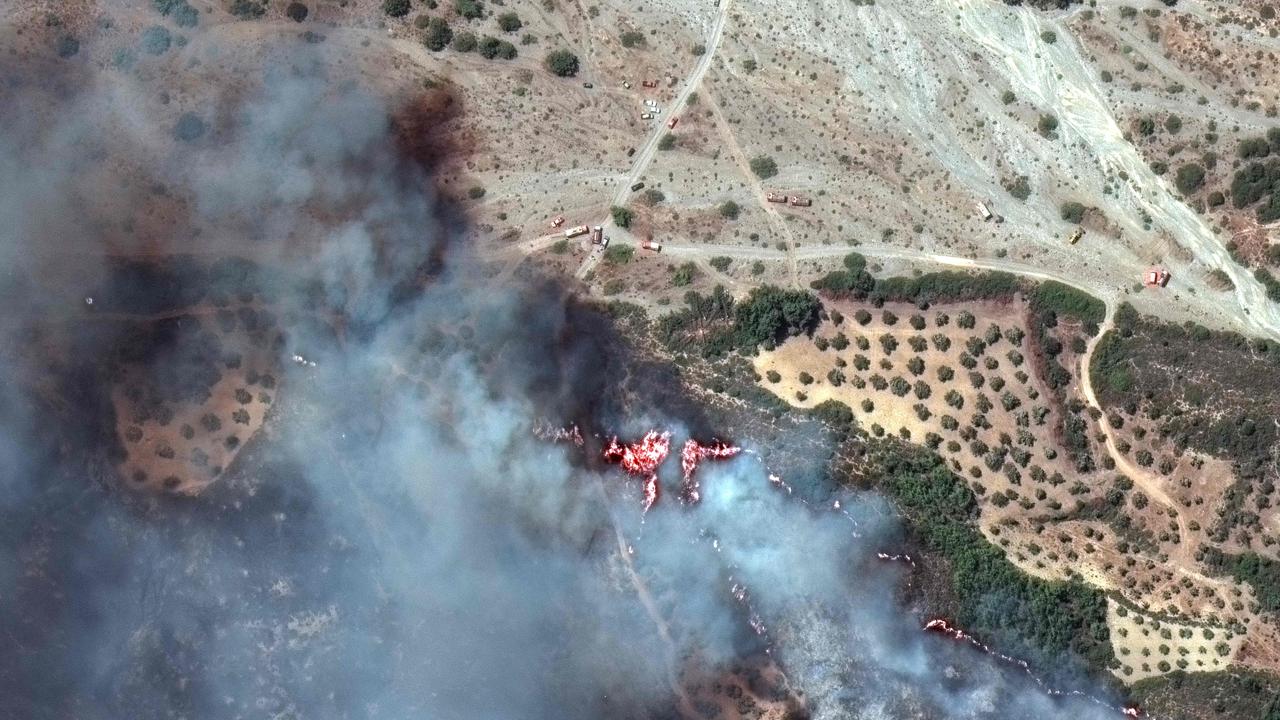 This satellite image shows a view of the fire on the Greek island of Rhodes. Picture: AFP PHOTO / Satellite image © 2023 Maxar Technologies
Thousands of residents and tourists have been evacuated from the Greek island of Rhodes as wildfires burn out of control across the country.
About 30,000 people fled the flames on Rhodes over the weekend in Greece's largest-ever wildfire evacuation.
Almost 2500 people from the Ionian island of Corfu were evacuated on Monday while thousands of children were evacuated from Athens' holiday villages last week.
It comes as severe heatwaves sweep across Europe, Asia and North America with record temperatures recorded in France, the US and Spain.
Greece often has forest fires in summer that destroy tens of thousands of hectares of forest and vegetation.
But this summer, the country has also experienced one of the longest heatwaves in recent years, with temperatures hitting 45 degrees Celsius over the weekend.
The island of Rhodes has now been on fire for a week and authorities have warned that the battle to contain the flames will take several days.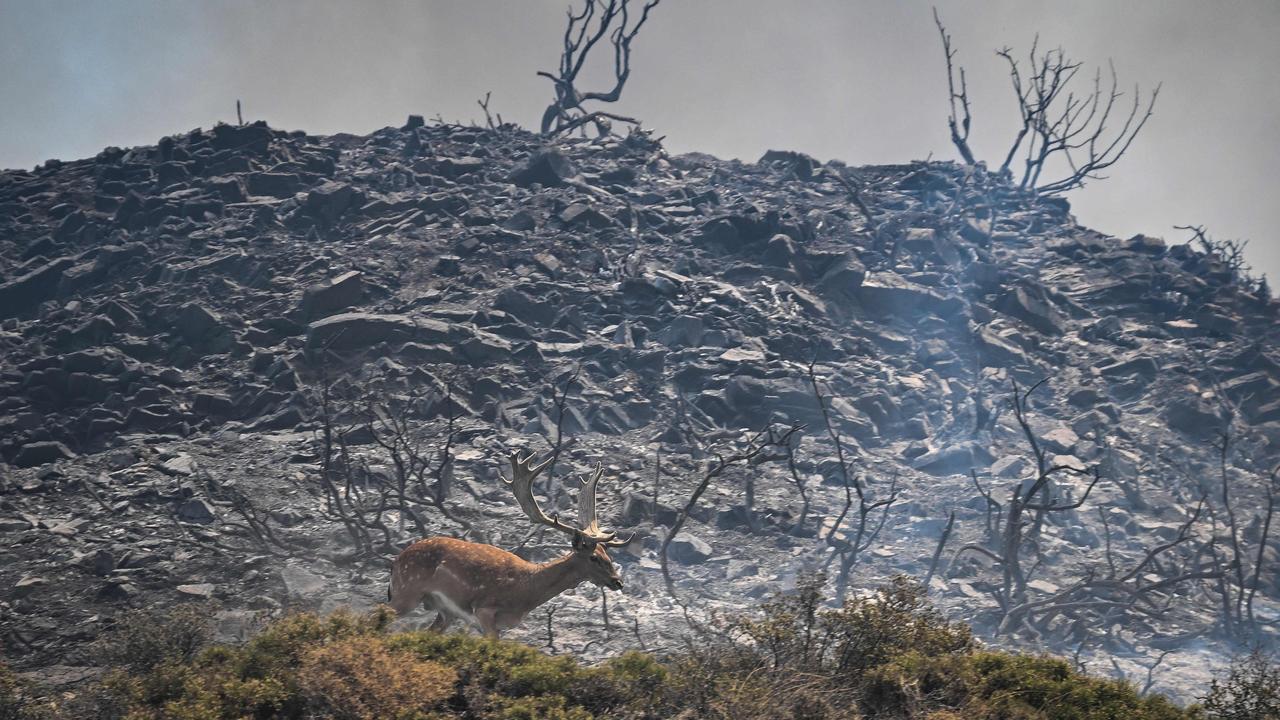 A deer runs with smoke in the background during a fire on Rhodes. Picture: Spyros Bakalis/AFP
More than 260 firefighters, backed by 18 aircraft, were battling the fire on Sunday, with Croatia, France, Slovakia and Turkey having leant equipment and firefighters.
A large part of the island is also without electricity after power was shut down in the south for safety reasons.
Greek Prime Minister Kyriakos Mitsotakis likened the firefighting effort to being "at war" and warned the nation faced "another three difficult days ahead."
GREECE'S LARGEST WILDFIRE EVACUATION
Thousands of tourists had to flee the fires when hotels and resorts were forced to evacuate. Many had to leave their luggage behind and walk several kilometres in the heat to take refuge in schools and gyms.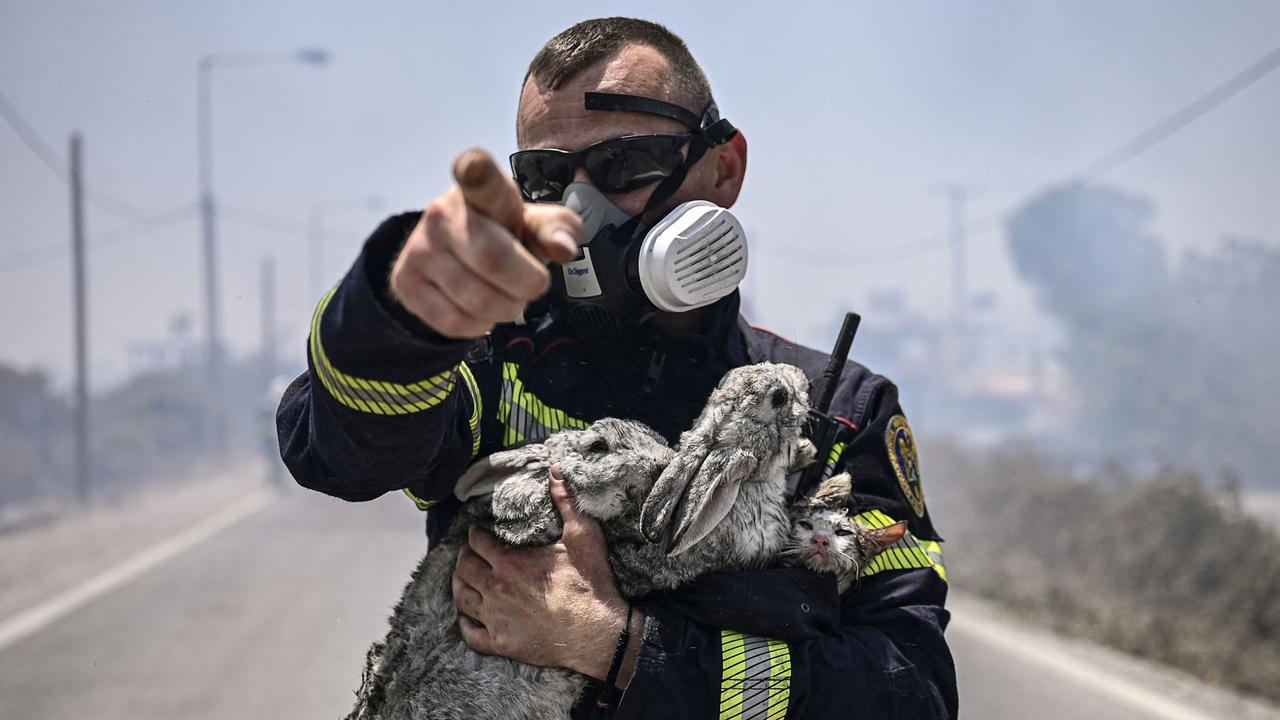 A fireman holds a cat and two rabbits after rescuing them from a fire between the villages of Kiotari and Gennadi in Rhodes. Picture: Spyros Bakalis/AFP
The Greek foreign ministry and embassies in Greece were setting up a station at the Rhodes airport to help tourists who had lost travel documents in the scramble to evacuate, while
several European countries set up consular offices to help their nationals fly home.
"This is the biggest fire evacuation ever in Greece," Greek police spokeswoman Konstantia Dimoglidou told AFP. "We had to evacuate an area of 30,000 people."
Police said 16,000 people had been transported on land and 3000 had been evacuated by sea. Others had to flee by road or used their own transport after being told to leave the area.
Laura Bentley had to run to safety with her Australian husband and their five-year-old daughter, when high winds and extreme heat brought the fire close to the Princess Andriana Resort, near Kiotari, Rhodes, where they were staying.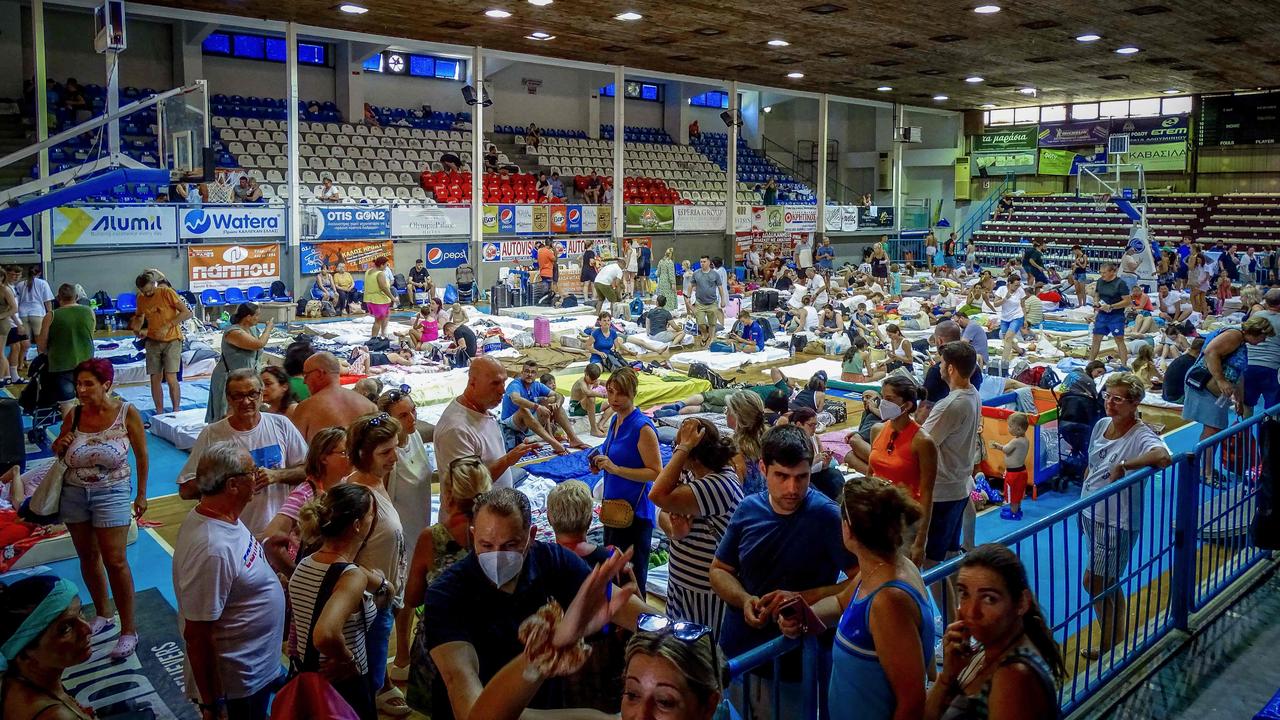 Tourists stayed overnight in a basketball hall after fleeing from their hotels. Picture: Stringer / Eurokinissi / AFP
"On the Friday when it happened, we were told to evacuate and couldn't get our bags at the hotel, so we left with what we were wearing," she said.
She described fleeing on foot in 40C heat.
As the flames marched down hill, thousands of people made their way as a crowd towards the coast and the safety of the sea.
"It was the scariest moment in my entire life," said Claire Caine, who also had to flee the Princess Andriana Resort with her husband Scott and their three children.
Tourists rest as they wait in the airport's departure hall to fly home from Rhodes. Picture: Will Vassilopoulos/AFP
"We shouldn't be going to any countries with bushfires, the government needs to send warnings to holiday-makers not to go abroad while Europe's weather is a catastrophe."
Several travel companies have stopped tourist flights to Rhodes and have been helping to ferry foreigners home.
Local resident Maria Dalouka said climate change had made fire conditions much worse.
"It's not like the old days; climate change has impacted us and will continue to do so," she said. "We ask for help from all of Europe … everything is black, please come and let's plant some trees."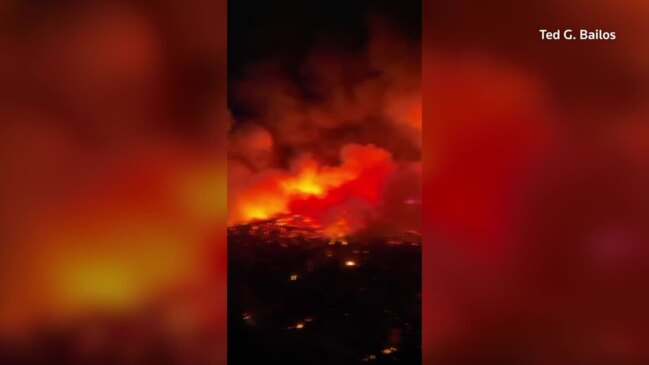 POLL
GLOSSARY
evacuated: quickly leaving an area because it has become unsafe
vegetation: plants
authorities: people or organisations in charge
refuge: a safe place
embassies: official offices of different countries within the capital city of another country
consular: looking after the citizens of a country while they are abroad
nationals: citizens of a country
foreigners: people who aren't citizens of a particular country
EXTRA READING
New York air quality: 'the worst in the world'
Sydney inferno stops city in tracks
Sensor cameras snap surprise bushfire survivors
QUICK QUIZ
1. How many people were evacuated from Rhodes?
2. How high did temperatures soar in Greece over the weekend?
3. What are two other countries that have experienced extreme heat?
4. Where did tourists have to take refuge after they fled from hotels?
5. How many people were evacuated from Corfu?
LISTEN TO THIS STORY
CLASSROOM ACTIVITIES
1. Travel warnings
If your family had a Greek Island holiday planned in the coming days or weeks, what would you decide to do considering the current emergency situation over there?
Weigh up the pros and cons of going on the holiday, rescheduling or cancelling the trip.
PROS(still go on the holiday) CONS(cancelling trip)
Time: allow 15 minutes to complete this activity
Curriculum Links: English, Mathematics, Geography, Personal and Social, Critical and Creative Thinking
2. Extension
What might the Greek authorities learn and plan for in the future considering the current heatwave and wildfire crisis?
Why do you think the wildfires might be so bad this year compared to other years?
Time: allow 10 minutes to complete this activity
Curriculum Links: English, Science, Geography, Critical and Creative Thinking
VCOP ACTIVITY
Heatwave warning
There is currently some extreme weather happening all over the world, but many people are travelling, unaware of the conditions they could be flying into.
Write a warning letter to potential tourists who are planning to travel to some of the locations currently going through a heatwave. Warn them about the conditions and that it is not advised to travel, but if they do still plan to go, provide them with some tips to stay safe and cool in such extreme heat.
Use your VCOP skills to edit and up-level the letter to really capture the urgency of your warning.