One of the world's most dangerous volcanoes erupts in Mexico
Hot rocks, ash and smoke are spewing into the air as 25 million residents wait and watch while active volcano 'El Popo' erupts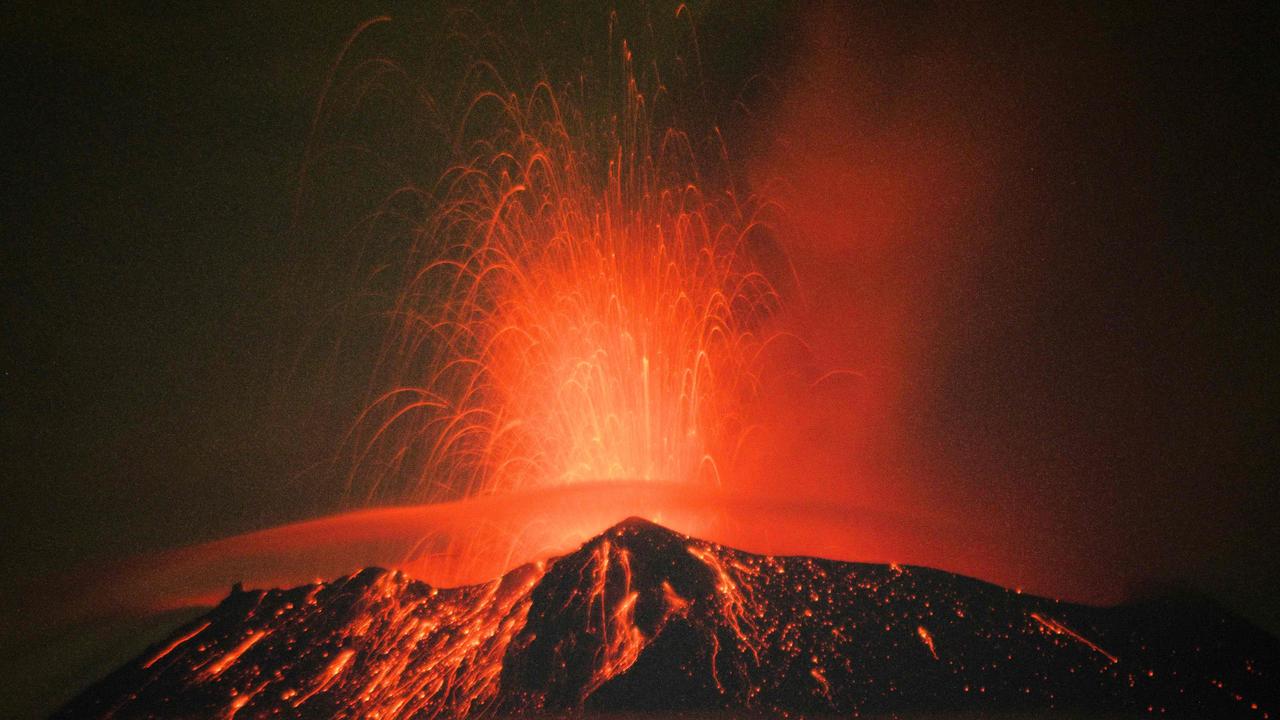 Melting rock, ash and smoke are spewed from the Popocatepetl volcano in Mexico. Picture: AFP
One of the world's most dangerous volcanoes has started spewing* smoke, ash and molten* rocks into the sky.
The alert level for the Popocatepetl volcano in central Mexico was raised to 'yellow phase three', meaning the 25 million residents who live within 100km of the volcano are preparing to flee to safety if its eruptions* worsen.
The volcano, which is 5426m tall and has the nickname 'El Popo,' is very active and has been sending toxic* fumes, ash and lumps of red-hot rocks into the air repeatedly for almost 30 years, since it awakened in 1994.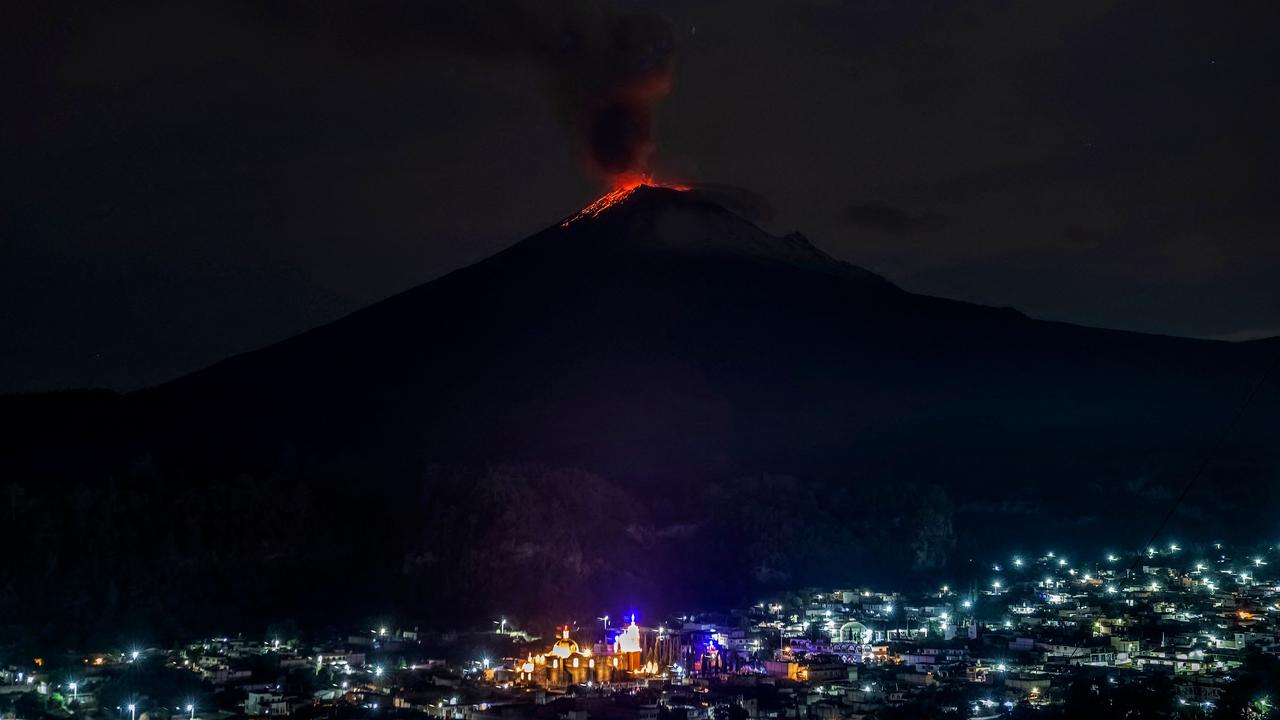 Ash and smoke from the Popocatepetl volcano have blanketed nearby cities. Picture: AFP
El Popo rarely shoots up hot lava but this week has already blanketed cities with falling ash and forced airports to temporarily stop flights.
Mexico's National Disaster Prevention Centre came up with the three 'stoplight' colours — green for safety, yellow for alert and red for danger — to explain the situation to residents who have grown used to living with the eruptions.
Most years the warnings remain on yellow stage one or two. The yellow phase three activated at the weekend means "intermediate to high activity" and is triggered when the volcano shows "significant explosions of increasing intensity* that shoot fragments (of rock) over considerable distances".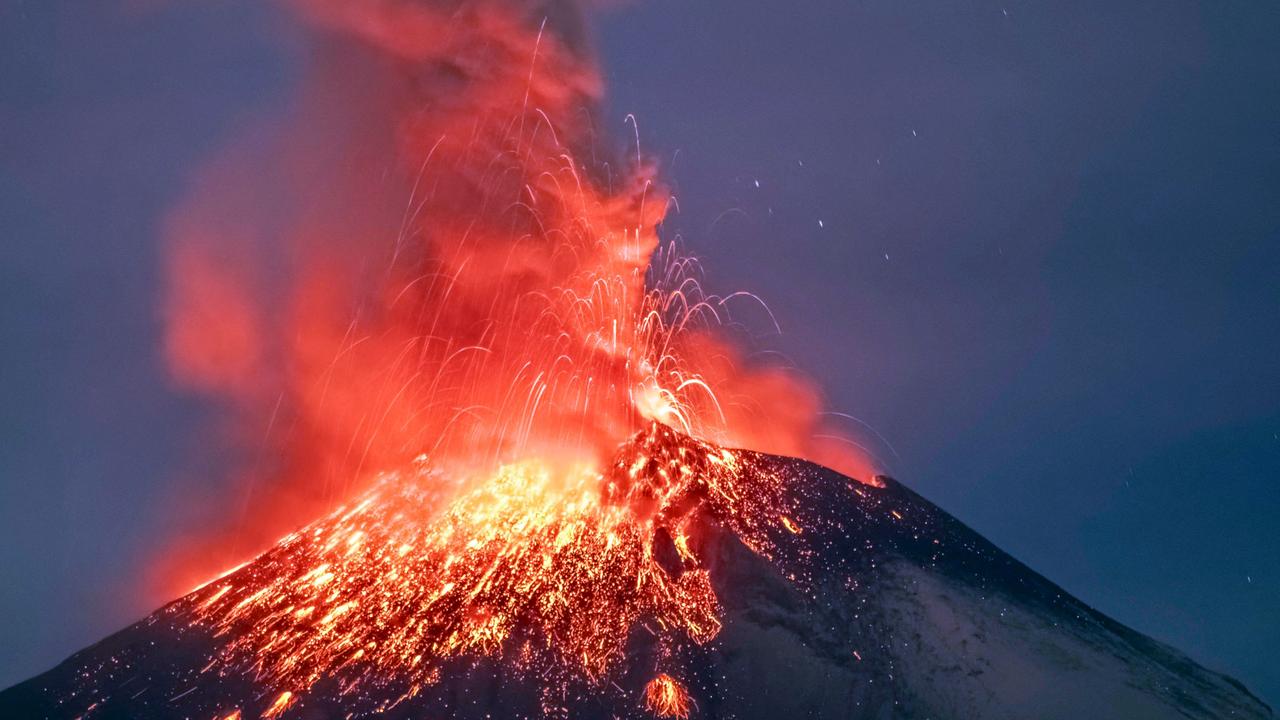 Mexican authorities have raised the warning level to 'yellow stage three', which is one step below red and the time when residents must flee their homes. Picture: AFP
The next step, a red alert, triggers mandatory* evacuations, and dozens of emergency shelters have already been opened just in case they are needed.
Scientists carefully monitor El Pepo for changes in its behaviour using heat sensors, cameras and hi-tech equipment around the summit to measure movement. All operate 24 hours a day and report back to the 13 scientists who also work in shifts around the clock in their Mexico City command centre.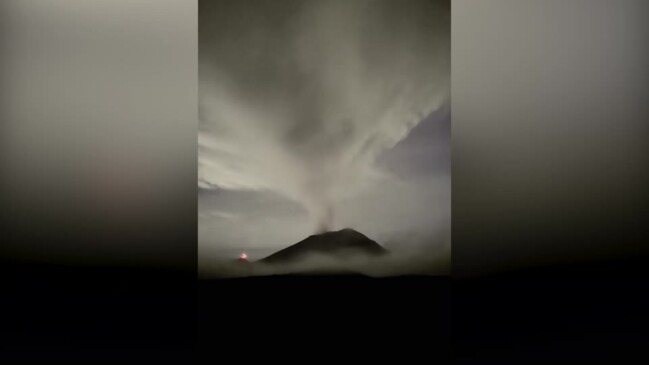 Interestingly, another of the world's most active volcanoes, Mt Etna on the European island of Sicily, also erupted at the weekend. Its short burst of activity over 24 hours sent ash across the island, halted flights and saw lava fountains fly into the air.
VOLCANO FACTS
Want to know what causes volcanoes to erupt? Click HERE.
GLOSSARY
spewing: to come out with force
molten: melted by high heat
eruptions: when hot gases and melted rock from deep within Earth find their way up to the surface
toxic: poisonous
intensity: strength or energy
mandatory: something that must happen
EXTRA READING
Lava flow makes Spanish island bigger
Erupting volcano becomes tourist attraction
Hawaii sky turns red as volcano erupts
QUICK QUIZ
1. What is the nickname for the Popocatepetl volcano?
2. How many people live within 100km of it?
3. In what year did the volcano awaken and start erupting?
4. What does a red alert warning trigger?
5. How many scientists monitor the volcano and how do they do it?
LISTEN TO THIS STORY
CLASSROOM ACTIVITIES
1. Volcano evacuation pack
If you lived anywhere in the vicinity of a volcano, you would need to be prepared to act and move quickly if it started erupting.
Make a list of the 10 most important things you would pack and have prepared if you lived near a volcano. Remember you'd have to have it ready to go in a bag to take in an emergency.
1.
2.
3.
4.
5.
6.
7.
8.
9.
10.
Time: allow 25 minutes to complete this activity
Curriculum Links: English; Geography; Personal and Social; Critical and Creative Thinking
2. Extension
Do you think there is any correlation as to El Popo becoming active at the same time as the Mt Etna volcano? Explain your answer using some facts you've learnt about volcanoes.
Time: allow 15 minutes to complete this activity
Curriculum Links: English; Science; Critical and Creative Thinking
VCOP ACTIVITY
1. Prepare for the worst, hope for the best!
It's important that the local residents heed the warning and prepare to flee in case the volcano eruptions worsen. If they leave it too late, it could be catastrophic.
Write a campaign for those residents that are not taking the warning seriously.
Start with setting the scene of the worst-case scenario - what might happen if they leave it too late?
Then end that paragraph with 'This could have been avoided if you had prepared earlier.'
Follow this with 'Luckily, it's not too late. Here are some things you should be doing to prepare for the worst, but hope for the best…
Then over the next few paragraphs, outline some things they can do to prepare their house, family, pets, lives, etc in case of an emergency evacuation. Remember they might not be convinced that it is important, so include why they should be preparing for each of your suggestions and an example of what might happen if they don't.
Summarise your campaign by reiterating the importance of the preparations and with a call to action of what they should do once they finish reading.