It all started with Mickey Mouse: Find out about the man behind 100 years of Disney magic
As the world celebrates 100 years of Disney dream-weavers, daring adventures, joyful blockbusters and beloved theme parks, let's take a look at the visionary Walt Disney, the man behind the cherished empire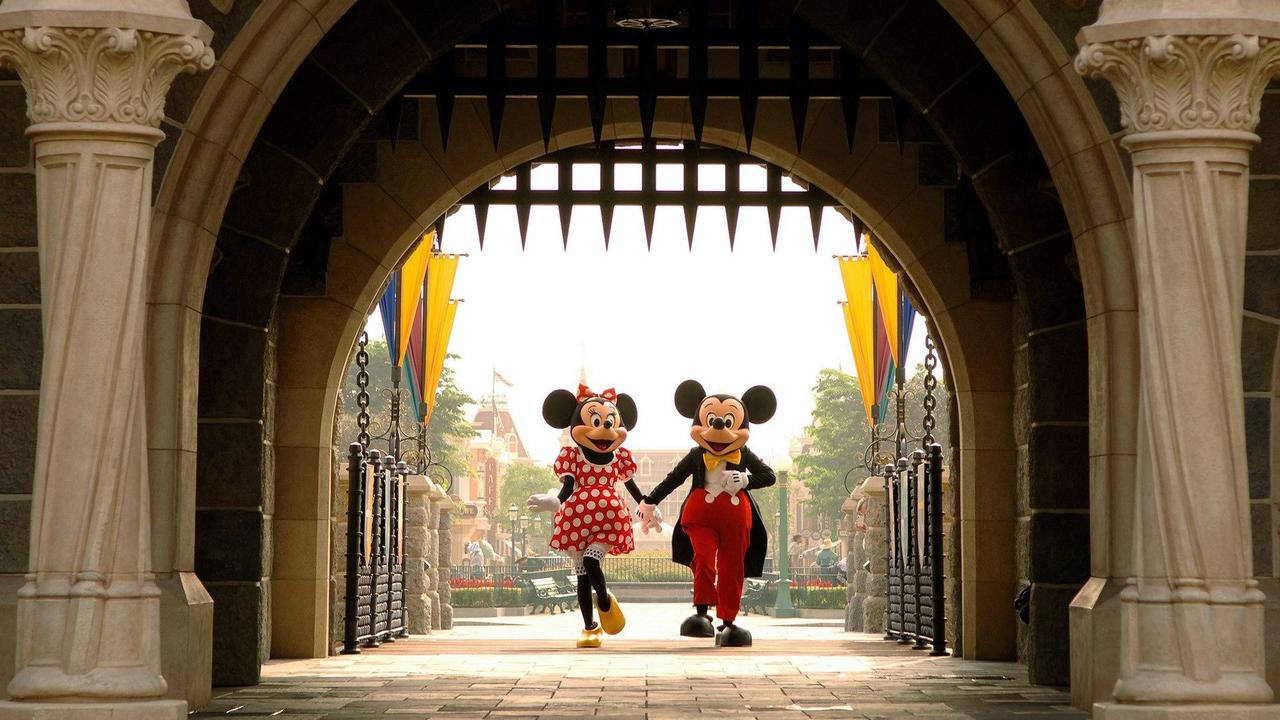 Mickey Mouse was just the beginning of a magical 100 years of Disney. Picture: News Corp
This year, the world celebrates a century* of Disney magic, marking 100 years of captivating stories, beloved characters, and countless imaginations sparked since 1923 by the ever-evolving enchantment*.
Walt Disney was the visionary* whose creativity and imagination founded the Disney empire* we cherish today.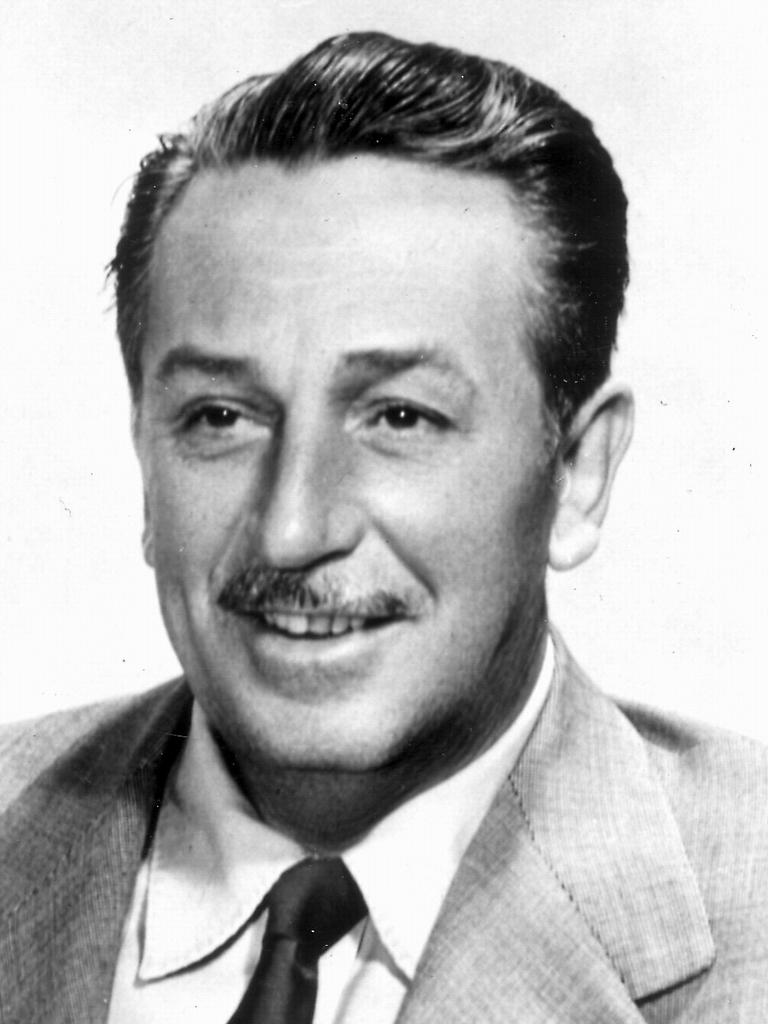 Animator and filmmaker Walt Disney (1901-1966) Picture: Walt Disney Company
Who was Walt Disney?
Walter Elias Disney, was born 5 December, 1901, in Chicago, Illinois, to parents Flora Call and Elias Disney.
He had four siblings: Herbert, Raymond, Roy, and Ruth Disney.
Roy, in particular, played a significant role in Disney's career, as they co-founded the Disney Brothers Studio, which later became The Walt Disney Company.
From a young age, Disney had a vivid imagination and a passion for drawing and storytelling.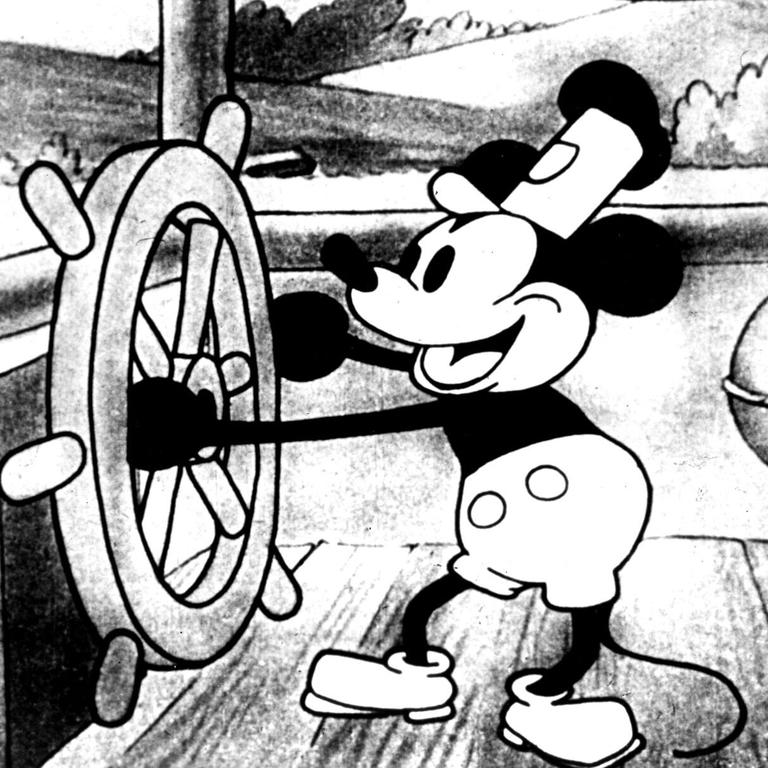 Mickey Mouse's 1928 synchronised sound cartoon Steamboat Willie. Picture: supplied
In 1928, he introduced the world to his most iconic* creation, Mickey Mouse, with the release of Steamboat Willie.
Mickey, with his big round ears and cheerful personality, quickly became a beloved character.
This success marked the beginning of Disney's journey to bring joy to countless people, children and adults alike.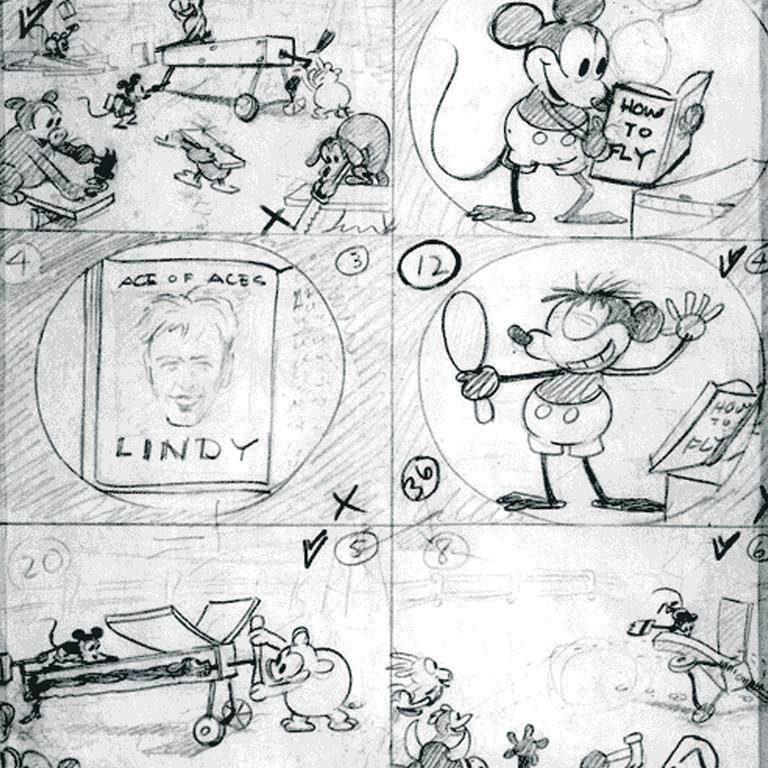 The first of six pages of a 36-panel storyboard from the Walt Disney cartoon Plane Crazy, reported to be the first drawings of Mickey Mouse.
From Mickey Mouse to magical worlds
Mickey Mouse was just the beginning of Disney's creative genius*. He went on to create a diverse array of beloved characters, including Donald Duck, Goofy, and classic Disney princesses like Snow White, Cinderella, and Sleeping Beauty.
Disney's dream extended beyond the world of animation*, however, and in 1955, he brought characters and stories to life at Disneyland in California, the very first theme park of its kind.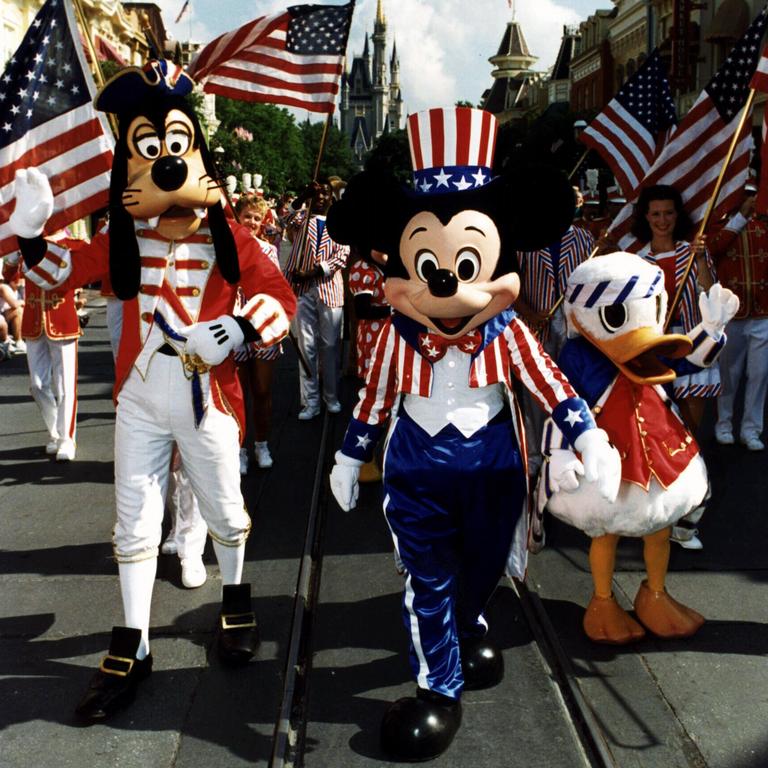 Mickey Mouse, Donald Duck and Goofy at Walt Disney World Magic Kingdom in Florida.
Disneyland was a place where visitors could step into their favourite stories and interact with Disney characters in person.
Disneyland was followed by Disney World in Florida, and today, Disney theme parks can be found in different parts of the world.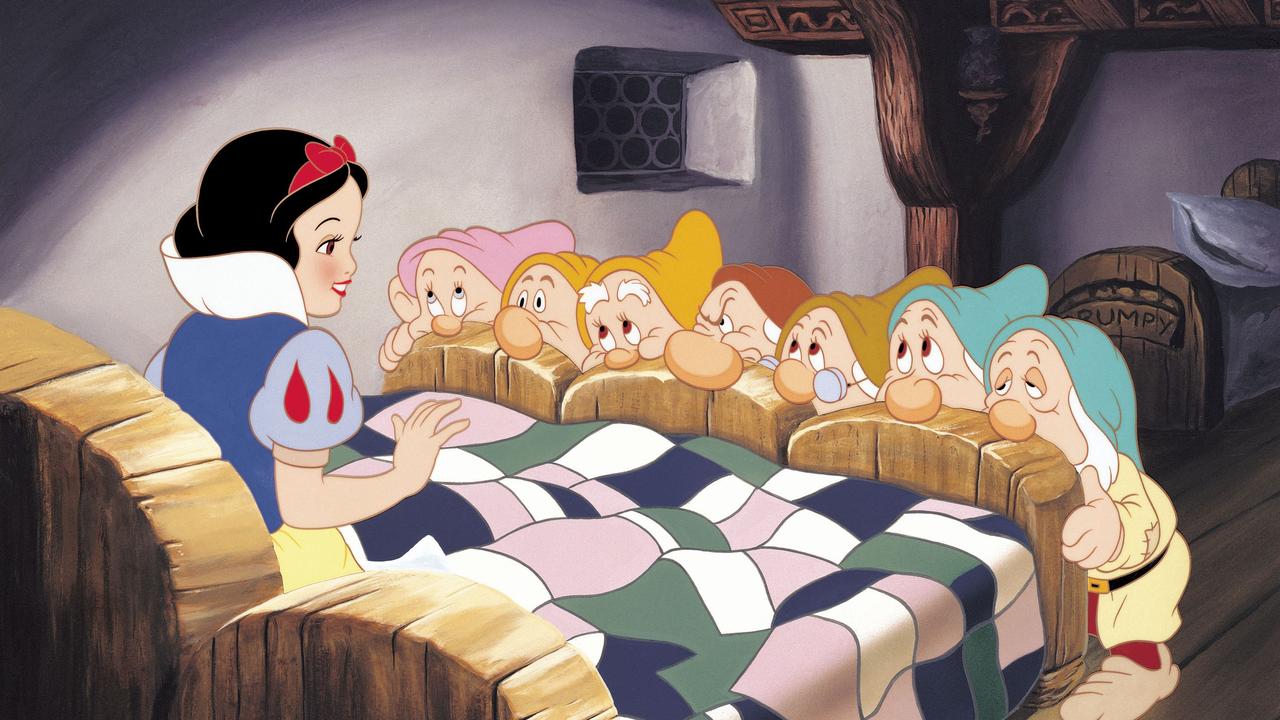 A scene from the first full-length animated film, Snow White and the seven dwarfs.
Magic on the silver screen
Disney was a pioneer* in the world of movies, producing the first full-length animated film, Snow White and the Seven Dwarfs, in 1937.
The film marked a significant milestone in cinematic* history, and the movie's success paved the way for classics like Cinderella, The Lion King, and Beauty and the Beast.
Disney's creative endeavours* extended beyond animation, with live-action hits like Mary Poppins and adventures like Pirates of the Caribbean.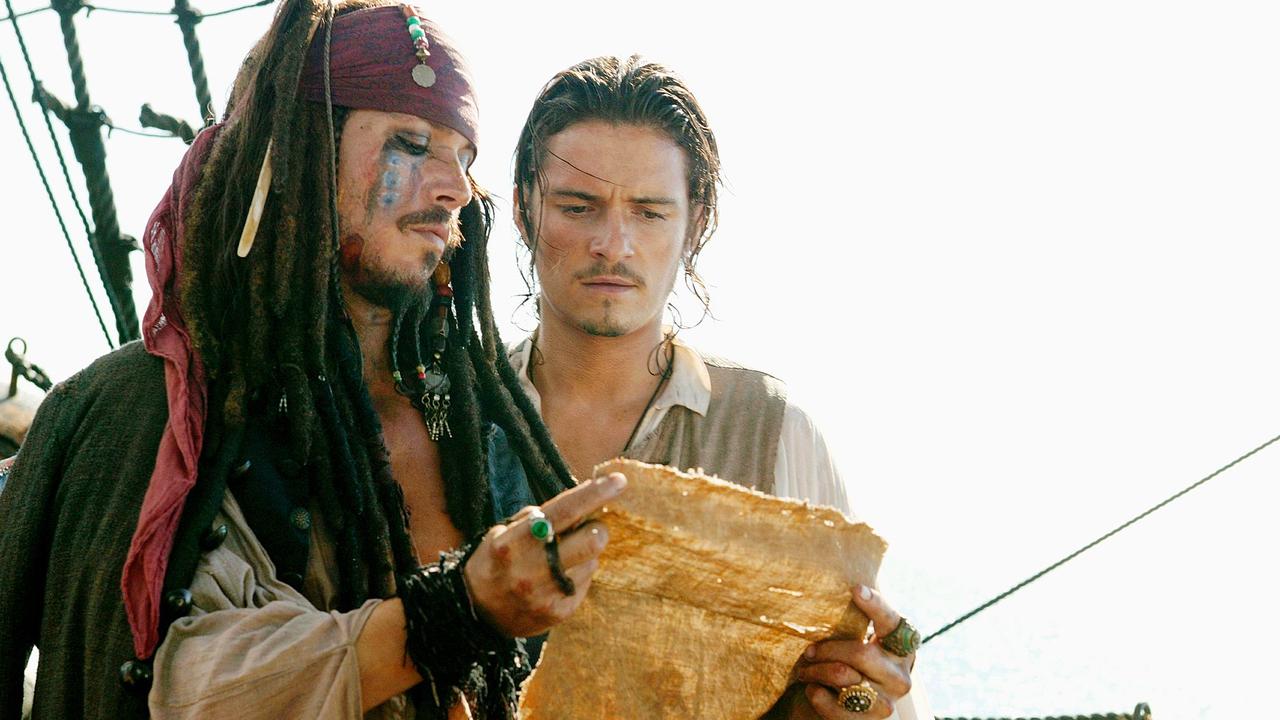 Disney creations, Captain Jack Sparrow and Will Turner in Pirates of the Caribbean Picture: supplied
Television and beyond
Disney made his mark on television with hit shows like The Mickey Mouse Club and The Wonderful World of Disney.
These shows brought Disney magic directly into people's homes as TV took off, captivating audiences with a behind-the-scenes look at the creative process and sneak peeks of upcoming Disney projects.
The Mickey Mouse Club also became a springboard* to global fame for a number of child star "Mouseketeers", including Ryan Gosling, Justin Timberlake and Britney Spears.
Cinderella castle at Disneyland.
Fame and fortune
Disney's beginnings were quite humble*.
When he co-founded the Disney Brothers Studio with his brother Roy in 1923, they started with a lot of big dreams but very little money.
Their early works, including the creation of Mickey Mouse in 1928, began to earn an income, but it took time for the Disney empire to grow.
Today, Disney is one of the world's most valuable and influential entertainment companies.
The Walt Disney Company, as it is now known, is worth billions of dollars, encompassing not only animation and movies but also theme parks, television networks, and an array of merchandise.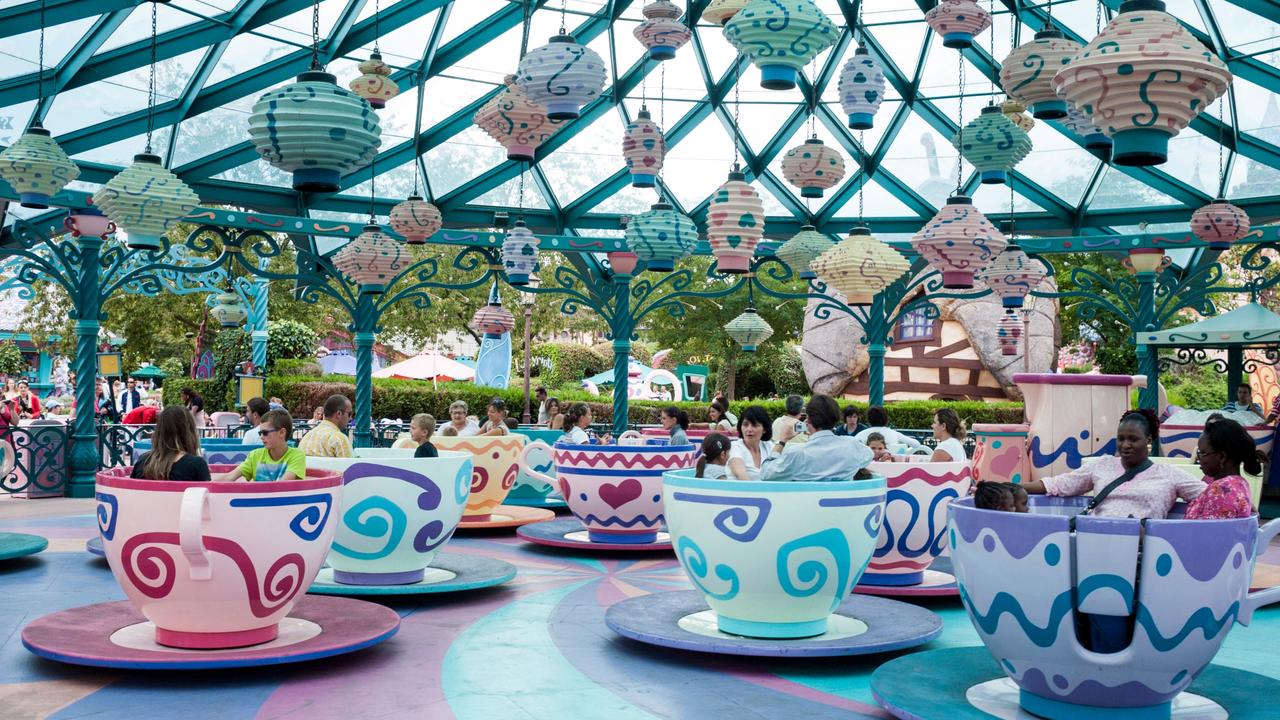 Mad Hatter's Tea Cup Ride at Disneyland Paris, France. Picture: supplied
The Disney family
Disney married Disney ink artist Lillian Bounds and they had two daughters, Diane and Sharon.
Although work was a big part of Disney's life, it has been reported he was a "very attentive father" and created many lasting memories with his family.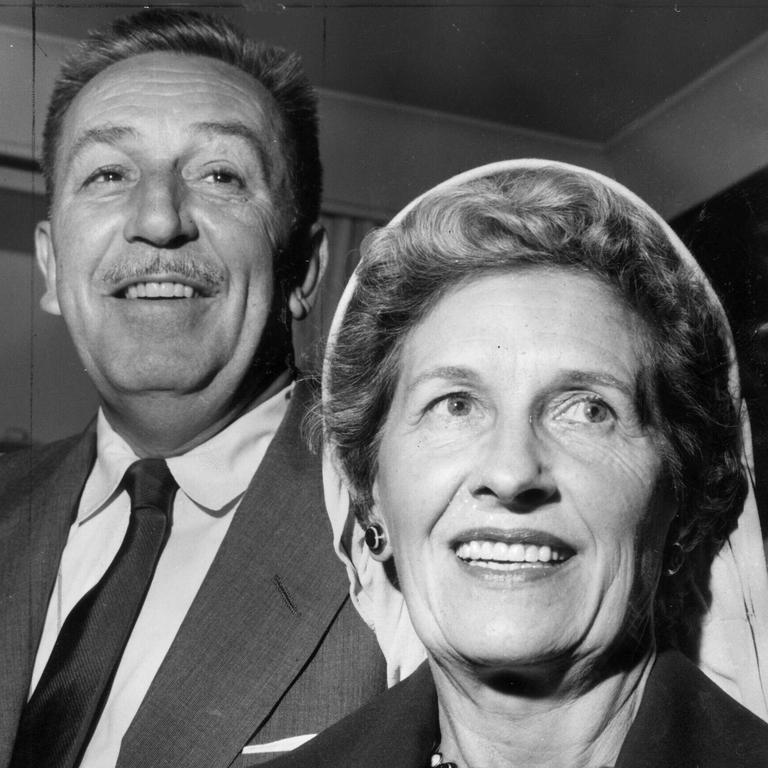 Walt Disney and his wife Lillian Disney, taken in 1957. Picture: supplied
His love for his daughters was a big source of inspiration for creating Disneyland, a place where families could create their own magical memories.
Even after his passing, Disney's family continued to carry on his legacy*, contributing to the Disney company's ongoing success, ensuring that the magic he created would endure* for generations to come.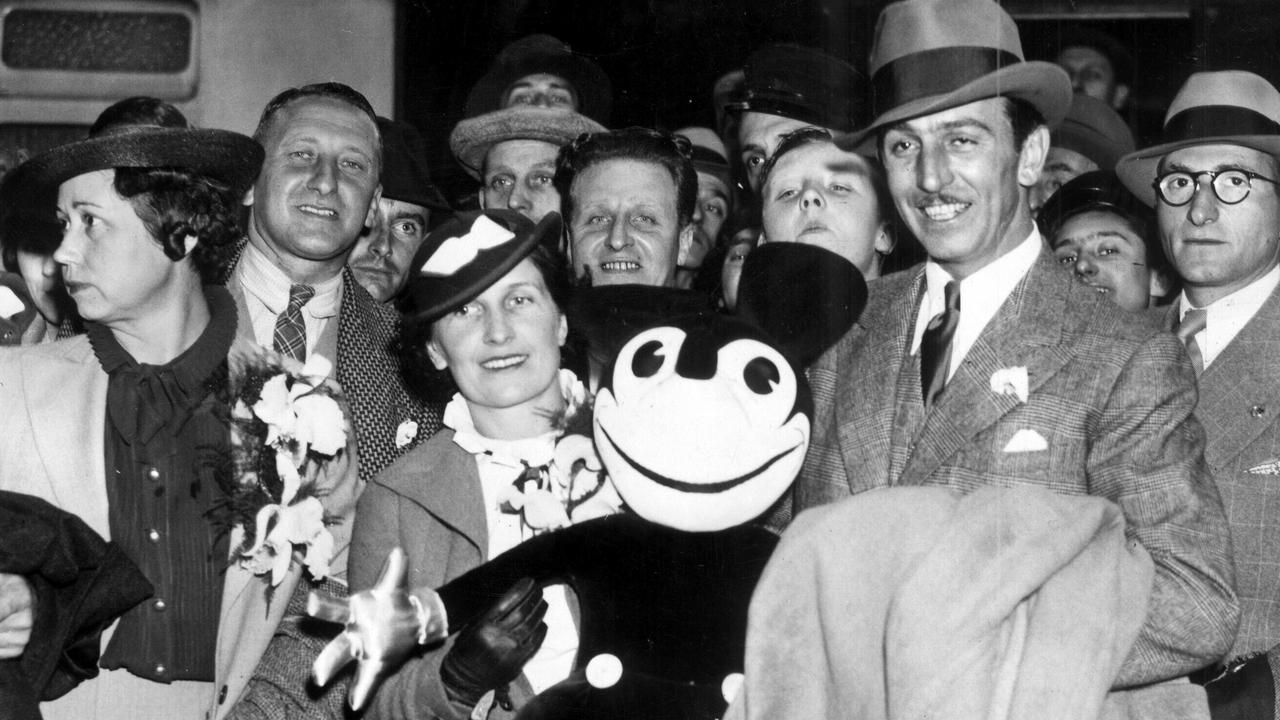 Walt Disney and his wife Lillian in London with a Mickey Mouse doll in 1938. Picture: supplied
The legacy lives on
On 15 December 1966, 10 days after his 65th birthday, Disney passed away. He had been battling lung cancer.
A major patron* of the arts in her later years, Lillian Disney died aged 98 in 1997, outliving her late husband by 31 years to the day.
Today, the Walt Disney Company continues to create well received movies, shows, and theme parks.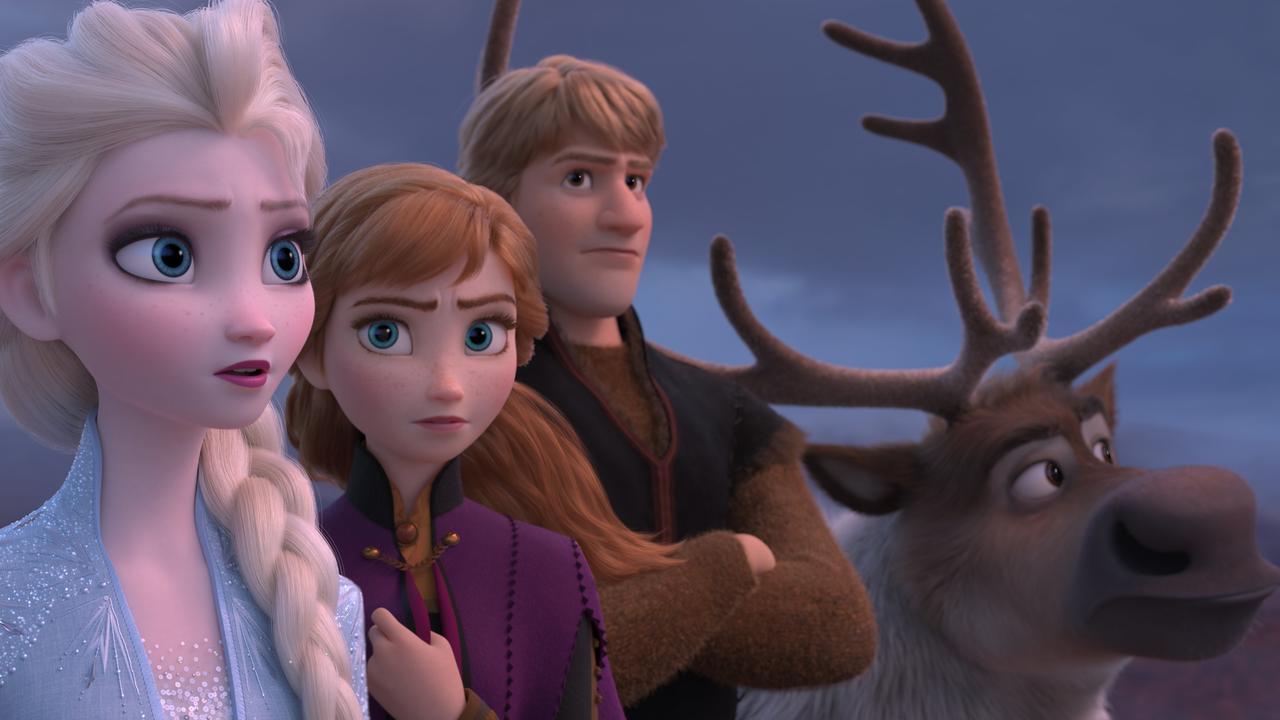 Elsa, Anna, Kristoff and Sven from Frozen have helped the Disney legacy endure. Picture: Disney
New characters like Elsa and Anna from Frozen and superheroes from the Marvel universe have joined the Disney family.
Walt Disney's enduring message to the world is simple but powerful: "All our dreams can come true, if we have the courage to pursue them".
His dream was to create a world of happiness and wonder, and he succeeded beyond his wildest dreams.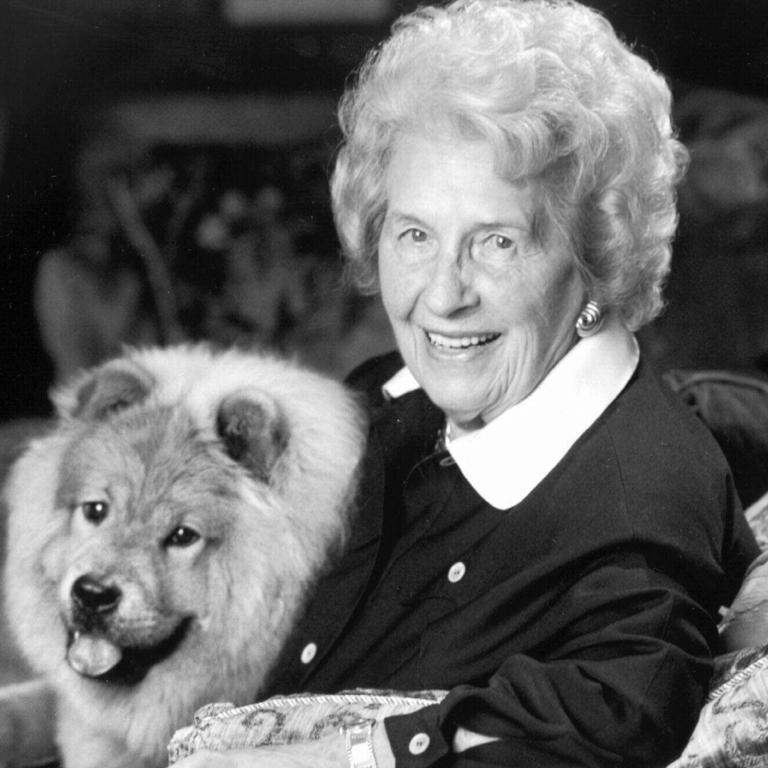 Lillian Disney passed away in 1997.
Weird and wonderful little-known Disney facts
Walt Disney's Secret Apartment: In Disneyland's Sleeping Beauty Castle, there's a secret apartment called The Dream Suite that Walt Disney used for special guests. There is no price tag on a night here, instead, it's invite only.
Hidden Mickeys: Keep an eye out for Hidden Mickeys when you visit Disney parks or watch Disney movies. These are cleverly placed, subtle Mickey Mouse shapes hidden throughout Disney attractions, hotels, and movies.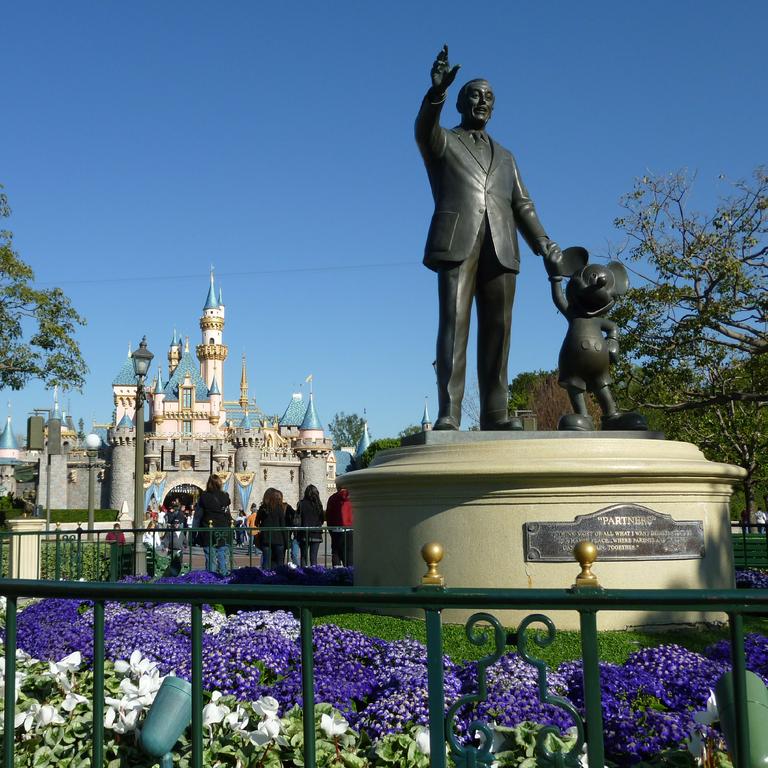 Statue of Walt Disney and Mickey Mouse in front of Sleeping Beauty's castle at Disneyland in California. Walt is also wearing a Mickey Mouse ring, one of many 'hidden Mickeys' at Disneyland Resorts. Picture: supplied
Haunted mansion's ghostly residents: The Haunted Mansion ride found in several Disney theme parks is filled with spooky fun, but did you know it has 999 "happy haunts"?
These "happy haunts" are not your typical, frightening ghosts but rather playful and mischievous spirits that have taken up residence in the mansion.
Throughout the ride, visitors encounter various ghostly characters, each with its own quirky* personality and story.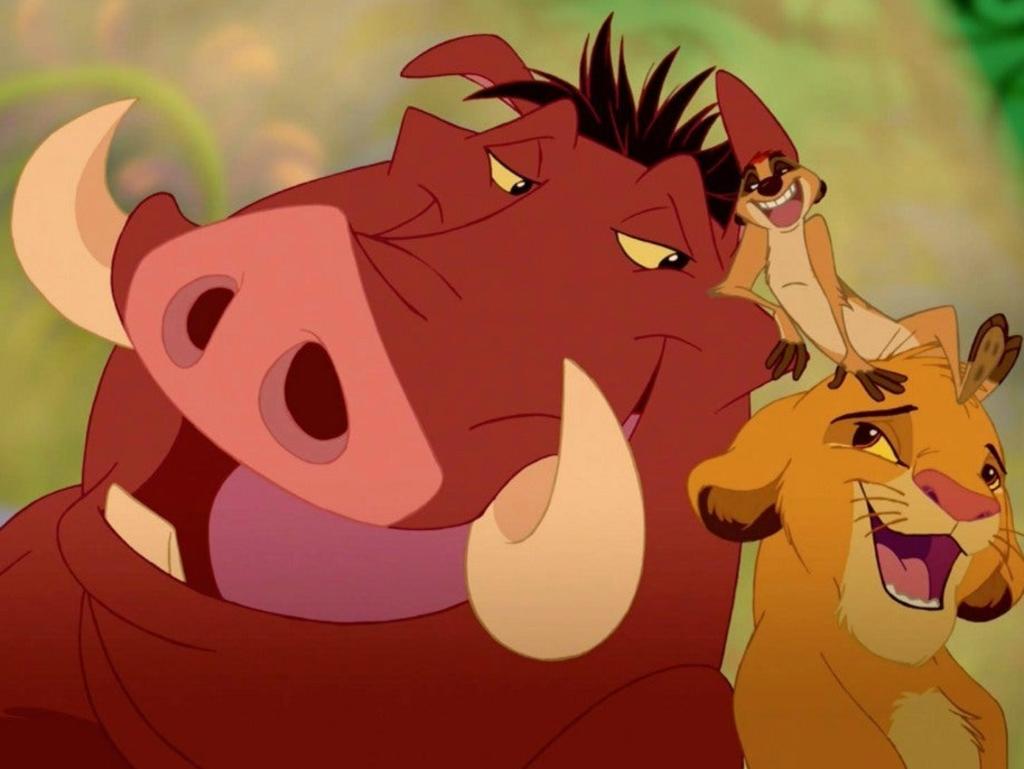 Pumbaa, Timon and Simba in a scene from The Lion King. Picture: Disney
Hidden inspiration: Disney movies often draw inspiration from classic stories and real-life places. For example, The Lion King was inspired by Shakespeare's Hamlet, and Beauty and the Beast was influenced* by a French fairytale.
Walt Disney's Oscar record: Walt Disney holds the record for the most Oscar wins by a single person. He won 22 Academy Awards and was nominated 59 times.
A painting of Walt Disney holding some Academy Award trophies. Picture: supplied
Underground magic: Disney parks have a network of underground tunnels called utilidors, short for "utility corridors*". These tunnels are used by cast members to move around the park so they don't "ruin the magic" for guests.
Imagineer secrets: Imagineers are the creative minds behind Disney's theme park attractions. They have a special way to pay homage* to Walt Disney by hiding the initials "WD" in their designs.
GLOSSARY
century: a period of 100 years
enchantment: a feeling of great pleasure and delight
visionary: a person with big ideas and imagination
empire: a large group of businesses or territories under one authority
cherish: to care for and value something deeply
iconic: extremely famous and well-known
creative genius: an exceptionally creative and imaginative person
animation: the process of making pictures and characters move in a movie or TV show
pioneer: someone who is the first to do something new
cinematic: relating to movies or film
endeavours: efforts or attempts to achieve something
springboard: something that helps you achieve success
humble: not fancy or extravagant; simple
legacy: something that is passed on to the next generation
patron: a person who supports and gives money to artists and creators
endure: to last for a long time
quirky: unusual and unique
influenced: to have an effect or impact on something
utility corridors: underground tunnels used for practical purposes
homage: a tribute or show of respect
EXTRA READING
100-year-old Disney's Australian 'world first'
Could your family qualify for free home internet?
What you need to know this snake season
Can you believe this snake cat photo is for real?
QUICK QUIZ
Where was Walt Disney born?
What famous character did Walt Disney create in 1928?
What is the name of the first full-length animated film produced by Disney?
Describe "Hidden Mickeys" and where can you find them?
Recall the main message that Walt Disney's enduring legacy conveys to the world?
LISTEN TO THIS STORY
CLASSROOM ACTIVITIES
1. Create a character
Create a new character inspired by the "happy haunts". Draw the character, write a personality profile and then write a story or create a storyboard where they are the star.
Time: allow 45 minutes to complete this activity
Curriculum Links: English, Visual Arts, Visual Communication Design
2. Extension
Why do you think the Walt Disney Company became so incredibly successful?
Use the information in the story and your own ideas to write a list of reasons.
Time: allow 15 minutes to complete this activity
Curriculum Links: English, History
VCOP ACTIVITY
Disney memories
If you ask your parents and your grandparents, they all probably have a favourite Disney movie or character. They are iconic to most of our childhoods - after all, 100 years is a long time!
Convince someone else that your favourite movie or character, is the best of all time! (If you don't have a favourite, then convince them of why your don't.)
Include some information about your movie or character, in case people haven't heard of them before, or simply need a reminder.
Make sure your use emotive language to explain why they are your favourite, so that your feelings can be felt in your words.
Try and include some examples or reasons why you feel this way.
Re-read your work to make sure it is clear and makes sense, before sharing it with someone else. Can you edit and Uplevel any of your VCOP to make your writing more engaging for the audience?