How to tell if your money is fake or real
Police are warning Aussies to check if they have fake money in their wallets after counterfeit banknotes were discovered in circulation. Here's how to know if your cash is real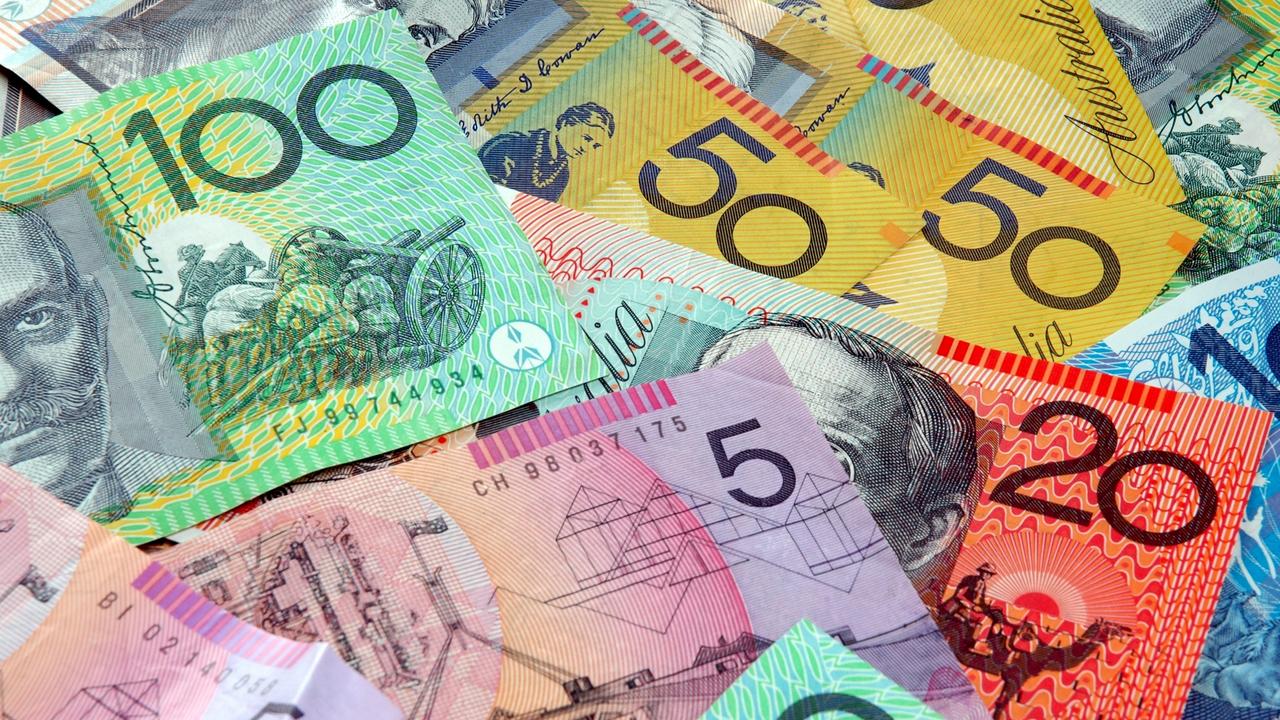 Australian banknotes are said to be the hardest to counterfeit.
Aussies have been warned to check their $50 notes very carefully after several fake ones were recently offered to shop owners across the nation.
A Darwin business handed in fake money to Northern Territory Police last week once they realised the $50 bills they'd been handed didn't look quite right.
"The note has a paper texture and the security window had visible defects, having been glued on," a police spokesman said.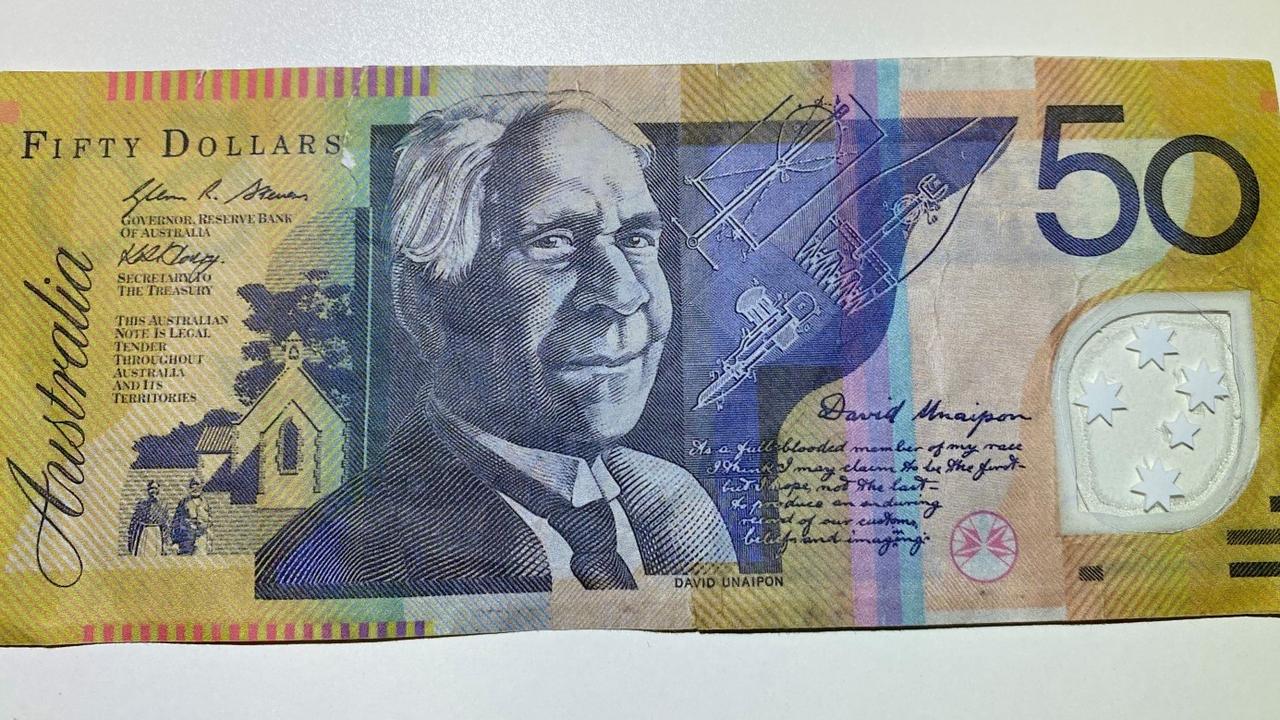 Police say the fake notes found in Darwin feel like paper instead of plastic. Picture: NT Police
While it is against the law to make fake copies of banknotes, several people have been caught doing this in recent months.
A Queensland man was caught trying to convince businesses he could print cash that looked real with a money printing machine.
One business owner gave the criminal $20,000 because he said he could legally double the money. But when the business owner forced open the fraudster's safe, he found two bundles of counterfeit, or fake, banknotes.
In Sydney last year students from private school Scots College asked a man working at a newsagency to swap four $50 notes for two $100 notes.
The worker later realised that two of the $50 notes were fake.
When the students came back a second time to swap more money they were caught on the store's security camera.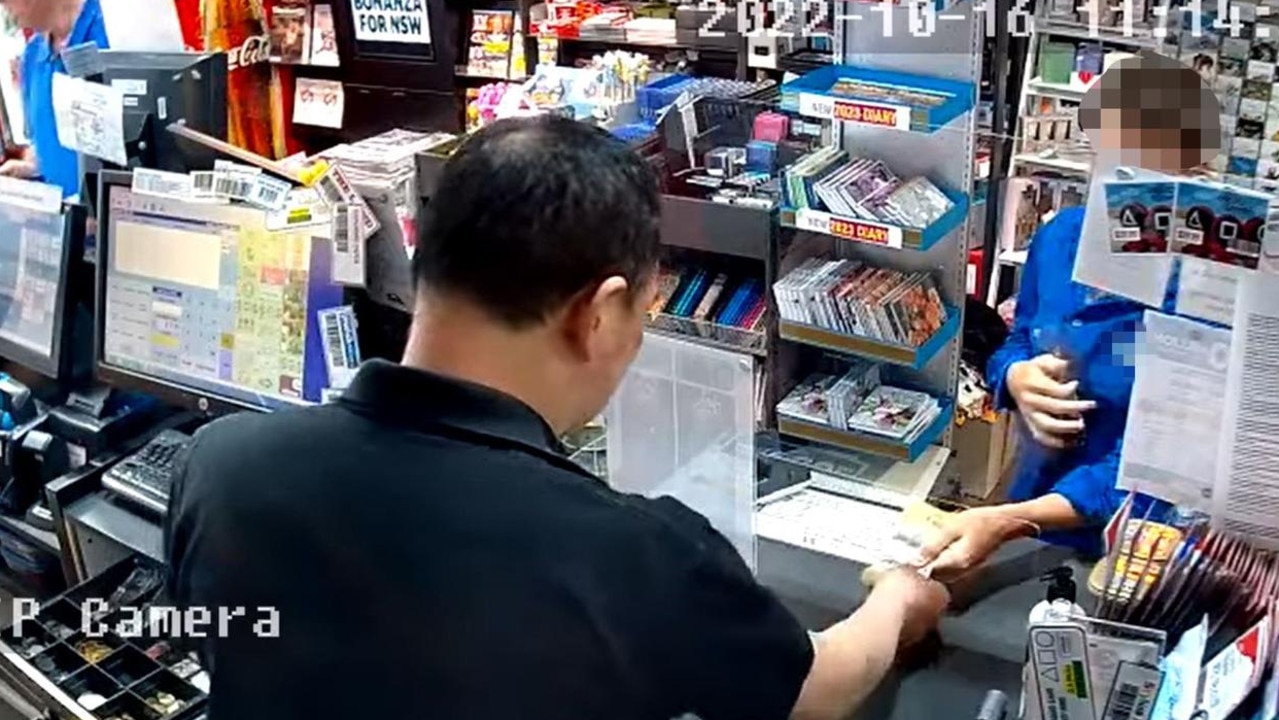 The youths were caught handing in fake money. Picture: YouTube
WHAT IS COUNTERFEIT MONEY?
Counterfeit money is fraudulent, or fake, money that has been made to look like the real thing.
People in Australia can be sent to jail for up to 12 years for making money or using money that they know is fake.
For centuries, governments have looked for ways to make it difficult for criminals to counterfeit money.
About 300 years ago, American inventor Benjamin Franklin came up with many clever ways to print security features into banknotes to make them unique and hard to copy.
Research by the University of Notre Dame found the 1700s inventor used watermarks, tiny indigo-dyed threads and small amounts of crystal in printed money to make it hard for copycats.
He also used "nature printing," in which he copied the detailed vein patterns of tree leaves to printing plates.
These techniques gave the notes special features that were hard for others to recreate – much like a fingerprint.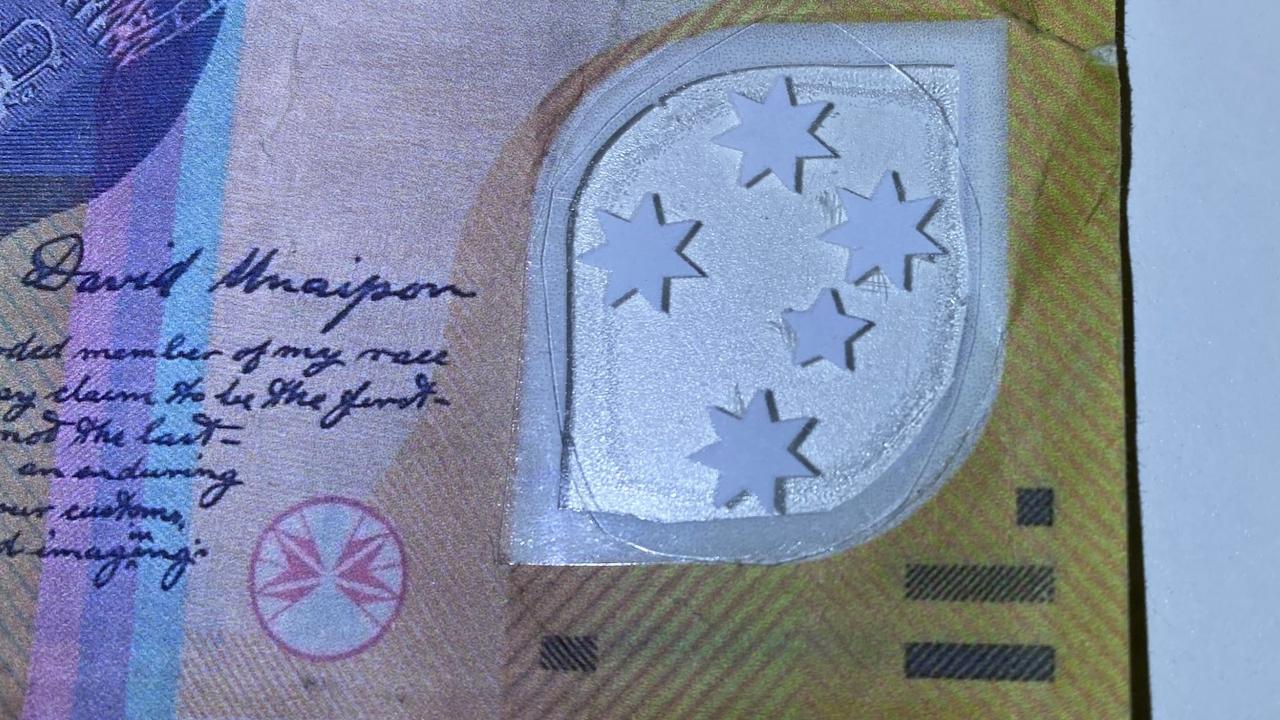 Security features in the window cannot be rubbed off. Picture: NT Police
HOW TO TELL IF YOUR MONEY IS REAL
The Reserve Bank of Australia said there are many different features on each banknote that can help you tell if it is fake or real.
If you tilt a real $50 bank note, the bird's wings will move and change colour. You will also see numbers written backwards and a rolling colour effect on the patch in the top corner.
If you hold it to the light you should see the Australian Coat of Arms.
Since Australian money is printed on polymer, a type of plastic, a real bank note should go back to its original shape after being scrunched up.
Banknotes are also difficult to tear and have fine line patterns on each side that are multi-coloured.
The clear security window is an important part of the note and should have an image on it that has a light and dark effect. Security features in the window cannot be rubbed off and the area around the window is usually smooth.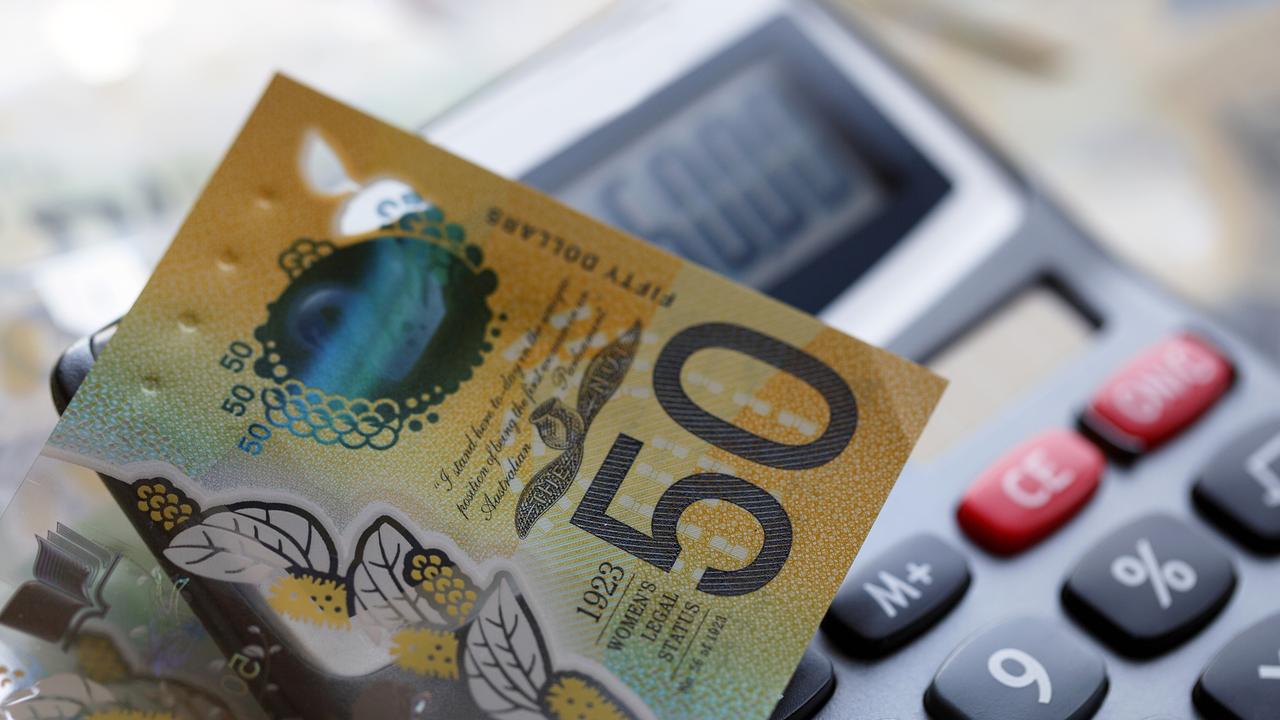 The Australian $50 note is polymer and water resistant with a clear holographic strip, making it hard to copy.
Each note has a picture printed on the clear window:
$5 has the gum flower
$10 has a windmill
$20 has a compass
$50 has the Southern Cross
$100 has a lyrebird
HOW MUCH FAKE MONEY HAS BEEN MADE?
While there has been less fake money printed since 2015, about 17,000 counterfeit notes were handed in to the Reserve Bank of Australia in 2021 alone. The fake money added up to more than $1.3 million.
That same year there were two billion notes in circulation, worth $102 billion.
Less fake money was printed between 2015 and 2019 because police went after the criminals that were making it.
The most counterfeited note is the $100 note. Even though fake money is still finding its way into shops and businesses, Australian banknotes are said to be some of the hardest notes to copy in the world due to the security features printed into them.
POLL
GLOSSARY
defects: things that haven't been made properly
fraudulent: a fake and illegal copy
fraudster: someone who tries to trick another person
circulation: passed around from person to person
banknotes: printed money in the form of notes or cash
holographic: a 3D picture made with a laser
watermarks: an image or mark in a sheet of paper, usually put there by the maker of a product, that can be seen under special light
EXTRA READING
Savvy kids keep tabs on money
How Australia's money has changed
Hi-tech masked owl fights money fakers
QUICK QUIZ
1. What are Australian banknotes made from?
2. What are three security features that make it hard for criminals to copy printed money?
3. What is "nature printing" and why was is used by Benjamin Franklin?
4. How many years can counterfeiters go to jail for making fake money?
5. What image is printed on the clear window of the $5 note?
LISTEN TO THIS STORY
CLASSROOM ACTIVITIES
How to spot a fake
Design a poster. The purpose of your poster is to help people learn how to spot counterfeit notes.
Time: allow 25 minutes to complete this activity
Curriculum Links: English, Economics and Business
2. Extension
Find out more about Benjamin Franklin. Use the information that you have found to design a special bank note that celebrates his inventions and achievements. (Don't forget to add security features!)
Time: allow 30 minutes to complete this activity
Curriculum Links: English, History, Economics and Business
VCOP ACTIVITY
Read this!
A headline on an article – or a title on your text – should capture the attention of the audience, telling them to read this now. So choosing the perfect words for a headline or title is very important.
Create three new headlines for the events that took place in this article. Remember, what you write and how you write it will set the pace for the whole text, so make sure it matches.
Read out your headlines to a partner and discuss what the article will be about based on the headline you created. Discuss the tone and mood you set in just your few, short words. Does it do the article justice? Will it capture the audience's attention the way you hoped? Would you want to read more?
Consider how a headline or title is similar to using short, sharp sentences throughout your text. They can be just as important as complex ones. Go through the last text you wrote and highlight any short, sharp sentences that capture the audience.