UN approves Japan's plan to put radioactive wastewater into sea
The United Nations' nuclear watchdog has approved a plan to pump diluted radioactive wastewater from the Fukushima plant into the ocean, sparking international concern from scientists
The massive storage tanks for contaminated water at the Fukushima nuclear power plant. Picture: Philip Fong/AFP
A plan to pump watered-down radioactive waste into the ocean has led scientists and residents to voice concern about environmental damage and potential impacts on human health.
Japan has 1000 tanks full of radioactive water that it needs to get rid of in a safe way.
Two years ago it announced a plan to water down the radioactive elements in the water before pumping it out to sea very slowly over a period of 30 to 40 years.
The United Nation's (UN) international nuclear watchdog has given its approval for the plan, despite nuclear experts saying not enough is known about how the dump will impact the environment.
The contaminated water comes from the 2011 Fukushima disaster, when the Fukushima nuclear plant went into meltdown. Meltdown occurs when the nuclear reactors – the parts of the plant that generate energy – overheat and release radioactive materials into the environment.
Exposure to radioactive waste can cause cancer, birth defects and a range of other serious and even fatal health problems.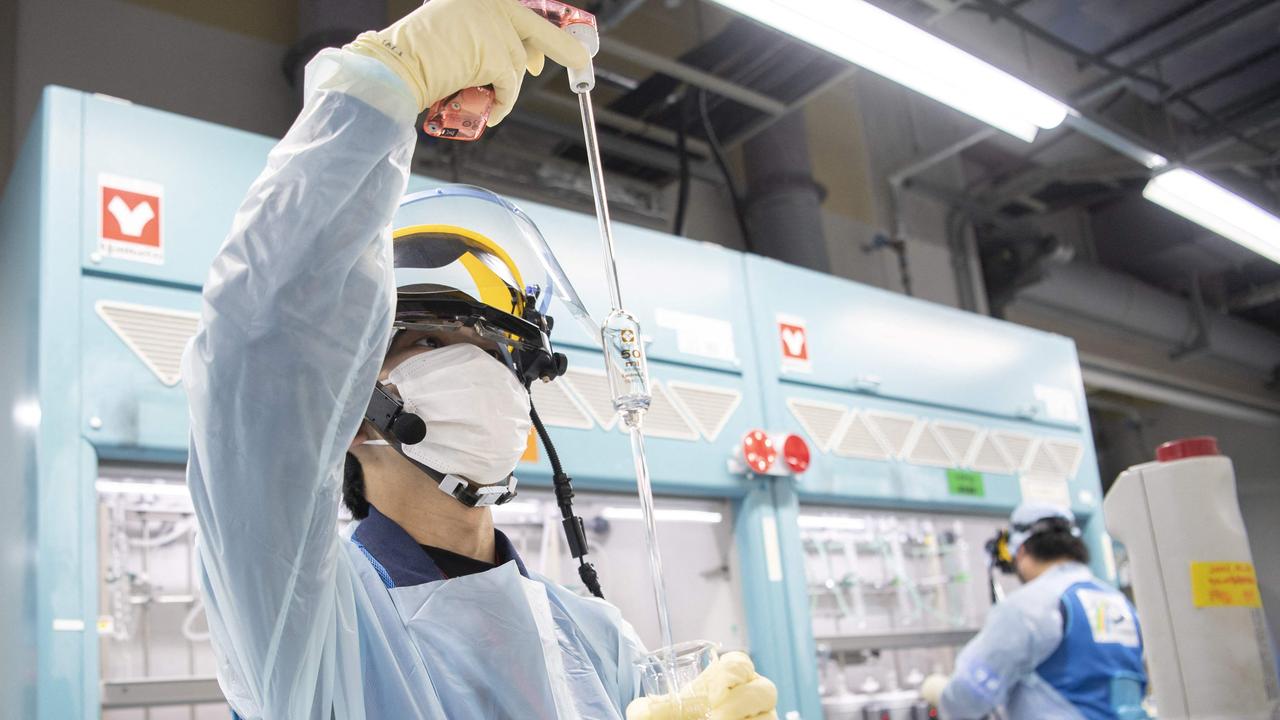 A scientist tests the level of tritium in a sample of contaminated water. Picture: Charly Triballeau/AFP
WHAT HAPPENED?
In 2011, the Fukushima nuclear power plant went into meltdown after being damaged by a major earthquake and 15m tsunami. Three of the nuclear reactors stopped working properly and overheated, causing deadly radioactive waste to be released into the atmosphere and surrounding water.
Water was used to cool down the reactors and the waste was contained to prevent damage to the environment.
WHERE HAS THE WATER BEEN AND WHAT IS IN IT?
The water used to cool the plant became contaminated with radioactive material. This water was stored in 1000 massive containment tanks. There is now about 1.33 million cubic metres of contaminated water being held in the tanks that needs to be disposed of safely.
WHAT IS THE PLAN AND WHO IS FOR AND AGAINST?
Japan plans to remove most of the radioactive material from the water by diluting it and slowly pumping it into the ocean over the next 30 to 40 years. Some radioactive elements, such as tritium, will still be present in the water. The water will be diluted so there is 1,500 becquerels of tritium per litre of clean water. (A becquerel is a unit of radioactivity.)
This level falls far below what is considered a safe level of tritium by the World Health Organisation, which sets the limit at 10,000 becquerels per litre of water.
The US, however, allows for only 740 becquerels per litre of water, or about half the strength of tritium that has been proposed in the plan.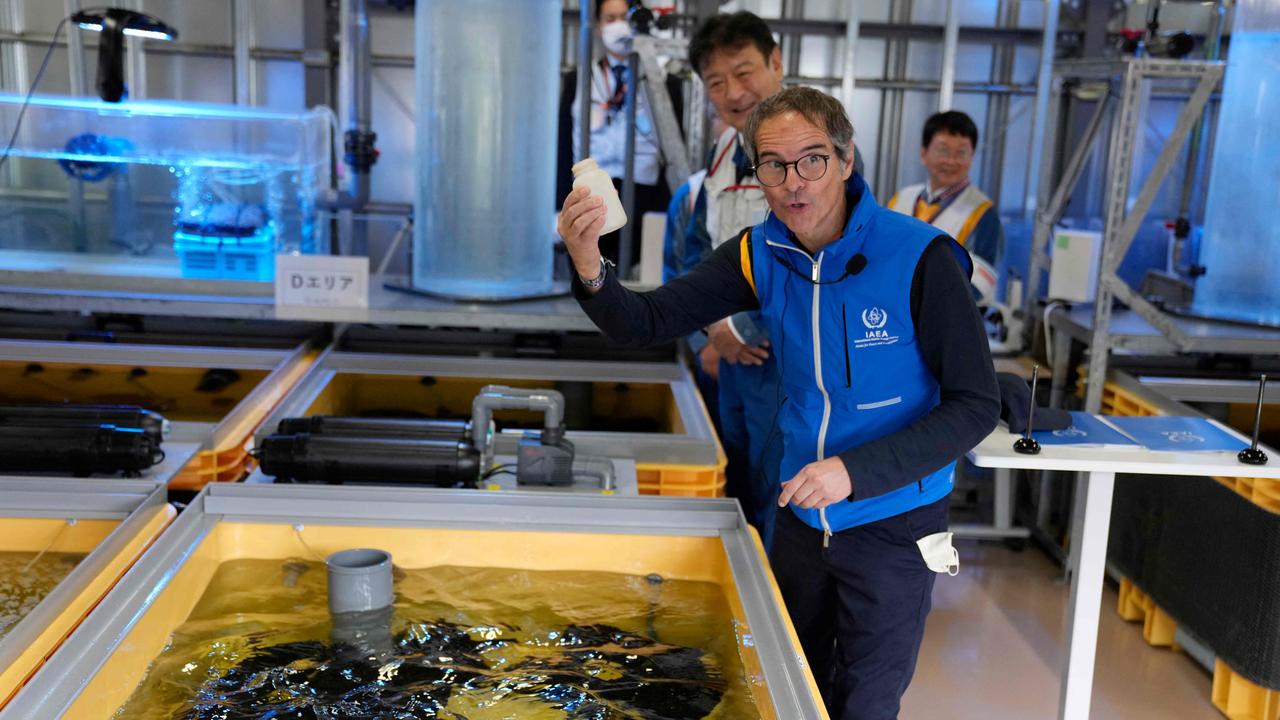 Director General of IAEA Rafael Grossi visits the damaged Fukushima nuclear power plant where treated wastewater is being tested. Picture: Hiro Komae/Pool/AFP
The water will then be pumped into the Pacific Ocean on Japan's east through an undersea tunnel located off the coast. This process could start as soon as August this year.
While the UN's nuclear watchdog the Atomic Energy Agency (IAEA) has approved the plan, some nuclear experts say more research is needed to confirm the plan is safe for the environment and human health before the water should be pumped out.
Japanese residents and those in neighbouring countries such as China and South Korea have also expressed concern over the plan, as have climate activists.
But Japan says the water needs to be removed because the tanks are in an area that is prone to earthquakes. Another severe earthquake could damage the tanks, causing uncontrolled contamination and danger to local residents.
WHAT ARE THE MAIN CONCERNS?
Scientists say not enough is known about the health impacts that could occur if the water is released into the ocean.
Nuclear engineer Dr Arjun Makhijani, who is also an antinuclear campaigner and president of the Institute for Energy and Environmental Research, says tritium is one of the most expensive, rare, and potentially harmful elements in the world.
In his book Exploring Tritium's Danger, Dr Makhijani says that just "one teaspoon of water with tritium in it would contaminate enough drinking water to supply about 1 million homes over a period of one year."
Professor of Genetic Toxicology Awadhesh Jha says he has done laboratory experiments that show tritium could build up in the tissues of shellfish, such as mussels and oysters. These are creatures that humans and sea animals eat, meaning they too could be exposed to the element even if the surrounding water only contains a small amount of it.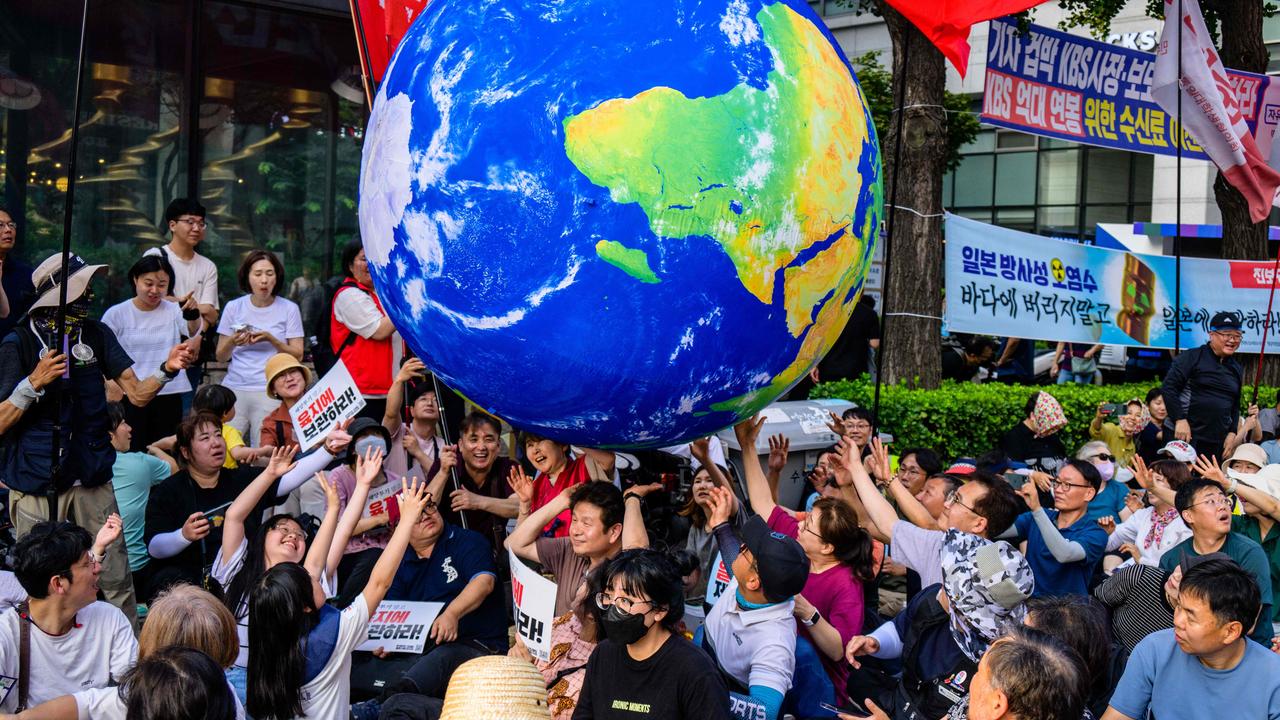 Activists gather in South Korea to protest against a planned release of water. Picture: Anthony Wallace/AFP
The US Nuclear Regulatory Commission says that "any exposure to radiation could pose some health risk", but added that "everyone is exposed to small amounts of tritium every day".
Other isotopes of concern that could be found in the wastewater are ruthenium-106, cobalt-60 and strontium-90.
Tokyo Electric Power Company, the company that runs the site, said the giant mass of water will need to be treated twice in order to reduce the presence of these isotopes.
Scientists are concerned over whether the water being released will have been completely cleansed before coming into contact with sea life.
"Unlike tritium, cobalt-60 is 300,000 times more likely to accumulate on the sea floor at the outlet of the pipes," Ken Buesseler of the Woods Hole Oceanographic Institution said.
"It will build up over time, it will accumulate. So whatever amount you put in, it doesn't just dilute away."
WHAT ARE THE KEY UNKNOWNS?
Scientists say not enough research has been done to know for sure that pumping water with diluted radioactive waste will be safe for the environment and human health. They say it could take decades before we find out whether or not this has caused ill health to the environment, and by that stage, it would be too late to reverse the effects.
Secretary-General of the Pacific Islands Forum, Henry Puna said the release shouldn't take place "until we are certain about the implications of this proposal on the environment and on human health".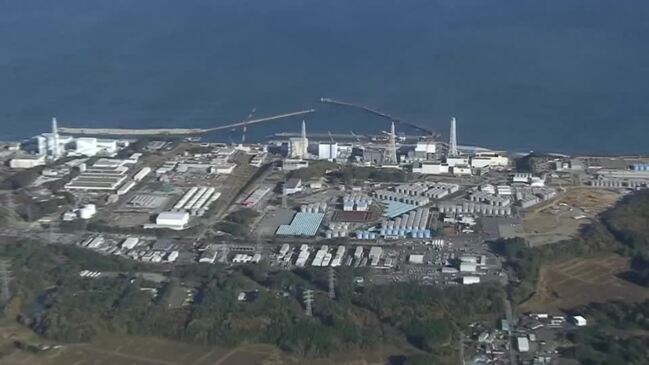 POLL
GLOSSARY
radioactive: having or producing powerful and dangerous energy that comes from the breaking up of atoms
contaminated: something that has become dirty, polluted or no longer usable because something was added to it
fatal: causing death
diluting: watering down
genetic toxicology: the study of chemicals and how they affect DNA
isotopes: atoms with the same number of protons but different numbers of neutrons
accumulate: build up and thus increase
implications: effects or consequences that may happen as a result of something being done
EXTRA READING
How poo will help power Sydney
Venice canal turns bright green
QUICK QUIZ
1. What caused the Fukushima nuclear disaster?
2. What are some of the radioactive elements or isotopes that could still be present in the water after treatment?
3. How could tritium in the ocean make its way into human bodies?
4. Why does the contaminated water need to be gotten rid of?
5. Under Japan's plan, how many years would it take to pump out all the water?
LISTEN TO THIS STORY
CLASSROOM ACTIVITIES
1. Radioactive risks
Brainstorm and list some of the possible risks of letting this diluted radioactive water flow into the ocean. List some from the article and some of your own:
-
-
-
-
-
What reasons or safeguards do you think was enough to convince the UN of the safety of discarding the water in this way?
Time: allow 25 minutes to complete this activity
Curriculum Links: English; Science; Critical and Creative Thinking
2. Extension
Can you suggest two possible alternatives for how to safely dispose of this radioactive water?
1.
2.
Time: allow 15 minutes to complete this activity
Curriculum Links: English; Science; Critical and Creative Thinking
VCOP ACTIVITY
Nuclear knock-on!
Whoa! What do you think about this situation when you read the article? I'm not sure. Will this end up causing a wave of superhero and villain mutations? What will happen to the animals that live in those waters? But on the other hand, how else can they dispose of all this contaminated water?
Have a discussion with a partner about some possible scenarios and solutions.
Write a response to this article.
- You can write a narrative with a possible outcome occurring (it can be positive or negative).
- You can write a persuasive letter to Japan or the UN expressing your concerns and some other possible solutions to consider.
- You could write a descriptive piece about a mutation that might occur and include a picture.
Don't forget your VCOP skills to connect with your chosen audience.