Australians spend less than 45 minutes a day in nature, but almost three hours a day on their phones, most of that on social media*.
Yet 75 per cent of Australians believe we aren't spending enough time in nature, 63 per cent want to spend more time in nature and 89 per cent agree that time spent outdoors helps reduce stress* and increase calmness.
They're the results of research by environment group Planet Ark, which promotes the idea that the more time you spend in nature and the more connected you feel to your community, the happier you are.
Planet Ark released its findings in time for Schools Tree Day tomorrow, Friday July 27 and National Tree Day this Sunday July 29. Tree Day is a big, national celebration of nature. Last year, more than 250,000 people planted 1 million trees, shrubs and edible* plants as part of the day.
Planet Ark's suggestion is that we combine our love of technology and our need for nature, so this year's Tree Day theme is Connect in Nature.
The Connect in Nature theme is not only about connecting with trees. It's also about connecting with other plants and animals, and connecting in the tech sense, so we can try to understand if technology can help us do this.
Planet Ark CEO Paul Klymenko said the research found that "screen time" and "green time" do not need to be mutually exclusive* and can work together to help us look after nature and look after our mental* and spiritual* health and wellbeing*.
The research found that one in three Australians believe that spending time in nature makes them feel more relaxed and improves mental and spiritual health while 90 per cent thought that spending time in nature has many benefits for the wellbeing and development of kids.
Mr Klymenko said that while most of us (64 per cent) prefer to switch off completely while in nature, technology can be useful to get some people to spend more time outdoors and enjoy it more.
PLANET ARK'S TOP FIVE GREEN TIME APPS
All Trails (free)
Explore the most popular hiking trails in Australia with trail maps, driving directions and photos from hikers, campers and nature lovers.
Australian Birds Guide (free)
A field guide to Australian birds that can be used without an internet connection.
iNaturalist (free)
Become a citizen scientist, contributing to global biodiversity databases.
PictureThis — Plant Identifier (free)
Submit a photo to identify a plant and then learn more about it.
QuestaGame (free)
An app for those who want to gamify* their nature spotting. The game takes players outdoors to discover, map and help protect life on our planet. Sightings contribute to real research and conservation*.
For information about National Tree Day, visit treeday.planetark.org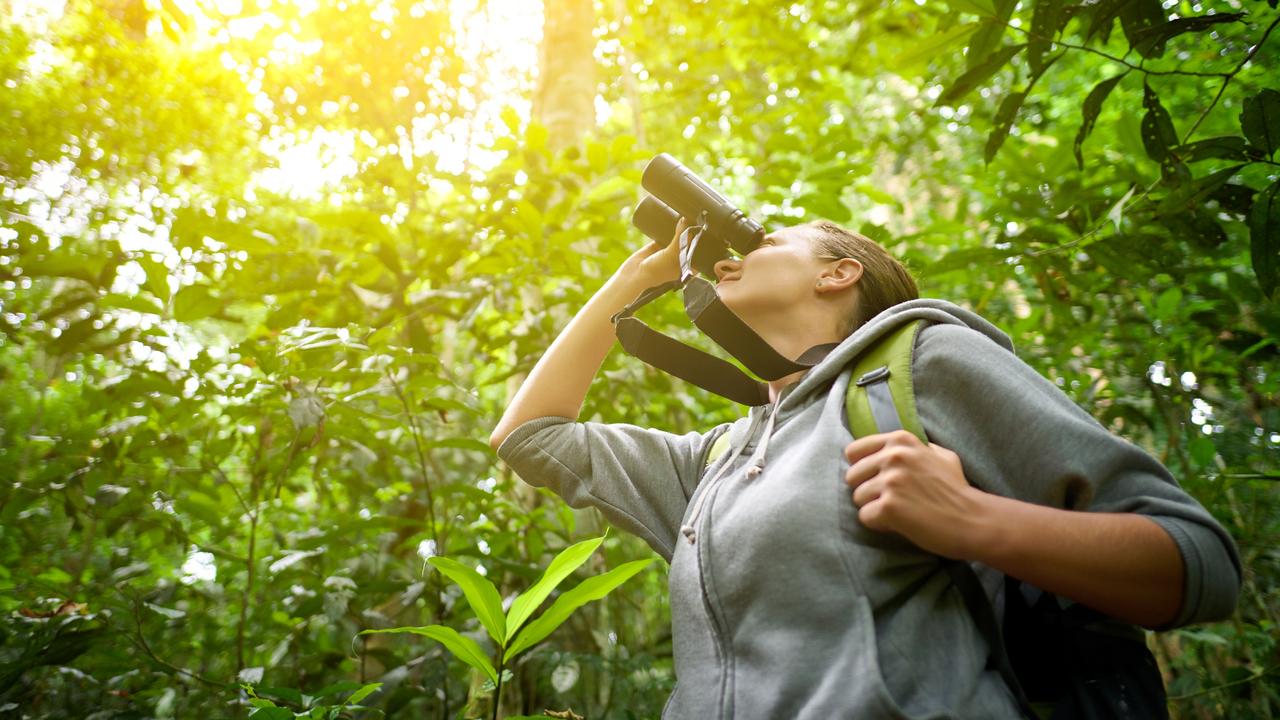 EXTRA READING
Secret "dinosaur tree" experiment a success
Apple acts to stop iPhone addicts
Get off that phone for just one day
GLOSSARY
social media: technology such as Instagram, Facebook and YouTube
stress: pressure you feel from a difficult situation
edible: able to be eaten
mutually exclusive: not separate; can do both
mental: to do with the mind
spiritual: to do with feelings or beliefs
wellbeing: how you are feeling
gamify: turn it into a game
conservation: looking after nature
LISTEN TO TODAY'S STORY
QUICK QUIZ
How much time on average do Australians spend in nature?
What idea does Planet Ark promote?
What and when are School Tree Day and National Tree Day?
Does Mr Klymenko believe screen time and green time have to be separate?
Which of the above apps are you most interested in trying and why?
CLASSROOM ACTIVITIES
1. Connect with nature
Planet Ark's theme Connect in Nature is trying to encourage people to enjoy time in nature while still being able to use the technology that they love.
Create an advertisement to help Planet Ark promote the theme Connect in Nature. Make sure your advertisement highlights why it is important to spend time in nature and how you can spend more time in nature while still being connected and using the technology that we love.
If possible, use digital technology to create your advertisement. You could create a poster using a program such as Word or Publisher, you could create a slide show or you could create a video using an ipad or tablet to film it. You may have another idea of how to use technologies to create your advertisement.
Time: Allow 60 minutes
Curriculum links: English, The Arts — Visual Arts, Drama, Technologies — Digital Technologies
2. Extension
Can you come up with an app idea that allows people to connect their love of technology with the benefits of being outside in nature?
Read through the Green Time apps mentioned in the article. Then design your own nature app that would encourage people to be outside in nature while still using technology.
Think of an appropriate and catchy name for your app.
Write a blurb that explains the basic idea of your app and who the target audience is.
Create a logo for your app.
Time: Allow 30 minutes
Curriculum links: English, Technologies — Digital Technologies, The Arts — Visual Arts, Science
Extra Resources: Digital technology to create an advertisement, computers, ipads, tablets
VCOP ACTIVITY
After reading the article, with a partner, highlight as many pieces of punctuation as you can find in green. Discuss how these are being used, where and how often. What level of the punctuation pyramid is the journalist using in this article?
QUESTION: If you had screen time out in nature, how would you like to use technology? How would that be different to inside screen time?
Explain your answer using full sentences.