The world's first "waste-free" flight took off from Sydney and landed in Adelaide this week, with every disposable item on board to be composted, reused, or recycled.
The Qantas flight is the airline's first step towards its goal of cutting out 100 million single-use plastic items from its operations.
Passengers raised their concerns with the airline about the amount of rubbish being created on flights, prompting* Qantas chief executive Alan Joyce to announce the goal in February.
Every year, Qantas creates a total of 30,000 tonnes of rubbish on flights.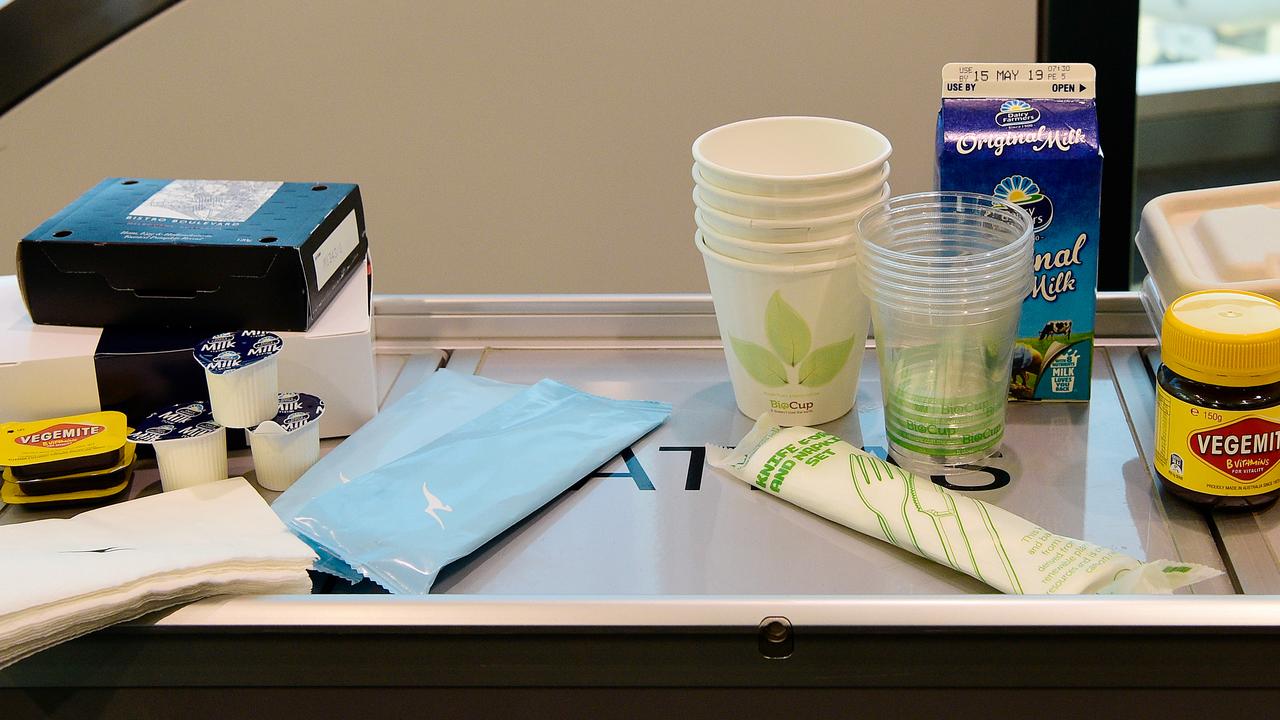 Qantas Domestic chief Andrew David said the Sydney to Adelaide one-way flight would normally create 34kg of waste from food and drink packaging and other items such as boarding passes.
"Over the course of a year this route produces 150 tonnes of waste — eventually all of that will go," Mr David said.
He said the move was necessary to keep customers, employees* and shareholders* happy.
"Our customers are asking us to address our waste," said Mr David.
"We are doing it because our cabin crew see this waste and want it eliminated* and increasingly our shareholders are demanding we do more to address our environmental footprint*."
The changes will eventually be made across all Qantas and Jetstar domestic and international flights.
By the end of 2021, Qantas aims to reduce its annual waste by 75 per cent by switching to
sustainable* and recyclable products in every aspect of flight operations.
Among the changes passengers will notice are meal containers made from sugar cane and
cutlery made from cornstarch*, as well as bioplastic* wrapping and bamboo stick stirrers.
Mr David said there would be an additional cost to Qantas as a result of changing products but this would not be passed on to passengers.
"There's always cost in change but in the long term we would expect cost to come down
because we're eliminating waste and that waste goes to landfill and we do know the cost of landfill will continue to rise," he said.
Qantas flight attendant Madeline Rowcliff said the changes were "desperately wanted" by cabin crew.
"You see (the waste) every day, you touch and feel it. You really can see what the issue is," Ms Rowcliff said.
She said although many of the waste items were small, they were big in number — with an average 737-800 flight carrying about 250 small containers of long-life milk.
"They will be replaced by four or five cartons of milk," said Ms Rowcliff.
Qantas head of sustainability Andrew Parker said a total of 1000 changes had to be made for products used in flight.
"We think this is one of Australia's biggest waste reduction initiatives*," said Mr Parker.
Eco-friendly food packaging company BioPak supplied many of the new products, which would be composted in Adelaide.
BioPak CEO Gary Smith said the changes at Qantas were an "unprecedented* step forward in fighting the war on waste".
GLOSSARY
prompting: reminding or suggesting
employees: people who work for a company
shareholders: people who own a share of the company
eliminated: cut out completely
footprint: the mark you leave, as in the impact on the world in the future
sustainable: able to continue forever
cornstarch: flour from corn
bioplastic: plastic-like substance made from plant material such as vegetable oil or cornstarch
initiatives: ideas and programs that do something different
unprecedented: never been done or seen before
EXTRA READING
Schoolboy makes airline deal with Qantas boss
Hobart votes to ban single-use plastic
We have saved 1.5 million plastic bags from landfill
Ten million containers in under two weeks
QUICK QUIZ
How many single-use plastic items is Qantas hoping to cut?
How much rubbish does Qantas currently create on flights?
What three groups of people want to see the airline cut its waste?
Name three items that are changing.
How many containers of long-life milk are used on a regular flight?
LISTEN TO THIS STORY
CLASSROOM ACTIVITIES
1. Follow the lead!
Qantas is making an effort to do something positive for our planet.
What other business would you like to see following Qantas' lead?
Think of a place where lots of non-recyclable or non-biodegradable waste is produced. It could be at sporting events, a food court in a shopping centre, a supermarket, a fast food restaurant or you may think of somewhere else.
Write a letter to the company that creates all the packaging that becomes the landfill encouraging them to have more sustainable products. If you don't know the name of the company, you can make up a name but make sure you refer to what their business does. Use examples from the article to show how another large company (Qantas) is reducing their environmental footprint and suggest ways that they could do the same or similar in their business. Include reasons why it is important that more big businesses take action on this issue.
Time: allow 40 minutes to complete this activity
Curriculum Links: English, Science, Sustainability
2. Extension
Qantas should use its new environmental practices as a selling point in its advertisements. A selling point is a reason why people should choose your product.
With a partner create a radio advertisement that highlights how Qantas is reducing its environmental footprint. Your advertisement should be short (approximately 1 minute) and should include a catchy phrase that people will remember.
Practice performing your advertisement and when you are happy with it, either record it or perform it live to your class.
Time: allow 30 minutes to complete this activity
Curriculum Links: English, Sustainability, The Arts – Drama, Media
VCOP ACTIVITY
The Bigger Picture!
Qantas is taking a big step in an effort to combat waste, and it is well overdue for a lot of big businesses.
You have probably already been doing several things around your school or at home.
Make a list of some of the things you do at home or at school to help reduce waste. Maybe you have a nude-food day, or a recycling program?
If these big businesses don't all make a change what do you think might happen? Think about the bigger picture.
Write a prediction for the future, your future, about the effects that we might see if not enough big businesses make a change.
HAVE YOUR SAY: What rubbish will you create today that could be replaced with something compostable, reusable or recyclable?
No one-word answers. Use full sentences to explain your thinking. No comments will be published until approved by editors.