Kids are turning the tables and taking on teaching for two days at a national conference in Melbourne this week.
Five hundred students from 56 schools around the country have come together for the 11th annual Kids Teaching Kids conference, to become waterways warriors and explore this year's theme, Culture, Conservation, Community.
Student-lead sessions over the two-day conference at the University of Melbourne and Collingwood Children's Farm explore how humans and water interact.
A team of North Melbourne Primary School year six students is taking part and has been meeting once a week since term 2 to prepare.
The students have produced an informative video, an interactive* 40-minute presentation, a board game and a frog puppet show, telling the story of Tiddalick the frog.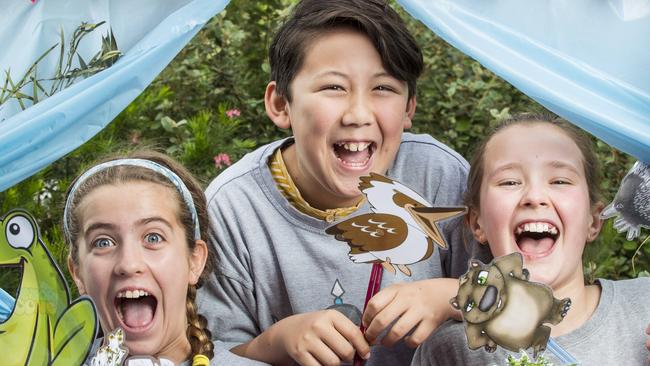 Team members gained different things from the experience but agreed water was an issue everyone needed to be thinking about.
Akira, 11, said she joined the group to learn more about protecting the environment.
"I was worried about the world today because there is a lot of salt water and not a lot of drinkable water, so I am worried about if the generations* aren't going to have clean water to drink," she said.
Max, 11, felt similarly.
"I always knew there were certain environmental problems and I knew this would be a way to help me find out about them and help me figure out how I can help to solve these problems," he said.
Kaitlyn, 11, said the program helped her gain confidence in herself.
"It's a good way to learn about the environment and it's also a good opportunity to build up your confidence when talking in front of a crowd," she said.
Conference founder Arron Wood said the event gave young people the chance to engage with important environmental issues and teach one another.
"Everyone has a role to play with the environment and it's important that we look to future water uses to work with us on solutions and strategies," he said.
"Kids are inspiring leaders and teachers, we just need to support them with the tools and engaging forums to explore environmental concepts* and ideas to connect with nature and each other."
TOP TIPS FOR SAVING WATER
The North Melbourne team shared some tips with Kids News about how to save the environment.
Take shorter showers and use a shower timer to help you keep track
Put your rubbish in the bin
Make sure you turn the taps off after you have used them
Water the plants with your bath water
GLOSSARY
scarcity: state of being in short supply
interactive: using two-way communication
generations: all of the people born and living at about the same time,
concepts: ideas
LISTEN TO TODAY'S STORY
CLASSROOM AND VCOP ACTIVITIES
1. Spreading the message
Research water conservation.
Based on what you found out, decide on the three most important things everybody needs to know about the issue and display them on an A4 poster.
Extension: Come up with another way to communicate your three important messages from the activity above.
You do write a poem or a song or even a puppet show.
Time: allow 40 minutes to complete this activity
Curriculum links: English, Science, Big Write and VCOP- Vocabulary
2. What can water do?
Brainstorm a list of verbs for what water can do.
Does water drip? Does it cascade?
Words with five or fewer letters are worth one point, words with six or more letters are worth two points.
Can you get a higher score than your classmates?
Extension: Use some of your words to write a description of a waterfall.
Time: allow 15 minutes to complete this activity
Curriculum links: English, Big Write and VCOP- Vocabulary
EXTRA READING
NASA ADMITS PLANET NINE IS REAL
GIANT HOLE OPENS UP IN ANTARCTICA
STUDENT'S WINNING SPINNING FORMULA

IN A SENTENCE, SHARE YOUR THOUGHTS ON TODAY'S STORY
Kids News loves reading your best grammar, vocabulary and spelling.
We publish the best comments.