Each year schoolchildren across Australia throw millions and millions of uneaten food items straight into the bin.
Research from the Western Australia Waste Wise Schools program has calculated that in WA schools alone, 3kg of avoidable* food waste is discarded* by each student each year. This adds up to a total of 3 million whole fruit pieces, 1.3 million packaged food items and 3.5 million whole sandwiches binned each year in schools across WA.
These numbers would be very similar in all other Australian states, with students claiming to be too busy playing, sick of the same food items packed by their parents or just fussy eaters.
Schoolyard food waste is part of a much larger food waste problem in Australia.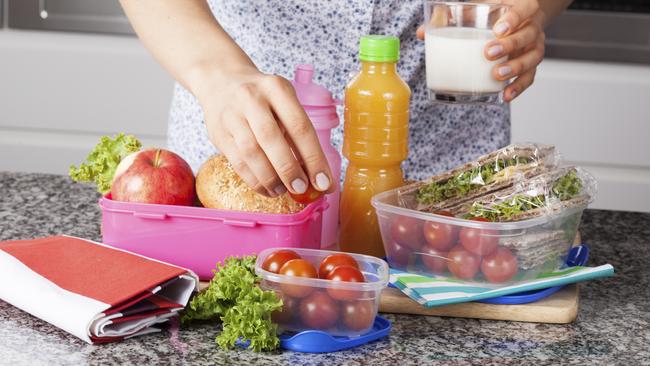 According to Foodwise.com.au, a website dedicated to reducing food waste and improving the environment, Australians throw out 20 per cent of the food they buy. That is the equal of one in every five bags of groceries.
We throw out $8 billion worth of edible* food for reasons including: we cook too much food at mealtimes, we throw food away before its use-by date, we don't check the pantry or fridge before going shopping and we don't know how to use leftovers.
Teaching Australian children how to reduce food waste and live a sustainable* life is one of the aims of national supermarket chain Woolworths' new education program — Fresh Food Kids Discovery Tours.
The tours aim to inspire kids to love fruit and vegetables.
They also cover food waste and sustainability for older grades and explain how children can help reduce waste by, for example, using odd-shaped produce which doesn't taste any different or isn't any less healthy just because it looks weird.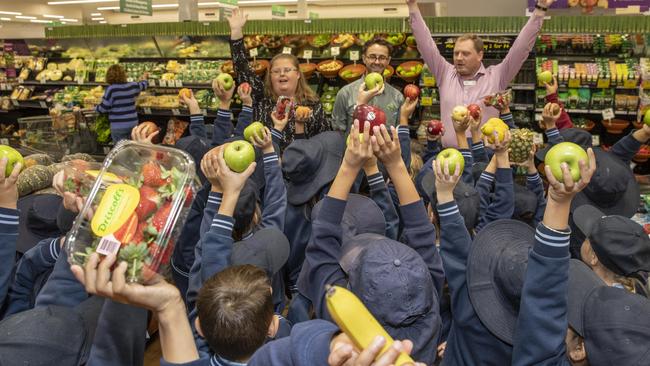 The tours let kids try new fruit and vegetables, learn how and where they grow, understand the benefits of eating a variety of fresh fruit and vegetables and play veg-inspired games through a full sensory experience.
Fresh Food Kids Discovery Tours were designed with the school curriculum in mind, catering to kids from Early Learning Centres up to Year 6. Woolworths hopes 500,000 schoolkids will take the tour in the next 12 months.
"The Fresh Food Kids Discovery Tours are designed to inspire our next generation of Aussie kids to make smart and fresh food choices in an environment that they will be familiar with," Woolworths managing director Claire Peters said.
The interactive tours focus on different aspects of healthy eating for different year levels:
ELC-Kindergarten kids will learn about the importance of eating a rainbow of fruit and vegetable colours.
Years 1-2 kids will learn how different fruit and vegetables are good for different parts of their body.
Years 3-4 kids will discover fruit and vegetables don't grow the same and they have different seasons.
Years 5-6 kids will learn about sustainability and waste reduction.
MORE DETAILS ON DISCOVERY TOURS
For more information on the tours and how to book, visit woolworths.com.au/shop/discover/fresh-food-kids/discoverytours
GLOSSARY
avoidable: able to be prevented
discarded: throw away something that's no longer useful or wanted
edible: able to be eaten
sustainable: able to be maintained or keep going
LISTEN TO TODAY'S STORY
QUICK QUIZ
How much food in kilograms do WA schoolchildren throw out each year?
Name the amount of whole sandwiches thrown in the bin by WA students each year.
How much edible food does Australia throw out each year?
What does Woolworths want people to do with odd-shaped produce?
How many schoolkids does Woolworths want on its Discovery Tours in the next 12 months?
CLASSROOM ACTIVITY
1. Food waste is a such a waste
Australians waste a lot of edible food. Read the article carefully to find out why some of the waste occurs. Make a list of these. Can you think of any other ways we waste food?
When we throw away perfectly good food we are wasting all the time, resources and skill that went into creating that product.
Think of a food product that is often thrown out in your classroom. Think back along the chain of preparation that was required and make a list of everything that was wasted.
For example: Throwing out a perfectly good apple is a waste of the time and resources it took to grow it, the petrol to transport it; the shop's effort and cost to store and display it; and the money you (or your parents) paid for it.
You may think of even more wasted resources along the way.
If you did not want to eat the product, what could you do with it instead of throwing it out? For example: you could take the apple home and use it to make something else.
Time: Allow 20 minutes
Curriculum links: English, Health and Physical Education, Science
2. Extension
Create a poster to go on the side of classroom bins throughout your school or near your bin at home to encourage those using the bin, to not throw out edible food. Think of a short and catchy slogan to go on your poster. Make sure it is eye catching and that the message is easy to identify.
Time: Allow 30 minutes
Curriculum links: English, Health and Physical Education, Science, The Arts – Visual Arts,
VCOP ACTIVITY
After reading the article, with a partner, highlight as many pieces of punctuation as you can find in green. Discuss how these are being used, where and how often. What level of the punctuation pyramid is the journalist using in this article?
QUESTION: Do you ever throw all or part of your school lunch in the bin? What impact could this have on both you and the environment?
No one-word answers. Please use full sentences to explain your thinking.