Australia is experiencing a number of animal plagues across its states at the same time.
A plague is when an unusually large number of insects or animals appear in one place causing damage to crops or homes.
Country Victoria, along with parts of South Australia and NSW, is in the grip of a mouse plagues, a suburb of Adelaide is overrun with rabbits, locusts are damaging fields in WA, fruit fly are destroying fruit in Tasmania and hairy caterpillars have turned up in large numbers along the Sunshine Coast in Queensland.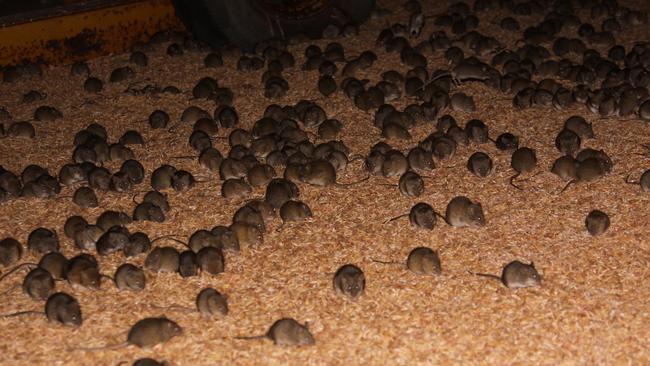 Farmers in the Mallee and Wimmera regions of Victoria said there were tens of thousands of mice running wild — numbers not seen in decades.
Armies of the pests have invaded* paddocks, homes and shops in farming heartland towns such as Ouyen, about 100km south of Mildura.
Ouyen farmer Melissa Morrish said "plague" was the only word for the situation.
"In all my 38 years I've never seen a mouse plague like this," she said.
"Everyone's talking about it, they're right through the township and there are huge numbers throughout the district," she said.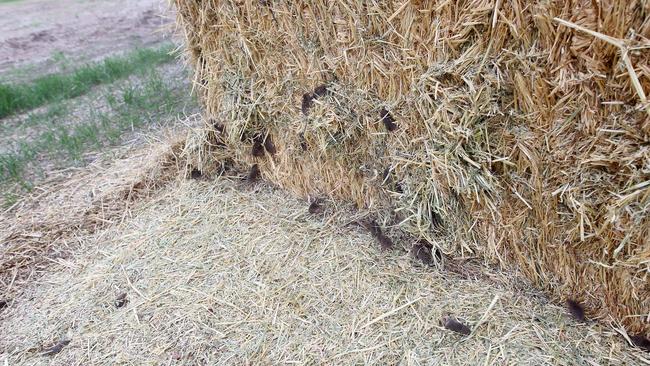 CSIRO researcher Steve Henry confirmed there was "a significant outbreak" in regional Victoria as well as parts of NSW and SA.
"I'm worried, we are seeing numbers comparable* to a plague … the threshold* for economic damage is about 200 mice per hectare, so we're going to be well and truly exceeding that number once the crops are sowed," he said.
Meanwhile, rabbits have taken over the Adelaide suburb of Hawthorndene — leaving a trail of destruction*.
The pests started appearing about six months ago and have since torn up gardens, left droppings everywhere and harassed family pets.
Mulga Rd resident Therese McDowell said her garden shed was at risk of falling apart because rabbits had burrowed* underneath it.
She described their effect as "absolutely devastating".
A Mitcham Council spokeswoman said rabbit control in South Australia is the responsibility of individual property owners.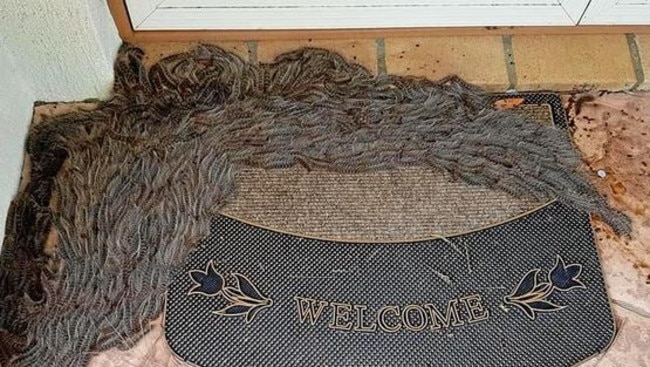 The Sunshine Coast has become a creepy crawly coastal region with huge numbers of dangerous hairy caterpillars seen in and around Noosaville.
People have been warned to stay clear of the Bag Shelter moth larvae, which are feeding before hibernating* for the winter.
They can cause skin problems like dermatitis, itching, swelling and burning sensations in humans who come into contact with the caterpillars, which are also known as itchy grubs.
Pegasus environmental director Murray Waugh said he had not seen such large numbers in 22 years.
"I have never seen them in such a large congregated* infestation* as that before," he said.
In WA, swarms of yellow-winged locusts have taken over the Pilbara and Kimberley regions after a very rainy wet season, leaving many residents scraping the insects off car windscreens.
Department of Primary Industries and Regional Development research officer Svetlana Micic said there had been reports of the insects travelling in numbers to find green grass. They can strip crops clean.
"It is not unusual for yellow-winged locusts to occur during the wet season — populations fluctuate* from season to season, depending on breeding conditions such as temperature, rainfall and feed availability," Ms Micic said.
And in Tasmania, they are still battling a fruit fly outbreak. Fruit fly can turn fruit and vegetables into a mushy mess and cost farmers billions of dollars in lost produce.
Primary Industries and Water Minister Sarah Courtney said about 100 departmental staff were involved in baiting, spraying, trapping, inspecting, monitoring and planning activities to stop fruit fly in two control zones.
GLOSSARY
invaded: entered a place in large numbers
comparable: similar
threshold: the level at which something happens
destruction: being destroyed
burrowed: dig under, into or through something
hibernating: to stay inactive or asleep for a long time
congregated: gathered into a crowd
infestation: a large number of animals or insects
fluctuate: to change from one thing to another
LISTEN TO TODAY'S STORY
CLASSROOM ACTIVITIES
1. Plagues in Australia
According to the article different parts of Australia are experiencing plagues of different insects and animals.
On a map of Australia highlight all the areas experiencing a plague. Draw an arrow from each location to a box or circle in a space on the edge of the map and write type the plague and the effects it is having on the area.
Extension: Imagine you were given the job of controlling one of these plagues to minimise the impact on people, crops and property. What would you need to know before being able to decide on an appropriate solution? Write a list of questions that would help you to work out how to control the particular plague you choose?
Time: Allow 60 minutes
Curriculum links: English, Science, Humanities – Geography, Critical and Creative Capability
2. Short Story
Write a comical narrative about a plague of animals taking over a town, aimed at primary school students. You can choose whichever animal or insect you like. Include some funny antics of how the plague has impacted the town and the people that live there. Think of an interesting and funny way of getting rid of the plague (without killing them).
Extension: Revise and edit your story and publish as a picture story book. Illustrate your book and share it with someone from your target audience. You might like to read it to a younger class at your school.
Extra Resources: Materials for publishing a picture story book.
Time: Allow more than 60 minutes
Curriculum links: English, Science, The Arts – Visual Arts
VCOP ACTIVITY
The glossary of terms helps you to understand and learn the ambitious vocabulary being used in the article. Can you use the words outlined in the glossary to create new sentences? Challenge yourself to include other VCOP (vocabulary, connectives, openers and punctuation) elements in your sentence/s. Have another look through the article, can you find any other Wow Words not outlined in the glossary?
IN ONE SENTENCE, TELL US WHAT YOU THINK ABOUT THIS STORY
Please do not use one-word answers. Explain what you enjoyed or found interesting about the article. Use lots of adjectives.