A giant hole has opened up on a popular Queensland beach, not far from a sinkhole that swallowed a caravan, a car and tents a few years ago.
It's believed the hole, at Inskip Point near Rainbow Beach, opened up early on Monday morning, with video taken from the air on Monday showing a very large gap reaching back to the tree line.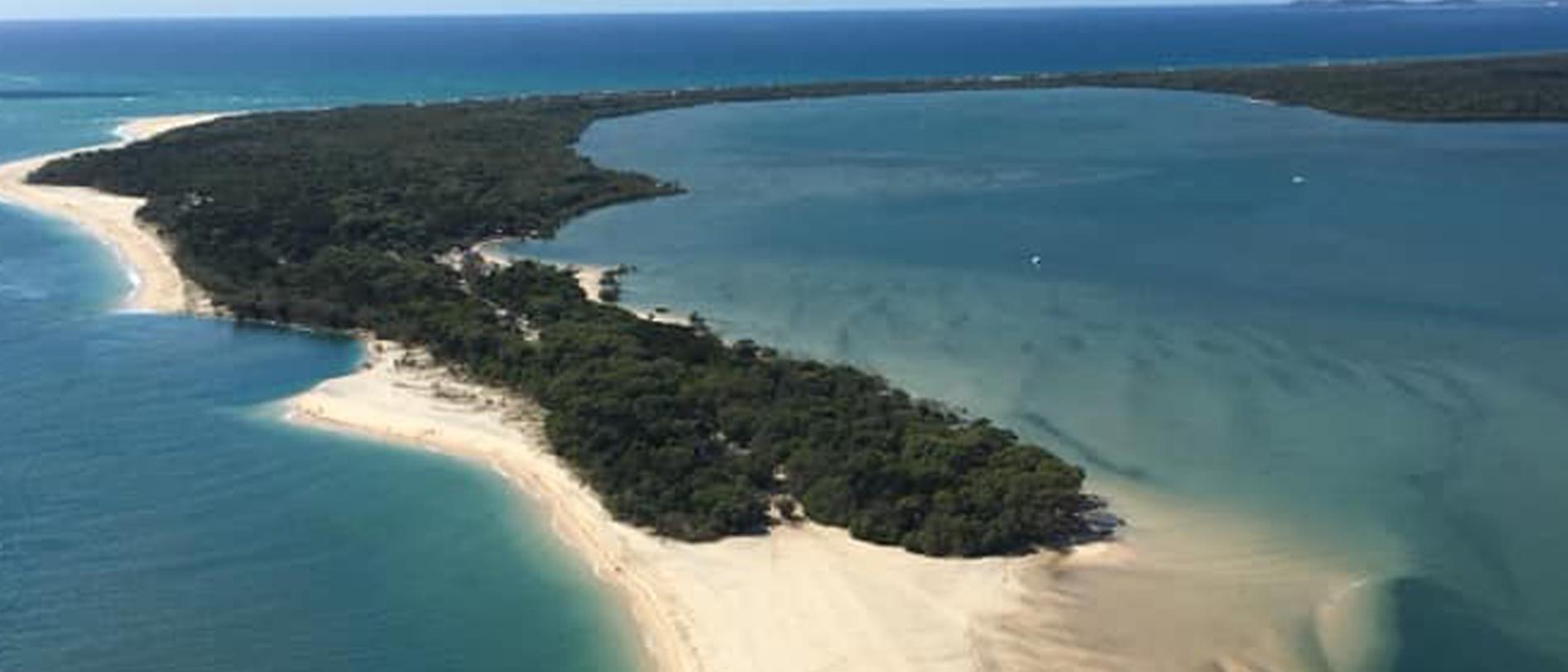 The Department of Environment and Science inspected the hole yesterday and said while many believed it was another sinkhole, they described it as "a nearshore landslip".
Diana Journeaux from Rainbow Beach Helicopters said the hole was just a few hundred metres from the spot where another hole opened up in September 2015, forcing campers to flee* as their gear was swallowed.
That 2015 incident forced the MV Beagle campground to be emptied and left authorities struggling to rescue expensive gear, including a caravan, a car, a trailer and tents.
Ms Journeaux said this week's hole wasn't there when crews flew over on Sunday. She said it wasn't in exactly the same spot as the 2015 hole but was very close by.
"We fly every day and it wasn't there yesterday," she said. "We don't know the story behind it yet."
Greg Pearce, who is skipper with Double Island Point Fishing Charters, said he travelled past the spot in his boat about 5.15am on Monday. He took a video showing the water lapping heavily eroded sand banks that hugged the scrubby tree line.
"That was beach yesterday afternoon — there were people walking along that section," he said.
"We could see (the hole) forming, could see stirred up water and the beach eroding."
He said the hole was about 100m wide when they left to continue their fishing expedition.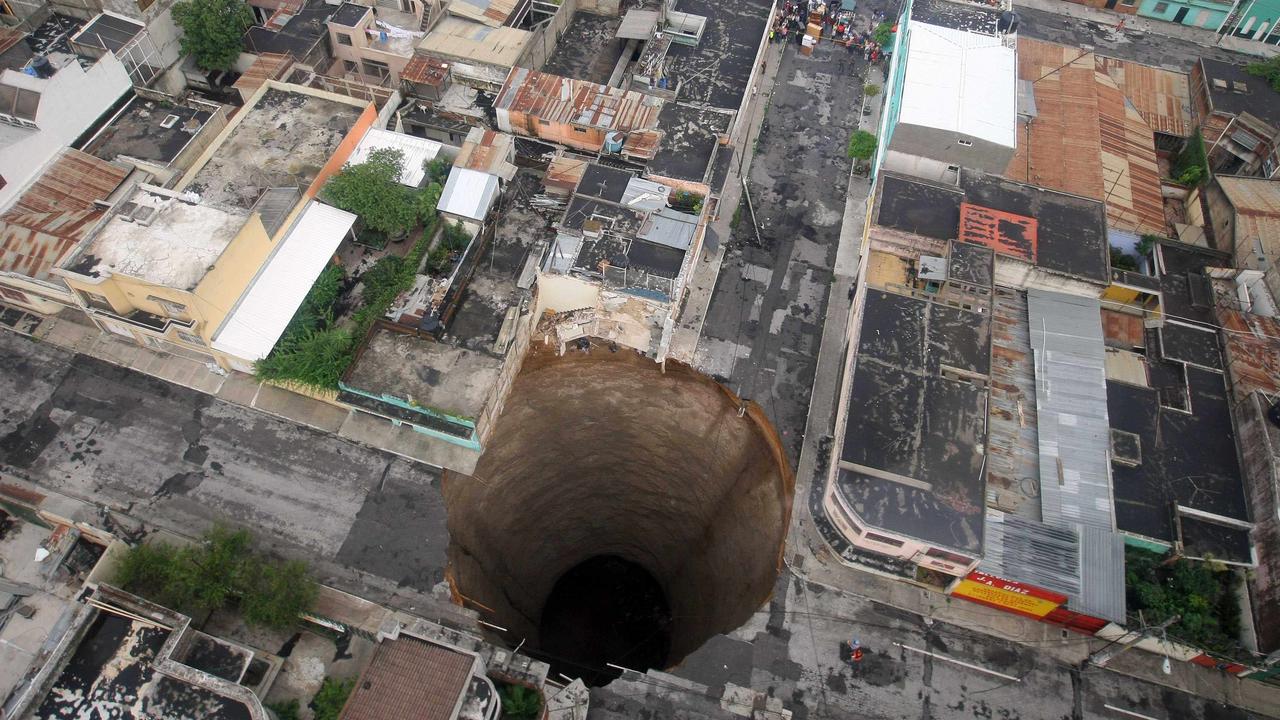 HOW DOES A SINKHOLE FORM?
A sinkhole forms when earth immediately below the surface shifts to somewhere else. This forms a depression* in the ground, usually caused by water erosion* dissolving rocks such as limestone, and provides a path for surface dirt or water to disappear underground.
There are two basic types:
Cover-subsindence sinkhole: those that are created slowly over time.
Cover-collapse sinkhole: those that appear suddenly.
Sinkholes mainly occur in what is known as "karst terrain"; areas of land where soluble* rock (such as limestone or gypsum) can be dissolved by water.
With cover-subsidence sinkholes the rock becomes exposed and is gradually worn down over time, with the holes often becoming ponds as the water fills them in.
With a cover-collapse sinkhole this same process occurs out of sight. Naturally occurring cracks and small gaps underneath the surface are hollowed out by water erosion, with a cover of soil remaining over the top. Eventually, as the hole expands this cover can no longer support its own weight and suddenly collapses to reveal the hole underneath.
WORLD'S BIGGEST SINKHOLES
1The deepest sinkhole is the Xiaozhai Tiankeng in China at 662m deep and 626m wide. Tiankeng is the local term for large sinkholes and translates as "heavenly pit".
Sima Humboldt in Bolivia, a crater 314m deep and formed from sandstone.
The Great Blue Hole, a perfectly round hole in the middle of an atoll* which is 124m deep.
Crveno Jezero in Croatia, a 530m deep sinkhole with nearly vertical walls.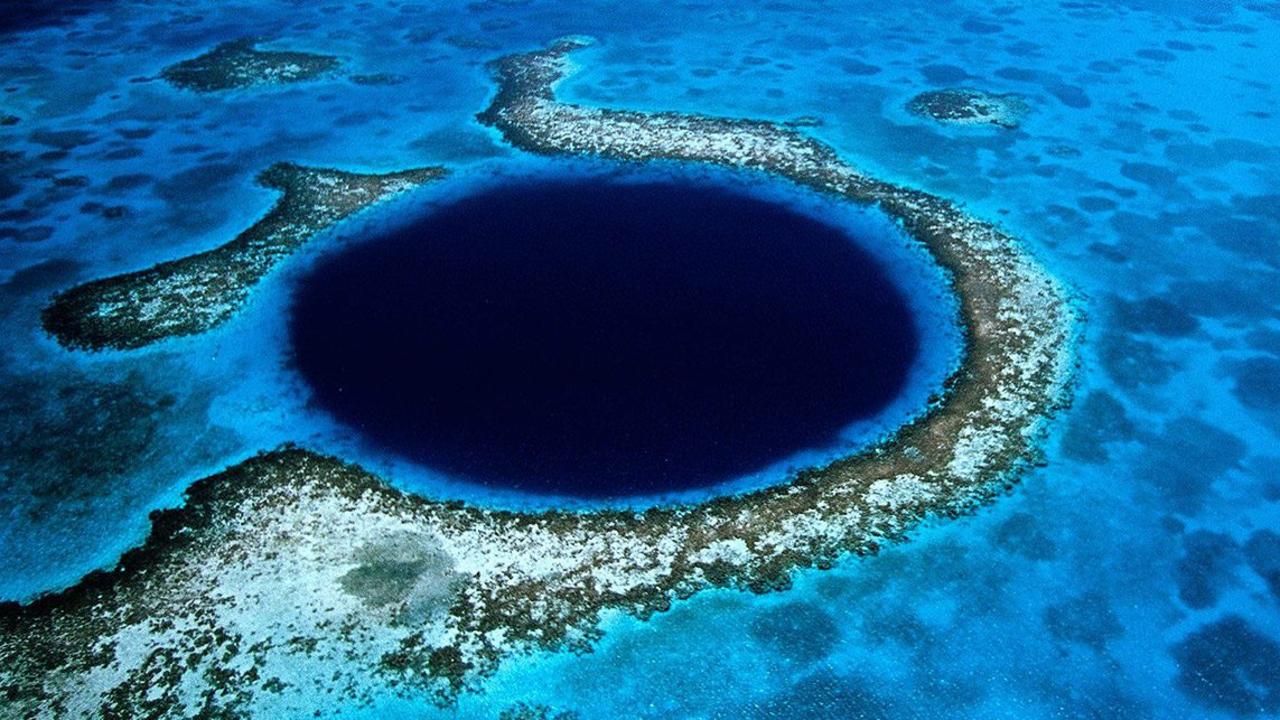 GLOSSARY
depression: a sunken place or hollow on a surface
erosion: slow destruction of something
flee: escape
soluble: can be dissolved
atoll: a ring-shaped reef, island, or chain of islands formed of coral
LISTEN TO TODAY'S STORY
QUICK QUIZ
Where is the landslip hole in Queensland?
What causes sinkholes to appear?
Which nearby campground was affected last time in Queensland?
What are the two types of sinkholes?
Where is the world's biggest sinkhole?
CLASSROOM ACTIVITIES
1. Draw a diagram
The news article describes how sinkholes are formed. Show your understanding of the information provided by drawing a labelled diagram to show how this natural phenomenon occurs. Then write a one paragraph explanation using your own words.
2. Extension
As well as occurring naturally, sometimes human activity contributes to the formation of sinkholes. Perform your own research and then write about one way this can happen.
Time: Allow 20 minutes
Curriculum links: English, Science
VCOP ACTIVITY
After reading the article, with a partner, highlight all the openers you can find in blue. Discuss if they are powerful and varied openers or not. Why do you think the journalists has used a mix of simple and power openers? Would you change any, and why?

HAVE YOUR SAY: What's the largest natural hole you have ever seen? Maybe a canyon, or dry lake or old gold mine?
No one-word answers. Use full sentences to explain your thinking.