Out-of-control bushfires continue to threaten homes in the ACT, NSW and Victoria despite slightly cooler weather easing the heatwave* conditions across Australia at the weekend.
A total fire ban and state of emergency* will remain in place for the ACT until early this morning (Monday) as the Orroral Valley bushfire puts the nation's capital on edge, raising memories of the deadly 2003 bushfires when hundreds of Canberra homes were destroyed.
The blaze, which has burned more than 52,000 hectares* so far, or more than one-fifth of the ACT, was downgraded from an emergency warning level to watch and act.
ACT bushfires: Shocking timelapse shows fire threatening homes outside Canberra
NSW firefighters are facing the chance of remaining on duty until after Easter as the state's bushfire crisis prepares to mark six continuous* months of destruction*.
With little rainfall, soaring* temperatures and ongoing fire outbreaks*, Emergency Services Minister David Elliott has confirmed he held talks with NSW Rural Fire Services Commissioner Shane Fitzsimmons to extend the official bushfire season for a month beyond March 31. A decision will be made at the end of February.
The move comes almost six months since the first major fire outbreak, in the Clarence Valley, north of Coffs Harbour in August.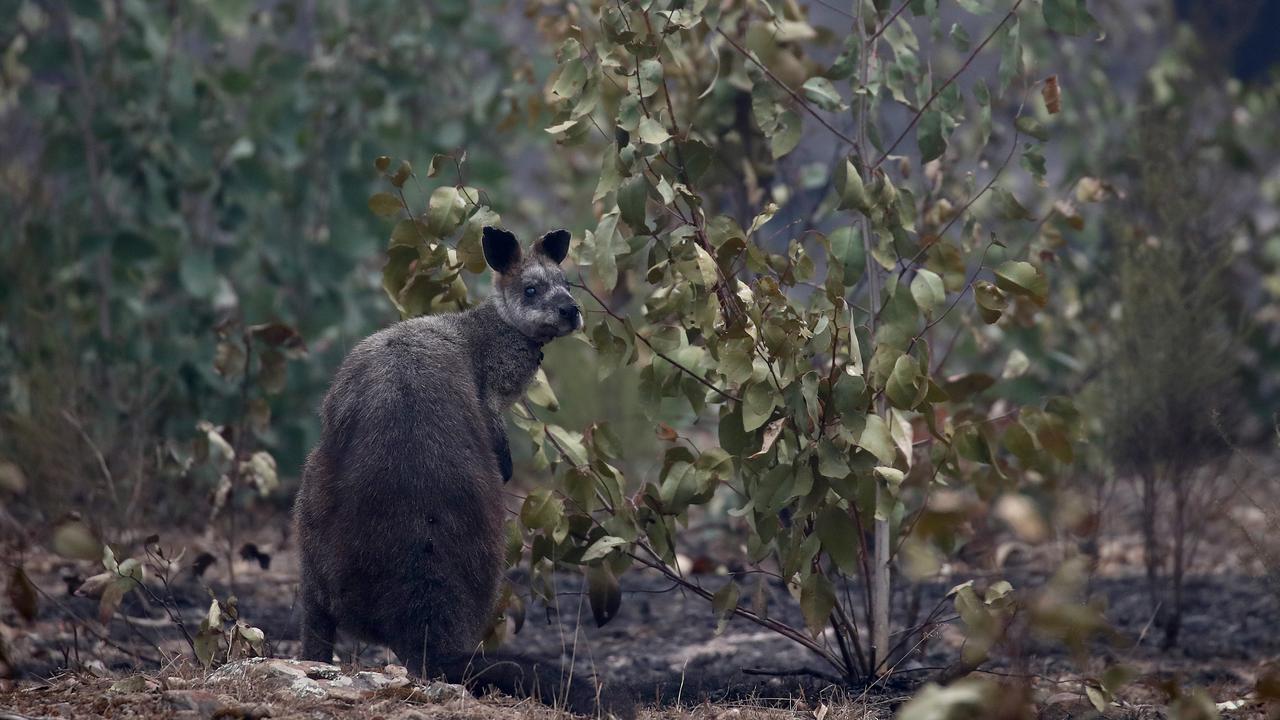 Yesterday, firefighters were back on the frontline* battling massive fires southwest of Canberra, near the village of Bredbo.
Bredbo was packed with almost as many firefighters as residents as the Clear Range fire moved out of dense, dry national park bushland to the town's northwest.
Local Rural Fire Services captain Ken Bowerman said the paddocks of a volatile* weed, African lovegrass, provided the "perfect fuel" for the fire.
Down in the Myrtle Mountain, near Bega, many residents chose to stay to fight the mega-blaze that had evolved on the far south coast after the Big Jack Mountain fire joined with the Creewah Rd and Postmans Trail blazes on Saturday.
The combined fires had burnt through more than 20,000 hectares by yesterday afternoon, with water-bombers dumping thousands of megalitres on the blazes to prevent them running through national parks.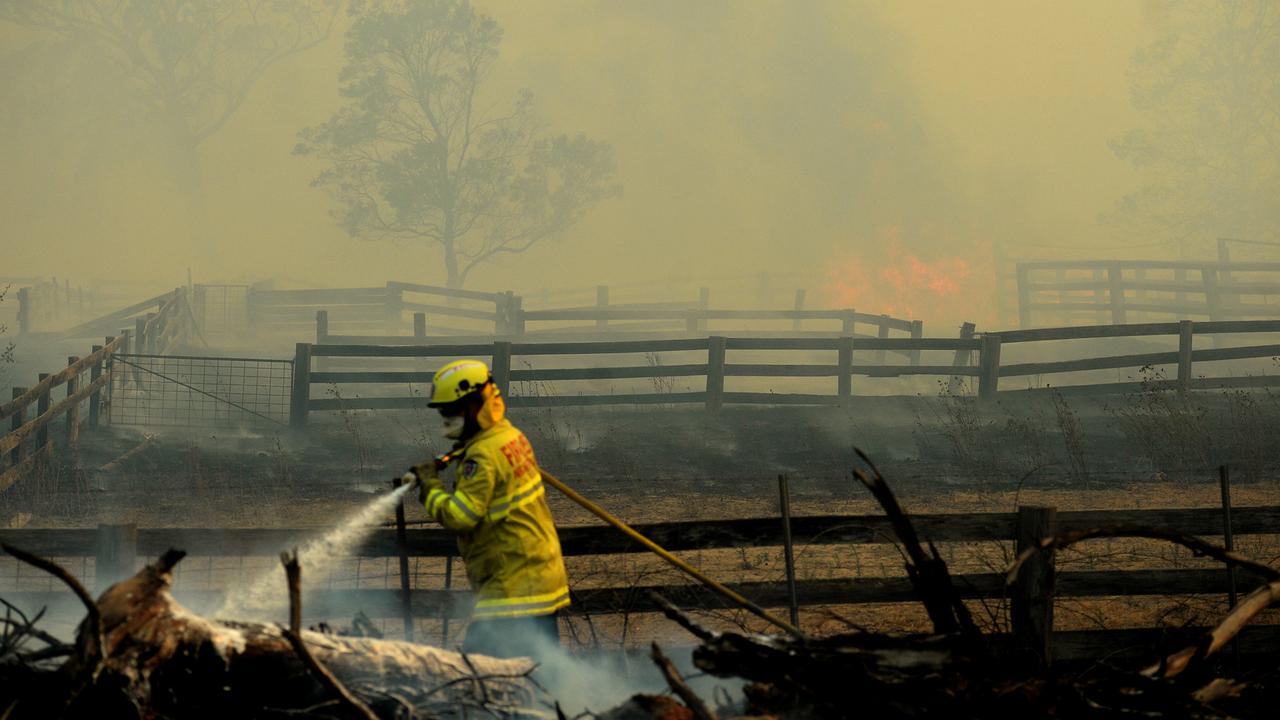 Meanwhile, it's been a tale of two halves in Victoria with rain in the west and 10 active fires in dry conditions in the east and northeast.
Fire warnings have been issued for blazes across the state with the highest alert level given to an out-of-control bushfire west of Bonang, in East Gippsland.
In Tasmania, a weekend cold front with rainfall brought relief to the smoky north and northeast of the state, where as many as 10 properties had been at risk of fire damage.
GLOSSARY
heatwave: a long period of abnormally hot weather
state of emergency: a situation which allows the government to increase powers due to disasters
hectares: a measurement of land
continuous: without interruption
destruction: ruin
soaring: rising
outbreaks: the sudden occurrence of something
frontline: the area closes to danger
volatile: easily burned
EXTRA READING
Amazon fires: who will help save the rainforest?
How to rebuild Notre Dame after the fire
QUICK QUIZ
How much of the ACT has been burned?
When did the NSW fires first start?
When is NSW's bushfire season officially meant to end?
What problem is the African lovegrass causing?
How many active fires remain in Victoria?
LISTEN TO THIS STORY

CLASSROOM ACTIVITIES
1. Understanding warnings
We read in the news story that the Orroral Valley bushfire warning level was downgraded from "emergency warning" to "watch and act". There is also one other warning level. It is important for the public to understand what each of these warning levels means so that they can take the appropriate action to stay safe. Perform your own research and then write down the three warning levels and a definition (in your own words) of what each one means.
Time: allow 20 minutes to complete this activity
Curriculum Links: English; Health and Physical Education; Information and Communication Technology Capability
2. Extension
In order to reduce the risk of bushfires, fire authorities declare Fire Danger Periods during which the use of fire is restricted. Continue your own research by finding out when the Fire Danger Period is in the area in which you live and making a list of things that you may not do during this time.
Time: allow 15 minutes to complete this activity
Curriculum Links: English; Health and Physical Education; Information and Communication Technology Capability

VCOP ACTIVITY
The glossary of terms helps you to understand and learn the ambitious vocabulary being used in the article. Can you use the words outlined in the glossary to create new sentences? Challenge yourself to include other VCOP (vocabulary, connectives, openers, and punctuation) elements in your sentence/s. Have another look through the article, can you find any other Wow Words not outlined in the glossary?

HAVE YOUR SAY: Would you consider becoming a firefighter when you grow up? Why or why not?
No one-word answers. Use full sentences to explain your thinking. No comments will show until approved by editors.