Two Aussie surfers have invented a floating rubbish bin to help clean up our oceans.
Perth boatbuilders Pete Ceglinski and Andrew Turton were so sick of seeing a massive amount of rubbish floating around in the ocean they decided to dedicate their lives to help fix it.
In 2015 they came up with a prototype* for the Seabin, which works by sucking rubbish from the water and catching it in a filter.
"We came up with the idea with the very lateral* thought of if we have rubbish bins on the land, why don't we put them in the water. So we did that," said Mr Ceglinski, CEO and co-founder of the Seabin Project.
"It is basically a floating rubbish bin. We have a submersible* water pump at the bottom, we bring water from the top, we pump it out the bottom and in the middle we catch it with a filter."
Their invention quickly gained international attention, with a crowd-funding campaign for the prototype raising more than $300,000 in two months.
The inventors were amazed by the reaction they received after their campaign video went viral*.
"Today we have over a billion views and shares. It's just gone nuts," he said.
Dozens of countries now have Seabins installed to help clean up their waterways, with more orders being placed from all over the world.
A single bin can hold up to 20kg of rubbish and the electricity used to run it costs less than $1 a day.
Mr Ceglinski estimated that a bin installed this week in Darling Harbour in Sydney, NSW, would need to be emptied once every couple of days, but said in some locations around the world the bag had to be changed up to five times day.
"The most common things we catch are microplastics*, followed by food wrappers and cigarette butts," Mr Ceglinski said.
"The weirdest thing we have collected was probably a cowboy boot with a mini pineapple inside, which was found in San Diego (US).
"The best thing I found was twenty bucks that had floated into the Seabin."
The Seabin team works closely with marine scientists to ensure the invention doesn't negatively impact marine animals.
"Every now and then we do catch some bait fish but because the Seabin filter is still in the water they are still alive when we find them and we can throw them back," Mr Ceglinski said.
"To lower this risk we have been working with marine scientists who have assured us that … catching all this contaminated* plastic is worth it."
The bins aren't out in the open ocean. They are usually installed around calm, sheltered, high-traffic areas such as ports or near jetties and placed in corners where rubbish naturally accumulates*. The bins are plugged into a power point close by.
SOME RUBBISH NUMBERS
Around 10-20 million tonnes of plastic end up in our oceans each year and by 2050 it is estimated there will be more plastic in the ocean than fish, according to Worldwatch Institute.
Seabins usually catch about 1.5kg of rubbish a day including microplastics, oil and other pollutants. The bin is full when it has 20kg of rubbish in it.
Each year, one Seabin can catch 90,000 plastic bags, or 35,700 disposable coffee cups, or 16,500 plastic bottles.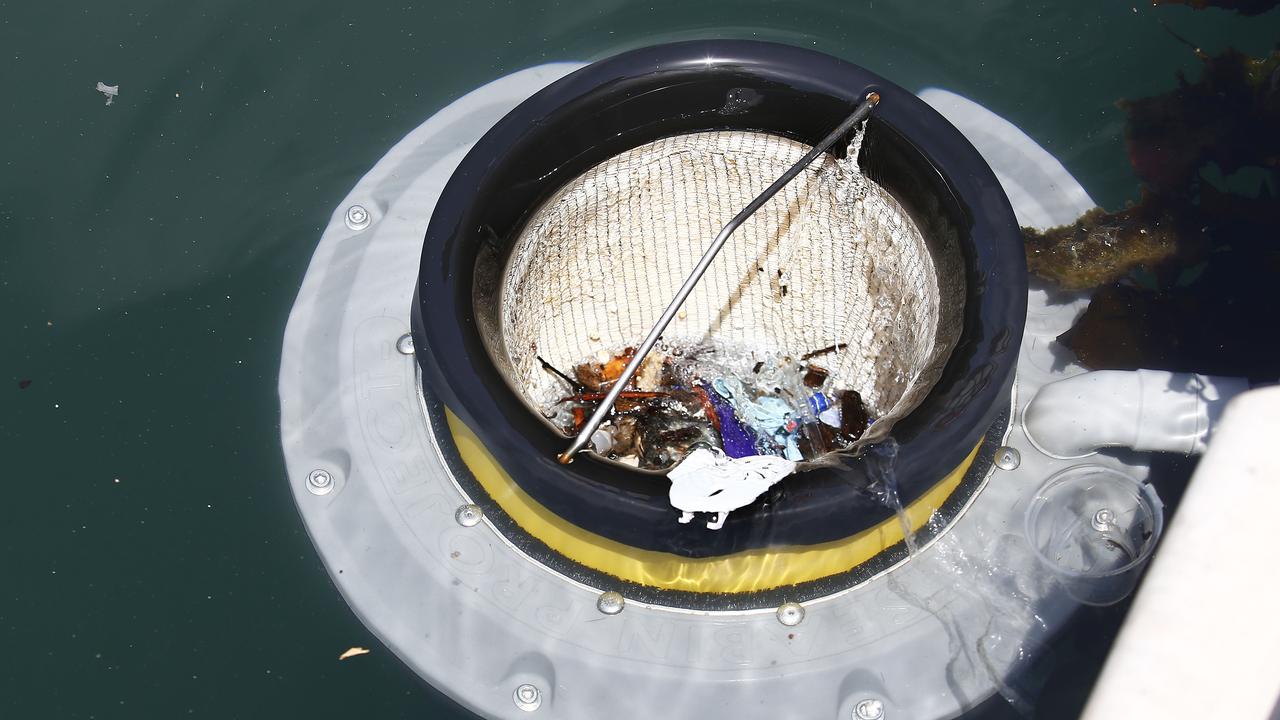 GLOSSARY
prototype: first one made
lateral: creative or different thinking
submersible: able to go underwater without being damaged
viral: spreads quickly and widely
microplastics: tiny pieces of plastic, some not able to be seen with your eyes
contaminated: made impure by something that's not supposed to be there
accumulates: builds up
EXTRA READING
Rubbish trap to the rescue for oceans
Shocking find in dead whale's stomach
High hopes for Aussie invention
Turning plastic into something precious
Human poo study finds microplastics
QUICK QUIZ
How does the water get back out of the bin?
Name some things that have been caught in Seabins?
Where are the bins usually installed?
What weight of rubbish does one bin usually catch in a day?
How many disposable coffee cups could a Seabin catch in one year?
LISTEN TO THIS STORY
CLASSROOM ACTIVITIES
1. Write a Story
Pete Ceglinski says that the weirdest thing he's found in a Seabin was a cowboy boot with a mini pineapple inside it. How do you think this object ended up in the Seabin? Write a story about this — use your imagination!
Time: allow 25 minutes to complete this activity
Curriculum Links: English
2. Extension
One of the problems with the Seabin is that it can catch small fish while it is collecting the rubbish. Can you redesign the Seabin or add something to it that might help solve this problem? Plan and create your design. Don't forget to write labels showing the different parts and an explanation of how your design will work.
Time: allow 45 minutes to complete this activity
Curriculum Links: Design and Technologies, English
VCOP ACTIVITY
Let's investigate speech
In this article there is a lot of direct quotes or speech by the Pete as he talks about the Seabins. We can tell when he is talking by the talking marks or quotation marks being used (""). They are used at the start of where Pete is talking and then again at the end.
Find all the spots in article where Pete is talking and underline these sections in green.
Now highlight over the top of all the punctuation used in these sections.
What do you discover? What happens when after the talking marks it says something along the lines of 'he said' or 'said Mr Ceglinski'?
What about if it said who was talking at the start, then what do you notice?
Have a go at writing a paragraph with some out loud speaking in it and see if you can use the correct punctuation.
HAVE YOUR SAY: What do you think of this invention? Will it make a difference? Do you know of inventions you think could work better to clean up the ocean?
No one-word answers. Use full sentences to explain your thinking.