Climate change Part 4: Paris Agreement outlines plan for global climate action
PART 4: The Paris Agreement was a turning point in bringing countries together to fight climate change. How we're doing will be in the spotlight at a conference in Glasgow in November
The Paris Agreement sets out how the world's countries plan to work together to tackle climate change and limit global warming. Picture: iStock
Paris is often mentioned when we talk about climate change. What does the capital city of France have to do with global warming?
In 2015 there was a big meeting of world leaders, organised by the United Nations* (UN) and hosted by France, to talk about countries sharing responsibility for managing climate change. The meeting was held in Paris.
These annual UN meetings are called COPs, which stands for Conference of the Parties. Paris was the 21st of these meetings and is sometimes called COP21.
The result of the Paris meeting was a treaty called the United Nations Framework Convention on Climate Change (UNFCCC). A treaty is an international, legally binding* written agreement.
Almost all countries in the world have signed this agreement to show they promise to work towards its aims. The treaty is most often called the Paris Agreement.
WHAT IS IN THE PARIS AGREEMENT?
The Paris Agreement is many pages long but its main aim is to limit global warming to well below 2C and preferably below 1.5C, compared to pre-industrial levels. Pre-industrial levels means the long-term global temperatures before about 1850-1900.
You can read some of the key parts of the Paris Agreement below.
To achieve the long-term temperature goal of limiting global warming, countries that signed the Paris Agreement agreed to do what they could to help reach the global peak of greenhouse gas emissions as soon as possible.
They also aimed to work towards globally achieving "climate neutral" by 2050. Climate neutral means balancing new or future greenhouse gas emissions* with the removal of greenhouse gases already emitted*. This is also sometimes called "net zero".
The Paris agreement came into effect on November 4, 2016.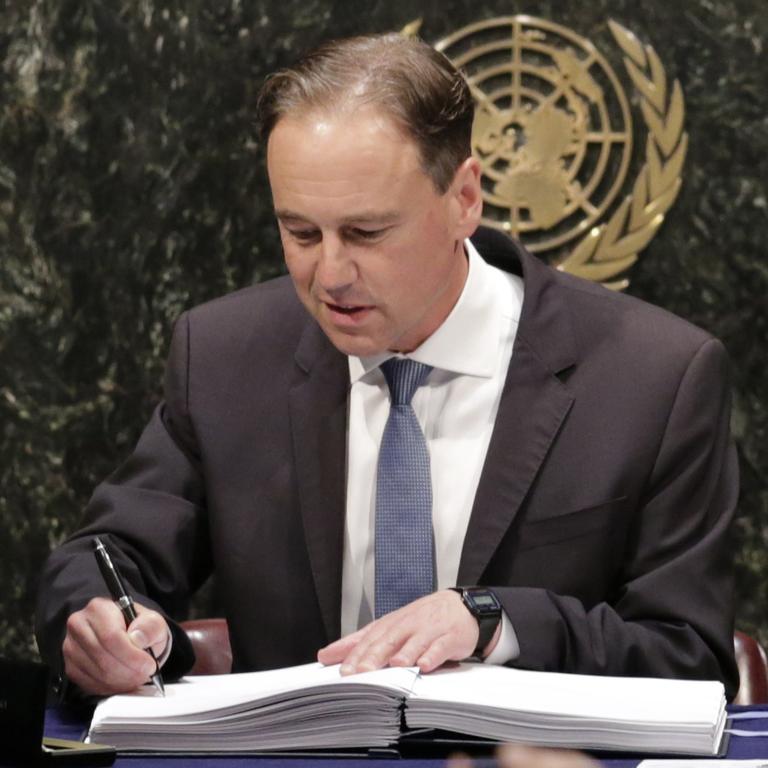 Australia's then environment minister Greg Hunt signs the Paris Agreement on behalf of our nation in 2016. Picture: AP Photo
NATIONALLY DETERMINED CONTRIBUTIONS
Although it mentions specific global goals, the Paris Agreement doesn't expect exactly the same goals, actions or results from every country.
Each country sets its own Nationally Determined Contribution (NDC) to the Paris Agreement, based on what it can manage or afford to do and what that country's government will agree to do.
Countries submit an updated NDC every five years.
The agreement expects that wealthier or more developed countries will be better equipped or more able to afford to take action to reduce emissions and they will also help poorer or developing countries adapt to reduce greenhouse emissions.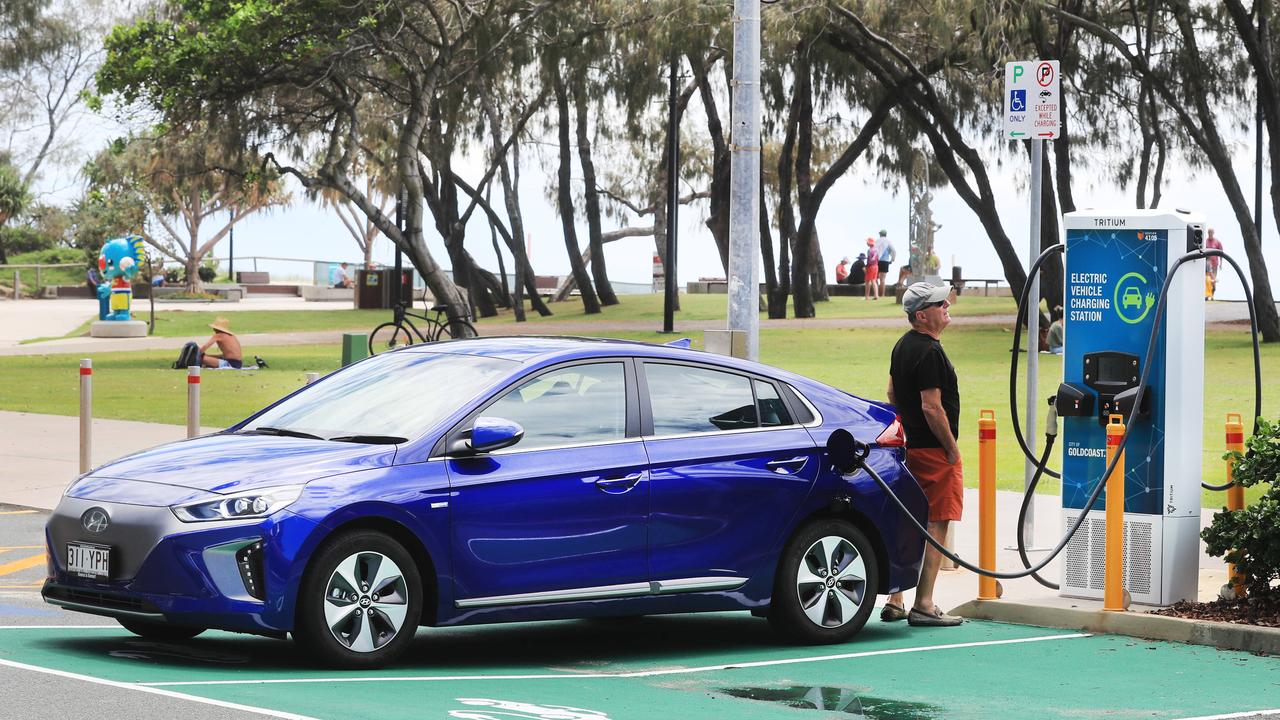 The shift to electric vehicles is seen as a key to cutting greenhouse gas emissions. Here a driver charges his electric car at a Gold Coast charging station. Picture: Scott Powick
THE NEXT CLIMATE CHANGE CONFERENCE
The next United Nations Climate Change Conference, COP26, will be in Glasgow, Scotland, from October 31 to November 12 this year. It was delayed from 2020 because of the coronavirus pandemic. It will be jointly hosted by the UK and Italy.
In the lead up to Glasgow, countries are encouraged to nominate ambitious* 2030 emissions targets that will help achieve net zero by the middle of the century.
The UK, as COP26 leader, has suggested that to achieve what it calls "stretch targets", countries will need to phase out the use of coal, limit deforestation*, speed up the switch to electric vehicles and encourage investment in renewable* sources of energy.
Nations are being encouraged to set ambitious emissions targets for COP26, including by investing in renewable energy sources such as solar power. This solar power plant is in Huainan, a former coalmining region of China. Picture: AFP
The UK is also pushing for countries to adapt to protect communities and natural habitats, and for developed countries to help developing countries achieve their goals.
It is also imploring* member countries to "work together to deliver". This is important because UN negotiations are consensus based, which means members have to agree for there to be some chance they will be achieved.
GLOSSARY
United Nations: an international organisation where nations gather to discuss common problems and find solutions that benefit all people
legally binding: something that must be obeyed or carried out because it is the law
emitted: produced and released or discharged
greenhouse gas emissions: gases that are released into Earth's atmosphere and cause the planet to warm
ambitious: needing a great effort, aiming high
deforestation: removal of large areas of trees
renewable: natural resources that do not run out
imploring: pleading, begging
EXTRA READING
Australia's climate plans and promises
How to cope with climate worries
QUICK QUIZ
What does COP stand for?
Which organisation organises COP meetings?
When did the Paris Agreement come into effect?
What does NDC stand for?
Which Scottish city will host the next COP?
LISTEN TO THIS STORY
CLASSROOM ACTIVITIES
Refer to the accompanying Climate Change Education Kit classroom workbook with 20 activities. It's FREE when teachers subscribe to the Kids News newsletter.