Australians could see high-speed trains linking capital cities and regional areas within decades, which would dramatically cut rail travel times across the nation.
Prime Minister Scott Morrison has promised his Coalition* Government will spend billions of dollars on high-speed rail links if he is re-elected* to the country's top job in May.
The first project would be a $2 billion bullet train* between Melbourne and Geelong. At 200km/h* this would speed passengers along the 75km between Victoria's largest and second-largest cities in just 32 minutes, halving the current hour-long rail journey.
"This is all part of our plan to manage population growth … to take the pressure off our big cities like Melbourne and make our regional cities like Geelong even more attractive places to live and work," the Prime Minister said.
"As our population grows, fast rail networks are crucial to easing the congestion* pressures in our cities and shaping Australia's future."
The Melbourne-to-Geelong link is estimated to cost about $4 billion, with the government looking to the Victorian Government to make up the rest of the money needed.
Construction* is likely to begin within 18 months and take 10 years to complete.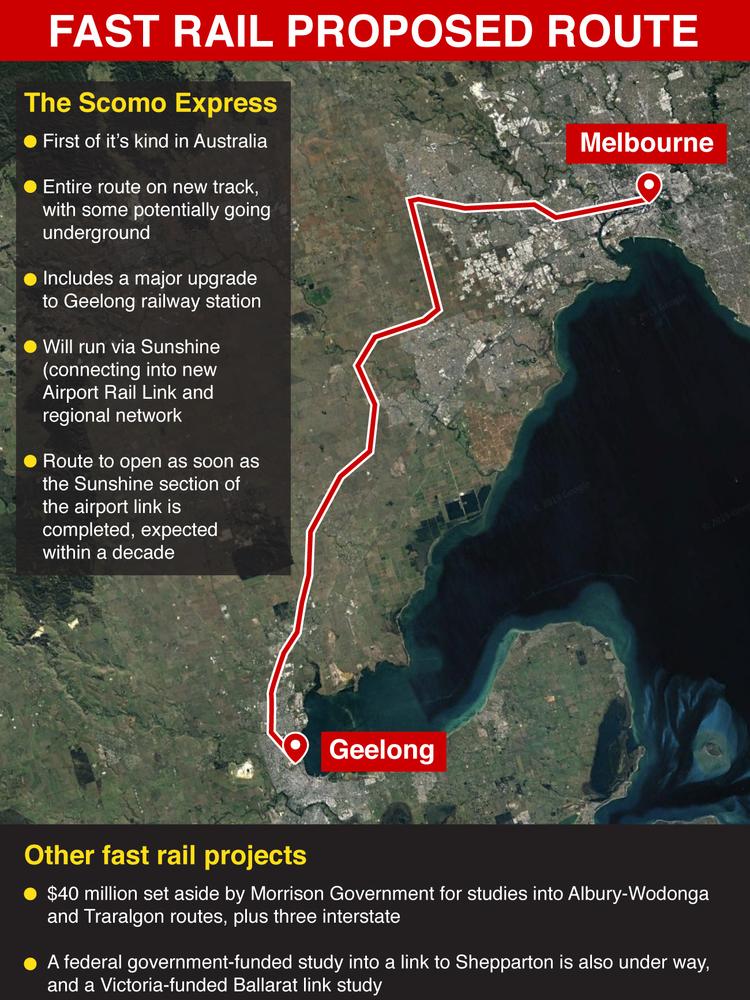 Asked if $4 billion was really enough to build the line, Mr Morrison said: "If the costs are greater than that, then we'll have to address that at that time. But the train never leaves the station unless people get on board and it starts moving."
The Victorian project is one of five new high-speed rail business cases to be investigated at a cost of $40 million.
Mr Morrison has also flagged a link from Brisbane to the Gold Coast for a trip of 35 minutes. High-speed lines between Wollongong, Newcastle and Sydney have also been mentioned as well as from the Sunshine Coast to Brisbane.
The government will create a National Fast Rail Agency to work with states, the private sector*, and local communities to determine what should be done first and manage the fast-rail projects.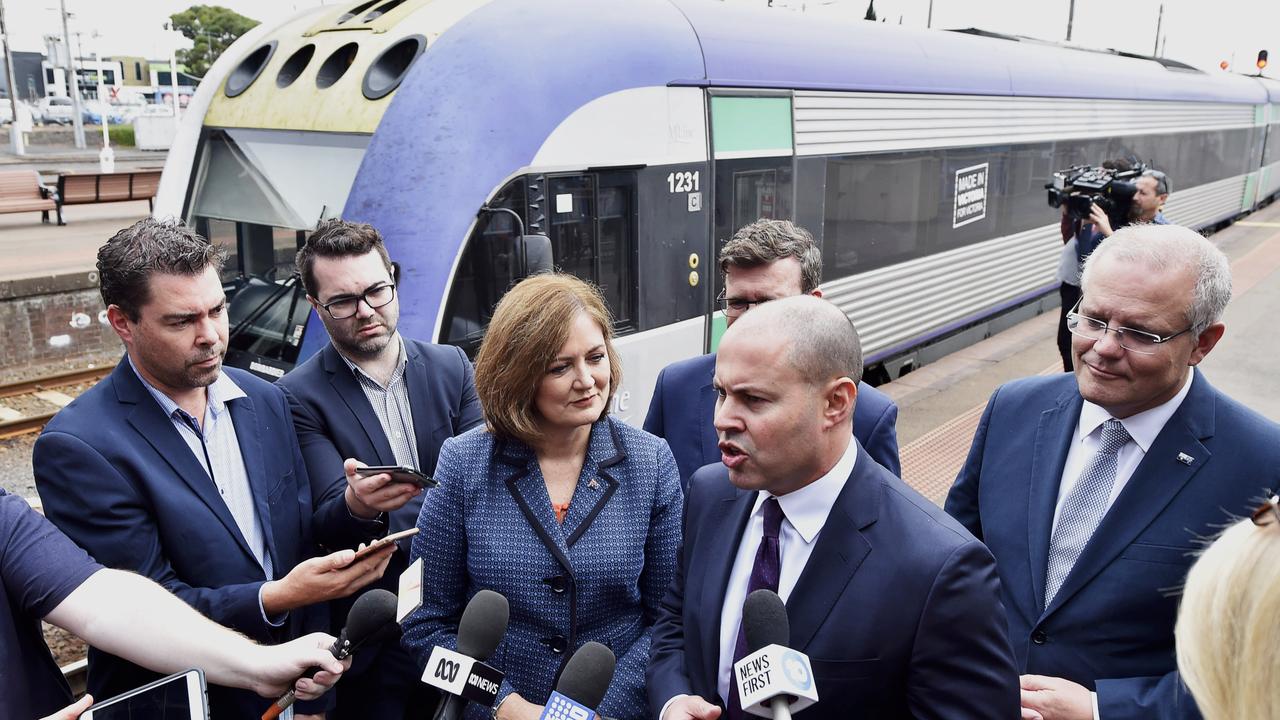 Last week, Opposition infrastructure* spokesman Anthony Albanese, who has been a long-time supporter of faster rail services, said the Coalition wasn't thinking big enough.
He said the Coalition had ignored a detailed 2013 Labor government study for high-speed rail connecting Brisbane and Melbourne via Sydney and Canberra.
The study found a line between Brisbane and Melbourne via Sydney and Canberra would produce $2 of public benefit for every $1 invested.
An independent panel then recommended the creation of a high-speed rail authority* to advance the project and begin buying land along the journey route, but the work was stopped.
"Genuine high-speed rail down Australia's east coast would allow people to move between capital cities in as little as three hours at speeds of up to 350km/h," Mr Alabanese said.
DETAILS ABOUT HIGH-SPEED RAIL
Track: must be built specially for high-speed travel or specially upgraded for high-speed travel.
Minimum Speed Limits: Minimum speed of 250km/h on lines specially built for high speed and about 200 km/h on existing lines which have been specially upgraded.
Operating conditions: Trains must be designed along with the tracks to ensure they work perfectly together and for improved safety.
Electrification: When high-speed trains are powered by electricity, usually through overhead power lines.
Magnetic levitation: Also known as Maglev. When a train hangs in the air using massive magnets above or below a suitable guide rail allowing it to move more quickly than traditional on-track trains.
SOME OF THE WORLD'S FASTEST TRAINS
Shanghai Maglev: 430km/h (China)
Harmony CRH 380A: 379km/h (China)
AGV Italo: 359km/h (Italy)
Siemens Velaro: 349km/h (Spain)
Algo 3500: 349km/h (Spain)
THE WORLD RECORD
The world record for conventional high-speed rail is held by the V150, a specially built version of Alstom's TGV, which reached 574.8km/h on a test run in France in 2007.
That speed is almost six times as fast as your parents drive in the car on a freeway.
GLOSSARY
Coalition: a partnership between political parties (Liberal and National in Australia)
re-elected: voted in again by the people
bullet train: fast rail train
km/h: kilometres per hour
congestion: overcrowding
construction: building
private sector: the part of the national economy that is not under government control
infrastructure: things needed to live in society, such as buildings, roads, schools, power supply etc
authority: body of experts
EXTRA READING
Hypersonic jet to fly New York to London in two hours
Hyperloop travel plan picks up speed
Car that drives itself while you sleep
QUICK QUIZ
How much would the Melbourne-Geelong fast rail link cost?
How fast would the Melbourne-Geelong fast train travel?
Who made the announcement to fund the rail link?
How many other fast rail links are being investigated?
Where does the Opposition believe the fast rail line should go?
LISTEN TO THIS STORY

CLASSROOM ACTIVITIES
1. The PM's speech
Imagine that you are the Prime Minister. Write your announcement speech presenting this proposed project to the public. Your speech should clearly set out what the project is and why it will benefit Australians. (There are lots of facts in the news article to help you.) Ensure that your speech uses formal language, like the Prime Minister would use when making an official announcement.
Practise presenting your announcement as if you are the Prime Minister. This requires clear and confident speech, the use of gestures and facial expressions and eye contact with your audience.
Time: allow 30 minutes to complete this activity
Curriculum Links: English, Civics and Citizenship
2. Extension
Write 3 questions that different types of people might ask the Prime Minister about this project. The questions should be from the point of view of:
a politician from the Opposition party.
a person who lives in Geelong but works in Melbourne.
a person who lives in the path of the proposed rail line.
Time: allow 15 minutes to complete this activity
Curriculum Links: English, Civics and Citizenship
VCOP ACTIVITY
Hit the streets, or in this case, your classroom
Your job is to let your classmates or other members of the school know about the proposed new high speed rail and collect "direct quotes" (exact comments) for your next article.
Try and collect 4 quotes about what the public think of this new rail system. Give them the facts, but try not to persuade them one way or another when asking for a comment.
When you write up the comment in class, make sure you focus on the punctuation required when someone is talking in text.

HAVE YOUR SAY: If you could travel interstate on a fast train for the weekend, which Australian city listed in the article would you like to visit? Why?
No one-word answers. Use full sentences to explain your thinking. No comments will be shown until approved by editors.