New Zealand's acting prime minister has suggested Australia should change its flag to include a big kangaroo.
Winston Peters, who has stepped up as New Zealand leader while Jacinda Ardern is on maternity leave*, has accused* Australia of copying his nation's flag and called for the 116-year-old Aussie version to be changed to avoid mix-ups.
"I think we've even already got the solution for them, if you like, probably a big kangaroo, like the maple leaf in Canada," Mr Peters said.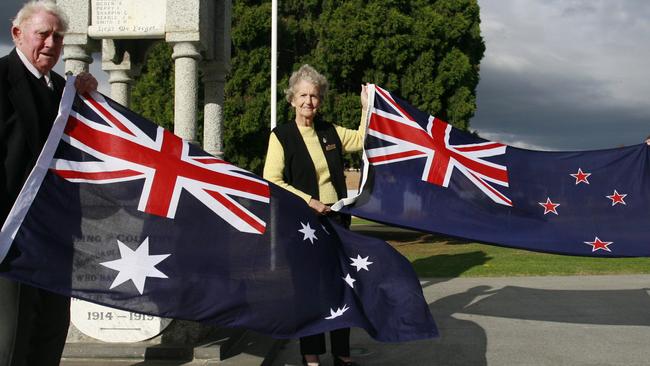 Mr Peters was a strong opponent of changing New Zealand's flag during the country's referendum* in 2016, during which confusion over its similarity to the Aussie flag was often raised.
"We designed it and they borrowed it and if we wanted to clear the matter up they should change their flag," he claimed.
New Zealand formally recognised its Southern Cross-starred flag in 1902 while Australia officially adopted its flag (which was designed in a 1901 competition) much later in 1954.
Mr Peters comments have followed an argument between politicians as New Zealand's government continues to criticise the removal of hundreds of its people from Australia because they are not citizens.
In the past two weeks Mr Peters, Australia's Home Affairs Minister Peter Dutton and New Zealand's justice minister have traded comments over the matter.
BELOW: One Australian man's view in song about why he thinks we need a flag change
However, debate about changing Australia's flag is not new.
In January this year lobby group Ausflag produced another design saying it was time to modernise* our flag.
The Ausflag version replaces the Union Jack, which comes from the British flag design and indicates we are part of the Commonwealth. Ausflag's flag uses the seven-point Commonwealth star, symbolising* Australia's federation* in January 1901 when the six colonies of Australia united.
Ausflag said the seventh point of the star represented Australian territories. The background on its new flag was a darker blue but it retained the Southern Cross stars.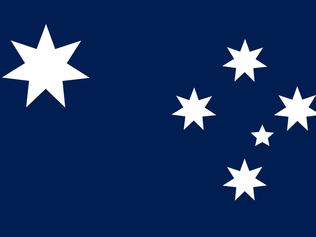 Ausflag founder and executive director Harold Scruby said the current flag could offend the traditional owners of the land.
"From an Aborigine's perspective it must be pretty awful when you see all these yobbos* wearing Union Jacks over their shoulders … (they're saying) 'because I'm of British descent, I'm more Australian than you'."
However, Australian Prime Minister Malcolm Turnbull has regularly stated during his leadership that Australia's flag will never change.
"(Australians) look at it as one Australian symbol — that's the one they have on their backpacks when they're travelling overseas, that's the flag that our soldiers have on their shoulder patches, that is our flag," Mr Turnbull said.
"So, I think the Australian flag will be flying over Parliament House long after all of us have shuffled off the stage of history."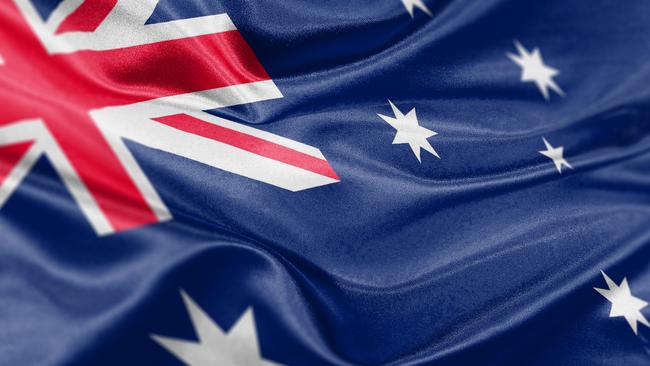 HISTORY OF THE AUSTRALIAN FLAG
(Source: Australian National Flag Association)
January 1, 1901
Australia becomes a federation.
April 1901
The Commonwealth Government of Australia announces a Federal Flag design competition. The competition receives 32,823 entries with the winning design being won by five almost identical entries. Each of the five winners shared the £200 (almost $30,000 today) in prizemoney.
September 3, 1901
The Australian National Flag (blue version) becomes the official national flag of Australia and is flown for the first time. The Red version becomes the flag of Merchant Naval Shipping.
February 1903
King Edward VII approves the design for the official Australian flag (blue version) and the Australian red ensign for Australia's merchant ships and private pleasure craft. Minor changes are made to the points of the stars on the Southern Cross.
March 1934
Commonwealth Government Gazette No.18 features a line drawing of the exact specifications of the official blue Australian flag and the merchant shipping flag.
December 1953
Parliament passes 1953 Flags Act. The blue flag is confirmed by legislation as the chief national symbol by law, custom and tradition and its official title becomes the "Australian National Flag". The Act is officially signed-off by Her Majesty Queen Elizabeth II in the following months in early 1954.
August 1996
The Governor-General of the Commonwealth of Australia, Sir William Deane, proclaims September 3 as "Australian National Flag Day" to remember the day in 1901 on which the Australian National Flag was first flown.
GLOSSARY
maternity leave: period of time off work to care for a newborn baby
accused: someone charged with doing something wrong or a crime
referendum: a general vote by the people on a single political question
modernise: make more modern
symbolising: be a symbol of or representing
federation: the action of forming states into a single nation
yobbos: slang word for someone acting and speaking rough
LISTEN TO TODAY'S STORY
QUICK QUIZ
1. What animal does the acting NZ PM want Australia to have on its flag?
2. In which year was the design competition held to find our national flag?
3. When did Australia officially adopt the blue flag as our national flag?
4. What is the name of the lobby group that designed an alterative flag?
5. Does Australian Prime Minister Malcolm Turnbull agree or disagree that our flag should change?
CLASSROOM ACTIVITIES
1. Pointing out the arguments
The article provides us with the points of view of several people and their arguments for or against changing our flag. Create a table with two columns with the headings:
"Reasons to change our flag" and "Reasons to not change our flag".
Carefully read through the article and for each reason given, write a dot point summary of the reason in the appropriate column of your table. Once you have recorded the reasons provided in the article, add any of your own additional reasons for or against a flag change.
2. Extension: Write a letter to Winston Peters letting him know your thoughts about his suggestion. Use the dot points you recorded in the activity above to help you and ensure you use formal language.
Time: Allow 20 minutes
Curriculum links: English, Civics and Citizenship
VCOP ACTIVITY
With a partner see if you can you identify all the doing words/verbs in this text? Highlight them in yellow and then make a list of them all down your page. Now see if you and your partner can come up with a synonym for the chosen verb- make sure it still makes the context it was taken from.
Try and see if you can replace some of the original verbs with your synonyms and discuss if any are better and why.
Curriculum Links: English, Big Write and VCOP
HAVE YOUR SAY: Do you think the Australian flag should stay the same or should it include a big kangaroo? Why?
No one-word answers will be published. Use full sentences to explain your thinking.