In his weekly series, award-winning cartoonist Mark Knight explores the PM's National Cabinet meeting where one leader is pulling out all the stops to protect his citizens from coronavirus
Technology has come to our rescue big time in this period of isolation*.
One of the things I have been impressed with during the COVID-19* crisis is the Prime Minister's National Cabinet meetings, which are like a politician's version of the Houseparty app!
The PM* and his national medical officer sit in this special room in Canberra with all these big screens in front of them, and there they talk to all the State Premiers and Territory leaders about how they are dealing with the virus.
Even the New Zealand Prime Minister Jacinta Arden dropped into the teleconference* this week!
This is why I wanted to draw a cartoon about the latest National Cabinet meeting.
It was an important one where the leaders would be laying out their ideas and plans on how Australia was going to come out of lockdown* and return to work and school and life as we used to know it.
A lot of the Premiers were keen to ease us back into work and school mode — except one, Victorian Premier Dan Andrews who has been very cautious during the coronavirus shutdown.
He was the most determined among all the leaders that schools should be closed. (Is that cheering I hear?)
He shut down beaches, gave Victorians stern* warnings about partying with friends and wouldn't even let people play golf!
All to stop the spread of COVID-19 and flatten the curve.
So, I wanted to draw a cartoon about how this National Cabinet meeting might play out.
It was also an opportunity to draw the PM in his special situation room with all the screens before him.
I would have to caricature* all the Premiers' faces as they appear on the screens. There are some great ones! I love to draw Gladys Berejiklian the NSW Premier as well as the Queensland Premier Anastasia Palaszcuk — and then there's the Kiwi* PM Jacinta, one of my favourite caricature subjects!
Among all these female leaders would be Daniel Andrews and he would be the point of difference — not just because he's a bloke but because of his stance on delaying returning students to school.
Mark Knight's National Cabinet cartoon. Right-click and open in new tab for full-size image.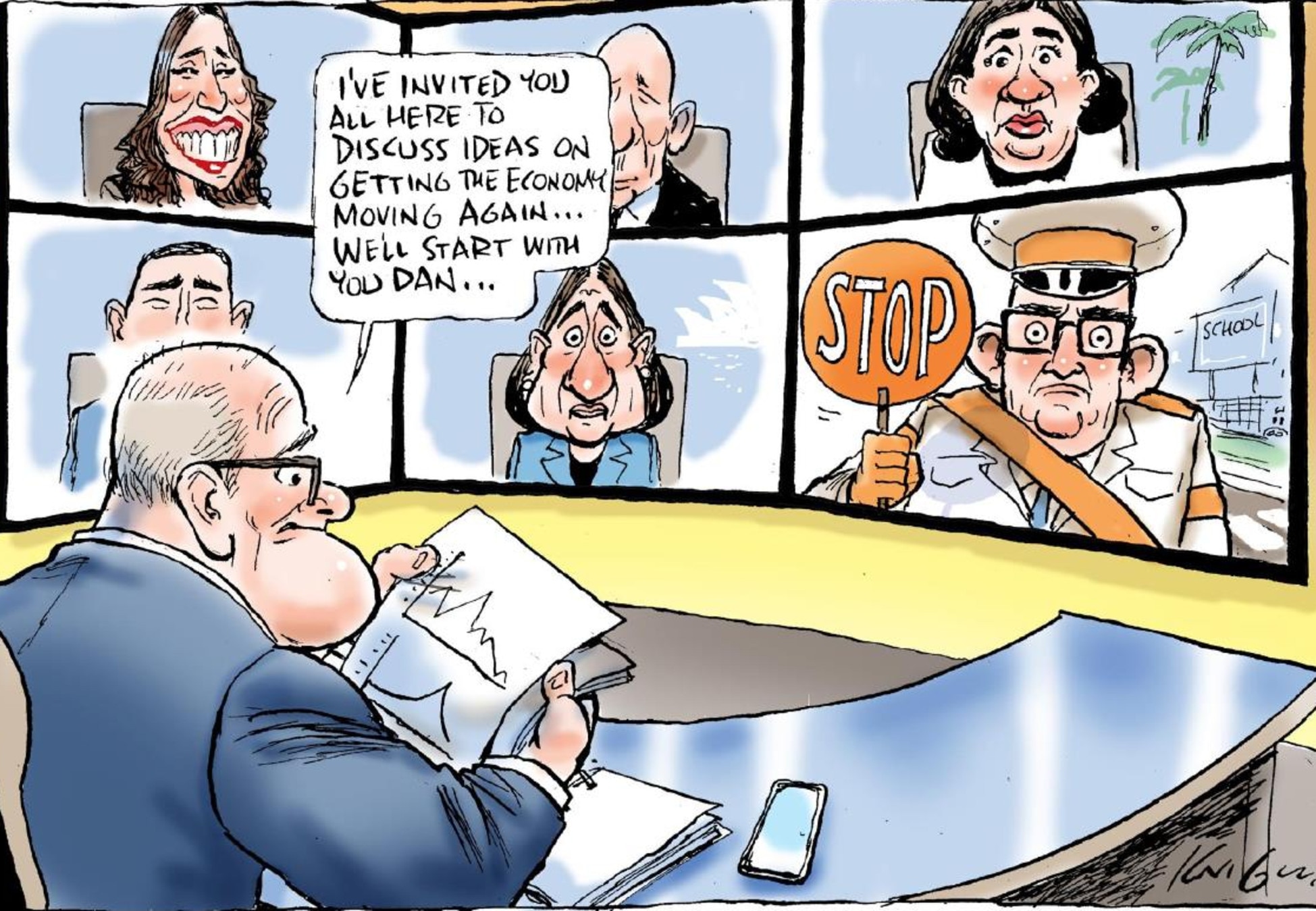 Cartoons are a visual medium so I like to limit words and captions and let the pictures do the talking.
If I had all the Premiers talking the drawing would be too complicated and readers would look at it and go "too many words, I'm not reading that!"
I decided to have one caption with ScoMo* introducing the meeting and then I would use a visual punchline*.
So, I drew all the Premiers looking at the PM from their screens. The PM asks them what ideas they have to get the country moving. He starts with Dan and that is where we have a bit of fun.
During the whole debate about closing schools in Victoria, I had wanted to draw Daniel Andrews as one of those school pedestrian crossing lollipop people all dressed up in the fluorescent* orange safety gear with a cap and a large orange STOP sign.
So, while all the other Premiers were in their usual suits, there was the Victorian Premier on screen in the meeting in his hi-vis gear clearly displaying his policy to STOP school returns and not rush to an end to the lockdown.
No words required!
GLOSSARY
isolation: being kept away from others
COVID-19: a form of coronavirus affecting the world in 2020
PM: Prime Minister
teleconference: a meeting with participants in different locations linked by devices
lockdown: not being allowed out
stern: cross
caricature: a picture or drawing with exaggerated features
Kiwi: someone from New Zealand
ScoMo: Scott Morrison's nickname
punchline: final part of a joke or story
fluorescent: vividly colourful
hi-vis: short for high visibility
EXTRA READING
Record history in your COVID-19 time capsule
Mark Knight: Virus leaves Virgin's future up in the air
QUICK QUIZ
Where is the PM located for the national Cabinet meeting?
Which leader was a special guest at the meeting this week?
Mark Knight describes the multi-screen meeting as similar to what?
Who is the Premier of NSW?
What is Daniel Andrews dressed as in the cartoon?
LISTEN TO THIS STORY
to come

CLASSROOM ACTIVITIES
1. What are they thinking?
Cartoonist Mark Knight has used just one caption from Prime Minister Scott Morrison on this cartoon, letting the rest of the imagery speak for itself.
Read Mark's explanation of what the cartoon means again and write two, three or four short sentences, just to make sure you understand what the cartoon is saying.
Using your sentences to help you, write a thought bubble for each of the leaders in the cartoon to explain what they may be thinking.
Ensure your words help make Mark's meaning clearer for children or people who haven't been reading the news this week.
Time: allow at least 20 minutes to complete this activity
Curriculum links: English, Humanities, Visual Arts, Critical and Creative Thinking

2. Extension
Look through the most recent stories on Kids News and choose one to draw a cartoon about.
Use Mark's three-step process to get started:
What is my subject?
What do I want to say about this issue?
How do I say it? Do I use visual metaphors (an image that the viewer is meant to understand as a symbol for something else), multiple panels or symbolism (when one idea, feeling or emotion is represented by something else such as a: picture, character, colour or object)?
Time: allow at least 40 minutes to complete this activity
Curriculum links: English, Humanities, Visual Arts, Critical and Creative Thinking

VCOP ACTIVITY
After reading the article, with a partner, highlight as many connectives as you can find in pink. Discuss if these are being used as conjunctions, or to join ideas and create flow.

HAVE YOUR SAY: Do you want the National Cabinet to relax lockdown rules? Why?
No one-word answers. Use full sentences to explain your thinking. No comments will show until approved by editors.