Australians will now have a better idea about where their food is grown and made after tough new labelling became law on July 1.
The new labels tell buyers what is 100 per cent grown in Australia or made in Australia from Australian ingredients, or if only the processing is done in Australia. They will also show what percentage of ingredients are from Australia.
National Farmers' Federation* chief executive* Tony Maher believes the new system will be good for Australian food producers.
"As long as we've got more clarity* in labelling, our general view is people like to buy Australian," Mr Maher said on Monday.
"They like to support Australian farmers. These new labelling requirements will help them do that and that will help Australian farmers."
Assistant Science, Jobs and Innovation Minister Zed Seselja said the new labels would provide consumers* with accurate information.
"Australian farmers and producers will see the benefits with consumers able to identify and choose to buy Australian products," Senator Seselja said.
The requirements apply to most food sold in shops or markets, online or from vending machines. There are different requirements for foods classified* as non-priority, including seasonings, confectionary*, snack foods, soft drinks, alcohol and bottled water.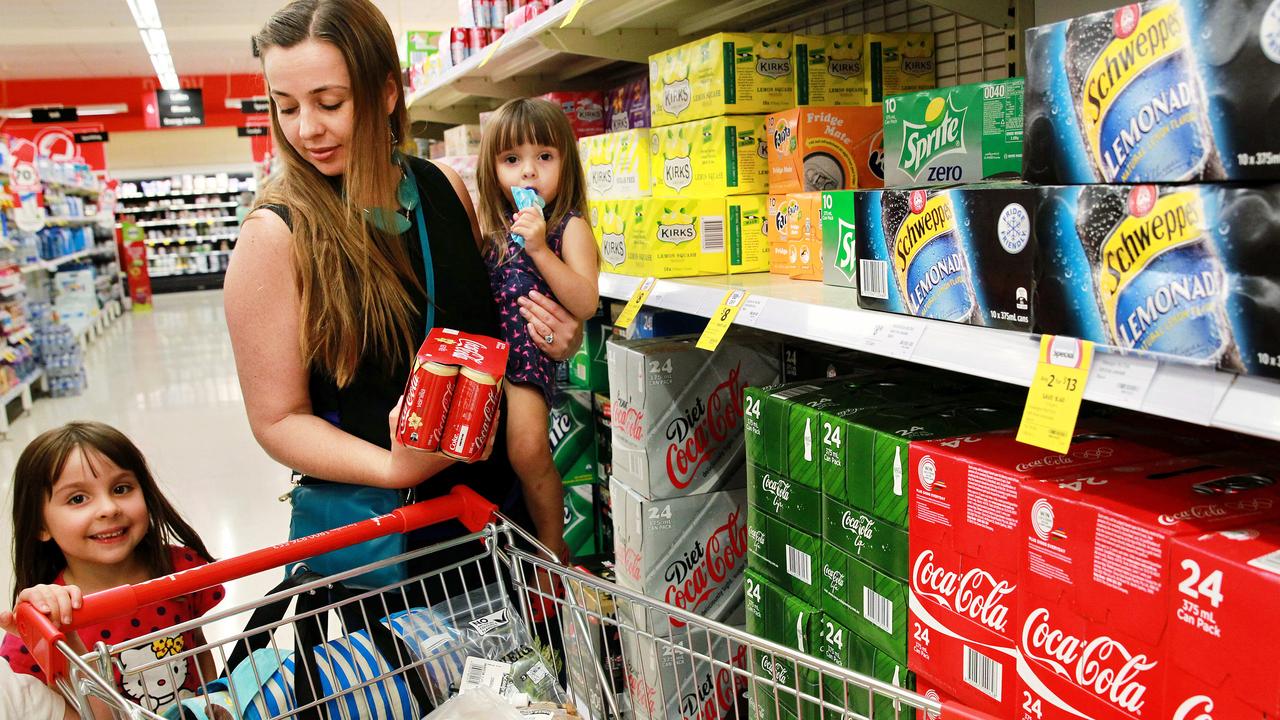 The laws do not apply to food sold in restaurants, cafes, takeaway shops or schools.
Tasmanian Seafood Industry Council chief executive Julian Harrington said people in the seafood industry thought the laws were a positive step but more needed to be done to help people know what they were ordering in restaurants.
"We need to explore educational opportunities to help consumers know where their fish comes from, so they can make informed choices," Mr Harrington said.
"We are not saying imported seafood is not good but consumers who want local fish need to know they are getting that," he said.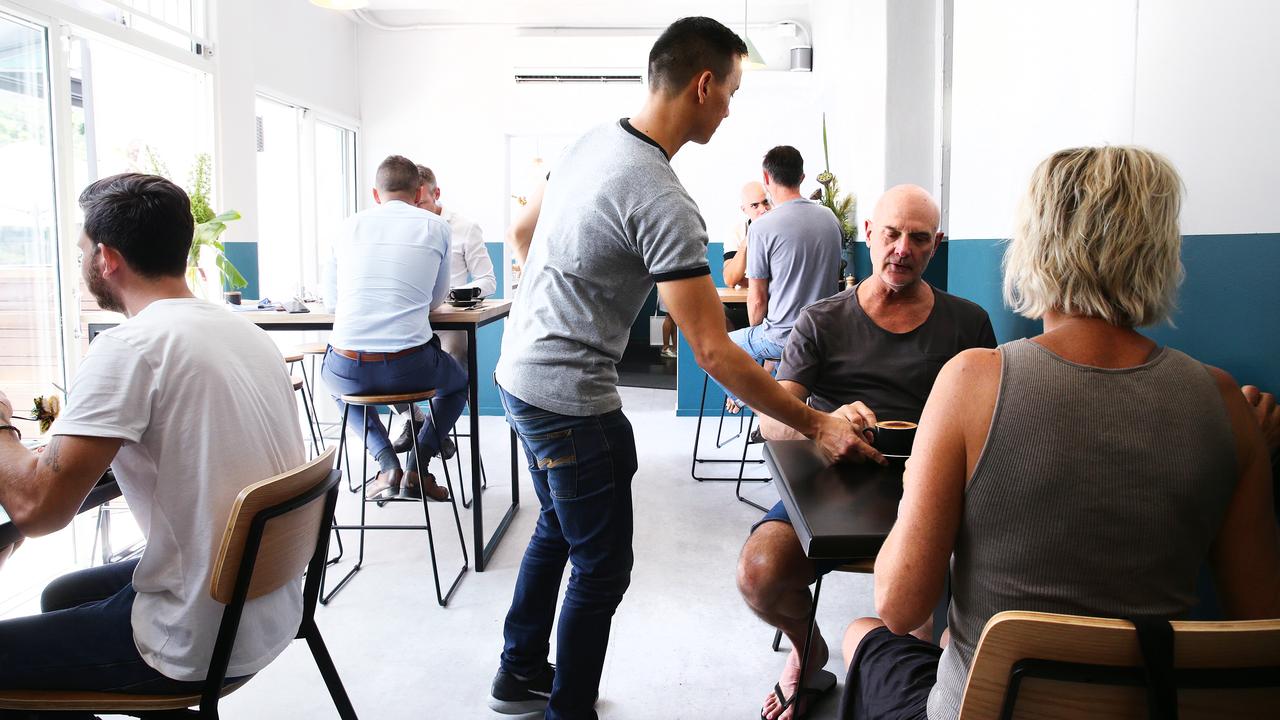 The Australian Competition and Consumer Commission will check products to make sure businesses are correctly displaying the new labels.
Food packaged and labelled on or before June 30 can still be sold without the new labels.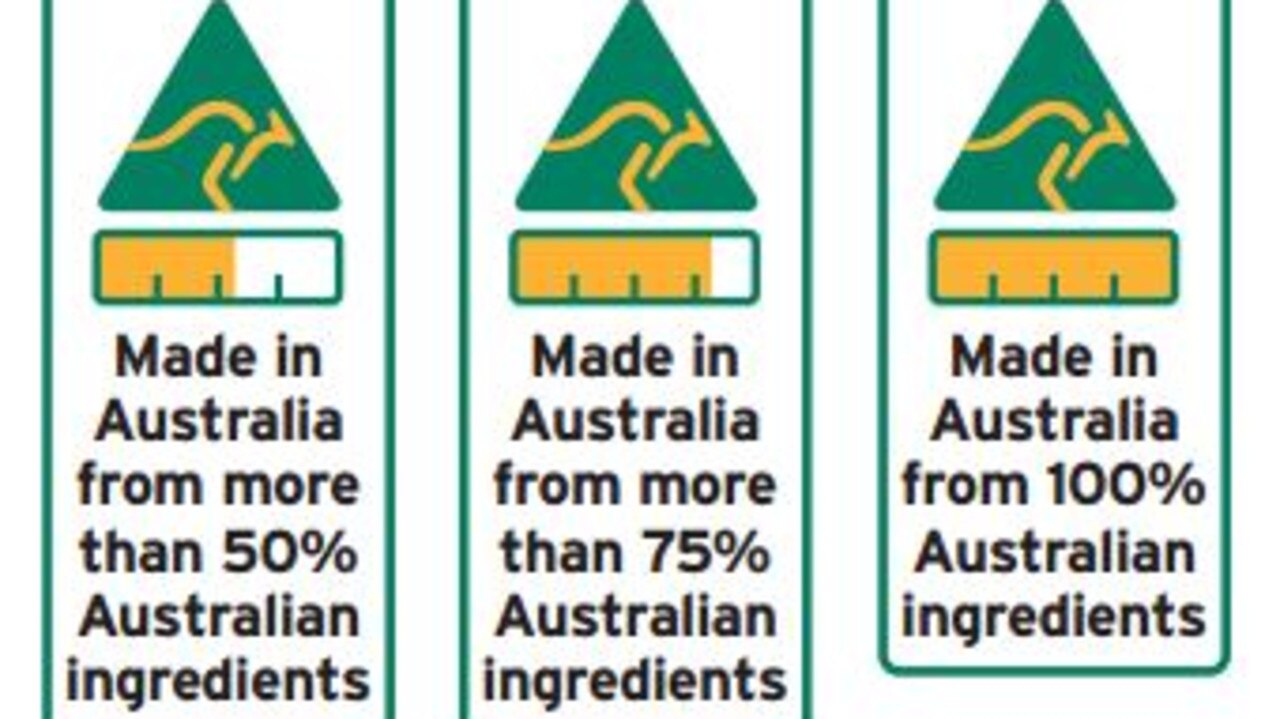 WHAT THE NEW LABELS MEAN
The labels will feature either a text statement, or a mark that includes a kangaroo logo, words and a gold chart, which will show the percentage of ingredients sourced in Australia.
GROWN IN AUSTRALIA
The label is mainly used for fresh food, such as fruit, vegetables and
meat. Food can only carry this mark if it contains just Australian
ingredients.
PRODUCED IN AUSTRALIA
The label is often used for processed foods. Food can only carry this mark if
it contains just Australian ingredients.
MADE IN AUSTRALIA
This can be used for food with no ingredients from Australia. It refers to a food
that underwent* its last substantial* transformation* in Australia, for example
chopping up imported apples and combining it with other ingredients to make an
apple pie. A bar chart will indicate the percentage of ingredients that have
come from Australia.
PACKED IN AUSTRALIA
This is a claim for foods that contain ingredients from multiple countries and
can't claim to have been grown, produced or made in Australia or any other
particular country. The label will only feature a bar chart that shows the percentage of
Australian ingredients.
For more information visit accc.gov.au/consumers/groceries/country-of-origin
MORE ABOUT FOOD LABELLING: Heat on fast food giants to use Aussie produce
GLOSSARY
compulsory: required by law
National Farmers' Federation: a group that represents Australian farmers
chief executive: the head of a group
clarity: being clear
consumers: people who buy, eat or use the products
classified: sorted or grouped
confectionary: sweets or lollies and chocolates
underwent: had something done to it
substantial: significant, major
transformation: change
LISTEN TO TODAY'S STORY
QUICK QUIZ
1. When did the new laws become compulsory?
2. Who does Tony Maher believe the new laws will be good for?
3. What foods do the laws apply to? What foods have different requirements?
4. Why may you not know where the food comes from if you order it in a restaurant?
5. What does the label Produced in Australia mean?
CLASSROOM ACTIVITIES
List the advantages and disadvantages of these new labelling laws and what it means to Australian producers.
Will this new information contained on products affect what you and your family buy?
Extension: What are some reasons that supermarkets don't stock only fully Australian made or grown products?
Time: Allow 15 minutes
Curriculum links: English, Critical & Creative Thinking
VCOP ACTIVITY
The glossary of terms helps you to understand and learn the ambitious vocabulary being used in the article. Can you use the words outlined in the glossary to create new sentences? Challenge yourself to include other VCOP (vocabulary, connectives, openers and punctuation) elements in your sentence/s. Have another look through the article, can you find any other Wow Words not outlined in the glossary?
QUESTION: Why are the new labels important for growers, producers and buyers? Explain your answer for each of these three groups in full sentences.