Children across Australia are being encouraged to pause for an hour today to sit back, relax and rediscover the magic of reading.
Australian Reading Hour is an annual* national event that aims to get kids off screens and stuck into their favourite book.
Best-selling children's author and Australian Reading Hour ambassador Matt Stanton said the day was a great way for kids to de-stress and discover the joy of reading.
"Australian Reading Hour is really important because it creates this moment for us to focus on the importance of reading and the benefits of reading as a country," he said.
"It's important that not only children, but also adults take the time to read because it doesn't happen automatically so we have to make space for it.
"Reading activates your imagination and lets you properly understand other people's points of view, it's incredibly powerful in terms of empathy*, it puts you in someone else's shoes."
This week, 100 schoolchildren met on the steps of the Opera House to listen to Mr Stanton talk about reading, writing, creating and having fun.
The event was also attended by special furry representatives from charity Story Dogs.
"At the end of the day reading is supposed to be fun so I encourage kids not to start with the idea of 'I must read a book' but instead ask themselves 'what am I interested in?'" Mr Stanton said.
VIDEO: Watch an hour of reading with top authors Matt Stanton, Gabrielle Tozer, Rebecca McRitchie and Tiff Hall.
Australian Reading Hour story special
Studies suggest that sitting down to a good book can reduce stress levels by 68 per cent as well as improve memory and concentration.
Despite this, a Scholastic Australia reading report says only one third of Aussie kids aged 6-17 are frequent readers.
Professor Anne Castles, director of Sydney's Macquarie University Centre for Reading, said reading is crucial to social communication and keeping connected.
"If you can't read you really are limited in so many aspects of life. People who struggle with reading are more likely to suffer mental health problems and are more likely to be unemployed," she said.
And while she acknowledged there's a high advantage to reading books as a child, anyone can take up the habit and experience benefits, which is why Australian Reading Hour targets all age groups.
"Illiterate* adults can be taught to read, there's certainly no reason why someone can't come back to books at anytime," Professor Castles said.
"Reading is everywhere, we're doing it all the time … grocery lists, Facebook pages and recipe books is still reading."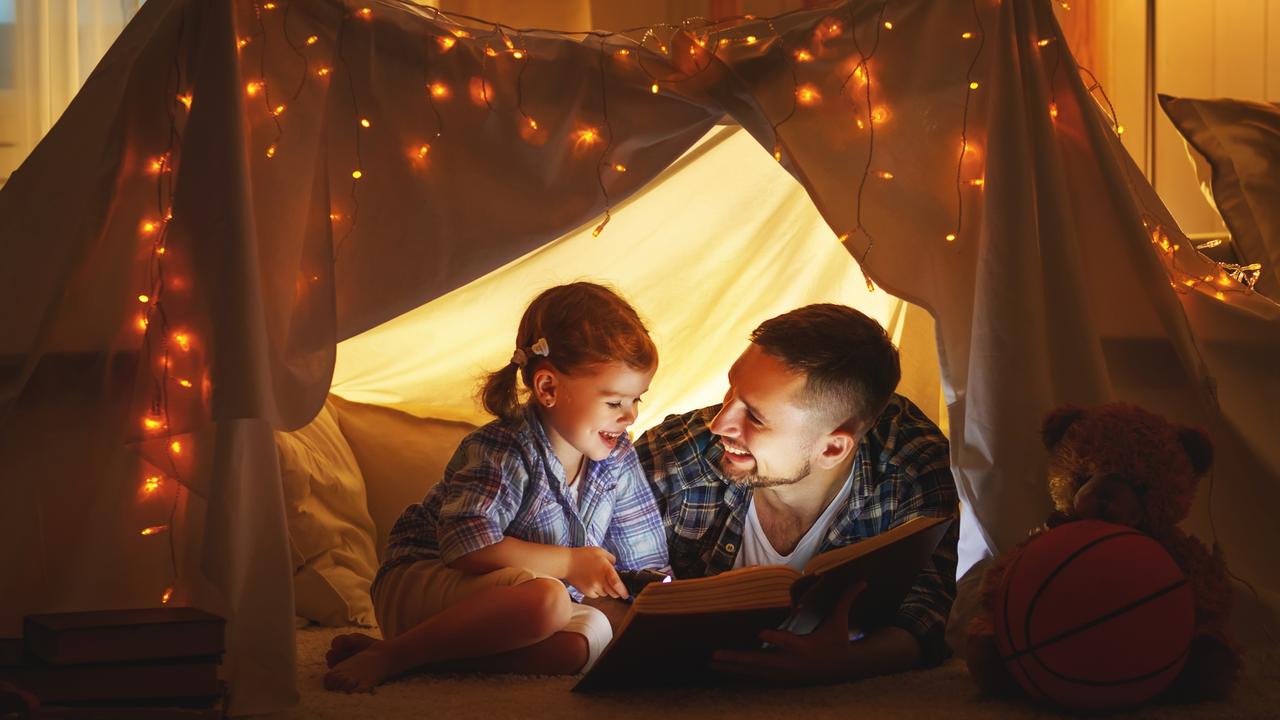 HOW TO JOIN READING HOUR
Simply pick up a book or see one of the six great book extracts below in this story and read for an hour at any time today (September 19).
Schools are encouraged to let children read for an hour as part of their literacy lessons or to watch the video in this story which has four authors reading part of their books aloud.
SIX GREAT BOOK EXTRACTS
1. Melody Trumpet, by Gabrielle Tozer
Reading level: Green

As the daughter of global music superstars, Melody Trumpet was supposed to be extraordinary — a melodic* genius to carry on the Trumpet legacy.
But, as was discovered when Melody screamed her first out-of-tune note as a baby, this wasn't to be.
Ten years on, Melody is still kept away from the world in Trumpet Manor.
If only secrets could stay hidden … For Melody Trumpet, it's about finding the extraordinary in ordinary!
Read the extract:

2. Funny Kid Slapstick, by Matt Stanton
Reading level: Green

Every kid wants to laugh, but Max is the boy who can make it happen. Only now he's been forced to join the local ice-hockey team, and there's nothing funny about slipping over and getting a frozen bum. Or is there?
Max is the funny kid … and this time he's skating on thin ice!
Epic fails, a wrestling rhinoceros called Roxanne, fake news, locker rooms filled with popcorn and the dreaded return of Mr Armstrong are just some of the things in store for Max and his friends in this brand-new Funny Kid adventure.
Read the extract:
3. To the Moon and Back, by Bryan Sullivan with Jackie French
Reading level: Orange
Who were the Honeysuckle Creek mob? And how did they assist the first moon landing?
When man took the first step on the moon it was a bunch of Australian technicians who tracked the spacecraft and sent the first television pictures to the world. No, not at Parkes — the movie The Dish got it wrong. They were from Honeysuckle Creek in the ACT.
This is their story, told by Bryan Sullivan, one of the technicians on duty at the time, and his wife, children's author Jackie French. And to celebrate the 50th anniversary of the first manned moon landing, Bryan and Jackie have revisited this book to reflect on the enormous strides that technology has made since this book was first published in 2004.
Winner of the 2005 CBC Eve Pownall Award for Information Books in 2005, To the Moon and Back includes information about the space program and the birth of the internet, as well as supplying the answers to questions such as: How do you go to the toilet in a spacecraft? Have the astronauts ever seen an alien? What made the moon? Can I have a holiday in space?
Read the extract:

4. Jinxed: The Curious Curse of Cora Bell, by Rebecca McRitchie
Reading level: Orange
Magic awaits around every corner … Cora is 11 years old and missing one eye. She lives with an elderly lady named Dot in a room hidden behind a wall.
In a crowded, industrial city, where everyone looks out for themselves, Cora and Dot hunt and sell rare and exotic things — apple seeds, silver forks, shoe polish.
Until one day, Cora finds a few words scribbled on a piece of paper. She takes it home and says the words aloud. Then two plump, hairy fairies named Tick and Tock crash land in her path to warn her that she is in terrible danger.
Cora has unknowingly summoned a sinister creature known as a Jinx. Jinxes eat magical beings and once they have a scent, they never forget it. But Cora isn't a magical being . . . is she?
Quickly, Cora is thrown headfirst into a world filled with magic, necromancers, shape-shifters, enchantresses, fairies, nightwalkers, witches and giants.
Richly illustrated throughout by Sharon O'Connor.
Read the extract:

5. His Name was Walter, by Emily Rodda
Reading level: Red
Once upon a time, in a dark city far away, there lived a boy called Walter, who had nothing but his name to call his own …
The handwritten book, with its strangely vivid illustrations, has been hidden in the old house for a long, long time. Tonight, four kids and their teacher will find it. Tonight, at last, the haunting story of Walter and the mysterious, tragic girl called Sparrow will be read — right to the very end …
From one of Australia's most renowned children's authors, comes this extraordinary story within a story — a mystery, a prophecy*, a long-buried secret. And five people who will remember this night for the rest of their lives.
His Name was Walter is the winner of the CBCA Book of the Year: Younger Readers for 2019.
Read the extract:
6. Skulduggery Pleasant: Bedlam, by Derek Landy
Reading level: Red
In a desperate journey to recover her sister's lost soul, Valkyrie Cain goes up against the High Sanctuary itself, and there's nothing Skulduggery Pleasant can do to stop her.
With Abyssinia's grand plan about to kick off in a night of magic, terror, and bloodshed*, it falls to Omen Darkly to save the lives of thousands of innocent people.
And as the madness unfolds around him, as hidden enemies step into the light, and as Valkyrie is sucked into a desperate, lawless* quest of her own, he has no choice but to become the hero he never really wanted to be — or die in the attempt.
Read the extract:

GLOSSARY
annual: yearly
empathy: the ability to understand and share the feelings of another
illiterate: unable to read
melodic: musical
prophecy: prediction of what will happen in the future
bloodshed: killing
lawless: without law and order
EXTRA READING
Kids News short story writing competition
Aussie boy the youngest to speak at United Nations
Shock find: superpowered electric eel
QUICK QUIZ
What is the aim of Australian Reading Hour?
How many Aussie kids aged 6-17 are frequent readers?
Reading a book reduces stress levels by how much?
Name two disadvantages that are more likely for people who struggle to read.
How is author Matt Stanton involved in Australian Reading Hour?
LISTEN TO THIS STORY
to come
CLASSROOM ACTIVITY
1. An hour of great storytelling
Ask your teacher if you can take part in the Australian Reading Hour on Thursday (or any other day this week) and either read a book or listen to the hour's worth of great storytelling in the video in this story.
VCOP ACTIVITY
The glossary of terms helps you to understand and learn the ambitious vocabulary being used in the article. Can you use the words outlined in the glossary to create new sentences? Challenge yourself to include other VCOP (vocabulary, connectives, openers and punctuation) elements in your sentence/s. Have another look through the article, can you find any other Wow Words not outlined in the glossary?
HAVE YOUR SAY: Does reading make you happy?
No one-word answers. Use full sentences to explain your thinking. No comments will show until approved by editors.