Drawing is tricky but Harold's friend Lachy has some tips to help
Whether you're still enjoying school holidays or will be easing into Term 4 this week, get creative and calm your mind by learning how to draw Healthy Harold – WATCH THE VIDEO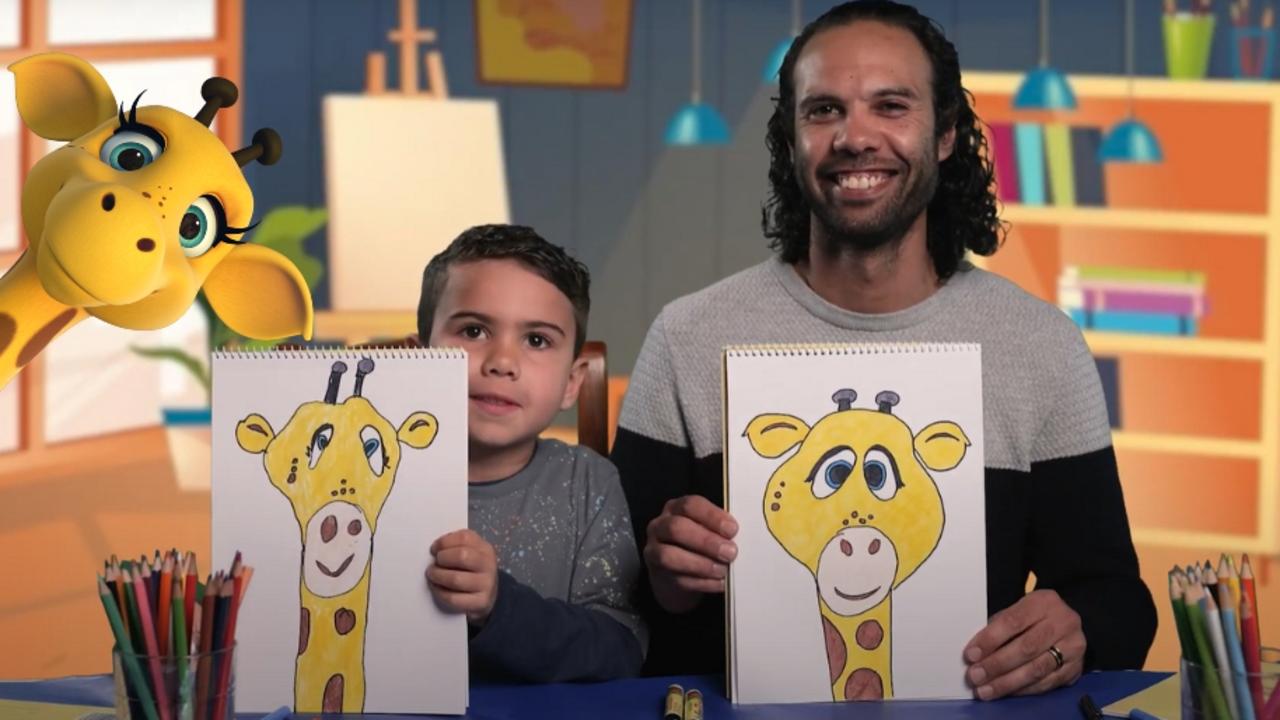 Watch the video to learn how to draw Healthy Harold. Picture: Life Ed
Hi kids! My name is Lachy and I'm a good friend of Healthy Harold's.
The school holidays are great after a very busy term of learning in class. I've been out riding my scooter, jumping on the trampoline with my cousins, going to the beach and doing some drawing.
I've been trying really hard to make my drawings look realistic and I'm getting better and better with every picture I draw.
At first I didn't think that my drawings were very good and I was getting a bit upset with myself. I was trying so hard and the pictures just weren't turning out the way that I was hoping they would.
I get to spend lots of time with my family in the school holidays. Dad and I love to draw together. My dad is very good at drawing; he loves to draw whales and birds.
One day when we were taking a rest from jumping on the trampoline, Dad and I decided to do some drawing together. I tried to draw my friend Oliver from my soccer team.
I started with his round head, then his neck, but when I started to draw his arms, it was very hard and things just didn't look right.
I could feel my heart starting to beat faster, my body began to feel hot and I could feel tears forming in my eyes.
I started to scribble on my picture and Dad could see something wasn't right.
My body was showing some big feelings – and he could tell.
Dad asked me, "What's wrong?" and pulled me in for a big hug.
"My picture of Oliver just doesn't look right, I can't do it," I said.
Dad hugged me tight and then asked me, "Would you like to do it together?"
When our drawings don't turn out the way we want them to, it can create some big feelings, but there are some simple steps for getting back on track. Picture: Life Ed/supplied
I nodded and picked up my texta and a new piece of paper. I wiped away my tears and started to draw again. This time Dad did the drawing with me one step at a time. On his paper, Dad drew a circle for the head, and then I drew a circle for the head.
But when we drew the neck, my heart started to race again as the next step was the hard part … the arms.
Dad encouraged me to slow down to get better control of the texta. Taking my time certainly helped and I got the arms perfect this time.
I learnt that focusing on one part of the picture and not the whole drawing can make the task less tricky.
Our brains are very clever but they can sometimes feel frozen or stressed when we think a task is too big or too hard for us to manage all at once. By breaking large tasks down into smaller parts, we can trick the brain from seeing one big, hard task, into many smaller, doable tasks.
If you're looking for something to do to be creative and keep your mind busy these holidays, grab some paper and try doing some drawing.
If you're not sure what to draw, just start with a single line and see where your imagination takes you.
As the famous artist Paul Klee once said "A line is a dot that went for a walk".
You can also join my dad and me as we draw Healthy Harold in this video below. Just follow the six simple steps. You can pause the video at any time if you need to.
Have fun!
WATCH THE VIDEO