The Australian Open tennis tournament is being played in Melbourne at the moment and while some have people have questioned the event going ahead during our ongoing battles with the coronavirus, it provides us with a nice distraction from the virus and helps to remind us of life before COVID and what we are gradually working to get back to.
One of the lead-in tennis tournaments for the Open was the Yarra Valley Classic, which was won by our very own world number one tennis player Ash Barty.
If her victory wasn't enough to get people excited, the winner's trophy she was handed certainly would get tongues wagging! The organisers thought rather than hand the winner another silver cup that would go straight to the player's pool room, let's give them something memorable. Really memorable. Like a hand-carved wooden sculpture of a wombat created by local Aboriginal artist Ron Murray.
When I saw the marsupial trophy I knew I had to draw a cartoon about it. I love drawing Australian animals, in particular wombats. They are such curious creatures, built like tanks, they are incredible earthmovers due to their impressive claws. A chocolate brown furry coat covers their sizeable girth*, a big fat head and small twinkling eyes. And such personality, no wonder they star in so many children's books from The Magic Pudding to Wombat Stew.
I draw political cartoons, so most of my work draws upon hard* political news stories. This cartoon however would be a bit of fun. The recurring* theme I kept hearing was why did they give the winner a wombat? I thought that the cartoon should explore this. My idea would be a comment on how we would like to see life return back to some sort of normal and the Australian Open is part of that process. But with COVID we have to expect the unexpected and that is where the wombat comes in. Nobody expects to receive a wombat do they?
Using my cartoonist's licence* for exaggeration, the wombat I drew is a real one and is much larger than the wooden sculpture Ash Barty was given. In the cartoon she struggles to hold it at the presentation, and when she is asked by the interviewer if she is enjoying playing tennis again and seeing life get back to normal, it is no surprise she questions 'normal' having been just handed a wombat!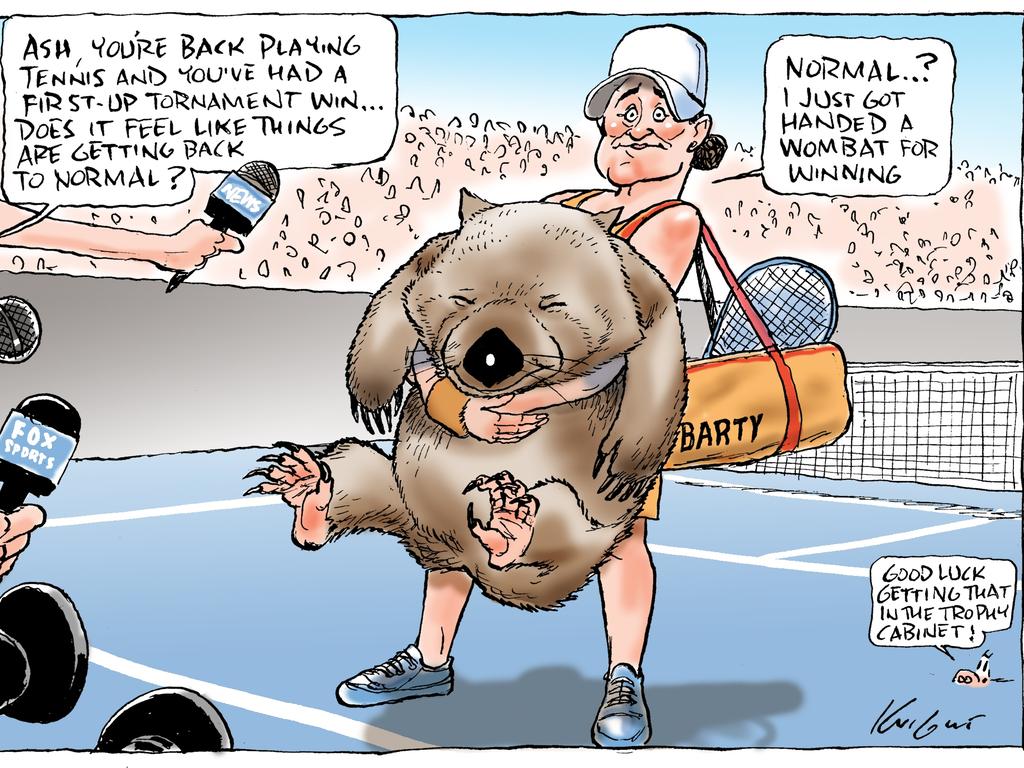 The cartoon is a comment on living in a COVID-normal world. With that comes the challenge that we may have to deal with unexpected things. Like wombats.
GLOSSARY
girth: tummy or waist
hard: serious, factual
recurring: happens over and over again
licence: freedom to move away from the facts when telling the story
EXTRA READING
Not even Ash can drag ScoMo out of strife
The moment Djokovic stared into the void
Ash Barty crowned world's No. 1 female player
QUICK QUIZ
What animal does the trophy depict?
Which tournament had Ash Barty just won?
What world ranking does Ash Barty have?
Who made the sculpture?
What is the sculpture made of?
LISTEN TO THIS STORY
CLASSROOM ACTIVITIES
1. What Happens Next?
Imagine this cartoon is part of a story that is made up of three cartoons. The three cartoons tell a complete story, and Mark's cartoon one part of the story. Think about what the story could be and draw the other two cartoons that tell the story.
Time: allow 30 minutes to complete this activity
Curriculum Links: English, Visual Arts, Visual Communication Design, Critical and Creative Thinking
2. Extension
'To be a great cartoonist, being able to draw is only one of the skills that you need.' Write a list of all of the other skills that you think cartoonists like Mark need to do their job. Next to each skill, write a sentence that explains why that skill is important or helps them to do a great job.
Time: allow at least 20 minutes to complete this activity
Curriculum Links: English, Personal and Social Capability, Media Arts, Visual Communication Design
VCOP ACTIVITY
Describe It
Look at the cartoon and make a list of 5 nouns that you see. Then describe those 5 nouns with 5 adjectives.
Be specific and add where those nouns using prepositions and another noun.
Now choose your favourite bundle and put all the words together to make one descriptive sentence.
HAVE YOUR SAY: Why do you think this trophy was chosen?
No one-word answers. Use full sentences to explain your thinking. No comments will be published until approved by editors.