Stars join industry strike for better pay and job security against AI
Sets have shut down across Hollywood as 160,000 actors demand higher pay and better protection against AI, as strike action pauses film and TV production for the first time in over 60 years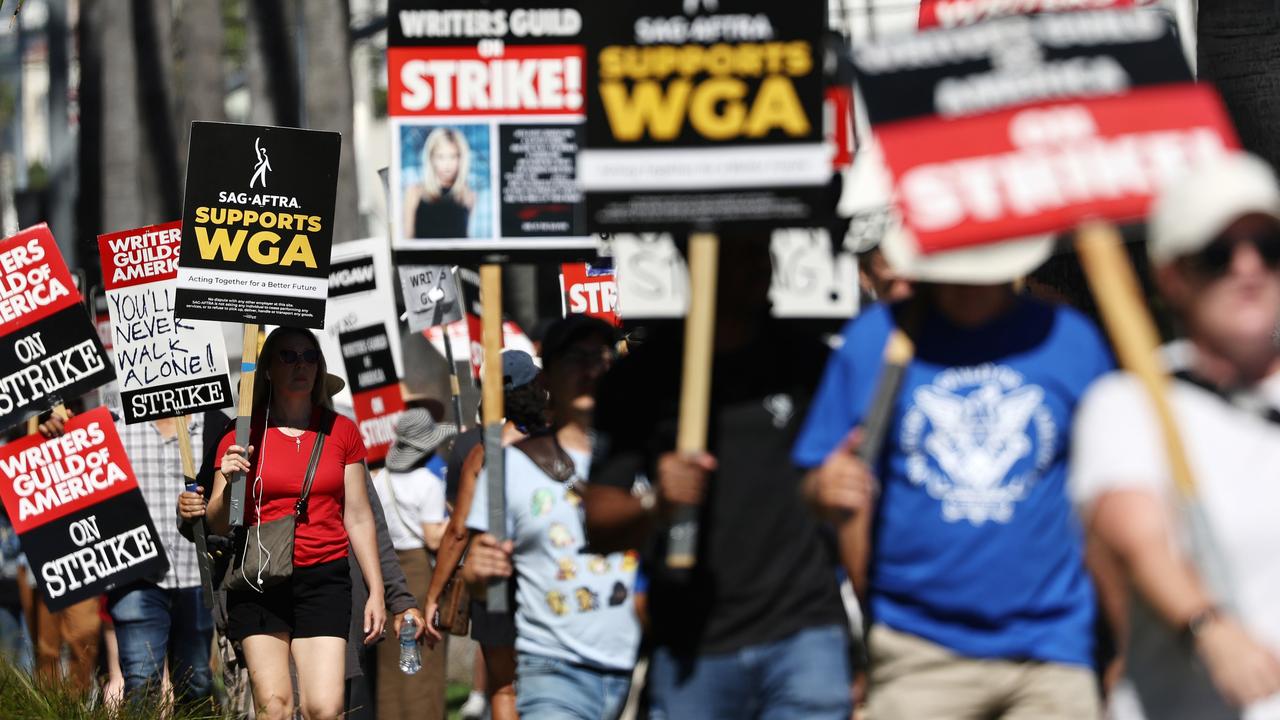 American actors and writers are on strike. Picture: Mario Tama/Getty Images
Some of Hollywood's biggest names are going on strike.
Famous actors such as Margot Robbie and Matt Damon say they won't work until actors in America's film and television industry are given higher pay and better protection against AI.
About 160,000 actors will strike across America, meaning many movies and TV shows being made will have to stop filming.
If they strike for a long time, audiences around the world may have to wait longer for new movies and TV shows to come out.
The actors have joined 11,500 Hollywood writers, who have been striking for better pay since May this year.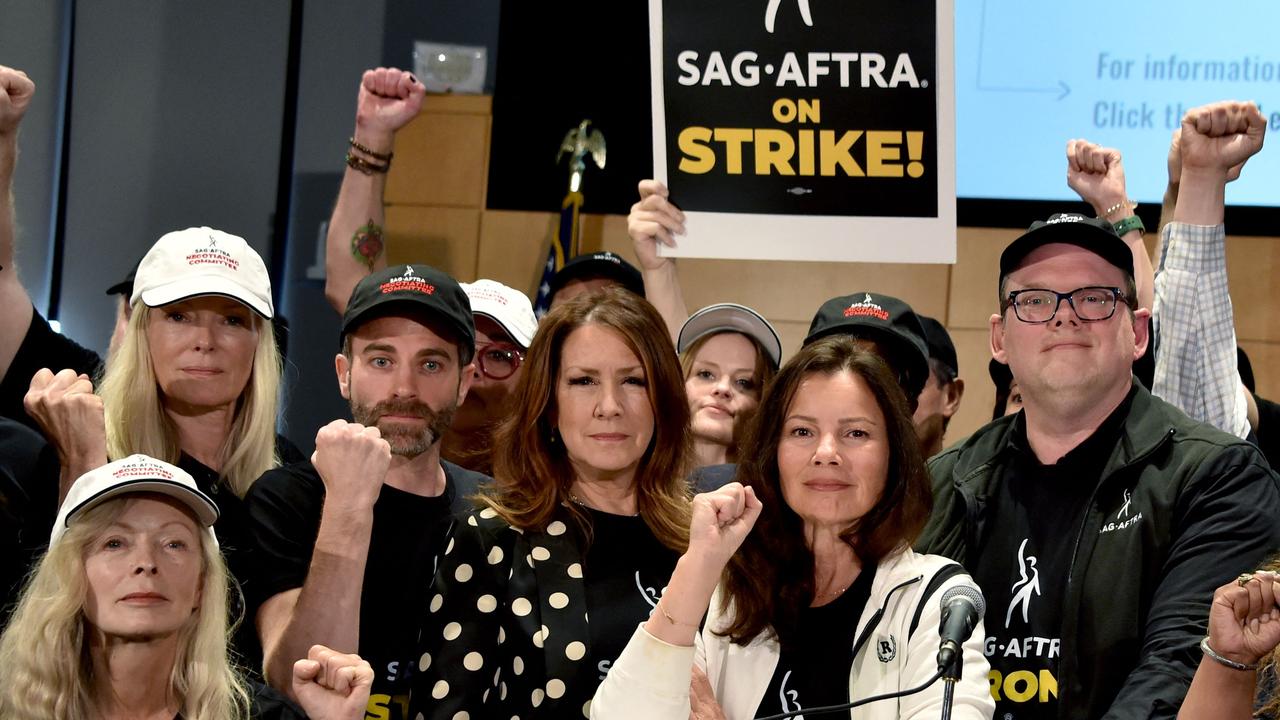 Members of SAG-AFTRA demand better pay. Picture: Chris Delmas/AFP
The strike is being led by the Screen Actors Guild and the American Federation of Television and Radio Artists (SAG-AFTRA) which is a union that fights for better working conditions for TV and movie actors and radio stars.
SAG-AFTRA president Fran Drescher, who once played Fran Fine in the TV show The Nanny, said she was shocked by the way the companies making films and TV shows were treating actors. She said actors weren't being paid fairly for their work, even though the people that ran the companies were earning hundreds of millions of dollars.
"We demand respect," she said. "You cannot exist without us."
Australian star Margot Robbie, who plays Barbie in the new Barbie movie, said she would "absolutely" go on strike.
"I'm very much in support of all the unions and I'm a part of (the Screen Actors Guild), so I would absolutely stand by that," she said.
In London, the star-studded cast of the new movie Oppenheimer walked out of the film's premiere in support of Hollywood actors.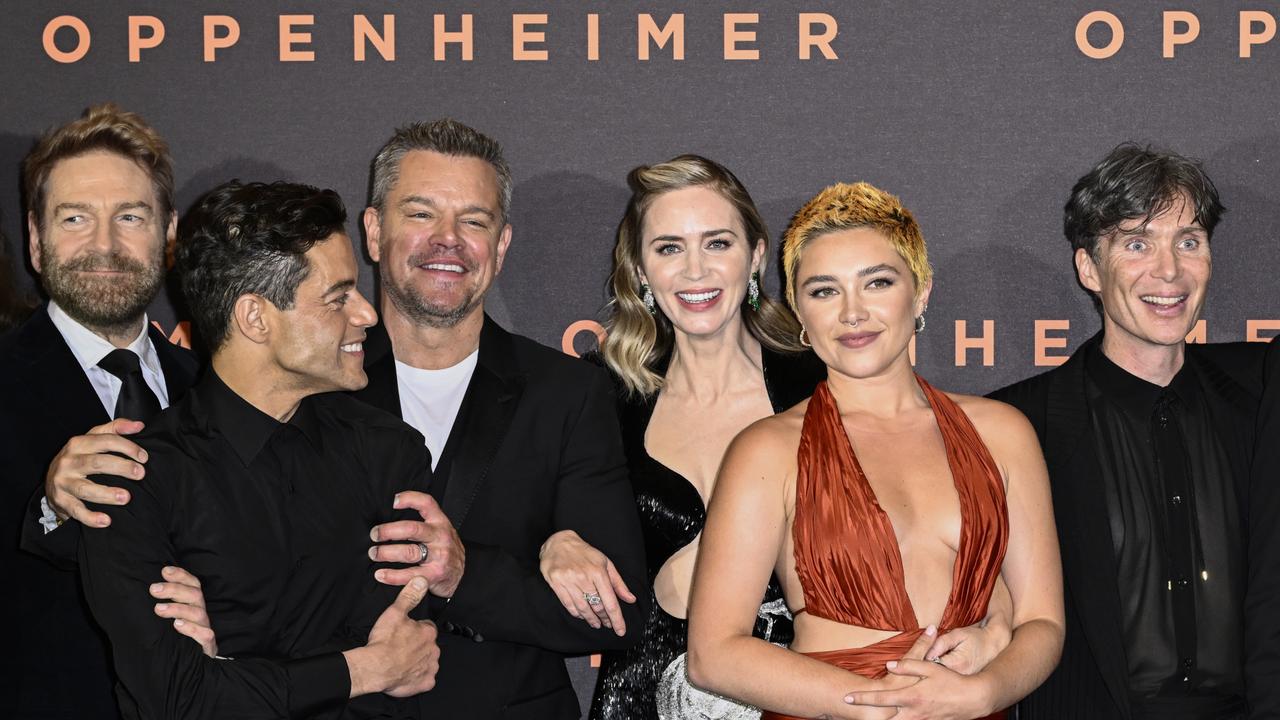 The cast of "Oppenheimer" walked out of the film's Premiere to support the strike. Picture: Gareth Cattermole/Getty Images
This included Emily Blunt, who starred as Mary Poppins in the 2018 film Mary Poppins returns, and Matt Damon.
"Hopefully we get to a resolution quickly," Damon said. "No one wants a work stoppage, but we've got to get a fair deal."
The last time Hollywood had to shut down because of a strike was in 1960, when Marilyn Monroe and Audrey Hepburn were big stars.
WHAT IS A STRIKE?
A strike is when the workers of a company or many companies refuse to work until their needs are met. Often the workers are asking for a higher wage and safer working conditions.
When all the workers are on strike, the company cannot run like it normally does. This means it cannot make money or serve its customers.
Workers who have gone on strike recently in Australia include teachers, train drivers and nurses.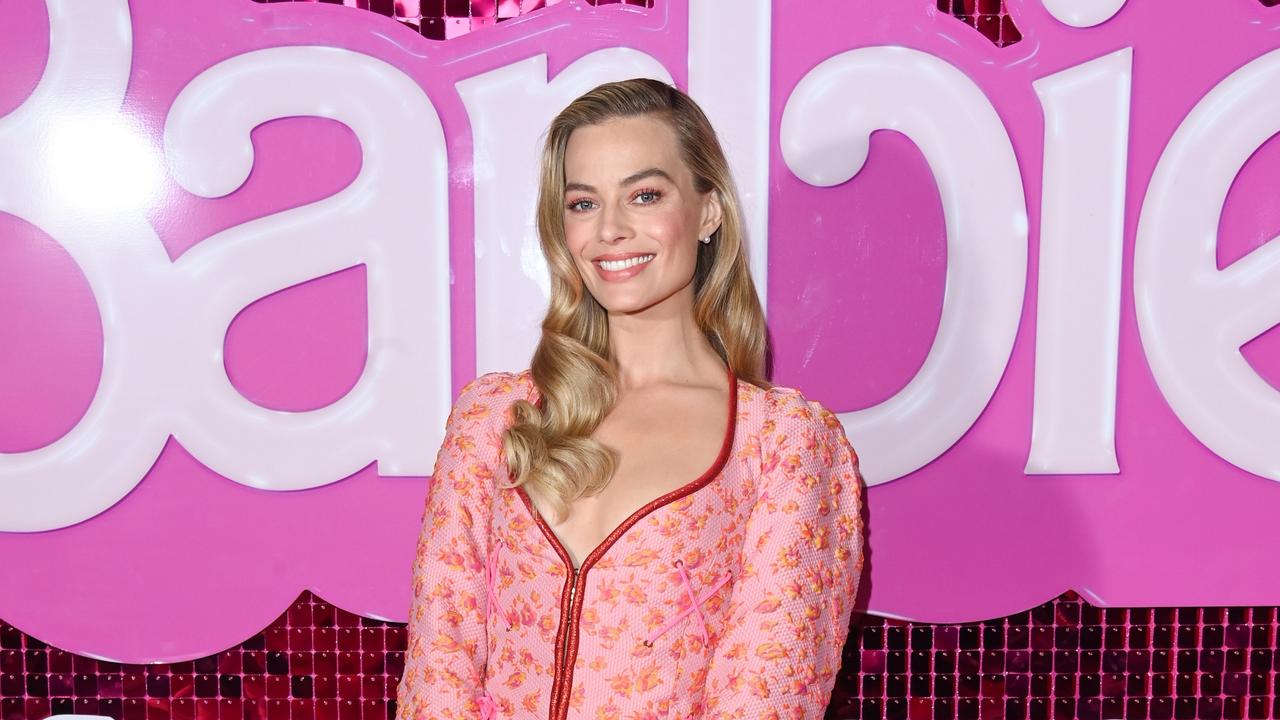 Margot Robbie says she supports the strike. Picture: Stuart C. Wilson/Getty Images
WHY ARE ACTORS ON STRIKE?
Actors are striking for better wages.
They are also worried that artificial intelligence or AI will be used to steal actors' images.
In other words, animation and machine learning could be used to make an image of the actor that can move and talk. If this is used in a movie or TV show, the actor might not be paid for the work or have control over what their image is made to do.
The Alliance of Motion Picture and Television Producers, which acts for the people that make the TV shows and films, said it had offered better pay and protection against AI.
But the actors' union was not happy with what was offered and called a general strike.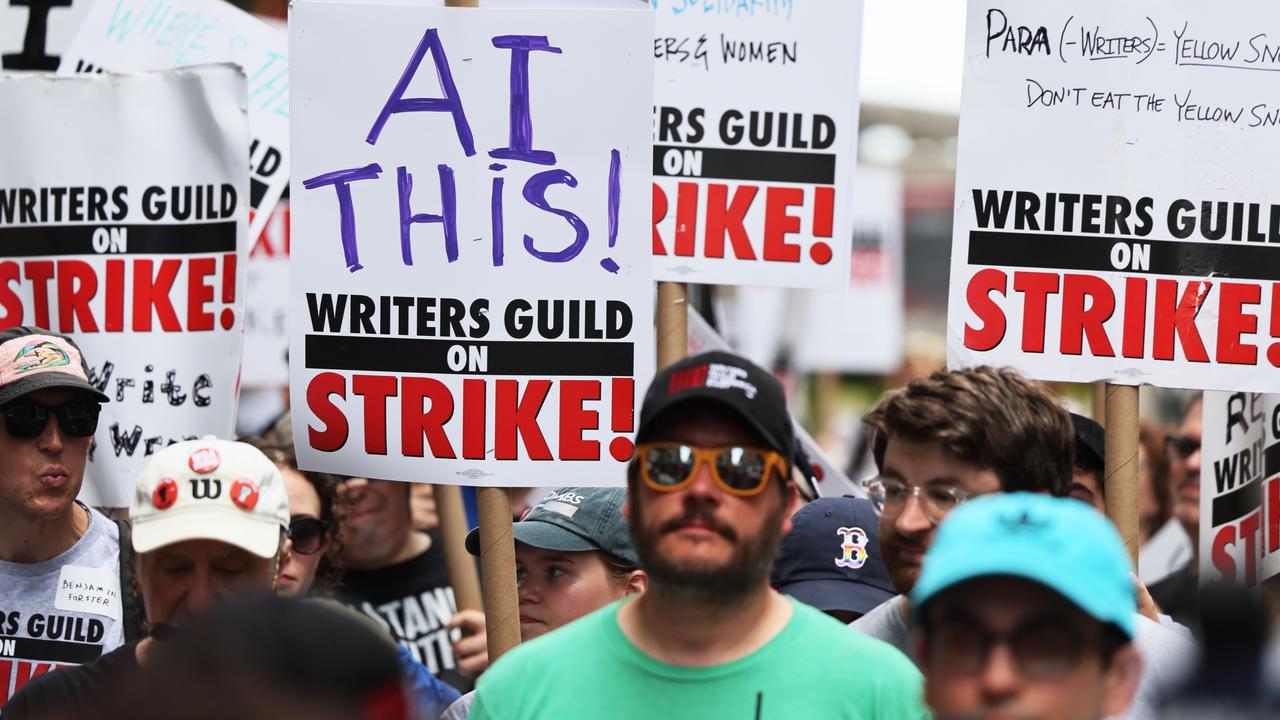 Actors and writers are worried about how AI will be used. Picture: Michael M. Santiago/Getty Images
POLL
UPDATE: HOLLYWOOD STRIKE STOPS FILMING IN AUSTRALIA
It's not just American productions that have had to stop filming because of the actors' strike.
Australian film and television productions shot in Queensland are facing delays with some needing to stop.
Major projects that could be affected by the American actors' strike include Universal's Apples Never Fall.
Filming in Queensland with stars such as American actor Annette Bening and Sam Neill, the production is expected to stop when the strike begins.
Mortal Kombat 2, a martial arts film produced at Gold Coast's Village Roadshow Studios, is also getting ready for long delays.
Screen Queensland's acting CEO Dr Belinda Burns said she hopes the strike will be resolved quickly.
Screen Australia is closely watching the situation, working together with local groups and productions that have been affected.
GLOSSARY
industry: a group of businesses that make similar things, in this instance, TV shows and movies
artificial intelligence: the ability for a computer to think and learn
AI: stands for artificial intelligence
union: a group of workers from the same industry that make sure working conditions are safe and fair
conditions: features of one's environment
resolution: the act of finding an answer to a problem or fixing up a conflict
resolved: when a problem has been fixed
stoppage: the act of stopping, in this instance, stopping work
productions: something made or produced
EXTRA READING
Football fights gender pay gap
Aussie kids introduced to stage life
Marilyn Monroe pop art makes a motza
QUICK QUIZ
1. Why are American actors on strike?
2. How many actors are on strike?
3. When was the last big actors' strike in America?
4. Which workers have recently been on strike in Australia?
5. What does the strike mean for movies and TV shows being filmed?
LISTEN TO THIS STORY
LISTEN TO THE UPDATE
CLASSROOM ACTIVITIES
1. Movie strike
Work with a partner and come up with three slogans that the actors might use to advocate for better wages and working conditions for actors and writers in the movie industry.
–
–
–
What do you think some of the conditions might be that the writers and actors are campaigning for?
Time: allow 30 minutes to complete this activity
Curriculum Links: English, Personal and Social, Critical and Creative Thinking
2. Extension
Record a radio interview with a host and a famous actor outlining what they are going on strike about and what improvements they want to see to their pay and conditions.
If time allows, record your interview on a device.
Time: allow 30 minutes to complete this activity
Curriculum Links: English, Digital Technologies, Critical and Creative Thinking
VCOP ACTIVITY
Aside from this, there is also this!
Brackets are a great literacy tool for adding aside comments, or comments that could be covered over and the sentence still makes sense. What's inside the brackets is extra information.
They can be used for a variety of effects: to add more detail, to add humour, to connect with the reader etc.
My little brother, (the funniest kid I know) got himself into big trouble today.
Select 3 sentences from the article to add an aside comment to using brackets. Think about not only what you want to add to the sentence, but also what effect you are trying to create.