Paintings as tall as a 10-storey building and as long as an Olympic swimming pool are popping up all over Australia.
They're not in galleries, because you couldn't get a building big enough to place them in — they're being painted on grain silos.
And even though the paintings are free to see, they're having huge benefits* for the tiny country towns they're in.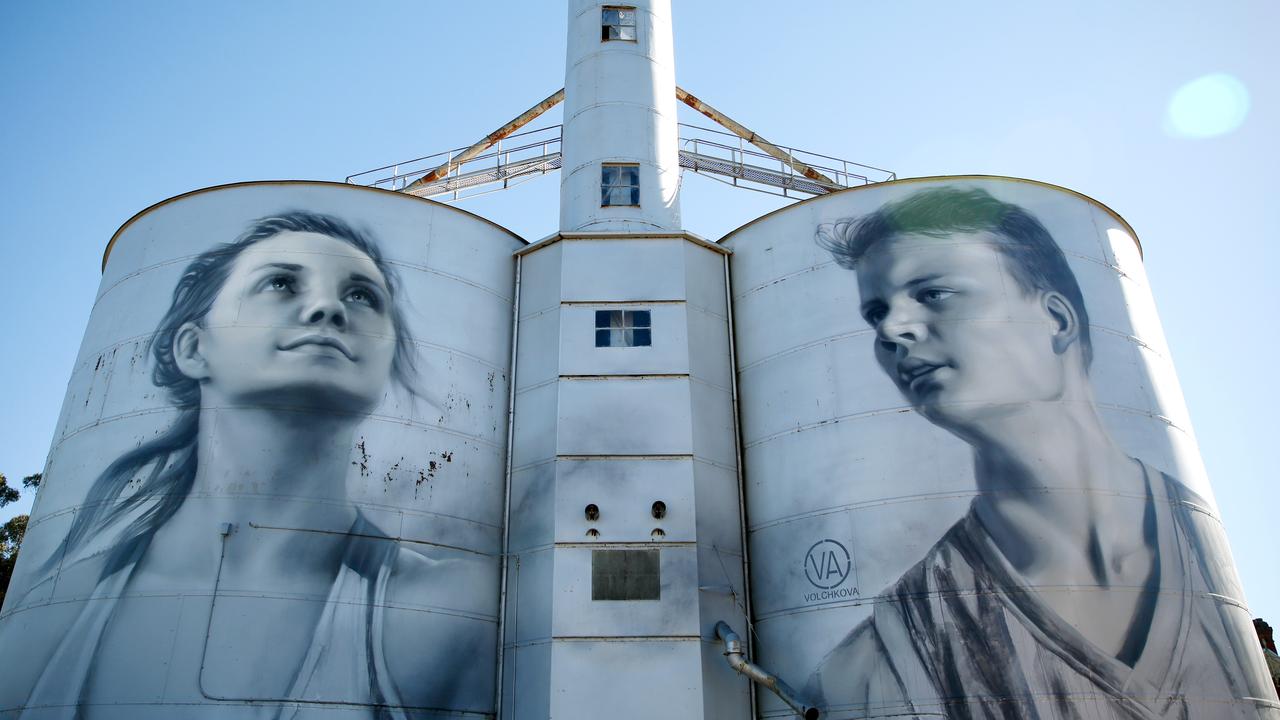 Silo art started at Brim, a town with only about 171 residents 359km from Melbourne in northwestern Victoria.
Brisbane mural* artist Guido van Helten spent a month in the baking sunshine in late 2015 painting a 30m-high mural of four portraits on the disused* silos. It was so hot against the silos in the summer sun he had to get up really early and paint and then stay in the shade for a few hours in the middle of the day, before he could paint again in the evening.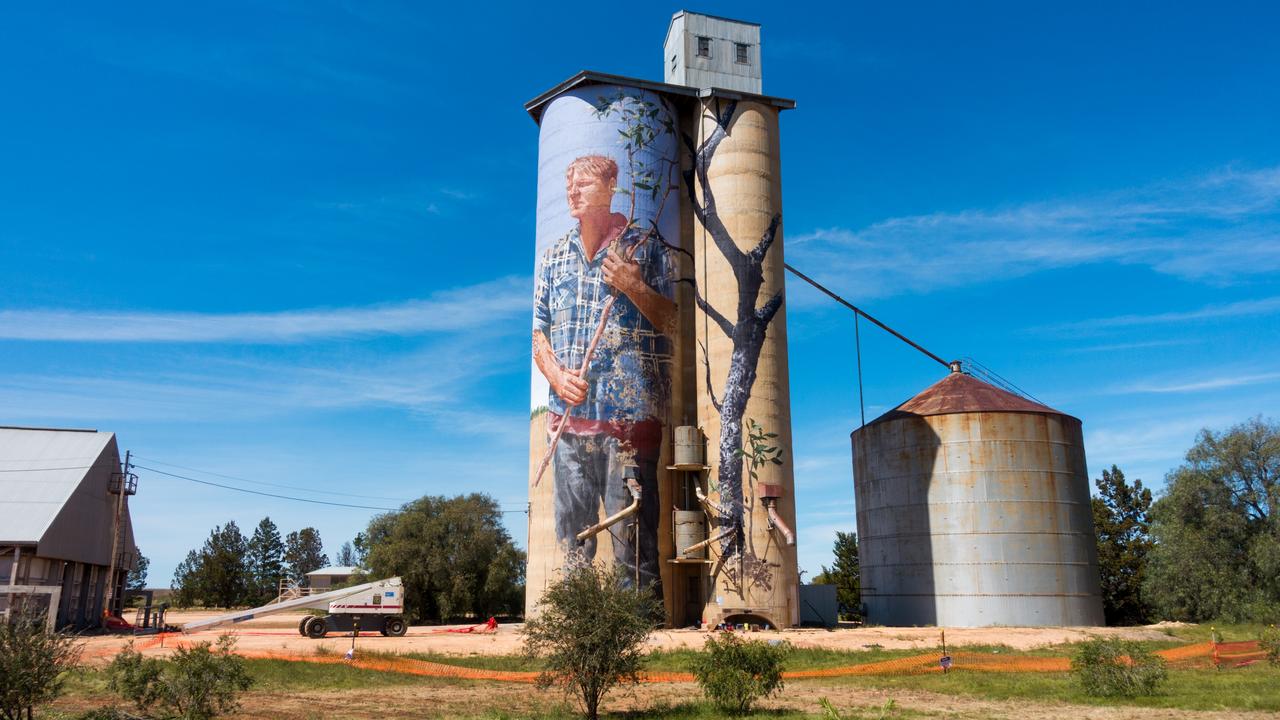 People began to visit Brim to see this amazing artwork. The company that owns many of Australia's grain silos, GrainCorp, made more silos available and other artists began to transform* these local landmarks with portraits of real or imagined local people. There are now six silo murals along a 200km trail across western Victoria and more in NSW, Queensland, South Australia and Western Australia.
The silos across rural Australia were mostly built in the 1930s to store the grain such as wheat, barley and oats that farmers grew. They're often the biggest, tallest structures across these farming regions. Before the 1930s grain that was harvested was stored and transported in hessian* bags. With the help of tractors, trucks and mechanical harvesters, farmers produced more grain and the silos were built to store it instead of putting it into hessian bags. Farmers brought the grain from the paddocks to the silos, where it was stored until trains could transport it to where it was needed, such as onto ships at ports on the coast. The silos aren't often used now as GrainCorp stores grain under massive tarpaulins* instead.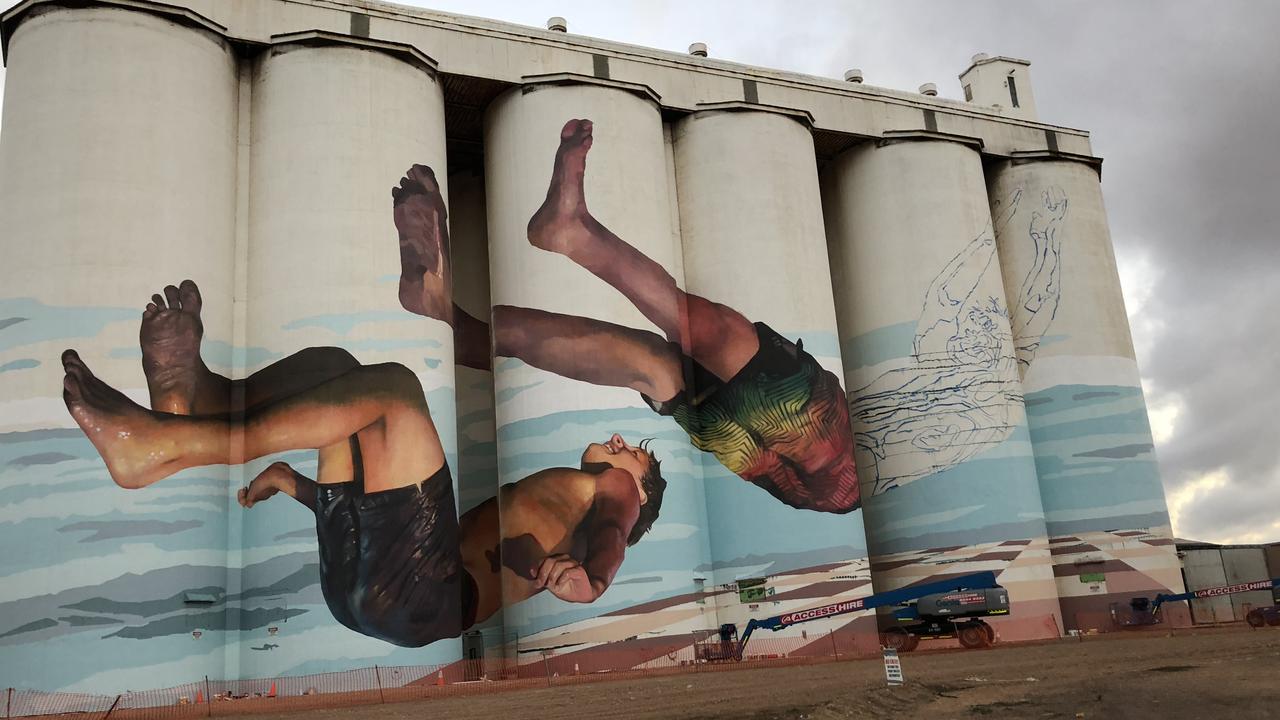 The benefits for the host towns and surrounding areas are huge. Many tourists are now travelling to see the art and the tourists need meals, fuel for their cars, places to stay and are looking for other things to do while they're travelling, which means shops and other tourist attractions have lots of visitors. More buildings along the Victorian silo-art trail are being painted with murals. International visitor numbers to these Victorian towns have already increased by 30 per cent.
The silo art is also now the star of a series of Australia Post stamps. Silos at Weethalle, NSW, Brim, Victoria, Ravensthorpe, WA and Thallon, Qld, feature on the stamps.
EXTRA READING
Amazing crop art tribute to Aussie cyclist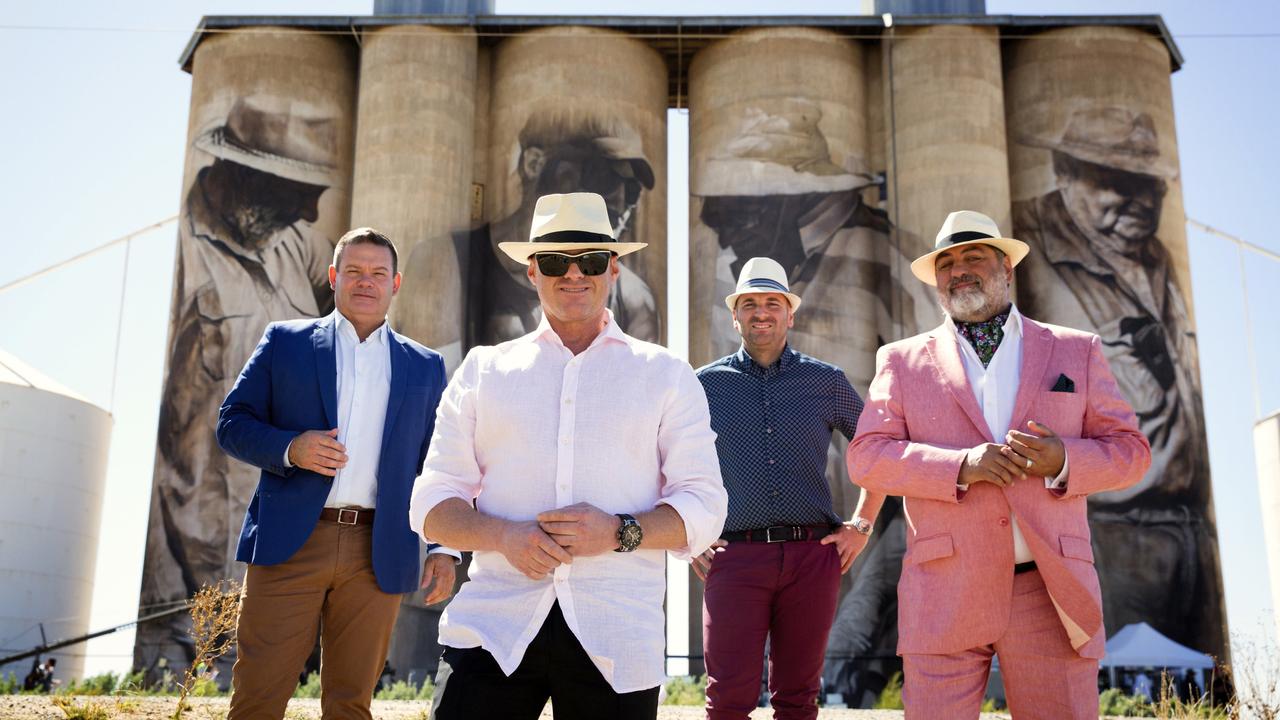 WHERE TO SEE SILO ART
Victoria
Brim (population 171, mural by Brisbane artist Guido van Helten);
Lascelles (pop. 93, mural by Melbourne artist Rone);
Patchewollock (pop. 133, mural by Brisbane artist Fintan Magee);
Rosebery (pop. 5, mural by Melbourne artist Kaff-eine);
Rupanyup (pop. 536, mural by Russian artist Julia Volchkova); and
Sheep Hills (pop. 2, mural by Melbourne artist Matt Adnate)
New South Wales

Weethalle (pop. 250, mural by Mongolian artist Heesco Khosnaran, who lives in Melbourne)
South Australia
Coonalpyn (pop. 192, mural by Brisbane artist Guido van Helten);
Tumby Bay (pop. 2610, mural by Argentinian artist Martin Ron and Sydney artist Matt Gorrick); and
Kimba (pop. 1061, mural by Melbourne artist Cam Scale)
Queensland
Thallon (pop. 257, mural by Brisbane artists Joel Fergie and Travis Vinson)
Western Australia
Northam (pop. 6000, mural by US artist Hense); and
Ravensthorpe (pop. 1733, mural by Dutch artist Amok Island, who lives in WA)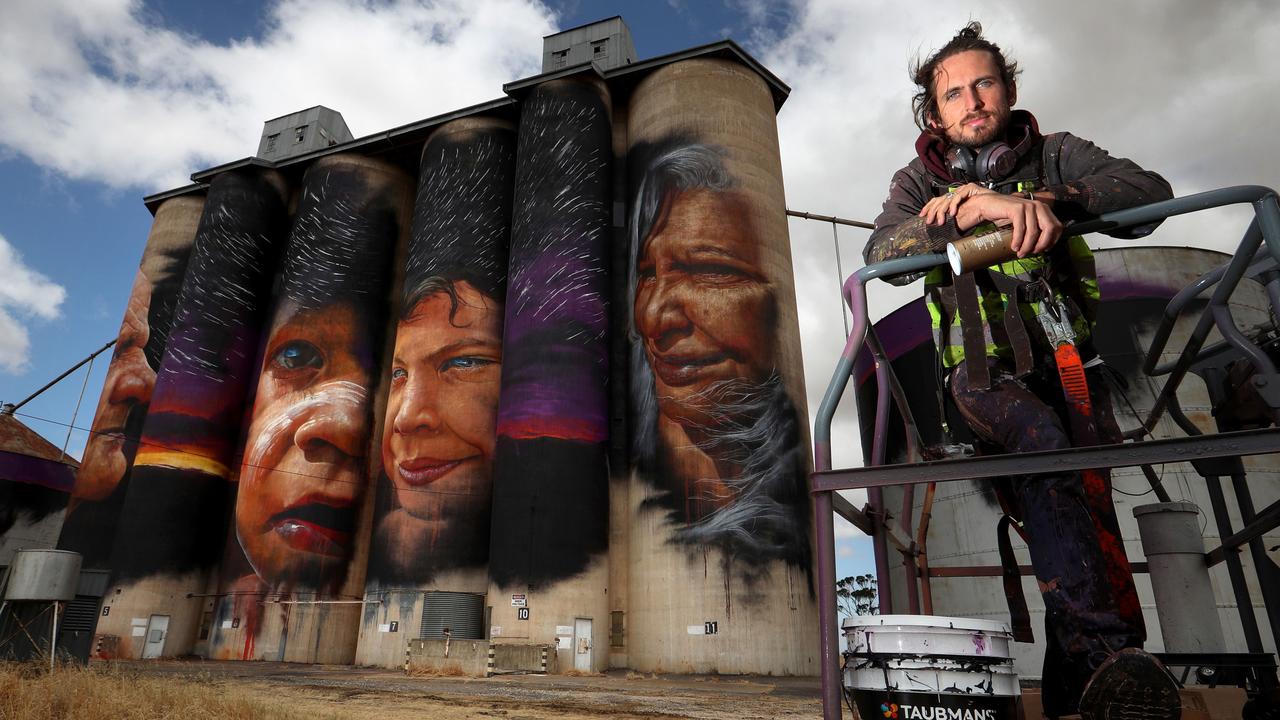 GLOSSARY
benefits: advantages
mural: art on a wall
disused: not used
transform: undergo a big change
hessian: rough fabric made of jute
tarpaulins: heavy pieces of waterproof fabric
LISTEN TO TODAY'S STORY
QUICK QUIZ
Where was the first silo mural?
What company owns many of Australia's grain silos?
Where is the grain stored now that the silos aren't used?
What else do tourists do, see and buy when they visit the silos?
Which four silo towns are on stamps?
CLASSROOM ACTIVITY
1. Describe an artwork
Choose your favourite piece of silo art. Write a description of the artwork. Make your description as detailed as possible, as though you are describing it to somebody who has not seen it. You should talk about what it is, the positions of the different elements of the picture, the colours used, the shapes and lines and the feeling or mood that you get from the artwork. Make your description as vivid as you can and be sure to make interesting and sophisticated vocabulary choices that bring your description to life.
2. Extension
What would you love to see painted on a silo? Draw a sketch of your idea and write down why you think it would be a good choice.
Time: Allow 30 minutes
Curriculum links: English, Visual Art
VCOP ACTIVITY
After reading the article, with a partner, highlight as many connectives as you can find in pink. Discuss if these are being used as conjunctions, or to join ideas and create flow.
QUESTION: If you painted a big mural where you lived, what would you paint?
Explain your answer using full sentences.