A 13-year-old Australian schoolgirl is getting ready to take centre stage* at this year's Junior Eurovision Song Contest.
Melbourne student Isabella Clarke will be travelling to Tbilisi, Georgia to represent Australia at the international competition on November 26
The Junior Eurovision Song Contest is an offshoot of the Eurovision Song Contest, an international TV competition held annually* since 1956.
The adult version of the event is predominantly* contested* between European nations but recently Australia has taken part and entrants Guy Sebastian, Dami Im and 17-year-old Isaiah Firebrace have impressed international audiences.
Isabella's performance at the Junior Eurovision Song Contest will be broadcast to millions of viewers around the world.
The talented Brentwood Secondary student will be performing Speak Up, a song about young people having a voice and encouraging others to speak up about the issues important to them.
Isabella said she's looking forward to the awards and hopes to make Australia proud.
"It's a dream come true," she said.
"I'm looking forward to visiting Georgia for the first time and meeting all the other performers and I hope I do my family and Australia proud."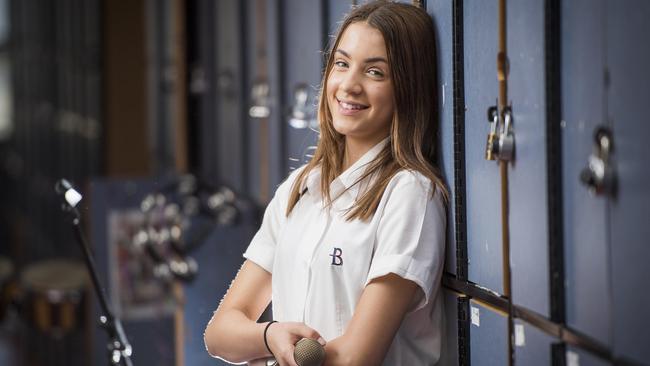 Seventeen countries will be battling it out and Australian viewers will have a chance to vote for their favourite contestant.
Victorian Minister for Education James Merlino said he has no doubt Isabella will "shine" at the international contest.
"I had the pleasure of meeting Isabella at the 2017 Victorian State School Spectacular and after witnessing her performance first-hand, I have no doubt she'll shine at the Junior Eurovision Song Contest," he said.
"I wish Isabella the best of luck representing Australia at the Junior Eurovision Song Contest and encourage Victorians to support her."
Her performance will be broadcast on ABC ME and ABC iView on Monday, November 27 at 7.30pm.
GLOSSARY
take centre stage: perform and receive a lot of attention

annually: every year
predominantly: mainly
contested: fought for
LISTEN TO TODAY'S STORY
CLASSROOM ACTIVITIES
1. Isabella to shine
Answer the following questions in as much detail as possible, trying to incorporate the question into the answer.
Who is representing Australia at the Junior Eurovision song contest this year?
When and where is Junior Eurovision taking place?
Where does Isabella Clarke go to school?
What song is she planning to perform?
How many countries take part in the competition?
Where and when can we watch the competition on television?
Are you likely to tune in and vote for the Australian contestant? Why/why not?
Extension:
Brainstorm and suggest some other songs that could be appropriate for an Australian contestant to sing at the Junior Eurovision and explain why you chose them.
Time: allow 20 minutes to complete this activity
Curriculum links: English
2. School Eurovision
Work in small groups of three or four to plan your own class or school singing contest.
You could keep it to the class or you could open it up to the whole school and include categories.
As a group, fill out the following planning template and allocate jobs.

Name of competition:

Date to be held:
Time:
Location within school:
How children can enter:
What songs can they perform:
Official entry form:
Judges:
Judging criteria:
How voting works:
Costumes:
Permission from teacher and principal:
Will parents be invited:
What determines winner:
What the will winner receive:
Extension:
Create posters to advertise the event and encourage children to enter competition.
Time: allow 30 minutes to complete this activity
Curriculum links: Music, Personal and Social
VCOP ACTIVITY
The following words appear in the article about the Junior Eurovision Song Contest.
Can you use these words as openers to start a sentence?
Predominantly
Annually
Looking
Witnessing
Extension:
Do some research to find the answer to these questions.
Which country has won the Eurovision Song Contest the most times?
In what year did the Swedish band ABBA win?
What song did Guy Sebastian perform in 2015?
Time: allow 20 minutes to complete this activity
Curriculum links: English, Big Write and VCOP
EXTRA READING
STUDENT'S WINNING SPINNING FORMULA
301 BOYS PAINT ARCHIBALD PORTRAIT
KIDS TEACHING KIDS AT CONFERENCE
IN A SENTENCE, SHARE YOUR THOUGHTS ON TODAY'S STORY
Kids News loves reading your best grammar, vocabulary and spelling.
We publish the best comments.