For the first time in more than 400 years, all 12 tapestries designed by Renaissance* artist Raphael have been hung in the Sistine Chapel, finally completing the space.
They are woven from gold and silver, are incredibly fragile and some are borrowed from museums, so will only all be on display for one week as part of the celebrations marking the 500th anniversary of Raphael's death.
"They were conceived* for this space and so we thought it was the best way to celebrate," said Barbara Jatta, director of the Vatican Museums.
The Sistine Chapel is in the Vatican City within Rome, Italy. The Vatican is a separate city state rather than part of Rome or Italy and is the global headquarters of the Catholic religion.
The Sistine Chapel is most famous for the art of another Renaissance artist, Michaelangelo.
Michaelangelo finished painted the ceiling in 1512. Raphael's tapestries hung in the chapel from when the ceiling was finished until Michaelangelo began painting the massive Last Judgement wall behind the main altar* in 1536.
Michaelangelo and Raphael were comperoraries* and rivals*.
The tapestries were woven in Brussels by the famous studio of Pieter van Aelst from Raphael's sketches and show Christian religious scenes from the Acts of the Apostles, such as The Stoning of St Stephen and St Paul Preaching in Athens.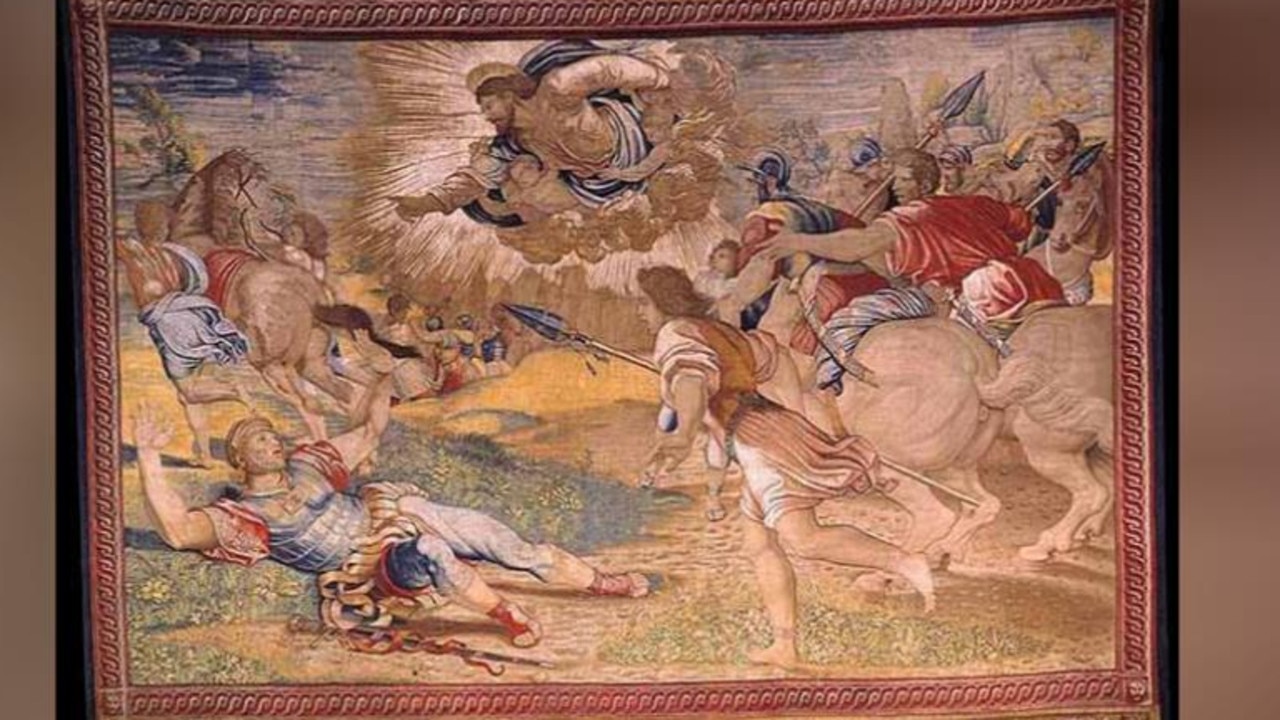 All 12, woven with silk, wool and gold and silver thread, have been restored by Vatican Museum conservationists* in the past 10 years.
"This place is of universal importance, not only for visual arts but for our faith," Jatta said. "So we really want to share this beauty with people, even if only for one week".
Seven of the tapestries, commissioned by Pope Leo X, were hung in the chapel on St Stephen's day, December 26, 1519. Raphael was probably there to see them but he died four months later at the age of 37. The others were finished after his death.
"The last record that we have of all of them being hung in the Sistine is from the late 1500s," said Alessandra Rodolfo, the curator* of the exhibition.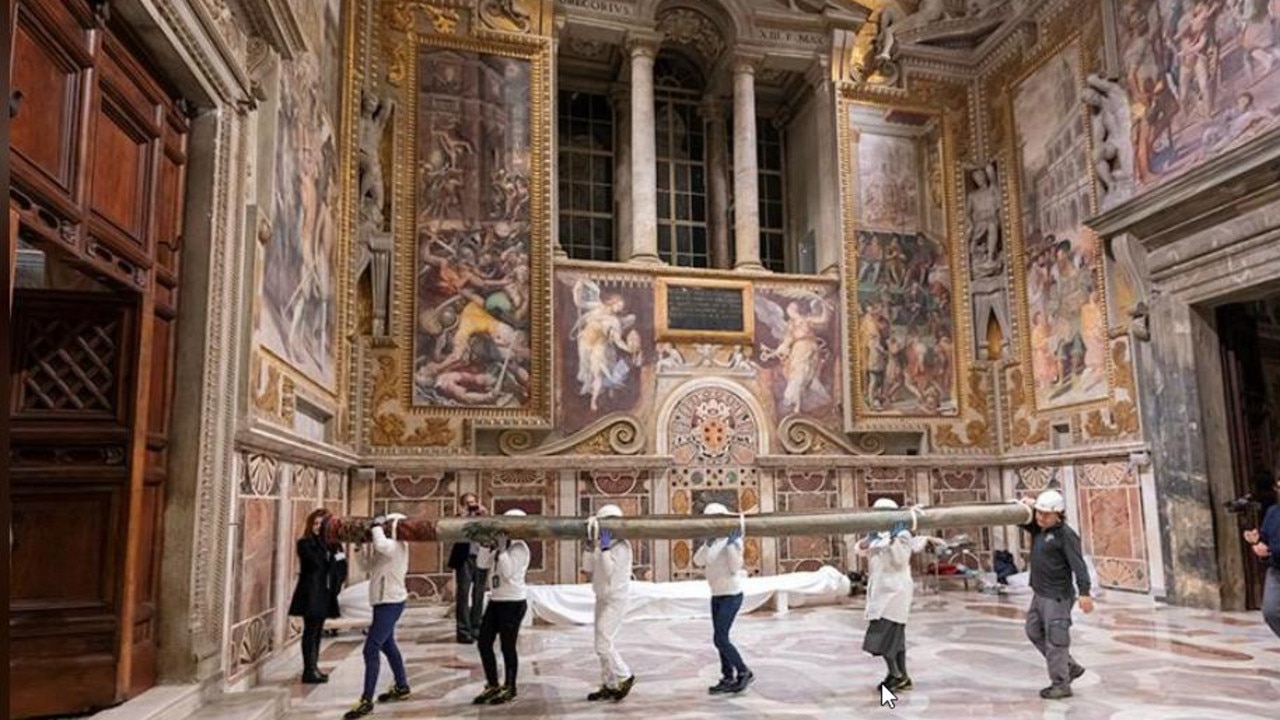 Previous exhibitions, some of which lasted only a few hours or a day, included only the 10 larger tapestries, some measuring about 6m by 5m. Two of the 12 are narrow and hung vertically as borders.
A selection are normally on display on rotation behind glass in climate-controlled spaces in the Vatican Museums.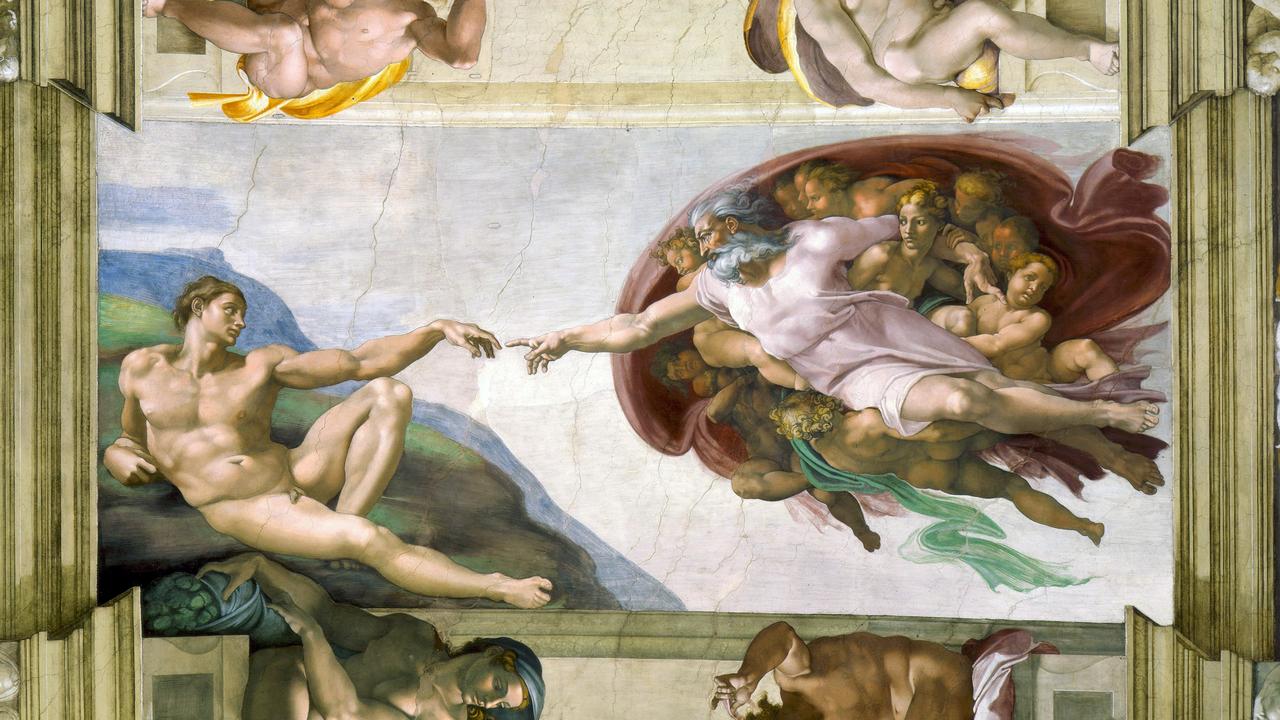 GLOSSARY
Renaissance: 1300-1600 in Europe, when there was a focus on the arts, architecture and big advances in science and new thinking
conceived: thought of, created
altar: table where religious ceremonies are conducted
contemporaries: at the same time in history
rivals: in competition with each other
EXTRA READING
Leonardo da Vinci's greatest hits
How to rebuild Notre Dame after the fire
Piece of Jesus' manger home for Christmas
Banksy's touching Christmas reindeer mural
QUICK QUIZ
Where is the Sistine Chapel?
What other artist's work is in the Sistine Chapel?
What are the tapestries made of?
How many tapestries are there?
What and when was the Renaissance?
LISTEN TO THIS STORY
CLASSROOM ACTIVITIES
1. KWL Chart
Complete a KWL chart (Know, Want to Know and Learnt) about some of the important people and places mentioned in the Kids News article.
To create your chart, divide a page into a table so you have room for four rows and three columns, plus room to label the rows and columns.
Label the columns KNOW/WANT TO KNOW/LEARNT
Label the rows RAPHAEL/MICHAELANGELO/SISTINE CHAPEL/VATICAN MUSEUM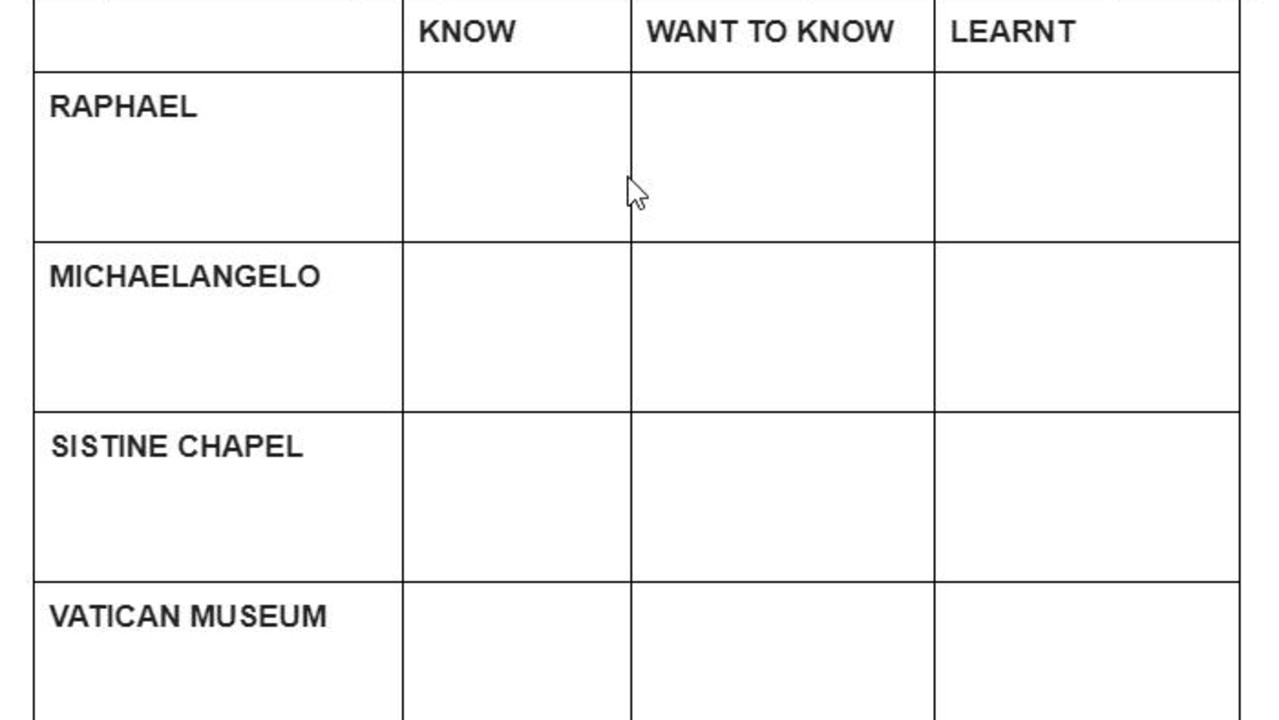 Time: allow 15 minutes to complete this activity
Curriculum Links: English, History
2. Extension
As these tapestries are more than 500 years old, work with a partner and list some of the ways they have been, and are still, trying to be preserved to ensure they last another 500 years.
Time: allow 15 minutes to complete this activity
Curriculum Links: English, History, Personal and social, Critical and creative thinking
VCOP ACTIVITY
After reading the article, with a partner, highlight as many pieces of punctuation as you can find in green. Discuss how these are being used, where and how often. What level of the punctuation pyramid is the journalist using in this article?
HAVE YOUR SAY: What is your favourite artwork?
No one-word answers. Use full sentences to explain your thinking. No comments will be published until approved by editors.